Oakland Raiders Week 14: Pressures, Hurries and Knockdowns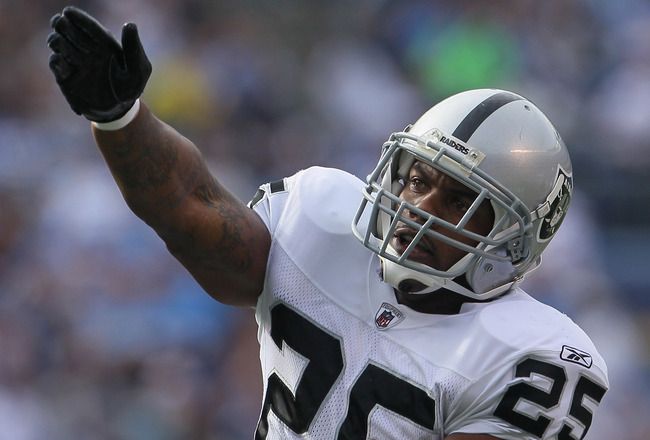 Rock Cartwright Celebrates a Special Teams Play against the San Diego Chargers
Jeff Gross/Getty Images
The Raiders have their biggest game of the season this Sunday when they travel to Jacksonville to face the AFC South leading Jaguars, a team playing better football than most of the NFL in recent weeks.
The Raiders have been a bit of a roller coaster team this season, with their losses being spectacularly horrid and their wins for the most part impressively dominant.
The Jaguars present a difficult task for the Raiders, as the diminutive but incredible Maurice Jones-Drew has run harder and better than anyone in the NFL over the last five weeks. The Raiders, though, after early season struggles in stopping the run, have shored up their rushing defense in recent weeks.
The Raiders absolutely need to win this game to have any chance of making the playoffs. In fact, it's safe to say that with the Kansas City Chiefs sitting at 8-4, the San Diego Chargers at 6-6 and both with a far less daunting upcoming schedule than Oakland, the Raiders must win their next three games to stay in sight of their first AFC West crown since Rich Gannon was offending people from under center.
One thing is for sure: it's nice to be talking playoffs in Week 14 for the first time in the last, oh, thousand years or so.
But the pressure is decidedly on for every game the rest of the season. This team has shown the ability to beat anyone, including themselves. That must cease for the playoffs to remain a realistic goal.
This is a huge game between two teams with similar strengths and everything to lose. Both teams will need to bring their best.
Pressures: Rush Defense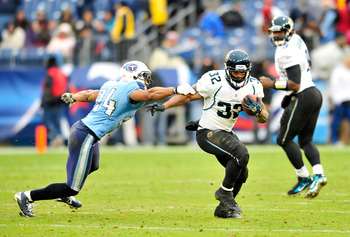 Maurice Jones-Drew Has Been Tearing Defenses to Shreds the Last Five Weeks
Grant Halverson/Getty Images
Mighty Mite. Pocket Hercules. MJD. Whatever you want to call him, Maurice Jones-Drew is a tightly packed ball of kinetic energy, speed and power that is difficult to stop when he gets rolling.
Over the last five weeks, Jones-Drew, who was off to a pedestrian start earlier in the season, has been on a tear. Not coincidentally, the Jaguars have gone 4-1 in those games to lead the AFC South with a 7-5 record.
Through the Jags first seven games, Jones-Drew averaged 19.2 carries, 72.9 yards per game, 3.8 yards per carry and scored only one touchdown. The Jaguars, not surprisingly, struggled and sat with a 3-4 record after seven games, spinning their wheels and trying to decide whether they were a throwing team with a sporadic David Garrard or the same old running team with a largely ineffective Jones-Drew.
Since then, Jones-Drew has averaged 25.2 carries, 133.4 YPG on 5.3 YPC, and has scored three touchdowns as the Jaguars have gone back to their roots. It has paid dividends, as they are 4-1 in those games and have sprung to the top of the AFC South with a 7-5 record.
The Raiders rush defense, porous for years, has recently shown signs of tightening up.
Much like Jones-Drew, the Raiders run defense struggled early, as through their first six games teams rushed the ball an average of 30 times a game for 149.5 yards, a 5.1 YPC average and scored six touchdowns on the ground.
Not surprisingly, the Raiders were 2-4 in those games and looked to be the same old team in the trenches.
Since the San Francisco game, the Raiders have had a different run defense. Teams are still running nearly 30 times a game--27 on average-- but instead are now getting only 99.2 yards per game on a 3.7 yards per carry average, and have scored only three touchdowns in the last six games.
Equally unsurprising is Oakland's 4-2 record in those games, the wins often of the dominant variety.
This weekend sees a running back with a head of steam going up against a team who continues to tighten up in the trenches. The Raiders run defense is under pressure to contain Jones-Drew, because as we see above, when they stop the run, they win. When they don't, they lose.
When the Jags run well, they win. When David Garrard has to win the game with little help, they don't.
Simple equation, time for execution.
Pressures: Pass Offense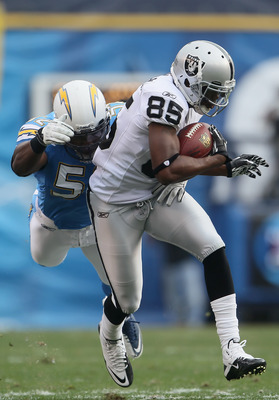 DHB Runs Away From Larry English
Jeff Gross/Getty Images
The Raiders pass offense was efficient if unspectacular last week, as it has been this season when the running game and defense are winning the day.
Bruce Gradkowski is now on injured reserve, and Jason Campbell acquitted himself well in his first unfettered game under center last week.
But this pass offense needs to get on track and find some consistency. And they need to do it fast, because the Pittsburgh Steelers and Miami Dolphins provided an accurate, bloody and sickening blueprint for decimating the Raiders.
Force them to pass and watch them crumble.
Let them pass at their leisure while running well and watch yourself get destroyed.
I have a very, very strong feeling that the Jaguars are going to stack the box and force Darren McFadden and Michael Bush to beat them. And they are capable of doing so; but if they aren't running effectively, then it's up to the passing offense to pick up the slack.
Campbell has been so sporadic he's actually been benched twice this season. Darrius Heyward-Bey had a career game on Halloween, and nothing since. Louis Murphy has been the invisible man since the first two weeks of the season. Zach Miller has been great when healthy, which hasn't been for five weeks now, and Jacoby Ford has simply been the man when he's gotten a chance.
This team has talent, but for some reason can't seem to put it together consistently. We all have similar feelings on Sanjay Lal, but it's a combination of quarterback, offensive line and receivers, not just one aspect.
The pressure is on this unit to produce on Sunday, because if they can put up even passable numbers, play efficiently, avoid turnovers and keep the defense honest, it will open up the running game which is where our true bread is buttered.
If they cannot, the Jags will key on the run, force us to pass, rush the passer and put us in a very, very vulnerable position.
Pressures: Raider Malaise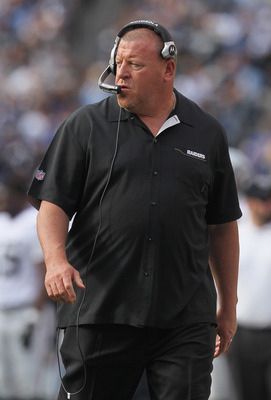 6 A.M.....That'll Learn Em!!
Jeff Gross/Getty Images
West Coast teams do not travel well to the East Coast. It's a proven fact; since 2003, the aggregate record of the Arizona Cardinals, Oakland Raiders, San Diego Chargers, Seattle Seahawks and San Francisco 49ers (the only NFL teams in the Pacific Time Zone) is 33-50.
Now, to be fair, some of that can be explained by the fact that the Raiders, Cardinals, Niners and to a lesser extent the Seahawks have fielded some pretty poor squads since 2003.
That's true to an extent, but even Mike Holmgren's great Seattle teams that won multiple division titles only had a 3-12 record in the Eastern Time Zone. So there is something to it.
The Raiders have played two one o'clock EST games this year: their opener in Tennessee and their bye week follow up in Pittsburgh.
Combined score in those two games? 73-16. Yep, that's right. Outscored by 57 points!! Pittsburgh is a great team, but Tennessee currently has a record that is worse than that of the Raiders. When the Raiders played Tennessee in the opener, though, they were a far different team. A far better team.
Regardless, coach Tom Cable realizes there is something to this malaise of travel and such, and the jet lag and time adjustment your body needs to go through can have a seriously detrimental effect on a player's focus and energy.
As a result, Cable has been doing everything roughly three hours earlier than the norm this week to get the players prepared for the time change. He's never tried this before, and whether it works or not remains to be seen.
He had to try something, though, because the Raiders were flatter than Keira Knightley in the two previous East Coast games. They are under pressure to bring their focus and intensity regardless of the time change. Three hours, boys. Just balls out, then sleep afterward.
Easier said then done, but a must. When this team comes to play, they are hard to beat. When they don't get up for a game, they are hard to watch.
Hurries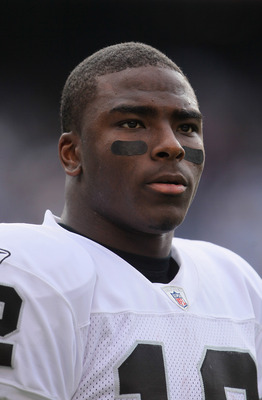 Jacoby Ford has been a Revelation this Season
Jeff Gross/Getty Images
Nice to see Jacoby Ford getting in more with the base offense and three wide packages. Based on production, he deserves more snaps than anyone on the team for crying out loud.
There was a Chaz Schilens sighting!! And he got thrown at! Didn't catch it, but he's been pain free this week. Man, just great to see him back out there.
Zach Miller's foot is also apparently quite improved, though still bothering him. Hopefully he bounces back this week for obvious reasons, but another, more subtle reason is that I've got no production from my TE in fantasy since he got hurt and I'm fighting for second place right now.
NFL experts are far, far too in love with San Diego. The Raiders beat them twice, the last time handily; the Chiefs have beaten them once. Yet many people are still picking them to win the division? Okay then.
To be fair, the Chargers do have the weakest schedule out of the three, but they are also in by far the worst win-loss tiebreak situation at the moment. The praise they still receive is laughable.
As far as I'm concerned it needs to stop, because it's probably ticking the Chiefs off and giving them added motivation, which we don't need.
The Raiders are in good shape to make the playoffs, but only if we can win our next three games. That is a major task, as winning in Jacksonville is tough, Denver will be motivated with a new coach and Indianapolis looked like, well, Indy last night.
I know he blocks well and distracts well, but it's time for DHB to get back to catching the ball well also.
Knockdowns: Darren McFadden's Lost His Mojo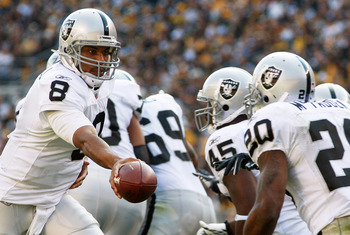 Darren McFadden got Back on Track against the NFL's #1 Defense Last Sunday
Jared Wickerham/Getty Images
Heading into the bye, Darren McFadden had stayed relatively healthy, ran with the speed and strength many thought he could and went a long way to shedding his "BUST" label while helping the Raiders to a 5-4 record and a share of first place in the AFC West.
After the bye, McFadden ran for a combined 16 yards on 18 carries against the Steelers and Dolphins. Yep, less than one yard a carry. Less than ten yards a game!!
This from a man who was leading the NFL with an average of 108 yards per game prior to the bye week.
Sure, the Raiders played the Steelers, who shut down pretty much everyone not named Brady, but 14 yards on 10 carries? Come ON man!
Then, the Dolphins, not nearly as fearsome or effective against the run as the Steelers.
So then what? TWO yards!! on eight carries. Average: 0.4 YPC!!
It wasn't just the defenses; it wasn't the offensive line. McFadden wasn't running hard. He was running high. He was going down far too easily. He was, in short, the "BUST" all over again, with all of his negative habits and gun-shyness.
Well, someone must have said something to him, because he was an animal last weekend against the Chargers.
When McFadden has been effective this season, he's used his power more than his finesse. Sure, he can juke guys, get to the edge and outrun people. But he can also put his head down, drive the pile and get a couple extra yards.
When he's mean and tough, he's at his best. When he's prancing like Baryshnikov, he gets laced up like a ballerina should. I thought he'd regressed; last week showed me I was dead wrong.
For whatever reason the entire franchise fell asleep for two weeks out of the bye. But last week, they woke up in spades, and it was D-Mac who sounded the bugle for this team to rally around.
Knockdowns: The Chargers Own The Oakland Raiders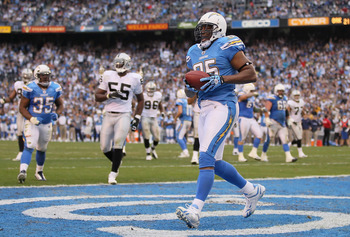 Raider Fans Have Seen this All Too Many Times in the 2000's
Jeff Gross/Getty Images
From 2003 through 2010, the San Diego Chargers beat the Oakland Raiders 13 straight times. THIRTEEN!!
Only the Buffalo Bills have been submitting to the New England Patriots for a longer span of time amongst rivals.
In the 2009 opener, the Raiders were jobbed out of a victory after a poor replay challenge overturned a Louis Murphy touchdown that was clearly a good catch. The Raiders, though, still had a chance to win after taking the lead and couldn't hold it, so the call can't be fully blamed for the loss. It didn't help, but wasn't the be all end all.
The second game in 2009 is nothing to mention here. Let's move on.
The first game between the Raiders and Chargers this season was epic in many ways. It featured spectacularly bad special teams play by the Chargers (or, as I prefer, excellent special teams play by the Raiders), a furious comeback by both teams and a Jason Campbell-led game winning drive in the fourth quarter. It was secured by the Raiders going into uber-aggressive mode and blitzing the pants off Philip Rivers as San Diego was driving to tie with time running out.
When the dust settled, the Raiders had beaten the Chargers 35-28 and finally had that monkey off their back. They then proceeded to win three of their next four to get over .500 after nine games for the first time since 2002. A lot of first in a while accomplishments for the Raiders in 2010.
However, the Chargers typically play poorly early in the season, only to pick it up when the games begin to count and they need to rally to win the division. This was the thinking, coupled with the Raiders poor performances against the Steelers and Dolphins the previous two weeks, that caused San Diego to be a two touchdown favorite over a team with the same record that had already beaten them.
Experts were handing San Diego the division. No way the Raiders sweep them, San Diego never loses in December. The Chiefs aren't really that good, are they?
Well guess what? The Raiders now OWN the Chargers in 2010, having gone into their house and used their precious powder-blues for toilet paper to the tune of a 28-13 beatdown that wasn't that close.
So San Diego owns Oakland? Maybe for a brief, divergent period of the space time continuum in the 2000s, but order has been restored. Oakland > San Diego, and all is right with the world.
Knockdowns: This Team Is Done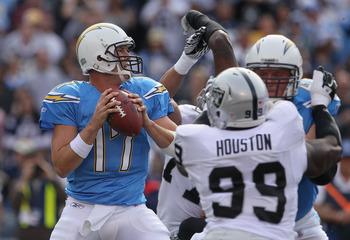 Rivers was Harassed by Rookie Lamar Houston all Game
Jeff Gross/Getty Images
Experts, coaches, media and fans alike all wondered aloud after an uninspired performance at home in a pivotal game against the Dolphins whether this team had peaked and whether they were coming back down to earth.
Though not at that point, enough disturbing yet familiar trends permeated from the Steelers and Dolphins games that some cynicism was creeping into my head space, I'll admit.
But after five minutes of the Chargers game, when it was still scoreless, you could see this team was back. Not back to the same old Raiders of the previous seven years, back to the Raiders of the three games before the bye, of the 60s and 70s. Back to nastiness, intensity and hard hitting football.
San Diego was decimated in the trenches, had numerous players injured, couldn't get any rushing attack going, couldn't stop Oakland's rushing attack and looked outclassed and outmatched in every phase, aspect and nuance of football.
In other words, though the two week sleepwalk was enough to raise concerns about a regression back to the womb for these young Raiders, they alleviated those fears by putting on their big-boy pants last week and kicking the absolute pride out of the Chargers in San Diego.
If that team comes out on Sunday, Jacksonville is in a world of trouble no matter how well they've been playing lately.
Conclusion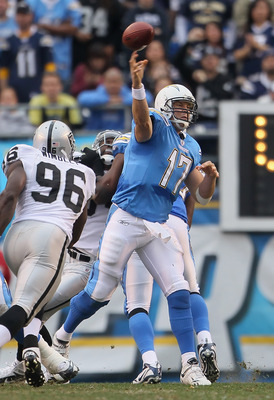 Rivers Gets a Rare Pass Off Without Tasting Grass
Jeff Gross/Getty Images
Although the Raiders may be harder to read than a James Joyce novel or your wife's face when you ask her what's wrong, they are our Raiders.
Our baffling, frustrating, confusing yet exciting Raiders.
Exciting. When was the last time we could describe this team that way? Yet here they are, with players like D-Mac and Ford who can go house at any time, guys like Rolando McClain and Mike Mitchell that hit like cinder blocks and make no apologies for it, guys like Stevie Brown and Marcel Reece and Travis Goethel that are making the most of opportunities given to them.
Yes, the Raiders have been all those things and more this year, and with playoffs still in reach but a lot of contingencies needed, it's going to be that way until the end of the season.
A win on Sunday would help immensely; a loss almost surely eliminate any hope of playoff football.
This team needs to travel better on Sunday. On a neutral field or at home, I say the Raiders win this one convincingly. I feel that they are a more talented team with better depth and a better defense, and the statistics bear it out.
I also feel that history shows us they struggle mightily in this time slot on the East Coast. Coach Cable has shown the ability to be creative to combat certain trends in the past, and his coaching style, preparation and practice acumen have been proven effective to quash some negative trends thus far, such as the Chargers' previous dominance and the consistency in the win column.
This is the biggest game in years for the Raiders, and they must treat it as such. They must come out with the verve and fire of a divisional game, in which they are 4-0, and not the malaise of every other game, in which they are 2-6.
The Jags need this one almost as much as the Raiders, so expect them to be motivated as well. This should be a great, hard hitting slugfest of epic proportions as two of the tougher and better backs in the league do battle.
It's going to be a street fight to the finish, and with the bad blood spewing from Big John and Quentin Groves, I feel our fists are balled a little tighter.
Let's hit them in the mouth early and not let them recover.
Go RAIDERS!!!
Thank you as always for reading; all comments, whether good bad or ugly are always welcome!
Keep Reading

Oakland Raiders: Like this team?