Cleveland Browns: 10 Defensive Free Agents To Target in the 2011 Offseason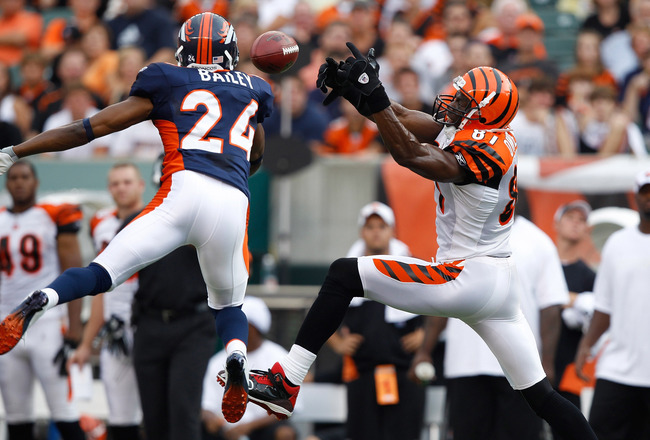 Joe Robbins/Getty Images
The Cleveland Browns defense has made some important strides throughout the 2010 season and is slowly developing into one of the more complex defenses in the NFL.
Rob Ryan has done a great job at plugging in players where they can contribute to the teams' overall success and has given young players a good opportunity to prove themselves.
Now that the Browns have laid a solid foundation, it is interesting to see what pieces of the puzzle may be available in the free agent market after this season.
Here is a list of 10 upcoming free agents that could significantly improve the Browns' defense next season
*Note: All 2011 free agents were found on www.footballsfuture.com. Please feel free to comment on any errors or changes in potential free agents.*
No.10 : Paul Posluszny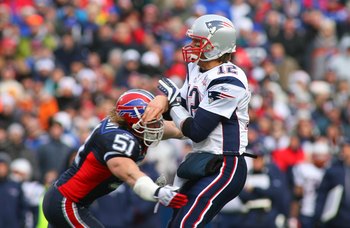 Rick Stewart/Getty Images
Paul Posluszny is exactly the type of linebacker that the Cleveland Browns would love to have wearing a brown uniform next season.
Posluszny is still young and has made significant development during every season he has played with the Buffalo Bills.
This year, Posluszny leads the entire Bills defense with 111 combined tackles and 2 sacks.
Cleveland should get a very good look at Posluszny this weekend as the Browns will head to Buffalo.
No. 9: Dhani Jones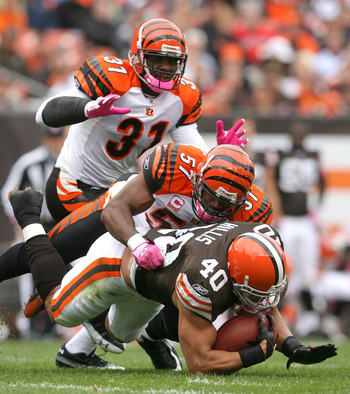 Matt Sullivan/Getty Images
Dhani Jones is seasoned veteran that still has quite a bit left in his NFL tackling tank.
Jones has become a bit of a national icon while appearing in many commercials as well as his own televising show, but has not forgotten how to play football.
Jones is currently has 100 total tackles (now has had over 100 in three straight seasons) and one forced fumble while serving as the defensive captain for the Cincinnati Bengals.
Jones would be a perfect fit for Cleveland as he has played in the AFC north for several seasons and knows the Browns division opponents very well.
Jones would also provide a good amount of speed from whatever position the Browns would place him in.
No.8: Pat Williams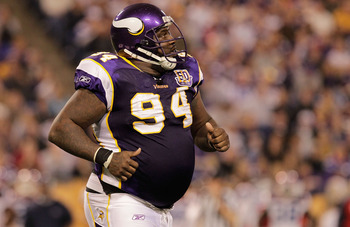 Nick Laham/Getty Images
Pat Williams is more of a man than any opposing offense likes to see when they play on Sunday's.
Williams has been the anchor for the Minnesota Vikings and serves mainly as a big man to plug up running plays.
Williams would serve well on the Cleveland Browns roster in many of the same ways as Shaun Rogers currently does.
It would not be a surprise if Cleveland would pass on Pat Williams because of his age and lack of big play making ability.
Williams has 22 total tackles this season and one forced fumble.
No. 7: Robaire Smith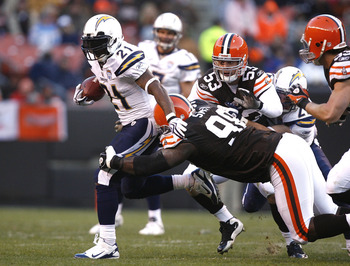 Matt Sullivan/Getty Images
No NFL team knows Robaire Smith better than the Cleveland Browns as Smith has now played in Cleveland for the last four seasons.
Before being placed on IR earlier this season, Smith had a total of 25 tackles through five games and was becoming a solid piece in a defensive line that was surrounded by question marks.
Just like Pat Williams, age may be an important factor in whether or not Cleveland looks to resign Smith as he will turn 34 next season.
No.6: Chad Greenway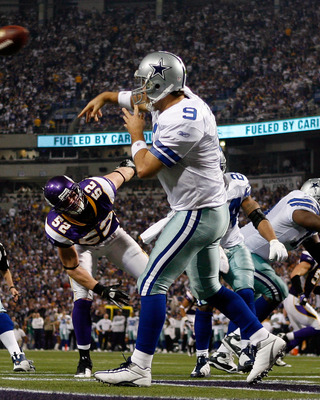 Elsa/Getty Images
In a season where not many things have gone well for the Minnesota Vikings, Chad Greenway has been a very bright spot for the future.
Greenway was relatively unknown coming into this season as he was second tier to star players like Jared Allen, but has since made a name for himself as he leads the Vikings defense with 115 tackles, one sack, and one fumble recovery.
Many analysts believe that it will be hard to pull Greenway away from Minnesota, but as the Vikings continue to fall into uncertainty with their future, Greenway could very well be looking from some greener pastures.
No. 5: Champ Bailey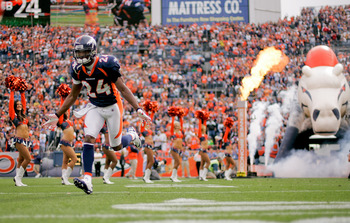 Justin Edmonds/Getty Images
Champ Bailey is not quite the hot commodity that he once was a few years ago, but can still bring some much needed stability to a struggling Browns secondary.
Cleveland has seemed very vulnerable to some of the better passing attacks in the NFL and could use the experience and talent of the 12 year veteran, Bailey.
So far this season, Bailey has two interceptions and 40 tackles while working to contain opposing defenses in Denver.
No. 4: Shaun Ellis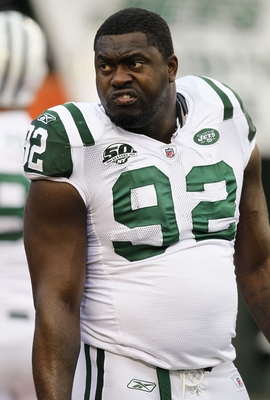 Jonathan Daniel/Getty Images
Currently in his tenth season, Shaun Ellis has been nothing short of a sack machine since coming into the league in 2000.
Ellis' numbers have taken a slight decrease with the New York Jets as the team as a whole has grown into a more solid unit, but is still a very large piece.
Ellis would be of the most use to the Browns if currently nose tackle, Shaun Rogers, happens to be released or traded during the off-season.
No.3: Barrett Ruud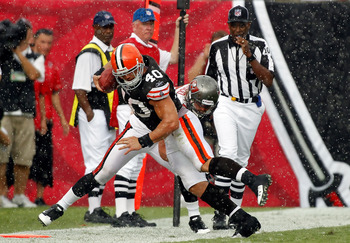 J. Meric/Getty Images
Barrett Ruud may very well be the NFL's best kept secret as he has totaled over 500 tackles, six interceptions, and five forced fumbles while playing middle linebacker for the Tampa Bay Buccaneers.
Now in his sixth season, Ruud should be entering the prime of his career and could be a valuable asset to any team looking to add a quality piece to their defense.
The Browns could make a great case for acquiring Ruud at the end of this season as current Browns linebackers D'Qwell Jackson and Matt Roth may both be headed for other teams during the off-season.
No.2: David Harris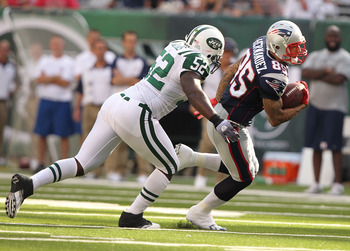 Al Bello/Getty Images
David Harris is large and physical linebacker that is getting better with every passing season.
Only in his fourth year, Harris has surpassed the century mark in tackles on two separate occasions and has also been a pain for opposing quarterbacks with nine pass deflections and two interceptions.
The Browns will only pursue Harris if the current linebacker situation takes a different turn than where it currently stands.
It is also slightly hard to believe that Rex Ryan would be willing to part with a young player that is coming along nicely in his top ranked defense.
No.1: Mathias Kiwanuka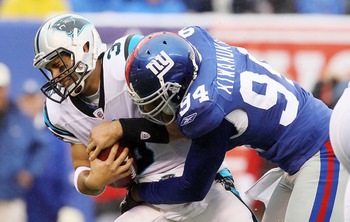 Jim McIsaac/Getty Images
Mathias Kiwanuka was put on injured reserve early in the 2010 season but made his presence felt in the short time that he did have to play. In only three games, Kiwanuka managed to round up the quarterback on four separate occasions and also forced one fumble.
Kiwanuka will be a bit of a wild card for any team that looks to sign him but he has a tremendous upside.
In only four seasons, Kiwanuka has piled up 23.5 sacks and has been a staple of the Giants defense since the retirement of Michael Strahan.
Kiwanuka would be a great fit for Cleveland because of his size and physical speed coming out of the end position. With someone of Kiwanuka's ability lined up beside a large body in the middle, the Browns rush defense could easily become one of the best during 2011.
Keep Reading

Cleveland Browns: Like this team?