NFL Week 14: 5 Keys to a Jets Victory Over the Dolphins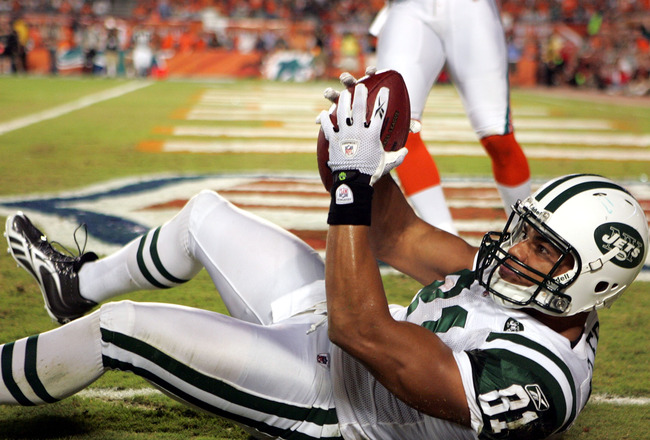 Dustin Keller catches a touchdown pass against the Dolphins in Week 3
Marc Serota/Getty Images
The four-game winning streak for the Jets is over and against the Patriots on Monday night, they looked as bad as possible on all ends of the football. Their offense was horrible and their defense couldn't have been worse, giving up 45 points to Tom Brady and company.
After leading the AFC East for some time and having the top seed in the conference, the Jets dropped to second in the division and fifth in the AFC.
They'll try to right the ship against the Dolphins, whom they beat in Week 3 in Miami. The Dolphins, though, aren't a good home team with a 1-5 record but are a fantastic 5-1 on the road and will be a threat on Sunday.
The Jets have a three-game lead over the Dolphins, Colts, Raiders and Chargers—all 6-6—for the final playoff spot in the AFC.
Unless a 2008-type collapse occurs, the Jets will make the playoffs, but they must get back on the winning track with one-quarter of the season remaining.
As the Jets aim for their 10th win and the Dolphins try to play spoiler, here are five keys to a Jets victory.
Dustin Keller Must Come Out of Hiding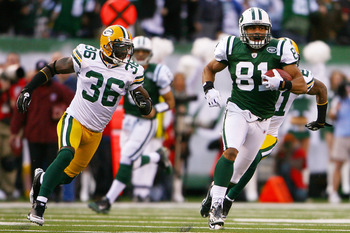 Andrew Burton/Getty Images
Santonio Holmes has been a great addition for the Jets, but you can blame him for one thing. Dustin Keller has taken a back seat since his arrival in Week 5.
Why bring up Keller for this specific game? Well, the last big game he had was against these Dolphins back in Week 3 when he caught six passes for 98 yards and was becoming Mark Sanchez's "go-to-guy." He had just put up monster numbers the previous week against the Patriots—which he didn't on Monday—when he caught seven passes for 115 yards.
Keller hasn't been the player the Jets thought he'd be and after a nice start to the season, he's been irrelevant in the Jets offensive playbook. Sanchez has gone almost exclusively to Holmes and Braylon Edwards and rarely even targets Keller anymore.
It isn't entirely Keller's fault. Sanchez has been so focused on feeding Holmes and Brian Schottenheimer hasn't called any plays for Keller, leading to a significant drop in his numbers.
The Jets have finally gotten Shonn Greene's ground game going, but it would be smart to incorporate Keller into a game before season's end.
He looked good in last season's playoffs and should start getting comfortable before the end of December.
Jets Defense Must Stop Dolphins Passing Game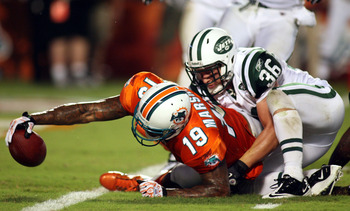 Marc Serota/Getty Images
What nearly beat the Jets in Week 3 was the Dolphins' passing game. The Jets didn't have Darrelle Revis in the game with his early-season hamstring woes, but Brandon Marshall torched the Jets secondary for 10 catches and 166 yards.
Marshall sat out this past week in a loss to the Browns with a hamstring injury of his own, but expects to play in this game. If so, the Jets better hope having Revis back makes a difference.
Not only did Marshall have a huge game, but so did quarterback Chad Henne. He threw for 363 yards and two touchdowns as Davone Bess and Brian Hartline also went for over 80 yards apiece.
The Dolphins have a great defense but the Jets are great at stopping the run so the Dolphins will have to win with their passing game.
With safety Jim Leonhard out for the season, the Jets already struggled in the secondary against Tom Brady, allowing him to throw for 326 yards and four touchdowns.
If Marshall doesn't play in the game, the Jets will catch a huge break, but if he does then a lot will have to be done to contain him.
Mark Sanchez Must Take Game Back to Potent Level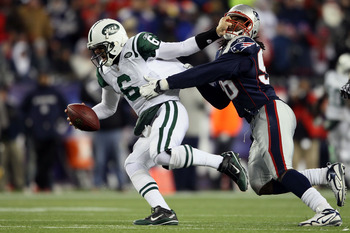 Elsa/Getty Images
It has been an up-and-down ride all season for the second-year quarterback out of USC. Mark Sanchez had an awful opening game of the season against the Ravens but followed that up with three straight terrific performances.
He then won his next two games but came back down to earth, finally throwing his first interceptions of the season in Week 6. Nonetheless, it appeared that Sanchez had taken a significant step forward in his sophomore season.
He would hit rock bottom following a bye week as he got shut out against the Packers in his own home. He then strung together three consecutive clutch outings, leading his team to victory in the final possession in each game.
Now, he's back to being average to below average. The game he had on Monday night against the Patriots was awful. He only averaged five yards per pass attempt and threw three interceptions without a touchdown. It resulted in an atrocious QB rating of 27.8 and really started raising questions on whether or not he can be a consistent NFL quarterback.
If he's going to continue his season-long trend and put together some nice games, this is the time to do so. The team needs confidence and needs to lock up a playoff spot in the coming weeks.
He doesn't have to be perfect to the tune of 400 yards and five touchdowns. He just needs to have a solid game, avoiding mistakes and helping his offense put up the necessary points to beat the Dolphins.
The game he had against Miami in Week 3 is a perfect example of how he needs to play. In that game, he threw for 256 yards and three touchdowns, without an interception. Exactly opposite of the game he had against the Patriots.
Holmes wasn't around for that game and if Sanchez can get back on track with some nice plays and smart choices, then he could turn his season around again just when it counts the most.
Shonn Greene Should Be Handed Starting Job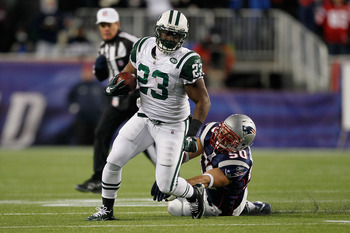 Jim Rogash/Getty Images
It's pretty clear by this point in the season that LaDainian Tomlinson has worn down. With that, Shonn Greene has stepped up to produce. In each of the last four games, Greene has outgained Tomlinson in rushing yards and it's about time the Jets make him the starting running back.
Not that Tomlinson is completely shot, but Greene has the younger, fresher legs and is coming on like he did late last season into the playoffs.
The Dolphins aren't going to allow opposing offenses to choose which style of play they want to use. Their defense is great in stopping the pass and run, ranked in the top 10 in both categories, so if the Jets had to choose, they should go with running it with Greene.
He ran for 64 yards against the Patriots and being it'll be equally hard for the Jets to score, he'd be the best option to choose.
After Tomlinson began the season surprisingly strong, the Jets have been reluctant to strip him from his starting role. But as the final four games come around, the better running back is Greene and the team may go back to its ground and pound offense from a year ago on a consistent basis.
It's time to make the switch to make sure Greene gets the majority of carries out of the backfield and this week is the time to do it.
Limit the Dynamic Duo of Ricky and Ronnie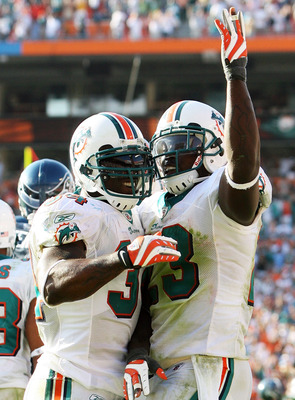 Doug Benc/Getty Images
The Dolphins aren't ranked anywhere close to the Jets in rushing yards per game (the Jets are fourth, the Dolphins are 18th), but they still have a dynamic threat with Ricky Williams and Ronnie Brown.
The two-headed monster didn't produce a whole lot against the Jets earlier in the season as the Dolphins passed all game, but at any time, they can kill a defense.
Part of why or maybe entirely why the Dolphins running game was limited is because the Jets have a great run defense. They rank third in the league in stopping opponents' rushers and that's a major advantage to have against the Dolphins.
As mentioned in a previous slide, the Jets have to stop the Dolphins from passing as well as they did in Week 3, but they can't get burned by the two-headed attack on the ground either. Those two guys are typical dark horses for any offense and if the Jets don't mind them, they could have a field day.
Being the Dolphins have a pretty good defense, the Jets will have to limit them from scoring a lot. If they can stop them from passing as much and limit Ricky and Ronnie, then they should win, but those are two big ifs.
By the way, a shout out to Ronnie Brown who'll be celebrating his 29th birthday at the Meadowlands on Sunday. Let's hope the Jets ruin his celebration.
Keep Reading

New York Jets: Like this team?