2011 NFL Draft: 20 Players Whose Stock Has Fallen Furthest This Season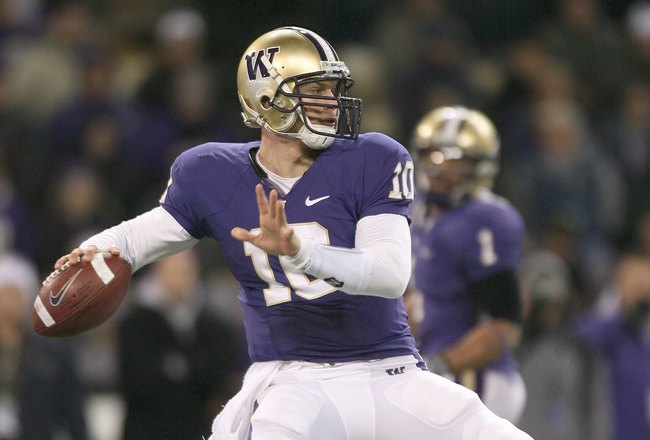 Otto Greule Jr/Getty Images
As we head into the bowl games, the college football regular season has been kind to some players and, to others, very, very unkind.
Looking ahead to the 2011 NFL draft, there are some big names who are going to have to impress considerably during the bowl games or during pre-draft workouts.
Some of these players lost big chunks of the season due to injuries; others, well, have disappointed mightily on the field.
Here are 20 players whose stock has fallen furthest this season.
20. James Dockery, CB, Oregon State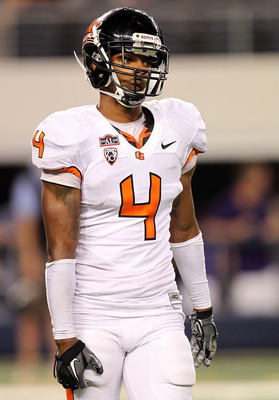 Ronald Martinez/Getty Images
Oregon State was supposed to make a splash this season.
They haven't, and part of that is because a big player for them on defense, cornerback James Dockery, has had trouble.
He's managed four interceptions and his height and playmaking ability still should make him a lock to get drafted, but he's had trouble with the basic things, like trailing receivers and changing direction fast enough (especially apparent against Oregon).
He'll probably go in the late rounds, but surely not what was expected coming into the season.
19. DeAndre McDaniel, S, Clemson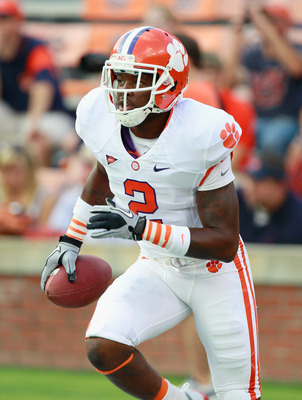 Kevin C. Cox/Getty Images
Cornerback DeAndre McDaniel is still considered a top safety going into the draft this year.
But he didn't do enough in his senior season to really make a splash on the draft boards.
After eight interceptions last season, he had four this year, not bad but, nevertheless, a pretty significant drop.
He also had significantly fewer tackles and he didn't sack the quarterback on any blitzes or run any interceptions for a touchdown as he did last year.
He may have been better off entering the draft last season.
18. Ladi Ajiboye, DT, South Carolina
Streeter Lecka/Getty Images
In the biggest game of the season for the Gamecocks, defensive tackle Ladi Ajiboye didn't get to Auburn QB Cam Newton in the SEC Championship game.
He did show a little pressure, but three tackles didn't exactly distinguish himself for the NFL draft scouts.
Despite showing flashes and spurts of NFL potential this season, he only finished with five tackles for losses and two sacks.
That's not exactly going to impress teams.
17. Donald Buckram, RB, Texas-El Paso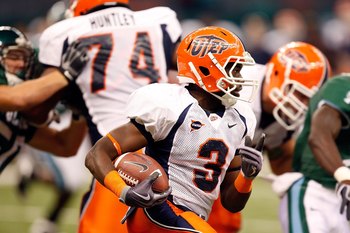 Ronald Martinez/Getty Images
Donald Buckram rushed for over 1,500 yards and 18 touchdowns last season for Texas-El Paso.
He rushed for 325 yards and one score in his senior year.
He was injured for most of the year and in the CUSA Championship game, when he really needed to shine, he rushed for nine yards and five carries.
Tulsa running back Joe Banyard made him look even worse, finishing with 155 yards rushing in the matchup.
Buckram's stock plummeted this season and he's going to need an outstanding workout to even be considered in the early rounds.
16. Jerrell Powe, DT, Mississippi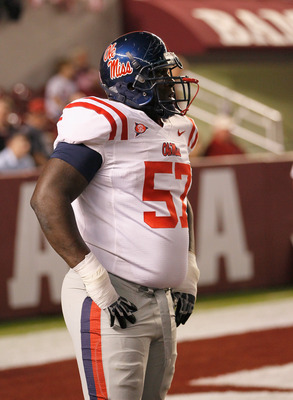 Kevin C. Cox/Getty Images
Defensive tackle Jerrell Powe had two sacks against Alabama midway through the season, and played well against Arkansas the following week.
But since then, his play hasn't really shown up, and his lone tackle against LSU is a testament to this.
Against Alabama and Arkansas, he looked like he was positioning himself well.
But his dropoff the rest of the season probably has him going in the final second to third round now.
15. Ras-I Dowling, CB, Virginia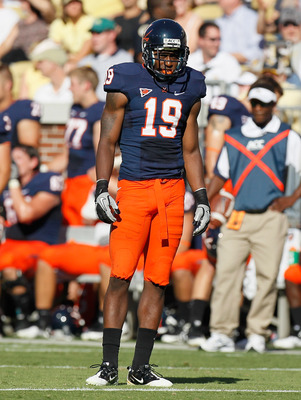 Kevin C. Cox/Getty Images
After three interceptions and two forced fumbles in 2009, Ras-I Dowling was looking like a solid early second-round, if not first-round prospect.
But he played all of three games this season due to injuries. Despite playing OK in these three games, he undoubtedly takes a drop because of the missed time.
A team will have to take a chance on him for him to go in the early rounds.
14. Greg Jones, LB, Michigan State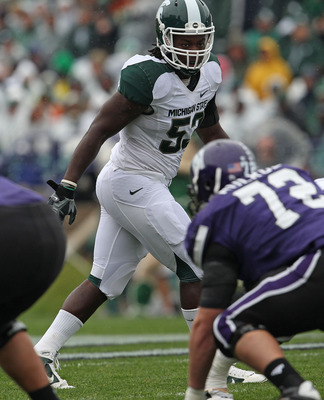 Jonathan Daniel/Getty Images
Greg Jones is one of those cases where size can seriously drop his stock.
He's not very big for a linebacker, at 6'1" and 228 pounds, and he only had two sacks this year compared to the monster 153-tackle, nine-sack year he had last season.
His decline in production after that great 2009 season should surely drop him, and his potential will be questioned.
13. Niles Paul, WR, Nebraska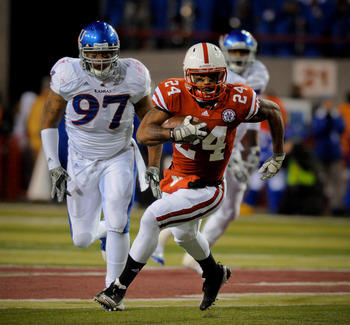 Eric Francis/Getty Images
The 2011 NFL draft has a slew of solid receivers to choose from.
Niles Paul's game against Oklahoma State will help him, but he didn't do much the rest of the season, and he certainly didn't distinguish himself.
He had fewer than 550 yards receiving and just one touchdown (against Western Kentucky in the first game of the season). That's compared to almost 800 yards receiving and four touchdowns last season.
Numbers aren't everything, but it's clear he wasn't the same player he was last year.
12. Brandon Saine, RB, Ohio State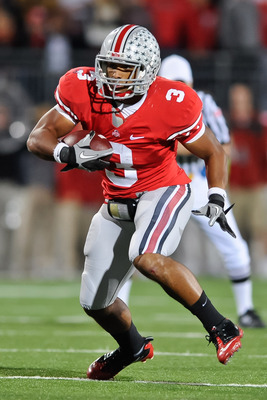 Jamie Sabau/Getty Images
It appeared Brandon Saine was a bit overrated coming into the 2010 season, not showing the NFL-level skills such as vision and balance.
The one thing he did have going for him was speed. He is a very quick player.
But Ohio State coaches must have seen him as not a top player, either, keeping him in a time-share in the backfield and limiting him to only 66 carries when he had 145 last year.
He finished with a meager 312 yards and two touchdowns.
11. Prince Amukamara, CB, Nebraska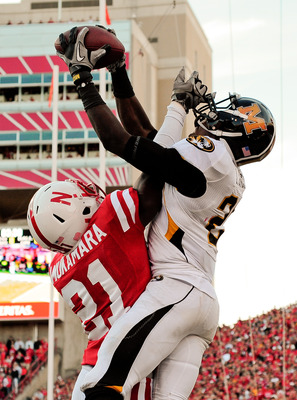 Eric Francis/Getty Images
Prince Amukamara is the No. 2 cornerback on most NFL draft boards behind Patrick Paterson.
But he's shown some weaknesses this season, and I project him to drop out of the Top 10 as a result.
He's still an elite prospect, but his apparent inability to break up passes has been troublesome, and he didn't have but one interception this season after having five last season.
It's going to be interesting where he falls.
10. Ryan Williams, RB, Virginia Tech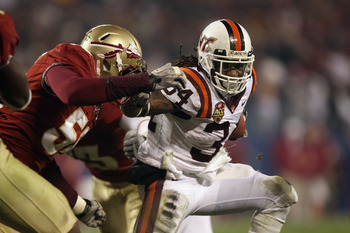 Streeter Lecka/Getty Images
Much like Brandon Saine, Ryan Williams has seen himself in a time-share in 2010, with two other running backs at that.
After running for more than 1,600 yards and and gathering 22 total touchdowns last year, he's finished with fewer than 500 yards and 10 touchdowns this season.
The result will be a free fall down the charts. He will likely be selected in the final rounds.
9. Ricky Stanzi, QB, Iowa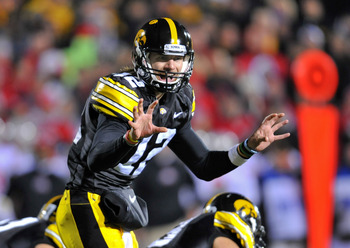 David Purdy/Getty Images
Iowa Hawkeyes QB Ricky Stanzi can't be happy with how his 2010 regular season ended.
He was skyrocketing up draft charts with impressive performances against Wisconsin, Michigan and Michigan State.
Then the last three games of the season came.
He failed to lead his team from behind in the fourth quarter in three straight games.
The Hawkeyes lost by a combined 10 points in these three games.
His ability to lead under pressure could be questioned as a result.
He will, however, still probably be selected in the early rounds—just not in the first round where he could have gone.
8. Jonathan Baldwin, WR, Pittsburgh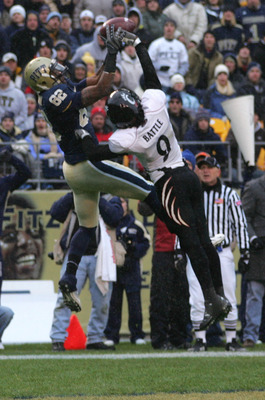 Jared Wickerham/Getty Images
Jonathan Baldwin was compared to Larry Fitzgerald coming into the 2010 season.
That in itself is hard to live up to.
That he was surrounded by shaky quarterback play and a struggling offense doesn't help, either.
The intangibles, the physical skills—they're all there.
But the drop in his numbers are sure to hurt him and may even push him out of the first round.
But he could be pick of the draft if he falls far.
7. Curtis Brown, CB, Texas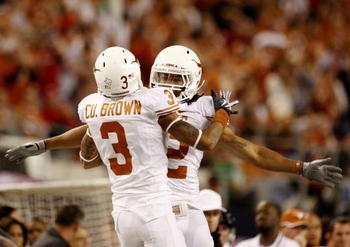 Ronald Martinez/Getty Images
Curtis Brown was hyped as one of the better corners to ever play for Mack Brown at Texas heading into the 2010 season.
But he disappointed mightily.
He was a highly suspect punt returner, and his coverage skills were anything but extraordinary.
He should free-fall in the draft, as his once-glorified regards have been regarded as glorified once.
6. Greg Romeus, DT, Pittsburgh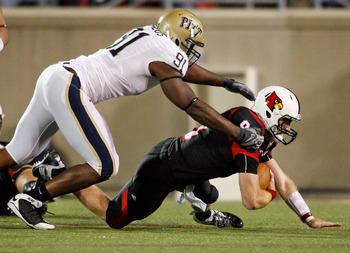 Andy Lyons/Getty Images
Pitty defensive tackle Greg Romeus had two monster seasons in 2008 and 2009, with seven and eight sacks, respectively.
Then, 2010 came.
He had surgery on his back and appeared in just two games for the Panthers.
He is still regarded as a top defensive lineman, but injury issues should surely drop him down the board.
Teams selecting in the first round generally don't like risky picks.
5. Mike Pouncey, OG/C, Florida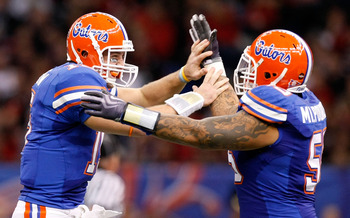 Kevin C. Cox/Getty Images
Mike Pouncey of the Gators excelled as a guard.
Then he had to move over to center to replace his brother Maurkice before the 2010 season.
Being the top lineman on the team, it was only a matter of time before he adjusted, right?
Not quite. He struggled snapping the ball at times and clearly wasn't the same player.
Teams could take a chance on him looking back at his previous years as a guard, but if a player doesn't play stellar ball, despite the situation he's in, it's hard to take a chance on him.
He could definitely drop to the second round.
4. Jake Locker, QB, Washington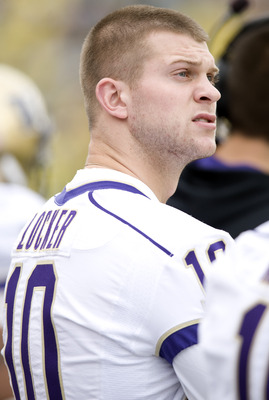 Steve Dykes/Getty Images
Jake Locker was considered the top QB to enter the 2011 NFL draft heading into this season.
But he had a few games that were downright ugly, and a guy by the name of Cameron Newton started winning football games.
Now Locker finds himself most likely behind Andrew Luck and Ryan Mallett, and possibly even Newton.
He will still be a first-round pick, but there's no telling where he could end up.
3. Greg Little, WR, North Carolina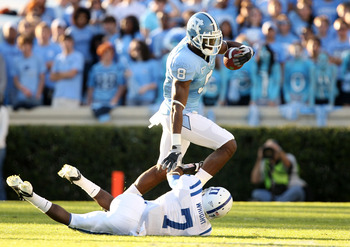 Streeter Lecka/Getty Images
After showing glimpses of some serious potential when Greg Little converted into a receiver and return man in 2009, he still needed to develop more after originally being a running back.
Losing the entire 2010 season due to injury didn't allow him to develop at all.
Now there are questions whether teams will take a chance on him at all.
Injury was the worst thing that could have happened to Little.
2. Marvin Austin, DT, North Carolina
Streeter Lecka/Getty Images
Marvin Austin was supposed to be all the rage this season.
That is, until he was found to have accepted gifts and cash from his agent.
He was suspended for the entire 2010 season after a solid 2009 season in which he finished with four sacks.
It's the "character issue" thing again.
And it hurts players tremendously.
1. Cameron Heyward, DL, Ohio State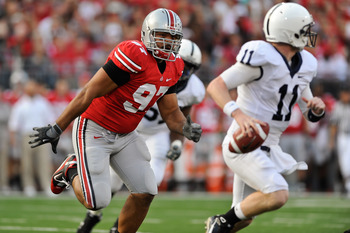 Jamie Sabau/Getty Images
Cameron Heyward was projected to explode this season after picking up six sacks for the Buckeyes in 2009.
He neither exploded nor showed up for a lot of the season, and his Big 10 showdown against top offensive lineman Gabe Carimi of Wisconsin appeared to expose him as not an elite talent.
He will surely fall in the NFL draft as his intangibles will hurt him come film time as well.
Keep Reading