2011 New York Giants Mock Draft: Prospects Big Blue Must Target in April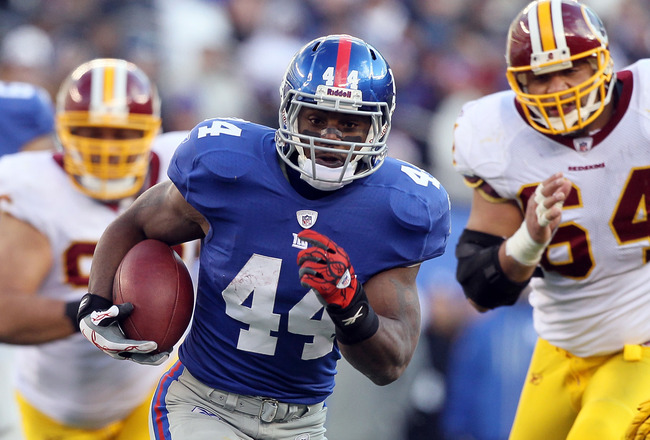 2010 N.Y. Giant Rushing Leader, Ahmad Bradshaw
Jim McIsaac/Getty Images
At 8-4 and seemingly back in rhythm Giant fans are first and foremost focused on keeping the roll going, running the ball well, getting at least some of the mass of injured players back on offense, and of course, playing championship defense which all starts up front with the kind of ferocious pass rush that lead the team to the promised land in 2007.
But somewhere in the midst of these pressing thoughts is the ever present concern over improving the team, supplementing the critical depth, and with that in mind is it really ever too early to begin contemplating the teams needs in the forthcoming NFL Draft?
We don't think so, and even with the 2010 season just hitting it's December stride here's our up to date analysis of the New York Football Giants current roster and who we see as their top twenty or so players of particular interest leaving the college ranks in 2011 for the upcoming NFL Draft.
Eli Manning Leads The NFL's Fourth Ranked Offense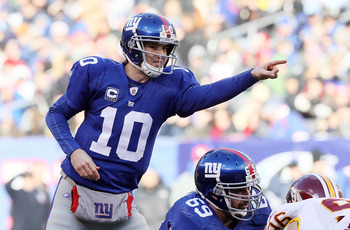 Simply Eli Manning, Better Than Ever In 2010
Jim McIsaac/Getty Images
QB: A team's got to click on all cylinders to win an NFL Championship, but it all starts with the helmeted man under center. Eli Manning has improved dramatically over the course of his 7 seasons in N.Y., his game savvy is outstanding, pocket presence as cool as it gets and with an enhanced stealth of weapons at his disposal Manning's production, (albeit with a few too many INT's thus far in 2010), is particularly impressive on a team that at least in part puts significant emphasis on the running game.
He doesn't miss any time either, though if one had to venture a guess Sage Rosenfels seems like a pretty capable back up.
Draft need on a scale of 1-10 … Two, at a glance we'd say for training camp and pre season fodder only, (See Andre Woodsen & Rhett Bomar), but this year the Giants might want to think out of the box a bit and go for a young QB with legs, (run the Wildcat?), someone who might fit a change of pace bill on third and short.
For A Change Will The Giants Finally Pick Up A QB With Legs?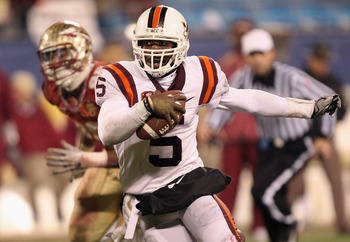 Tyrod Taylor Showing Some Flash
Streeter Lecka/Getty Images
QB:Possible late round candidates: Tyrod Taylor out of Virginia Tech, 6-1, 205 lbs, 4.5 40. Mobile, athletic, can make some throws, (up to about a 65% completion rate in 2010), a decent long ball, and he's got duality written all over him … that is, can play some wide receiver in a pinch.
How Long Has Colin Kaepernick Been Running Up The Score At Nevada?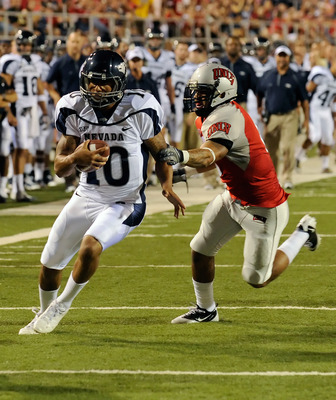 Colin Kaepernick Exhibits A Nose For The End Zone
Ethan Miller/Getty Images
Colin Kaepernick, Nevada, 6'6", 215, 4.7 40. I feel like I've been watching this cat forever, but that's only because he was already out on the field as a compelling freshman getting tangled up in crazy high scoring affairs with Boise State and the like. Superb runner, (1184 yards this year and that's no typo), would make a great H-Back type. Has a huge arm, (2830 yards, 65%, 20 TD's, 7 Int's), albeit with questionable mechanics. Excellent game savvy. Protects the ball. If he falls to round six, which he probably won't, this would be a real back up prospect for the G's to groom


It All Starts Up Front, Despite The Run Of Injuries Manning Is Still Upright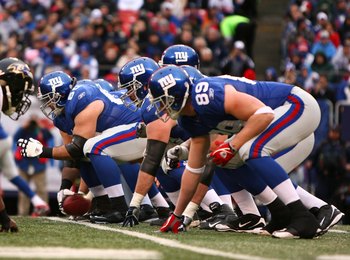 Giant's O Line, As Good As Any In The Game The Past Several Years Running
Al Bello/Getty Images
O-Line: They keep Eli erect (only 12 sacks this year, none in the last five games) and punch wholes for the two headed tandem of Bradshaw and Jacobs and this year it's been all the more amazing with injuries to center Sean O'Hara (8 weeks in total with no respite in sight), left tackle Diehl, (3 weeks, though his return is beginning to appear imminent), back up center Adam Koets, (out for the season), Kevin Boothe, (first 8 weeks of the season on the PUP list, but playing well now at left guard), William Beatty, (out for the first ten weeks of the season with broken foot, playing well now at left tackle), and virtual behemoth Shawn Andrews, who hung in there for the first half of the year, even showed signs of returning to dominant All Pro form only to once again be saddled with the kind of back pain that forced him to sit two full seasons in Philly.
(You take all that into account and come to two very distinct conclusions; the Giants were deep in capable offensive lineman to start the season, or at least training camp, and O-line coach Pat Flaherty is just about the best in the business.)
Otherwise they've got a nice looking kid, (not literally, but in terms of tenacious playing style), Mitch Petrus, out of Arkansas who appears as if he could handle a guard or center spot down the road, right guard, (Tom Coughlin son in law), Chris Snee, is a young All-Pro, and Kareem McKenzie who at 31 is still playing a better than serviceable right tackle (after having dropped 25 lbs. this past off season), so it's not like this group must be altogether revamped in the immediate future.
Not revamped, but the Giants will look to retool a bit, find another hammer who fits in here and adds to what turned out to be a very precarious depth chart in 2010.
Draft Need on a scale of 1-10 … Seven.
LSU's Joseph Barksdale Has All The Physical Tools To Garner The Giants Interest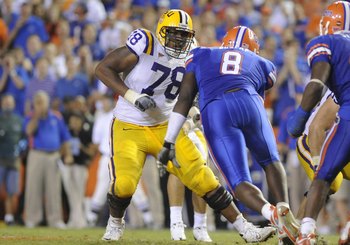 Joseph Barksdale, About To Lay The Wood
Al Messerschmidt/Getty Images
Possible first to fourth round candidates: Anthony Costanzo, OT, Boston College, 6-7, 295, 4.96 40. Unlike the last couple of drafts there are no sure fire highly rated O Line picks coming out in 2011. Right now Costanzo projects as a reasonable LT/RT prospect who excels in getting out into the second tier of defenders on the run block. He doesn't necessarily have the look of a mauler or glass eater out there but he does have a B.C. pedigree, (Tom Coughlin, Chris Snee), should be very coachable, and could provide some capable depth across the line. He'd have to drop pretty deep into the second round for the Giants to consider him.
Derek Sherrod, OT, Mississippi, 6-6, 305, 5.05 40 …. 3 year starter in the tough SEC, has pretty good range, strength, hand work.. Will probably jump past Costanzo and go late first round. Giants would have to be mighty impressed to grab him there.
Joseph Barksdale, OT, LSU, 6-5, 315, 4.9 40 …. Barksdale flew under the radar for awhile but this kid can outright play and is the only one of three we could actually see the Giants taking with a very late first round pick. Has great technique, lateral mobility, and hand strength. Has the LSU pedigree and will be a very effective NFL player. A year behind Reggie MacKenzie and this kid could be a great bookend to Will Beatty for years to come.
John Moffit, G/C, Wisconsin, 6-5, 320, 5.15 40 …. Assuming O'Hara is back and fully recovered from this years Lisfranc sprain, considering how well Seubert has played in his stead, (and they still have Koets as well), the Giants will more than likely look towards a middle rounder in the area of Guard/Center and big John Moffitt out of ground it out factory Wisconsin could fit the bill nicely. Two time All Big Ten first teamer, played a year at center before moving over to guard the last two seasons. Would be a nice 4th-5th round pick.
Kevin Boss Should Be Yearning For Wide Open Spaces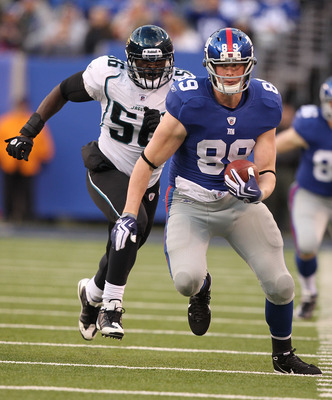 Kevin Boss, Channeling His Inner Mark Bavaro!
Al Bello/Getty Images
Tight End: Kevin Boss in one superb tight end, but the guy takes heavy, heavy shots on a regular basis and without him the Giants are down to Bear Pascoe, (proven himself to be a pretty able pass catcher in 2010), who's done a great job filling in at fullback this year, and Travis Beckum, who's more of an H-Back/Receiver type, (If they'd ever throw him the ball), and until proven otherwise not a player who can be counted on to run block or help protect Eli Manning's all important blind side.
Draft Need on a scale of 1-10 …. Six
Charlie Gantt, Michigan State, He's Got The Size and Soft Hands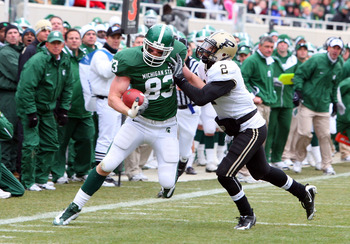 Charlie Gantt, Looking For Pay Dirt Against Purdue
Jim McIsaac/Getty Images
Possible late round candidate: Charlie Gantt, TE, Michigan State, 6-5, 248, 4.80 40 This is not exactly the year of the tight end in college football but we like Gantt's all around skills. Big time run blocker, has soft hands and some speed. Should be there late.
Big Jake and Ahmad Bradshaw At The Top Of Their Games Down The Stretch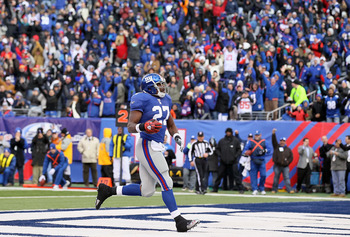 Big Jake, Coming On Strong When It Counts!
Jim McIsaac/Getty Images
Running Back: This is clearly a rich spot for the G Men with Bradshaw having emerged as one of the leagues best, (1013 yards at the 12 game mark), and Brandon Jacobs back to running like, well, Brandon Jacobs. Danny Ware's a nice 3rd back too but if the Giants have one truly critical need it's a great return man and they should be scouring the draft boards for a Leon Washington type, a superb receiver/returner who can turn a game on a dime. (They can also fill the kick return need with a dual skill player at Wide Receiver or Cornerback.)
Draft Need on a scale of 1-10 …. Six
JacQuizz Rodgers ... You Can't Hit What You Can't See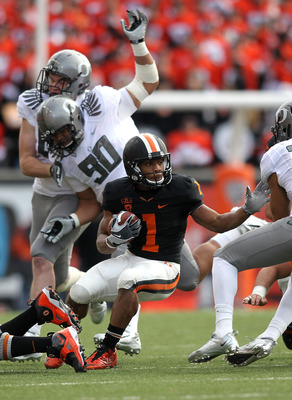 'Quizz Rodgers, You Can't Catch What You Can't See!
Jonathan Ferrey/Getty Images
Possible third round to fifth round candidates: JacQuizz Rodgers, RB, Oregon State, 5-7, 191 … A lot of teams looking for top two every down type backs will shy away from Rodgers because of his size. The Giants shouldn't be one of them. As we previously alluded to, just think Leon Washington reincarnate. Perfect 3rd down back, great hands, a potential touchdown waiting to happen out in the open field (1471 combined rush/catch yards in 2010, 17 TD's), and just the solution to the G's kick return woes. If he drops to the 3rd round he could look awful good in Blue.
Noel Is Devine ... Another Darren Sproles?
Noel Devine Looks to Have A Lot Of Charger Darren Sproles In Him
Andy Lyons/Getty Images
Noel Devine, RB, West Virginia, 5-8, 175, 4.31 40 …. This kid can flat-out play, smallish, but runs hard, can break at any moment, soft hands and another blazing mighty mite you'd love to see returning kicks. If he drops to 3rd or 4th round the Giants will consider him very seriously as a player that truly fills a void.
DeMarco Murray Has The Skills To Blow It Up On The Next Level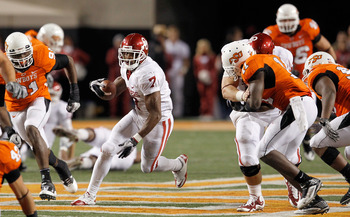 DeMarco Murray Has The Skill Set To Be Much More Than a 3rd Down Back
Tom Pennington/Getty Images
DeMarco Murray, RB, Oklahoma, 6-1, 214, 4.4 40 … Solid ball carrier with excellent speed, Murray profiles as much more than a third down back. Soft hands, best pass catching back coming out of the draft in a long time, (69 grabs for 595 yards in 2010), serious kick return skills. Great third or fourth round pick for the Giants if he still on the boards.
Hakeem Nicks, The Touchdown Maker
Hakeem Nicks, The Touchdown Maker!
Otto Greule Jr/Getty Images
Wide Receiver: Even with their best return man/capable receiver Domenick Hixon out before training camp opened the Giants were still jammed with a virtual embarrassment of riches at wide out. Hakeem Nicks, Steve Smith, and Mario Manningham are as good a young trio of WR's as you'll find in the league and on the rare occasions he managed to get on the field 6'6" 2nd year man Ramses Barden showed flashes as well.
We all know how that turned out with the G-Men signing the likes of Derek Hagen, Devin Thomas, and Michael Clayton off a variety of NFL scrap heaps just to get a sufficient number of pass catchers on the field these past couple of weeks much less keep up the semi torrid pace set earlier on in the season.
Again this is a perfect spot for a neophyte receiver, a burner with upside and great return skills. Be reasonably certain heady G.M. Jerry Reese will be on the lookout for just such a player.
Draft need on a scale of 1-10 …. Four
Boise State's Titus Young & Austin Pettis ... Believe What You See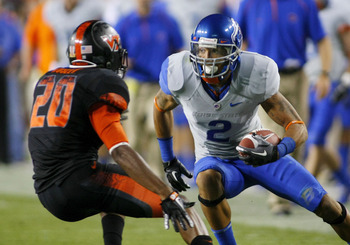 Austin Pettis Has What IT Takes To Be NFL Productive In 2011
Geoff Burke/Getty Images
Possible third to sixth round candidates: Austin Pettis, WR, Boiste State, 6-3, 201, 4.56 40. The scouts will come up with every reason to downgrade Pettis, lacks great speed, won't be a huge downfield threat. Watch him play and you'll know at once this kid will compete and thrive in the NFL. Nice depth player who can come in and catch balls with just a bit of grooming.
Titus Young, WR, Boise State, 5-11, 170, 4.34 40. Another guy who will drop because of his size Titus Young appears to have a lot of DeSean Jackson in him from what we've seen. Separation speed galore, soft hands, a touch down maker. Monster kick return potential. Would be a superb 4th rounder.
Derrell Johnson-Koulianos, Too Much Of a Mouthful For Draft Day?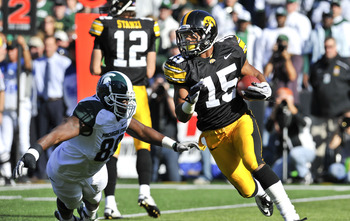 Derrell Johnson.Koulianos ... The Challenge Will Be To Pronounce His Name Correctly On Draft Day
David Purdy/Getty Images
Derrell Johnson-Koulianos, WR/KR Iowa, 6-1, 205, 4.43 40. Perfect situational player for the G's. Has consistently caught the ball at Iowa and has shown great burst as a kick returner. Is he Devin Hester, no, but there are no Devin Hesters in this draft. Should be hanging around rounds four to five.
James Rodgers ... A Perfect Fit For G Men?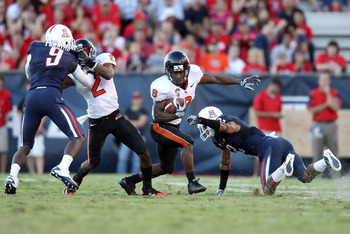 James Rodgers ... Would The Giants Ever Consider A Brother Combo?
Christian Petersen/Getty Images
James Rodgers, WR/PR/KR, Oregon State, 5-7, 185, 4.38 40 … Like his brother JacQuizz can burn it up on all fronts though he'll likely drop down the board due to broken leg that short circuited his 2010 season. 2009? 91 catches for 1034 yards, 58 rushes for 303 yards, nearly 30 yards per kick return. He's a fit for the Giants at number four for sure, though another team in need of a versatile smurf might snag him higher up.
Speaking For The Defense ... It All Starts Up Front!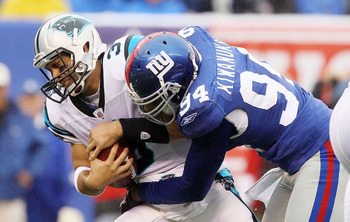 Mathias Kiwanuka ... Will He Be Back In 2011?
Jim McIsaac/Getty Images
Defensive Line: All you need to know about this power spot for the Giants is impressive 2010 draft pick out of East Carolina, Linval Joseph, can't even find his way onto the game day active roster and ever improving rover and former first round pick out of Boston College, Mathias Kiwanuka, (Free Agent in 2011), has been out since week four.
And they still have the best defensive line in the NFL by a fairly wide margin playing the run and rushing the passer with great efficiency.
Draft need on a scale of 1-10 … Two, only because Reese & the Giants firmly believe you can never have too many. Crazy flyer? Cedric Thornton, DE/DT, Central Arkansas, 6-4, 295, 5.10 40. Reasonably dominant at the small school level he's seen as a potential mid rounder by some. Giants might be interested if he dropped to 7 or even fell out as a coming free agent.
The Giants Will Look For More At Linebacker In 2011
Jonathan Goff ... Perfect Combination Of Brains And Brawn
Nick Laham/Getty Images
Linebacker: If there's a plausible area of need for the Giants it's at linebacker although ex Vanderbilt scholar and sure tackler Jonathan Goff has certainly indicated he can be the kind of penetrating stud in the middle to hold the Big Blue MLB position for any number of years to come, (though coaching staff loves potential of back up MLB out of Nebraska, Phillip Dillard.)
Keith Bullock is a short term, middling solution on the strong side, and at this point he's really only on the field because University of Virginia product Clint Sintim hasn't shown enough to play regularly though the Giants continue to like his potential and he's played well on special teams. Late rounder Adrian Tracy out of William & Mary showed nice flashes in pre season but got IR'D, the Giants like him a lot as well on the strong side.
On the weak side Michael Boley shows persistent flashes of a high level skill set, there are games he appears to be all over the field, and there's no doubt he's got sideline to sideline speed. But there are also games where you turn around and say, "did Boley play today?" and it's unlikely the team would not consider an alternative or upgrade at the position.
Draft need on a scale of 1-10 …. seven.
Travis Lewis ... A Little Saturday Afternoon Head Hunting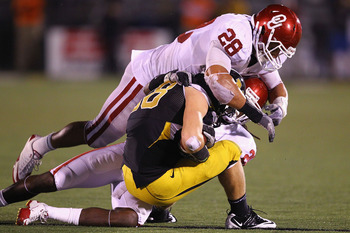 Travis Lewis In Decapitation Mode!
Dilip Vishwanat/Getty Images
Possible first & second round candidates: Travis Lewis, OLB, Oklahoma, 6-2, 232, 4.5 40. Probably the best linebacker in the draft Lewis is likely to go top 15 so barring a draft day trade, (which the Giants might go for considering their overall depth), Lewis might not be there for them. Nevertheless The Okie stud has it all, can play on either side, speed, range, sure tackler with playmaking skills. Could make an immediate impact and if there's a way for the Giants to grab him they should.
Bruce Carter, If The N.C. Pedigree Isn't Enough His Skill SetSpeaks Volumes!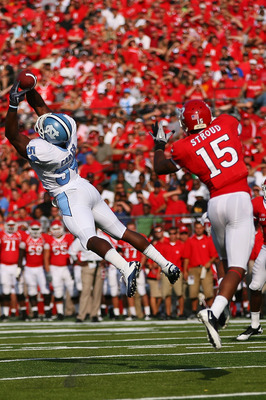 Air Bruce Carter ... He's Got Mad Skills
Andrew Burton/Getty Images
Bruce Carter, WLB, North Carolina, 6-3, 225, 4.55 40. Make the connection, and this North Carolina monster stands out as a pick the Giants would love to be able to make. Another guy who they might have to trade up for, Carter is a huge hitter, has great range and is another playmaking athlete. No, we're not saying he's the next L.T., but you'd certainly settle for a Bart Scott, Jon Beason, or even Patrick Willis type. Carter is that good.
We Have It On Inside Authority, This Young Lady Is Crazy For Von Miller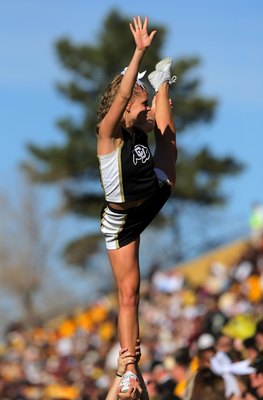 We Have It On Good Authority This Young Lady Is Cheering For Von Miller
Doug Pensinger/Getty Images
Von Miller, SSLB, Texas A&M, 6-2, 240, 4.58 40. Recent Butkus Award winner, Miller, had been dinged up early with an ankle and his production (NCAA leader with 17 sacks last year) was somewhat off this year albeit with 59 tackles, 14.5 TFL, 9.5 sacks. Despite the plaudits, (winning the Butkus award is no straightaway ticket to a first round selection, see James Laurinatis of Ohio State who slipped to 35 in 2009 as a recent example), Miller has probably dropped on some boards. Obviously has pass rush skills, (though he's set up nicely in A&M's hybrid position), great athleticism, if not something is of a question mark vs. the run. Giants would probably have to move up a bit in the second round to grab him but the draft can be a crazy place and he could also fall into their laps late depending on his off-season/combine.


Aaron Ross ... Staying Away From Hammy Problems In 2010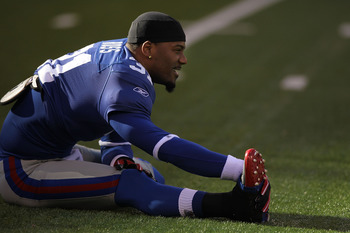 Aaron Ross ... Big Hammy Problems in 2009, Having A Nice Comeback Season in 2010
Al Bello/Getty Images
Corner: Aaron Ross, Terrell Thomas and Corey Webster are a solid trio but if you want to quibble you could say none of the three are Darrelle Revis or Asante Samuel so there's a little room for improvement. The Giants could target a high pick here and again someone they could groom who's also a burner with kick return skills would be ideal.
Draft need on a scale of 1-10 …. Six
Patrick Peterson Projects To One Of The Top Five Players In The 2011 Draft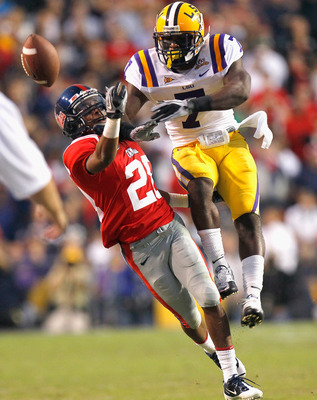 Patrick Peterson ... Top Corner In The 2011 Draft
Kevin C. Cox/Getty Images
Possible 1st to 3rd round candidates: Patrick Peterson, CB, LSU, 6-1, 218, 4.45 40. A purebred! Dominant kick returner, run stuffing CB with great cover skills. What's the catch? He's going top five.
Prince Amukamara ... Will He Play Like Royalty At The Next Level?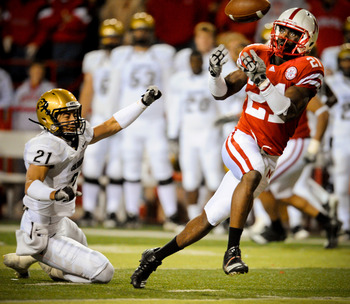 Prince Amukamara ... Can He Play Like Royalty On An NFL Level?
Eric Francis/Getty Images
Prince Amukamara, CB, Nebraska, 6-1, 200, 4.5 40. A dominant college athlete he may not have the speed to become a dominant NFL corner. Solid in every way though and will probably be a top 10-15 pick.
Brandon Harris May Wonder Why The Giants Don't Have Have Cheerleaders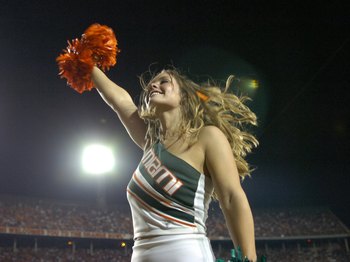 Al Messerschmidt/Getty Images
Brandon Harris, CB, Miami, 5-11, 195, 4.41 40. The U may be down on it's luck these days but that doesn't mean Brandon Harris wouldn't be an ideal pick for the Giants. Insane speed, won't allow receiver separation and has no fear taking on the run. His 4.41 speed translates into special kick return potential. In plain English, a game breaker. If he falls to the Giants he can join Phillips and Rolle and make a for a serious UM trio in The Big Blue defensive backfield.
Giants Are Once Again Strong at Safety
Veteran Deon Grant Has Been A Revelation For G Men In Rover Spot
Al Bello/Getty Images
Safety: The combination of Kenny Phillips, Antrel Rolle and Deon Grant is as good as any team in the NFL has to offer but there's not depth behind them and an injury or two here could prove disastrous. No doubt the Giants will look to improve their depth safety with an upper to mid tier pick not unlike last years 3rd rounder Chad Jones who was lost to the team in the off seasons due to an horrific, life threatening car accident he may never fully recover from.
Draft need on a scale of 1-10 ….. Six.
Deunta Williams Out Of North Carolina Would Provide Exciting Depth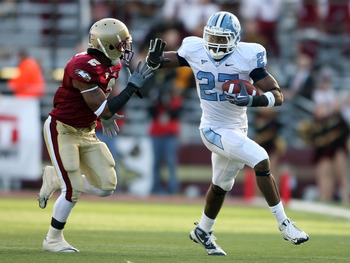 Deunta Williams ... Worth A Very Long Look
Elsa/Getty Images
Possible second to fourth round candidates: Deunta Williams, FS/SS, North Carolina, 6-2, 205, 4.5 40. We love this kid and he may drop a bit over fairly innocuous NCAA suspension having to do with pre commitment recruitment violations and money received for travel. Has otherwise started every game for N.C, AKA the 'Hit Man', Williams also has mad ball skills as he came to the A.C.C. school as a wide receiver. If he drops to them in the second round the Giants will look at him very seriously, it's not impossible come draft day they would consider him as a #1.
Mark Barron Has The Alabama Pedigree and Can Lay The Wood Big Time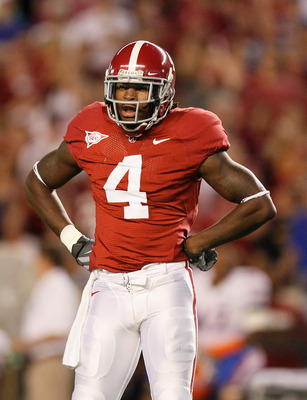 Mark Barron ... He's Got The Alabama Pedigree
Kevin C. Cox/Getty Images
Mark Barron, SS, Alabama, 6-2, 215, 4.61 40. A little raw, needs pass coverage schooling but is very simply the hardest hitting safety in the draft. Good candidate for the hybrid position currently filled by vet Deon Grant. Third or fourth rounder.
Matt Dodge ... Happy to Have Been Relieved Of His Holding Duties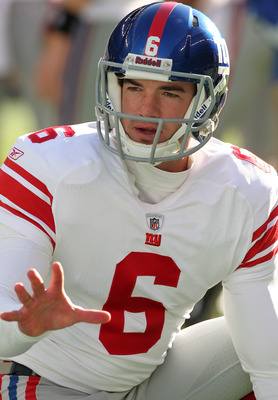 Matt Dodge ... Big Leg, Not Much Of A Holder Though
Otto Greule Jr/Getty Images
Kicking game: It's been a bit of an adventure but since Rosenfels has taken over at holder I don't think Lawrence Tynes has missed a kick, and Matt Dodge, (believe it or not the number 1 rated punter coming out of the college ranks last year), who's definitely got a bit of a stone hands problem, has shown enough flashes to make the Giants think he can be a long term fixture at the position.
But that doesn't mean they won't bring someone into camp to challenge him next summer. Probably not a draft pick though unless someone like Derek Epperson from Baylor fall into their laps at number 7.
Jerry Reese, As Good As Any G.M, In The Game ... at Least Come Draft Day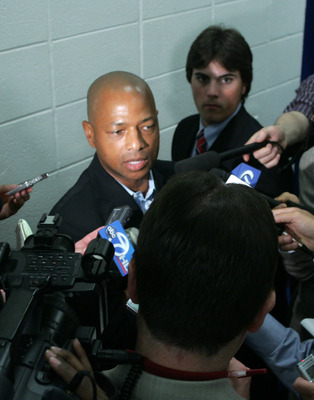 Jerry Reese ... Cool As A Cucumber And Leader Of The Giant Brain Trust
Andy Marlin/Getty Images
Summarizing, although the Giants and Jerry Reese are occasionally criticized for their draft day decisions one only needs to look at the current roster to really see how efficient Reese and his staff have been in making their selections these past four or five years. Of this years opening day 22 man starting roster 15 were Reese selections.
In this ever transient professional sports world of free agent signings and departures that's a pretty remarkable number. Enough to coin the phrase in Reese we trust, which most Giants fans do, and verifiably so.
Hope you enjoyed it,
DR
Keep Reading

New York Giants: Like this team?