MLB Rumors: 10 Big Names The Boston Red Sox Could Still Pursue
J. Meric/Getty Images
The Boston Red Sox had a bit of a disappointing season last year as they were haunted by injuries and failed to make the playoffs.
This year though, things will definitely be a lot different. The Tampa Bay Rays are going to lose a lot of talent to free agency and may struggle next year. Which means that it is time for the Red Sox to return to the post season once more.
They have an excellent chance as I just said but, there are no guarantees in life. Even though they picked up Adrian Gonzalez yesterday, the Red Sox still have a few other things to address that will help them get to the playoffs.
These are the players I believe General Manager Theo Epstein and the Boston Red Sox should target.
Brian Fuentes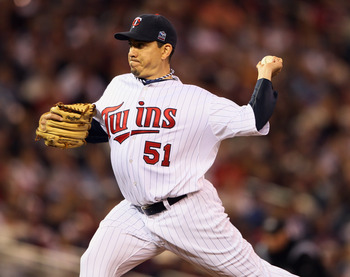 Elsa/Getty Images
Brian Fuentes has been a name that has surfaced lately in Red Sox rumors and it is easy to see why.
It is no secret that the Red Sox have been scanning the market for left handed relievers. Names like Scott Downs and Ron Mahay have also been bandied about but, they are unlikely as Downs is a Type A Free Agent and Mahay is inconsistent and is up there in terms of age.
Fuentes is a Type B Free Agent who was not offered arbitration by the Angels this offseason meaning he will not cost the Red Sox a draft pick if they sign him. The 35 year-old Fuentes would be a nice addition considering that he is a veteran lefty with some skills. The contract negotiations may be an issue but the Red Sox aren't a small market team and can probably afford him.
Russell Martin
Stephen Dunn/Getty Images
Russell Martin is drawing interest from several teams, including of course the Boston Red Sox.
With the departure of Victor Martinez, there is a massive void in terms of depth at the catchers position for the Boston Red Sox. Right now, the Sox have Jarrod Saltalamacchia as their starter and Jason Varitek is the backup catcher. To be very frank, that is just not going to cut it.
Martin is somewhat of a hot commodity right now and will probably cost quite a bit but, if he stays healthy he could pay dividends. I emphasize the part about Martin being healthy as that has been the main concern over the course of his career.
Marcus Thames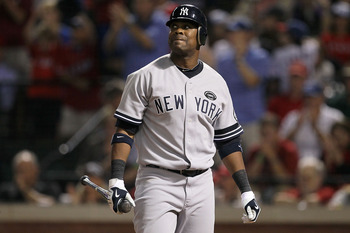 Stephen Dunn/Getty Images
Marcus Thames had a fantastic season for the New York Yankees. Thames played a key role in the success of the Yankees. He was very good playing every few games and really maximized his playing time.
Although Thames is on the wrong side of thirty and has had a spotty health record throughout his career. But, Thames is a good hitter and can play multiple positions including the outfield. He also may go under the radar and maybe could come cheap. Either way, Thames would be a good addition to a shaky Boston outfield.
Magglio Ordonez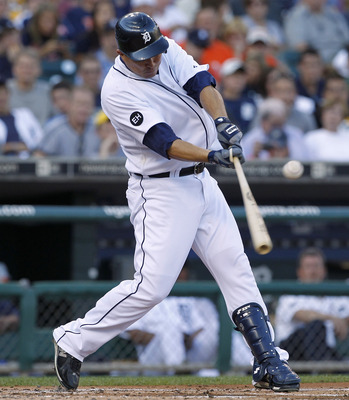 Leon Halip/Getty Images
Magglio Ordonez has been one of the better hitters over the last ten years. He has always hit for a high average and has hit for power. Of course, with all players, there is always a risk for injury and Maggs is no different. He never really had problems early in his career but, he is 37 years old and his body is deteriorating.
Maggs is a career 312* hitter and can play the outfield. He was not offered arbitration by the Tigers after having a nice start to the last season. He could be a tad pricey but, if the Red Sox are willing to gamble, Maggs would be a nice addition.
Vladimir Guerrero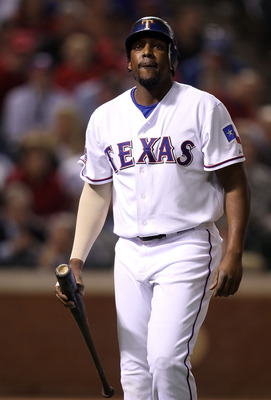 Christian Petersen/Getty Images
Vladimir Guerrero is one of the best Latin players of all time. A good guy and an excellent hitter, Vlad has been one of the most exciting players to watch.
Vlad is 36 years of age and has showed that his body is obviously deteriorating. Now, last year was a big surprise as Vlad had some injury concerns but, had a fantastic season in terms of hitting.
It is hard to think that Guerrero could play a lot of time in the outfield but, it is not out of the question. Now, the problem would be in terms of years and money. Vlad's agent will try and get 3 or 4 years out of a team and a pretty big amount of money. Guerrero though, could fall under the radar and the Red Sox could grab him for less.
Cliff Lee
Doug Pensinger/Getty Images
Cliff Lee is the hottest commodity on the free agent market. Cliff Lee is a long shot for the Red Sox as they are probably going to spend a ton of money on Adrian Gonzalez.
Everyone wants Cliff Lee and he won't come cheap by any means. But, the Red Sox could probably open up the bank vault and make a run for him. Odds are the Yankees will get him, but the Red Sox could be a dark horse. Again though, highly unlikely.
Scott Downs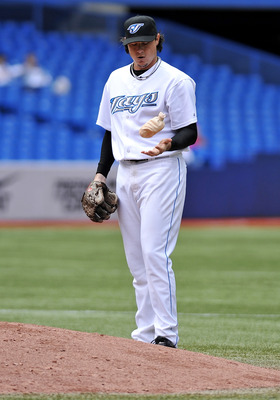 Brad White/Getty Images
Scott Downs has been one of the most consistent left-handed relievers in baseball for quite sometime now. Downs has been with the Blue Jays for a very long time and it is highly unlikely that he will re-sign. Downs has been relatively healthy over the course of his career and has shown great durability.
Downs has closed in his career and has been very good in that role. If the Red Sox aren't keen on Hideki Okajima, Downs seems like a good choice. The Red Sox were in on Downs at last years trade deadline but obviously could not pry him from the Jays.
The only thing that will turn the Sox off in terms of Downs is his Type A status. This means that if he signs with the Sox, they would give up a 1st round draft pick to the Jays.
Rich Harden
Ronald Martinez/Getty Images
Rich Harden has always had phenomenal stuff but, has had control and health problems. Harden has moved around in the last couple of years from Oakland to the Cubs, and then to the Texas Rangers.
Odds are that the Rangers won't re-sign him. Boston's name has always been thrown around when Harden has been available and now is a good time for the Sox to grab him. He will be heavily pursued by many teams and may cost a lot for what will be a very risky signing for any team. If Harden stays healthy and can have some control, he could pay huge dividends and be extremely dominant.
Fred Lewis
Ezra Shaw/Getty Images
Fred Lewis was a surprising pickup for Alex Anthopolous last offseason. Lewis was picked up in exchange for a player to be named later (a minor league catcher) and the move really payed off.
Lewis brought speed and athleticism to a team that really needed it. He hit for a good average but, ended the year on a bad note as his foot was injured and he missed some time. The reason the Jays let him go was probably the money he would cost and his ego. Lewis wasn't happy about sitting on the bench sometimes and made it very clear.
Fred would be a great pickup for a team looking for some outfield assistance.
Carl Crawford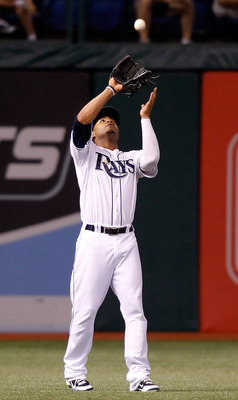 J. Meric/Getty Images
Carl Crawford is the most coveted hitter on the free agent market. The Red Sox will be in on him to the end and to that there will be no doubt. But can they afford him? They need him and that's for sure, but it is hard to fathom that the Sox can afford him.
My stance on this has changed recently because of the Jayson Werth signing. Because Werth signed such a large contract in terms of money, Crawford will get far more than him. And like I said, Adrian Gonzalez will require a lot of money for a long term deal which means that they may not have a lot of money leftover for Carl. It would be great to see him with the Sox but, it is unlikely
Keep Reading

Boston Red Sox: Like this team?