Chicago White Sox GM Kenny Williams Adds Another Player Linked To the Cubs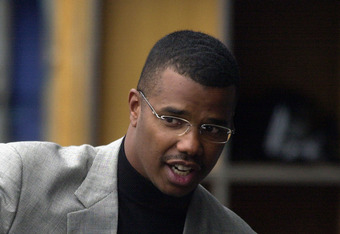 Jonathan Daniel/Getty Images
It could just be a coincidence, or there could be something to it. Adam Dunn is just another example of a player who has been linked with the crosstown Cubs who is headed to White Sox. Let's take a look into Kenny Williams' past.

1. Jim Thome
Remember how Jim Thome always wanted to play with the Cubs? The slugger tried his hardest to get the Cubs to consider signing him in 2003, but the North Siders decided to go another route and traded for Derek Lee. Kenny Williams then pulled off a trade for Bartonville, IL native in 2005 much to Cubs fans' chagrin.
Junior was supposed to be the Cubs' left-handed power threat for years. Every trade deadline from 2004 to 2007, the Cubs were always rumored to be working on acquiring the future hall of famer. As soon as his trade value went down far enough, Williams snagged Griffey at the 2008 deadline.

3. Juan Pierre
Traded to the Cubs in 2006 for Ricky Nolasco and a pair of other pitchers, things never worked out like they were supposed to for Pierre on the North Side. Pierre left the Cubs in free agency after just one year and was snatched up by Williams in a trade after three seasons with the Dodgers.
Does Kenny Williams intentionally pursue players that the Cubs want?

4. Kosuke Fukudome
The White Sox are happy that the former Japanese superstar never signed with the South Siders, but he almost did. The Cubs were long seen to be the front-runner to sign the free agent in 2007, and the White Sox were not even known to be considering Fukudome.

But after Fukudome signed a four-year, $47 million deal to play for the Cubs, it came out that Kenny Williams and the White Sox had actually offered him a bigger deal than the North Siders in negotiations.

5. Jake Peavy
He was always supposed to be a Cub. The Cubs were rumored for years to be interested in the former Cy Young winner, and despite injury concerns in 2010 were still pursuing him at the deadline. But the White Sox got to him first, and after initially rejecting a trade to the South Side, Peavy finally waived his no-trade clause and agreed to play for Ozzie Guillen.

6. Scott Podsednik
Obviously Podsednik played for the White Sox first, but don't forget that the Cubs showed serious interest in signing the outfielder after he was released by the Sox in 2007. Podsednik eventually signed with the Rockies, and the Cubs continued to wonder if he could have been what Juan Pierre couldn't be for them before Kenny Williams re-signed Podsednik in 2009.
Greg Fiume/Getty Images

7. Adam Dunn
Dunn is another player in a list of many who was supposed to come to the Cubs to finally fill the left handed power hole they've had for years. The Cubs were seen by many to be one of the front runners for Dunn, before the White Sox came out of no where to sign the slugger.
Ozzie Guillen has made it clear, he doesn't hate the Cubs, he just hates Wrigley Field. But what about his GM? Kenny Williams seems to have a personal goal to grab whoever it is that is currently catching the Cubs' eye.

It could just be a total coincidence, but its something to think about. Maybe Kenny just really hates the Cubs. Maybe he hates how he can put a better product on the field year in and year out but the Cubs still outdraw the South Siders every year. Who knows.
Think I'm crazy? The most recent player the Cubs have shown interest in is James Loney. If the Sox fail to resign Paul Konerko, don't be surprised if Kenny Williams makes a play at him.
This article is
What is the duplicate article?
Why is this article offensive?
Where is this article plagiarized from?
Why is this article poorly edited?

Chicago White Sox: Like this team?