MLB Winter Meetings: 5 Things Ruben Amaro Jr. Must Do for Philadelphia Phillies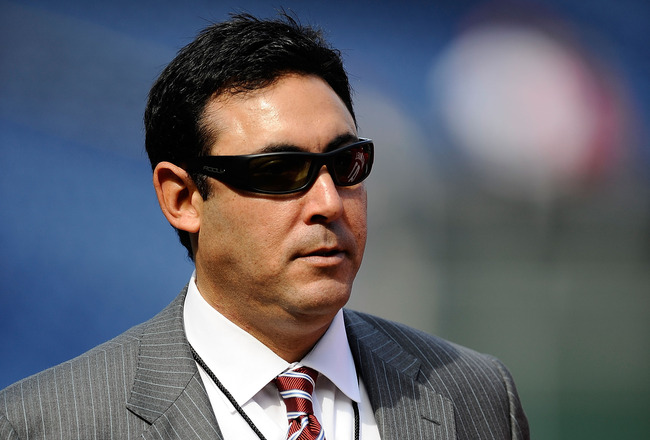 Jeff Zelevansky/Getty Images
With the Jayson Werth Sweepstakes closed, the Philadelphia Phillies now set their sights on other matters this winter. The Winter Meetings just commenced today and Ruben Amaro Jr. has been relatively quiet since the Phillies' stunning playoff exit in late October.
What the Phillies will be looking to do from here on out is anyone's guess. RAJ hasn't made any noise so far this offseason—expect that to change soon. The Phillies ought to be looking to fill a few voids this winter in order to reclaim their stake in the NL.
The Phillies will look towards a replacement for Jayson Werth first and foremost. Although it appears to be Domonic Brown, only time will tell. Brown has just left Winter Ball after compiling a .069 average over nine games.
Something still tells me that RAJ won't "stand pat" for too much longer. Never count him out of the running—that's one thing that Philadelphia has learned over the past few years.
Here are five things that Amaro Jr. should do for the Phillies this offseason.
5. Re-Tool the Bullpen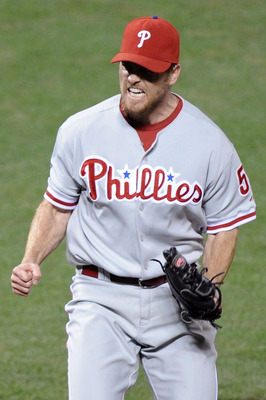 Harry How/Getty Images
In 2008, the Phillies bullpen was a major reason for the team's success. Without Brad Lidge's record year, the Phillies would have been doomed. Lidge's re-emergence in Philadelphia that season was stellar and helped the Phillies end the Philadelphia Title Drought. That was 2008, though, and Lidge is far from the closer he was back then.
The Phillies have several options to upgrade their bullpen this offseason. It's something that undoubtedly needs to be done before 2011 starts. It's believed that the bullpen is RAJ's top priority this off-season. He's already re-signed Cuban journeyman Jose Contreras. That was a start, but the Phillies still have some work to do to shore up their 'pen.
There is still a lot of talent out there for the Phillies to sink their teeth into. It may start with the development of young bullpen guys like Antonio Bastardo and David Herndon, but certainly doesn't end there. Even Kyle Kendrick should assume a bullpen role this season, particularly as a long man.
Pedro Feliciano, a left-handed specialist from the New York Mets, is familiar to the Phillies. He ate up the Phils' lefty power supply in late innings and now could actually help them out. He has to be an option for the Phillies to consider.
The return of Chan Ho Park is also a possibility, this time primarily as a bullpen pitcher, though. Once he got into the 'pen in 2009, Park was exceptional for the Phillies.
There are lots of names to consider for these positions. Expect the Phillies to act on this matter very soon.
4. Buy Out Raul Ibanez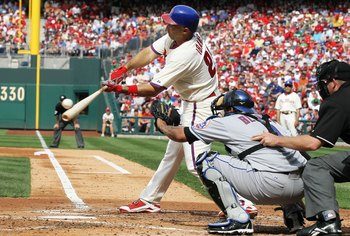 Jim McIsaac/Getty Images
The Phillies have to be looking to move Raul Ibanez. Most likely they are at least trying to but no one is willing to jump due to his hefty salary and contract year. Amaro Jr. clearly overpaid for Ibanez and it only paid off in the first half of 2009. Though it will be virtually impossible, the Phillies need to look for a way to unload Ibanez.
RAJ will probably be thinking of this during the Winter Meetings, but who will listen? The 38-year-old Ibanez didn't have a bad year in 2010, but he's definitely on the decline. He hit .275 and drove in 83 runs but also was paid a little over $12 million to do so.
This one is only a pipe dream, but it would be nice to see, especially if they can add someone like Carlos Quentin to the outfield. Quentin, a right-handed bat, would suit the Phillies nicely in the middle of the lineup and could serve as protection for Ryan Howard.
For now, a platoon system in right is expected, but a lot can change between now and April.
3. Start Being Active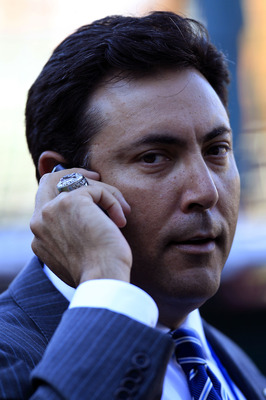 Chris Trotman/Getty Images
Here we see Ruben Amaro Jr. on the phone discussing business. This has been a rare occurrence this winter, or at least that's what we know thus far. Somewhere, RAJ is definitely looking for moves to improve the Phillies, it just hasn't really been seen yet.
If the Phillies are to improve this season, look for Amaro to start "working the phones," so to speak. RAJ must be willing to do as he's done in the past to ensure that the Phillies' window remains open. To this point, he's done just about everything in his power to keep the Phillies in position to contend; now as the age bug draws closer, he must continue his work.
The Phillies need to cope with the fact that Jayson Werth is gone, but not too far. They will see him about 18 times this season as he just signed with the Washington Nationals. That being said, the need to find or at least name his replacement is rapidly approaching.
The clock is ticking and now is the time for RAJ to act.
2. Upgrade the Bench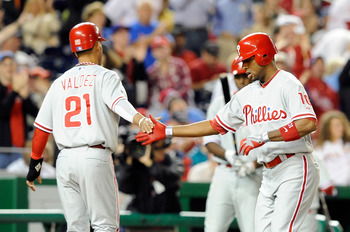 Greg Fiume/Getty Images
The Phillies will be looking to upgrade their bench this winter, too. They need a right-handed bat in the outfield most notably, but also have a few other voids to fill.
Role player acquisitions of the past, (i.e. Joe Blanton, Kyle Lohse, Mike Sweeney, etc.) have helped shape Phillie playoff runs. Now, another one is needed, this time on the bench.
With Domonic Brown and Ben Francisco likely platooning for as far as we can see, the Phillies need a key bat addition to complement them and Raul Ibanez (if they are to start him again). If the Phillies were in the AL with the DH rule, there wouldn't be a problem, as would be the case with many NL teams. Ibanez could easily slip into the DH role against righties and maybe Francisco versus lefties.
Either way, this is only a pipe dream.
Jose Guillen, Matt Diaz and Scott Hairston are names that immediately come to mind. These are just in the outfield, though.
There are also a few infielders who the Phillies may give a look to over the next few weeks or so. Former Phillie Nick Punto could be instrumental in providing veterans Jimmy Rollins and Chase Utley some days off. Also, there are other names like Cristian Guzman and Orlando Cabrera that are also possibilities.
1. Find Jayson Werth's Replacement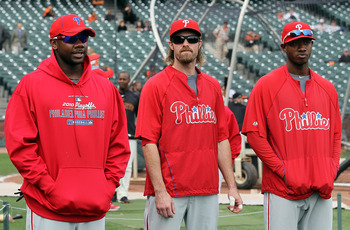 Justin Sullivan/Getty Images
With Jayson Werth now gone, the Phillies ought to be looking to for his replacement, or at least name their plan with what they have. What they have is a right-hander (Ben Francisco) who can't seem to get into a rhythm and a left-hander (Domonic Brown) who just exited Winter Ball. This leaves open some possibilities for the Phillies to fill this void.
If the Phillies are to work with what they have, they must be patient and understanding towards Brown's development. He's the future, or at least that's what we've all been writing him up to be. Brown now has to prove that he belongs.
Either way, Jayson wouldn't have been "Werth" seven years of the Phillies' time, nor $126 million of payroll over that time. His new deal is absurd and the Phillies ought to be glad that they didn't stoop down to him. They should be able to replace his production at a much cheaper price than that.
Comments, Questions, Concerns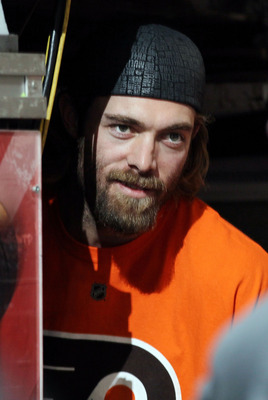 Jim McIsaac/Getty Images
Keep Reading

Philadelphia Phillies: Like this team?