Pittsburgh Steelers: 5 Examples Why the Heart of a Champion Defeated Baltimore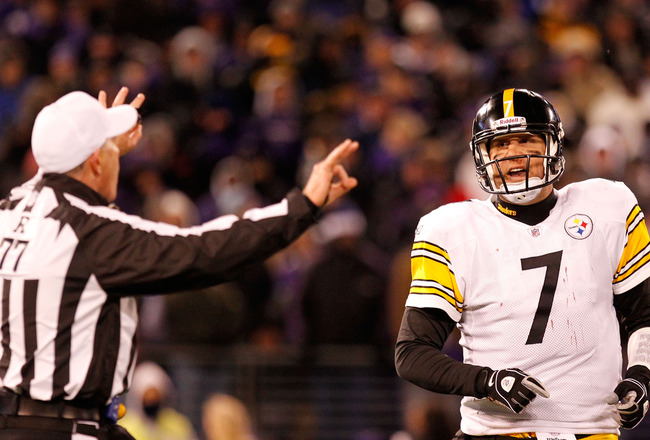 Geoff Burke/Getty Images
Last night's game between the Pittsburgh Steelers and Baltimore Ravens saw a matchup of two teams that make no secret about the fact that they don't like each other.
Lining up for a national audience on Sunday Night Football, this game was one for the ages in a decade old rivalry that has had its share of classics.
Some might say that at times it is better to be lucky rather than good, but I think this game was a perfect illustration of how champions respond to adversity and how heart can be more important the X's and O's.
Yet again, the officiating was against the Steelers, injuries were rampant and some players didn't exactly turn in their best performances, but in the end those things didn't matter as Pittsburgh came out of Baltimore with a 13-10 victory.
5.) The Defense Came Ready For a Battle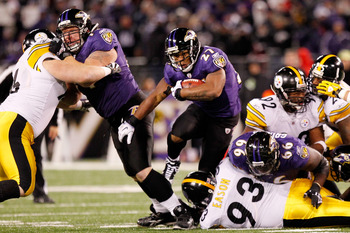 Geoff Burke/Getty Images
I'll be honest, the Steelers style of playing defense over the past few months has driven me nuts, but last night they came with pressure at key times in the game when they needed to. As has been the case all season, it was impossible to run the ball against Pittsburgh with the Ravens only gaining 43 yards on 20 attempts.
The Steelers were great on third down all night, only allowing the Ravens to convert four of 13 attempts. Most importantly, Baltimore only managed two trips into the red zone all night, and 10 points on the scoreboard.
4.) The Steelers Did Not Allow Some Poor Play Get Them Down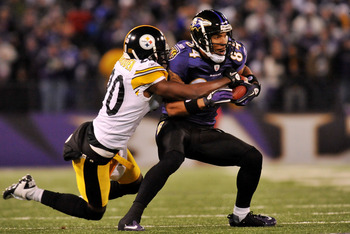 Larry French/Getty Images
Not all was well in Baltimore last night. Joe Flacco and the Ravens decided to pick on—and did a very effective job in exposing—cornerback Bryant McFadden. We haven't seen much of that this year as McFadden has been pretty solid, but he was definitely not at his best last night.
In the nickel package, William Gay did his best to lose the game late by not being within five yards of the person he was responsible for covering on most plays. Anquan Boldin had a monster game with five catches for 118 yards and a touchdown.
On offense, there were a number of key drops in the passing game, and last night was perhaps one of the worst offensive line performances in memory. Granted, Baltimore has an excellent front seven and the Steelers have just been ravaged by injury on the line, but last night was really bad.
Some teams would have let all of this get them down, but it didn't take the fight out of Pittsburgh.
3.) Fighting The Ravens and The Officials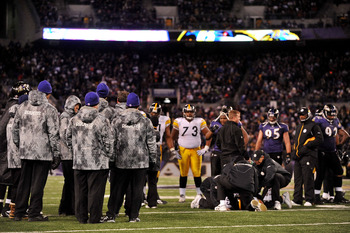 Larry French/Getty Images
At this point can any sane person tell me that the Steelers are not the recipients of unfair officiating and are being singled out by the NFL?
Lots of articles have been written here on B/R about the officials—generating a lot of comments calling Steelers fans crybabies, conspiracy theorists, etc. Well to those folks, I would suggest you read comments by Chicago's Brian Urlacher, Baltimore's Terrell Suggs and many other players when speaking about what has been going on.
No penalties on plays where two hand shots to the head of Ben Roethlisberger made his nose look like the State of California, and another helmet to helmet hit against tight end Heath Miller, resulting in a concussion knocking him out of the game. Give me a break.
I can only imagine what must have been going through James Harrison's mind on the sideline as these plays occurred. Again, the Steelers weren't distracted by this and took care of business.
2.) Playing Through Pain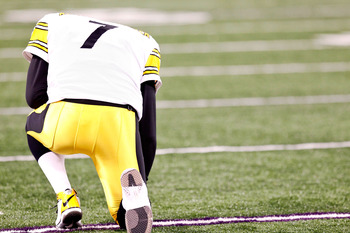 Geoff Burke/Getty Images
Steelers quarterback Ben Roethlisberger turned in one of the gustiest performances last night that I have seen in a long while.
Coming into the game with what has been characterized as an ankle sprain—but if I had to guess is a broken bone—he wore a special shoe that is the equivalent of a cast.
His face was destroyed on the first series of the game by an illegal hit to the head resulting in a broken nose. Yet neither of these affected his play in any measurable way. So to Terrell Owens, you can forget the idea that Roethlisberger is "soft".
I think just about every one on the offensive line is playing with some type of injury, and defensive end Brett Keisel is no where near one hundred percent.
Special mention should also go to kicker Shaun Susiham who did an admirable job taking over the punting duties from Dan Sepulveda who left the game with what is most likely a season ending ACL tear.
1.) Big Players Make Big Plays When They Needed to Most
Geoff Burke/Getty Images
Other than the performance by quarterback Ben Roethlisberger, there were two plays that turned this game into a Steelers victory.
The first was when safety when Troy Polamalu blitzed from the back side and hit Baltimore quarterback Joe Flacco's arm resulting in a fumble that linebacker LaMarr Woodley returned 19 yards to the Baltimore nine yard line.
This play call by head coach John Harbaugh was inexplicable to me on second down, near two minutes left in the game and the Steelers out of timeouts, but hey I'll take it.
The second play came on third and goal where Roethlisberger dumped a short pass over the middle to running back Issac Redman that I thought had zero chance of going anywhere. Redman made an incredible play, breaking at least two tackles as he continued to work towards the sideline and scored the go ahead touchdown.
I still can't figure out why he doesn't have more of a role in the offense, but I've already written about that ten times, so I'll spare that discussion.
Conclusion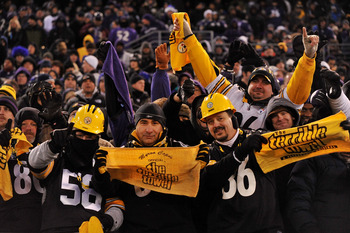 Larry French/Getty Images
Last night was just a great effort. The Steelers played with heart and just plain willed themselves to a win in Baltimore. This victory splits the season series against the Ravens and puts the Steelers and their full game advantage in the drivers seat for the AFC North Championship.
On paper, the Ravens have a tougher schedule than Pittsburgh during the final month of the season, having to travel to Houston to face the Texans and then coming back to host the New Orleans Saints, while the Steelers big challenge will come in two weeks against the New York Jets.
Last night was a signature win that the Steelers needed badly and truly defines the qualities that make a championship team.
Keep Reading

Pittsburgh Steelers: Like this team?