Adrian Peterson, Vikings Roll Over Bills: Analyzing Key Player Matchups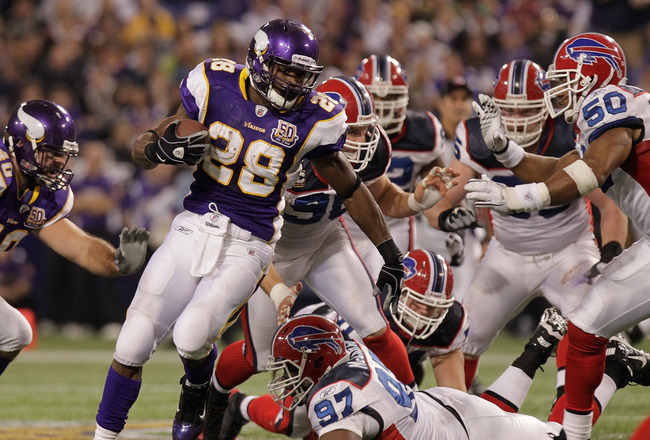 Nick Laham/Getty Images
Adrian Peterson and the Minnesota Vikings put a beatdown on the Buffalo Bills on Sunday, bringing the Vikings to a 5-7 record for the year, and their second consecutive victory under interim head coach, Leslie Frazier.
The Bills dropped to 2-10 after the brutal 38-14 loss, in a game that sent even more key players to the training room.
After rookie linebacker Arthur Moats knocked the iron man, Brett Favre, out of the game on his first pass attempt that resulted in an interception, it seemed as if the Bills were on their way to overcoming last week's devastating loss to the Pittsburgh Steelers.
However, for the next 58 minutes and 27 seconds, the Bills showed none of the heart, passion, or fire, that they had displayed in recent weeks.
This slideshow takes a look at the key player match-ups that impacted the outcome of the game.
Enjoy!
Vikings DE Jared Allen Vs. Bills LT Demetrius Bell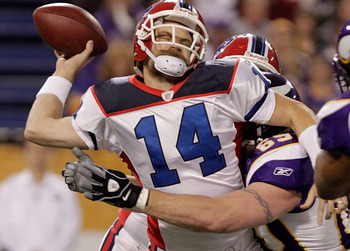 Nick Laham/Getty Images
Jared Allen has been surprisingly under the radar for much of the season after his 14.5 sack campaign just a year ago, yet he had a great game against Buffalo yesterday.
Bills left tackle, Demetrius Bell, struggled to contain the 6'6", 270 defensive beast all afternoon, allowing Allen to record a sack—bringing his total to 8.5 on the year—two hits on Ryan Fitzpatrick, and quite a few hurries.
Allen brought the heat on every down, and was a disruptive force in the Bills backfield for the entirety of the game, forcing Fitzpatrick to make some bad decisions.
Vikings WR Sidney Rice Vs. Bills CB Leodis McKelvin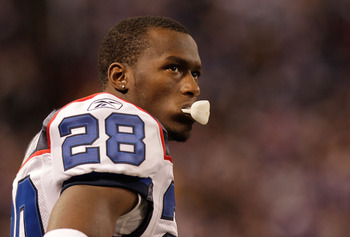 Nick Laham/Getty Images
Leodis McKelvin added another terrible outing to his recent string of miserable performances.
It started when he lost a battle for possession of the ball with Vikings wideout Sidney Rice, that resulted in a touchdown. Then, he ran into a blocker on the kickoff for the second week in a row, fumbled, and gave the ball back to Minnesota in Bills territory.
On the ensuing drive, he was called for a pass interference penalty that led to the Vikings second touchdown in as many drives.
The gaping hole left by Terrence McGee, who has been nagged with injuries throughout the season has shown an extreme weakness in what was originally believed to be the strength of the defense.
On the day, Rice torched McKelvin, catching five passes for 105 yards, and two scores.
Vikings RB Adrian Peterson Vs. Bills ILB Paul Posluszny
Rick Stewart/Getty Images
Paul Posluszny recorded over 10 tackles for the seventh time this year, showing just how porous the Buffalo Bills defensive line has been, bringing his total to 111 on the season.
However, Adrian Peterson, who was a game-time decision due to a sprained ankle, showed no signs of weakness, bulldozing defenders for 107 yards on 16 carries, while finding the endzone three times.
The Bills were without defensive tackle Torell Troup and defensive end Marcus Stroud, leaving Spencer Johnson alongside Kyle Williams, and Chris Kelsay at end on passing downs.
Rookie running back, Toby Gerhart out of Stanford added 12 carries for another 54 yards, bringing the Vikings total to 210 yards on 40 carries.
Vikings CB Antoine Winfield Vs. Bills WR Steve Johnson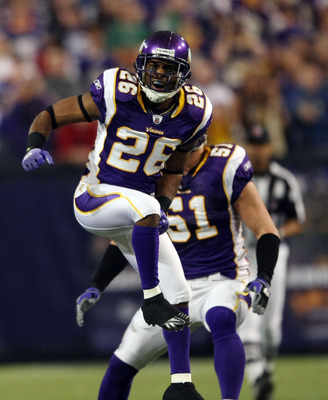 Elsa/Getty Images
After a depressing overtime drop that could've sealed a Buffalo Bills overtime victory over the Pittsburgh Steelers last week, all of Buffalo was rooting for wide receiver Stevie Johnson to have a great bounce-back game.
However, after making his first reception, he dropped a perfectly thrown ball on a crucial third-and-nine, that forced the Bills to punt.
In the third quarter, cornerback Antoine Winfield jumped a pass intended for Stevie, picked it, and took it 41 yards before being brought down by Demetrius Bell.
Johnson finished with just two catches for 36 yards on the day, as Winfield, a former Buffalo Bill, was able to keep him in check for the entire game.
Vikings TE Visanthe Schiancoe Vs. Bills SS Donte Whitner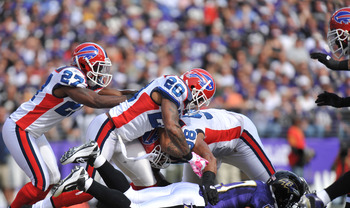 Larry French/Getty Images
For once, the Buffalo Bills were able to keep the opposing tight end in check, allowing Visanthe Schiancoe to record just two catches for 17 yards.
The Bills struggles against tight ends have been dually noted throughout the entire year, as they had allowed 36 receptions for 547 yards and eight touchdowns to the position entering Sunday.
Donte Whitner was all over the field, and made seven tackles, while intercepting his first pass of the year.
Vikings DT Kevin Williams Vs. Bills Interior Line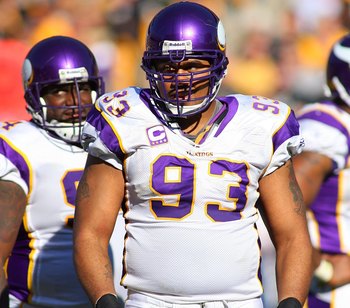 Rick Stewart/Getty Images
Vikings defensive tackle Kevin Williams, one half of the Williams wall that solidifies the interior of the front seven, was licking his chops when he saw three rookies and a journey man in front of him; all out of their natural positions.
Bills center Geoff Hangartner was injured in the first half, leaving Kraig Urbik, who started at right guard in place of Eric Wood, playing center, while Cordero Howard and Mansfield Wrotto played right guard and tackle.
Then Urbik went down, also with a knee injury. Ed Wang entered the game, to become the first NFL player of Chinese descent to play a down in the National Football league, drafted out of Virginia Tech as a tackle.
Andy Levitre, the left guard slid over to Center, while Wang took over the guard position.
Kyle Williams simply blew them up, recorded three tackles, two of them for losses, and knocked Ryan Fitzpatrick on his behind twice.
The inexperience and shuffling on the line led to two fumbled snaps by Fitzpatrick, and a lot of hurried passes.
Where Do The Bills Go From Here?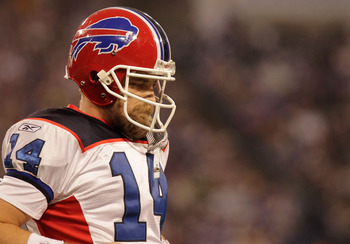 Nick Laham/Getty Images
After the loss, head coach Chan Gailey told the media that both Geoff Hangarter and Kraig Urbik are likely done for the year, just a week after the Bills lost defensive end Dwan Edwards and Reggie Torbor to injured reserve.
The Bills take on the Cleveland Browns next week, who have an extremely powerful runner in Peyton Hillis, who will bring a tough challenge to the Bills defense, and have a solid front seven that will challenge the inexperience of the offensive line.
Looks like the Bills will be in the Andrew Luck Bowl after all.
Keep Reading

Buffalo Bills: Like this team?