Matt Cassel: I've Been Right, You've Been Wrong. Don't Believe Me? Then Read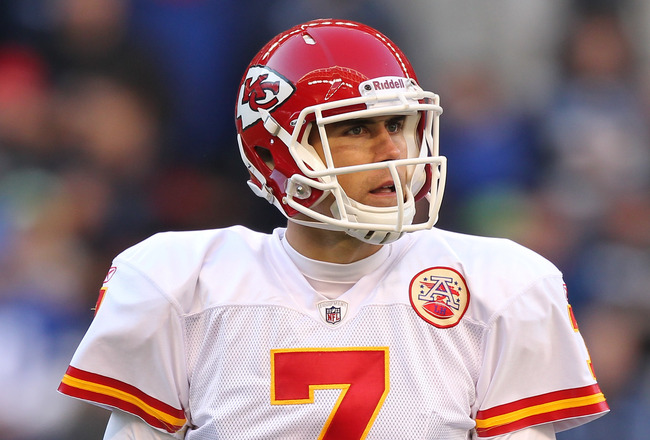 AFC Player of the Month
Otto Greule Jr/Getty Images
Following are the seven articles I've written in the short time I've been writing for Bleacher Report.
Since the day Matt Cassel was traded to the Chiefs I was thrilled—a staunch supporter and believer. Not just that, but believed he would be a star, a top five quarterback and the Chiefs leader for years to come.
Though there is no immediate proof, and none that I have any intention of wasting my time looking for, this is just a small sample of my never wavering support.
This was not because I like the name Matt. I watched almost every game he played with the Patriots in 2008. It was based on observation and logic.
I have written other articles, on blogs, forums and emails among friends and enemies alike.
I have taken a great deal of abuse for said support, believe me.
All those people who are jumping on the bandwagon and saying you've been with him all along are full of crap.
At least many of the top sports writers are acknowledging they have been wrong.
My 12-year-old son was looking at the screen the other day when they announced Matt Cassel was the AFC Player of the Month and even he said, "You've said this all along."
When you have to eat crow and say you're wrong, you do it.
Sorry, this time my shoulder is sore from patting myself on the back, and you can kiss my ring if you don't like it.
Thanks Matt.
Article No. 1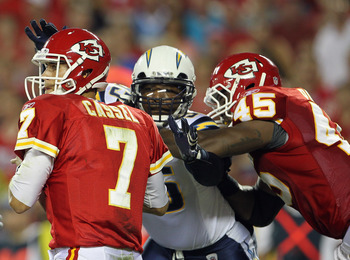 Jamie Squire/Getty Images
This is the very first article I wrote on Bleacher Report.
It always pissed me off that everybody got all over Cassel no matter what he did. It reminded me of McNabb in Philadelphia.
Does this make me a genius? No, of course not. It does, however, make me more patient and apparently have the ability to look at the big picture than most.
Everyone wants everything NOW.
From that article:
Well, the Chiefs are 2-0 despite the poor play of Matt Cassel. The man can be a terrific quarterback in the NFL because I've seen him do it. This entire Chief team is evolving, and he needs to be allowed to evolve with them, no matter how much money he makes.
Article No. 2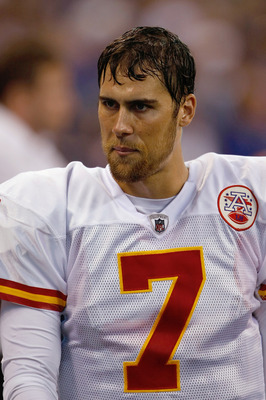 Scott Boehm/Getty Images
Well, he didn't get it done. It was that day the Chiefs got more respect than they had in any of their three wins, though this was their first loss.
The Matt Cassel hunt was still on. Everywhere I went, I read fan comments about wanting to bring in Brodie Croyle.
Yes, Brodie Croyle.
Don't get me wrong, I think Brodie Croyle is a fine quarterback, if he weren't made of a fine porcelain.
A sentence from that article:
I know the Chiefs can win this game and I believe you will be one of the primary reasons.
I was wrong, but just a little ahead of schedule.
Article No. 3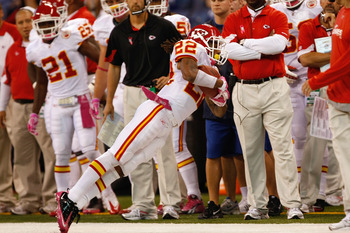 Who threw him the ball, Brian Waters?
Scott Boehm/Getty Images
Yes, it may get tedious—but too bad.
I've been waiting for quite some time to open a can of whoop ass on a bunch of impatient, short sighted, simple-minded football fans that don't know anything about the game.
Nobody wanted to give this kid a chance to grow and develop with the rest of the team.
Year one, his offensive coordinator is fired right before the season. Todd Haley takes over, the rookie head coach who was making rookie mistakes.
Chief receivers lead the league in drops.
Cassel in second in the league in sacks.
Year two, he gets a new offensive coordinator and new offensive linemen and new running backs, receivers, tight ends. Get the picture?
Was Cassel blameless? Hell no! He has, and is still and will always make mistakes.
I do not believe he will ever be Tom Brady or Peyton Manning, but who is?
Paragraph from that article:
Anyone who has read anything I've written knows I disagree. Matt Cassel is 6'4" and 225 pounds, moves very well, and can put a ball where he needs to. I think Cassel will start to establish his own identity Sunday.
Article No. 4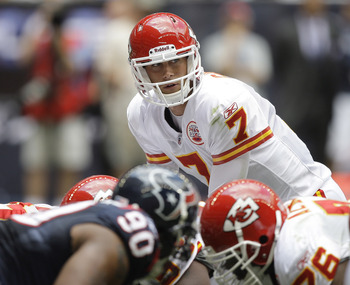 Bob Levey/Getty Images
This was the only time when I was becoming concerned about the long term status of Cassel.
I was also concerned about the play-calling of Haley and Weis. There is, however, a reason they are NFL coaches and we are not.
We are (you mostly) impatient, and they are smart. It seems they knew when to open it up.
How they taught Dwayne Bowe to catch a ball is another matter entirely.
From that article:
This is what Matt Cassel needs to learn:
The NFL is a bottom line business and his coach is a bottom line guy. It will take just a few more performances similar to the Colt game and Brodie Croyle will get his chance, again. It may not seem fair in many ways, but it doesn't matter. If Brodie Croyle is able to come in and win, that's all that matters.
Charlie Weis was brought in as the offensive coordinator and said is first job was to "fix the quarterback." That gave a very clear message that something needed fixing. So far, he as not fixed anything. In fact, I would go so far as to say that Matt Cassel has taken a step back from last year.
Article No. 5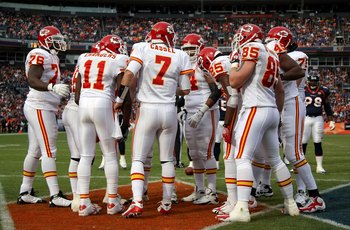 Doug Pensinger/Getty Images
No, I did not doubt for long.
If you are going to be an elite NFL franchise, which I believe the Chiefs are well on their way to being, you must have an excellent quarterback.
People often talk about teams that won "a" Super Bowl with an average quarterback.
Long term success, however, needs a consistent leader in that position.
The Chiefs have one.
From that article:
Enough already. If by the end of the year, Matt Cassel has not improved dramatically, I will jump off his bandwagon. I will, however, be right. He will be the quarterback of the future for the Kansas City Chiefs.
Article No. 6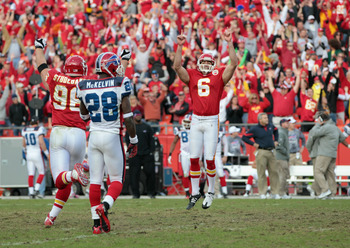 Jamie Squire/Getty Images
Everyone criticized the Chiefs because they had to go into overtime to beat the Bills.
You may want to re-think that.
The bottom line to that game was Matt Cassel did what everyone said he couldn't do. He brought the team down the field, with no timeouts, in a matter of seconds and won.
Five more seconds and they finish with a tie?
From that article:
Most people are going to complain about what Cassel did not do, not what he did. That happens every week, no matter what happens.
Dozens of times I've heard he couldn't win a game when it was on the line. He did yesterday, whether you would like to admit it or not. There are many people that would not be satisfied with Matt Cassel if he took the Chiefs to the Super Bowl and won. They would find some reason to draft a quarterback.
Article No. 7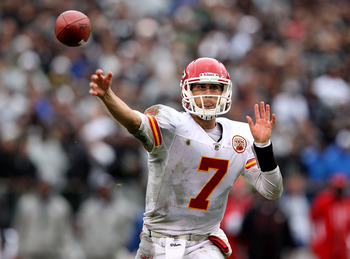 Jed Jacobsohn/Getty Images
It must seem as though I always think Cassel is the key to the Chiefs success.
The truth is, in some ways I do.
There is no way that a team with a run game as over powering as the Chiefs shouldn't have one of the best play action pass games in football.
That should allow this be an explosive offense. That does not rest on the shoulders of Matt Cassel alone.
We've seen what he can do with a true No. 1 receiver.
So much for all that nonsense about the "Patriot System".
From the last article, for now:
This is a conversation between Phil Simms and Chris Collinsworth:
Simms: "Is he lined up with all-stars out there? Is it a receiving core where you say they should really focus on their receivers because you can't cover them?
Everybody gets single coverage in the NFL—every team gets single coverage on the outside for a decent number of snaps in every NFL game.
But you look at Matt Cassel. Listen, you were wrong when you talked about him when he came to the Patriots. I know you can't get over it.
After one game you came in and said, 'He's terrible and they can't win [with him].'
I said, 'Well give him a couple weeks to get used to it.'
Let's see: He's mobile, he has a good arm, he has the size, he's tough. that's the one thing you have to admit about it. It comes across as you watch him play, he's tough, so it fits into the makeup of what they're trying to accomplish there.
When he has to make the big throws he's throwing them in some tight spots. I always judge a quarterback this way: When you drop back, you only have so many opportunities during the game if they're open. He hits those open guys at a very high percentage just like the top quarterbacks in the NFL do."
The Last Word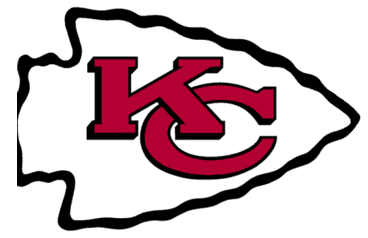 Childish? Maybe.
Accurate, most definitely.
I have no idea if Matt Cassel will have never ending success as the quarterback of the Kansas City Chiefs.
I cannot see into the future. I can, however, make a fair-minded evaluation and be patient and open minded.
It has been driving me crazy over the last two to three weeks while people start slobbering over Cassel when they've been throwing him under every bus that drove down the street for two years.
I've heard, constantly:
One hit wonder
Great back up quarterback
Trade him
Bench him
What quarterbacks will be available in next year's draft?
Obviously, many more things that I would not or could not print here.
I'm mostly happy for the Chiefs and Chief fans because it looks like we've got a great quarterback to go with a great team being built by a great organization.
Keep Reading

Kansas City Chiefs: Like this team?