2011 NFL Mock Draft: Can Anyone Challenge Andrew Luck for the No. 1 Pick?
Ezra Shaw/Getty Images
It's only December, but it's already happening: Todd McShay and Mel Kiper are taking over my TV screen.
The ESPN NFL Draft analysts have been breaking down the nation's top prospects for months now.
And even though we're almost a full five months away from the draft, debates have already begun.
Is Andrew Luck a lock to go No. 1? Which cornerback will go first: Patrick Peterson or Prince Amukamara? How many quarterbacks will be chosen in the first round?
The drama leading up to, and during, the NFL Draft truly is captivating, and this year shouldn't be much different.
So what will happen in the first round of the 2011 NFL Draft?
Here is my first mock draft of the year, complete with a breakdown of why those players will land with those teams.
32. New England Patriots: Cameron Jordan, DE/DT, California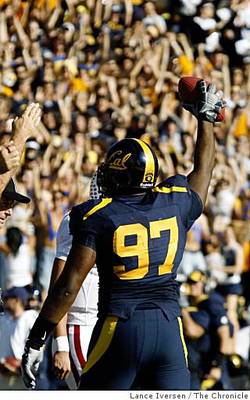 Why Jordan is Special: He's a very versatile defensive lineman, with the ability to play end or tackle depending upon the scheme.
Why Jordan Goes Here: Jordan has the skill set to be a top 20 selection, but, as always, there are plenty of talented defensive lineman in the draft—and about 10 of them are graded higher than Jordan by most NFL scouts.
Why Jordan Fits: The Patriots use a three-man front and Jordan has played in that scheme at Cal. It should be an easy transition into New England's system.
31. Atlanta Falcons: Gabe Carimi, OT, Wisconsin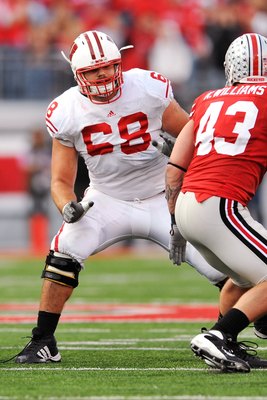 Jamie Sabau/Getty Images
Why Carimi is Special: Remember a guy named Joe Thomas who played at Wisconsin? Carimi's not quite the player Thomas was, but he's pretty close.
Why Carimi Goes Here: Tackles usually fly off the board during the NFL Draft and Carimi would be a steal this late. But with the way the draft is shaping up, there won't be as many first-round selections from the tackle position as usual.
Why Carimi Fits: Sam Baker has struggled in pass protection for the Falcons this season and the team can't have that happen anymore.
30. New York Jets: Justin Blackmon, WR, Oklahoma State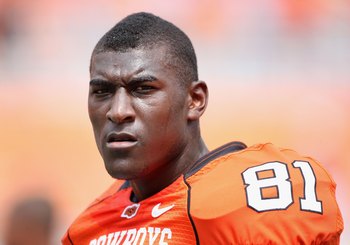 Christian Petersen/Getty Images
Why Blackmon is Special: Blackmon has basically been Dez Bryant 2.0 at Oklahoma State this season. The guy's a stud.
Why Blackmon Goes Here: His talent is undeniable, but the wide receiver class has some studs who'll go before him, mainly Julio Jones and A.J. Green.
Why Blackmon Fits: Braylon Edwards, Santonio Holmes and Brad Smith will all be free agents after the season. The Jets may be looking for a playmaker if some of those guys sign elsewhere.
29. New Orleans Saints: Drake Nevis, DT, LSU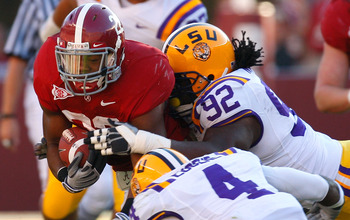 Kevin C. Cox/Getty Images
Why Nevis is Special: In the mold of former LSU defensive tackle Glenn Dorsey, Nevis is a disruptive defensive lineman who can get into the backfield about as quickly as anyone.
Why Nevis Goes Here: He isn't the greatest at shedding blocks and tends to be an up-and-down player. He could fall out of the first round, but his agility probably keeps him around that 25-to-30 range.
Why Nevis Fits: The Saints are looking for a long-term defensive tackle to pair up with Sedrick Ellis, and Nevis played his college ball about an hour away from New Orleans at LSU.
28. Pittsburgh Steelers: Mike Pouncey, OG, Florida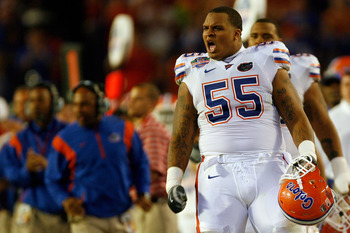 Eliot J. Schechter/Getty Images
Why Pouncey is Special: The apple doesn't fall far from the tree. Pouncey has a similar playing style to twin brother, Maurkice, who is currently Pittsburgh's starting center.
Why Pouncey Goes Here: The Steelers are looking to upgrade their interior line and Pouncey is one of the very best, with an NFL-ready skill set. He should still be on the board because not too many guards go in the first round.
Why Pouncey Fits: Have twins ever played right next to each other in the NFL? I think we need to see it happen.
27. Green Bay Packers: Ryan Williams, RB, Virginia Tech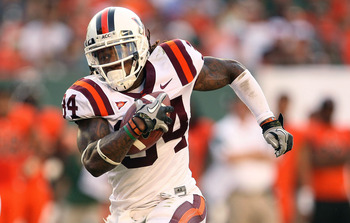 Mike Ehrmann/Getty Images
Why Williams is Special: Williams is stuck in a three-back rotation at Virginia Tech right now, but he ran for more than 1,600 yards and 21 touchdowns in 2009. He has been highly touted throughout his prep and college careers.
Why Williams Goes Here: Williams will likely be the No. 2 running back in the draft, but not many teams are looking that way in the first round. Still, he's too good to slide past this spot.
Why Williams Fits: The Packers haven't had much of a running game all season and, even with Ryan Grant returning in 2011, it's clear that Green Bay needs to improve its rushing attack.
26. Philadelphia Eagles: Derek Sherrod, OT/OG, Mississippi State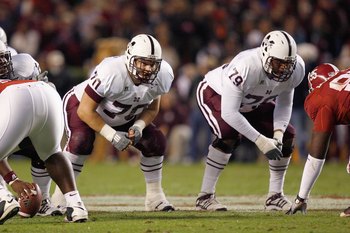 Kevin C. Cox/Getty Images
Why Sherrod is Special: Sherrod is a big right tackle who has the size and strength to play guard at the NFL level.
Why Sherrod Goes Here: He isn't the greatest pass protector, so there are questions about his ability to play tackle in the NFL. He'll fall because no one's quite sure how a potential position switch will affect his value.
Why Sherrod Fits: The glaring weakness on Philadelphia's offense this year has been its offensive line. Sherrod might be a bit of a project, but he could develop into a quality starter and help the Eagles give Michael Vick a little more protection.
25. San Diego Chargers: Von Miller, OLB, Texas A&M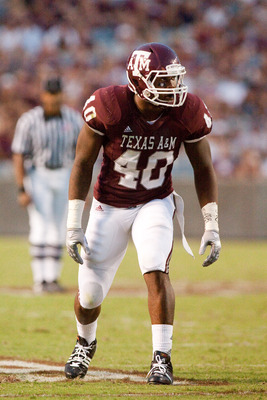 Why Miller is Special: Miller is a phenomenal athlete who possesses that rare ability that scouts drool over. Want evidence? He had 16.5 sacks last season.
Why Miller Goes Here: He's got excellent speed, but he's a bit thin for a linebacker at 6'3'', 238 pounds, which will cause some teams to overlook his ridiculous potential.
Why Miller Fits: Edge rushers thrive in San Diego's 3-4 scheme, and Miller could produce numbers like Shawne Merriman did during his prime.
24. Baltimore Ravens: Aaron Williams, CB, Texas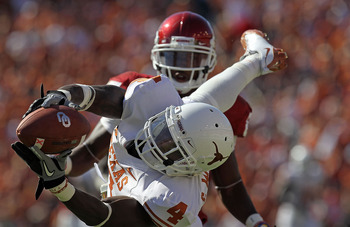 Ronald Martinez/Getty Images
Why Williams is Special: Texas defensive backs have a good track record of recent success in the NFL and Williams is no exception. He's used to playing on the inside and the outside, which will appeal to every team looking for a cornerback.
Why Williams Goes Here: This cornerback class is loaded and Williams will have to wait his turn to hear his name called. He'll stay in the 20-to-32 range for sure, though.
Why Williams Fits: The Ravens only have two cornerbacks under contract for next season and one of them, Dominique Foxworth, will be returning from an ACL injury. Needless to say, Baltimore needs a cornerback.
23. Chicago Bears: Nate Solder, OT, Colorado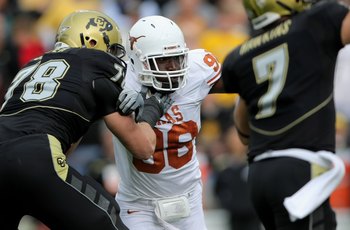 Doug Pensinger/Getty Images
Why Solder is Special: At 6'8'', Solder is massive even for an offensive tackle, and he uses his extreme size and length to his advantage.
Why Solder Goes Here: The 2011 draft class is surprisingly thin at the tackle position and scouts aren't sure he has the potential to be an elite player in the NFL, so he won't go as high as people might expect.
Why Solder Fits: Have you watched the Bears try to protect Jay Cutler this season? They've improved in recent weeks, but it's still the team's biggest issue.
22. Indianapolis Colts: Anthony Castonzo, OT, Boston College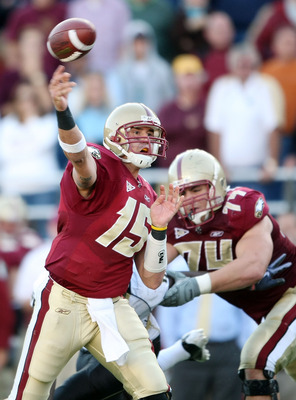 Elsa/Getty Images
Why Castonzo is Special: He's one of the top offensive lineman in this year's draft class, with a big 6'7" frame that should fill out once he matures a bit more.
Why Castonzo Goes Here: Castonzo could very well go in the top 20 if he bulks up, but he's listed at just 295 pounds—pretty thin for an offensive tackle who is that tall.
Why Castonzo Fits: The Colts have shown some serious flaws in pass protection this year and left tackle Charlie Johnson will be a free agent. Indianapolis will be looking for an upgrade.
21. St. Louis Rams: Jonathan Baldwin, WR, Pittsburgh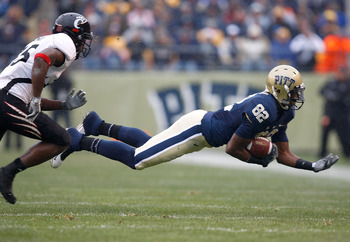 Jared Wickerham/Getty Images
Why Baldwin is Special: He's the closest thing to Larry Fitzgerald that Pittsburgh will ever see, and he managed to put up good numbers even with a shaky quarterback situation.
Why Baldwin Goes Here: Baldwin needs to work on his route-running, but at 6'5'', 230 pounds, he's freakishly huge for a wide receiver. His potential is just too much to pass up.
Why Baldwin Fits: Sam Bradford's doing a good job with the Rams this season, but it's obvious he still needs help at wide receiver.
20. Tampa Bay Buccaneers: Adrian Clayborn, DE, Iowa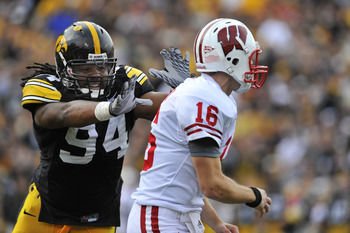 David Purdy/Getty Images
Why Clayborn is Special: His production hasn't been there this year, but scouts love how he measures up. He's 6'3", 285 pounds and has the ability to take over a game when his mind is right.
Why Clayborn Goes Here: The 2011 draft class has some incredibly-talented defensive line prospects, and Clayborn is one of them. He's just not the best one of the bunch.
Why Clayborn Fits: The Buccaneers found their inside presence in last year's draft when they chose Gerald McCoy. Now it's time to address those pass rushing concerns, which is what Clayborn has the potential to do.
19. New York Giants: Allen Bailey, DE, Miami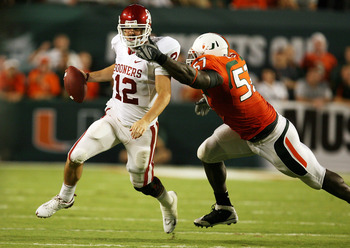 Doug Benc/Getty Images
Why Bailey is Special: Teams love versatility and that's exactly what Bailey possesses. He's a good interior pass rusher who also has the ability to rush off the edge.
Why Bailey Goes Here: You can never have too many defensive linemen in the NFL. Bailey is a tweener who can play either tackle or end depending upon the scheme.
Why Bailey Fits: The Giants stockpile linemen like no other team in the league. They could go with a linebacker here, but it's always a good idea to have young, talented guys like Bailey on your team.
18. Kansas City Chiefs: Jeremy Beal, OLB, Oklahoma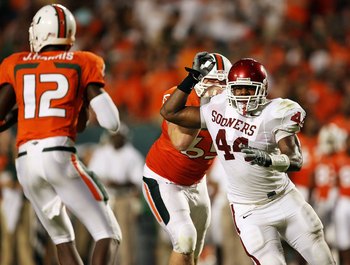 Doug Benc/Getty Images
Why Beal is Special: He's built in the perfect mold of your prototypical outside linebacker with a 6'3", 268-pound frame, above-average agility and surprisingly quick feet.
Why Beal Goes Here: Beal has the ability to develop into a very good edge rusher given the right scheme, and his versatility is something coaches love to see.
Why Beal Fits: The Chiefs badly need a rusher off the edge to take some of that pressure off of their mediocre secondary.
17. Miami Dolphins: Mark Ingram, RB, Alabama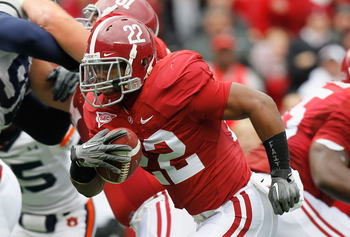 Kevin C. Cox/Getty Images
Why Ingram is Special: I believe this guy has had a pretty solid college career. Didn't he win the Heisman Trophy or something like that?
Why Ingram Goes Here: He's the top running back in this draft, but another team in need of a running back could scoop him up prior to the Dolphins' selection. Still, any team looking for one of the hardest runners in college football will gladly take him.
Why Ingram Fits: Ricky Williams isn't going to play forever and Ronnie Brown is injury prone. Ingram would be a nice replacement in Miami's backfield.
16. Jacksonville Jaguars: Ryan Kerrigan, DE, Purdue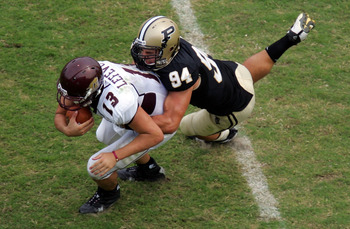 Ronald Martinez/Getty Images
Why Kerrigan is Special: Kerrigan has been a monster all season long, raking in 12.5 sacks and leading the nation with 26 tackles for loss.
Why Kerrigan Goes Here: Kerrigan is known for his non-stop motor and ability to get after the quarterback. At just 259 pounds, he's similar to the Colts' Robert Mathis.
Why Kerrigan Fits: Aaron Kampman tore his ACL for the second-straight season and his career is in doubt. Enter Kerrigan, who should provide Jacksonville with a nice compliment to 2010 first-round choice Tyson Alualu on the defensive front.
15. Houston Texans: Janoris Jenkins, CB, Florida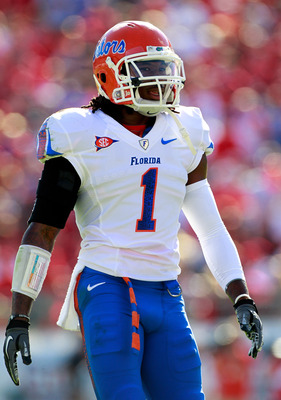 Sam Greenwood/Getty Images
Why Jenkins is Special: Jenkins is a lockdown cornerback whose natural instincts seem to lead him to the ball more often than not. He's as fluid with his motions as any defensive back in the draft and he mirrors most receivers he covers.
Why Jenkins Goes Here: If this were any other draft, he'd probably be the first cornerback chosen, but Patrick Peterson and Prince Amukamara will be taken ahead of Jenkins.
Why Jenkins Fits: Have you watched the Texans try to stop the pass this year? I think that speaks for itself.
14. Tennessee Titans: Stephen Paea, DT, Oregon State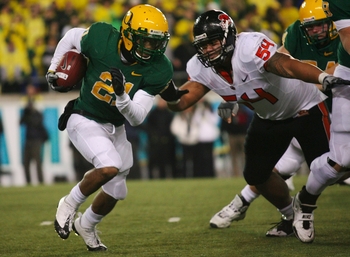 Tom Hauck/Getty Images
Why Paea is Special: At 6'1", 304 pounds, Paea doesn't look like the greatest athlete on the field. But he posses unbelievable quickness and agility for his size and he has developed a reputation for having one of the best motors in all of college football.
Why Paea Goes Here: Paea is a disruptive force up the middle, having registered 11 tackles for loss and seven sacks this season. He has the ability to take some of the pressure off of the rest of the defensive front.
Why Paea Fits: The Titans have been looking for a monster in the middle since losing Albert Haynesworth, so they'll give Paea a long, hard look.
13. Washington Redskins: Julio Jones, WR, Alabama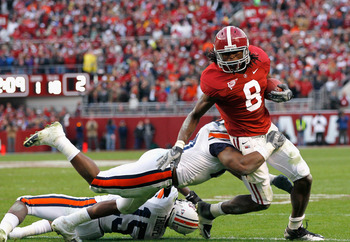 Kevin C. Cox/Getty Images
Why Jones is Special: Jones needs to work on his route running, but he's arguably the most dominant physical presence not just at wide receiver, but in all of college football.
Why Jones Goes Here: Jones is an incredible playmaker at wide receiver and in the kick return game, but A.J. Green is a better pure receiver, so Jones will be the No. 2 wideout on the board.
Why Jones Fits: The Redskins have one of the league's most boring offenses with virtually no real threat in the passing game other than the tiny Santana Moss. I mean, they actually used Joey Galloway at wide receiver this year. Jones would be an immediate starter.
12. New England Patriots: Akeem Ayers, OLB, UCLA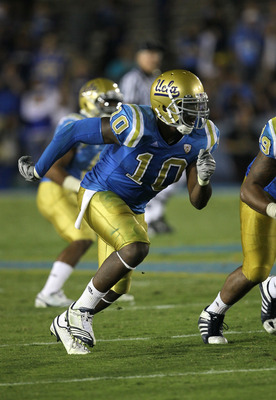 Stephen Dunn/Getty Images
Why Ayers is Special: Ayers was one of the most highly-touted recruits coming out of high school and his physical attributes rank among the best in this draft class. He's got good size, he's quick and he excels as a push rusher.
Why Ayers Goes Here: Ayers would benefit from playing on a team with a 3-4 scheme, because he'll make his money by applying pressure to the quarterback off the edge.
Why Ayers Fits: The Patriots' secondary has struggled with stopping the pass all season. With Ayers rushing off the edge, that could provide some relief for a unit that has given up too many big plays.
11. Seattle Seahawks: Cam Newton, QB, Auburn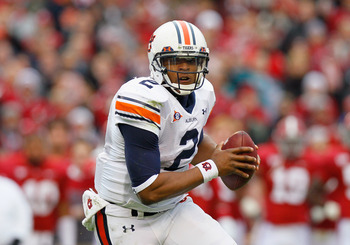 Kevin C. Cox/Getty Images
Why Newton is Special: If you've watched any college football this season, you know why Newton is so special. He's been a human highlight reel.
Why Newton Goes Here: Newton is an incredible dual-threat quarterback who is a better passer than Tim Tebow was, a more complete quarterback than Michael Vick was and who is clearly the best running quarterback prospect since Vince Young.
Why Newton Fits: Matt Hasselbeck's time in the league is nearing an end and Charlie Whitehurst isn't the answer in Seattle. Newton could learn under the tutelage of Hasselbeck for a year or two before taking over.
10. Cleveland Browns: Robert Quinn, DE, North Carolina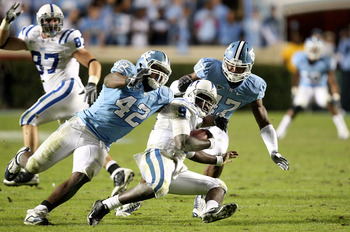 Streeter Lecka/Getty Images
Why Quinn is Special: Although he will not have played football for more than a year when he takes his first NFL snap, Quinn is an absolute stud at defensive end. He's arguably the draft's best pass rusher.
Why Quinn Belongs Here: Quinn is a top-five talent, but his absence from football will cause him to slip to that 8-to-12 range.
Why Quinn Fits: With A.J. Green no longer on the board, the Browns will be looking for a pass rushing presence on the defensive side. Quinn is exactly what they're looking for.
9. Minnesota Vikings: Jake Locker, QB, Washington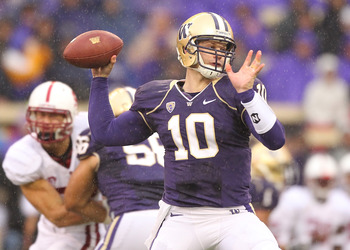 Otto Greule Jr/Getty Images
Why Locker is Special: Locker hasn't put up great numbers during his college career, but he's showed steady improvement. He's got good size, a good arm and he has great athleticism.
Why Locker Goes Here: Locker could be anywhere from the second to the fourth quarterback chosen, so this pick is far from a lock. His potential is what makes him worthy of a top-10 selection, though.
Why Locker Fits: Brett Favre will be gone (we think) and Tarvaris Jackson isn't the solution in Minnesota. The Vikings have to draft a quarterback.
8. San Franciso 49ers: Ryan Mallett, QB, Arkansas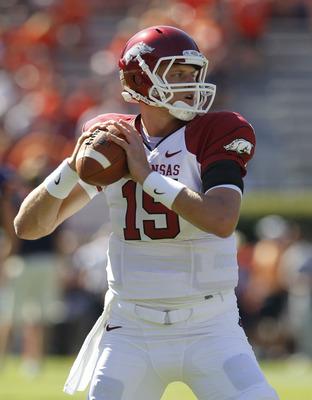 Mike Zarrilli/Getty Images
Why Mallett is Special: Ryan Mallett was a top prospect coming out of high school and with good reason. He's huge, at 6'7", has great mechanics and has a cannon for an arm.
Why Mallett Goes Here: There are a few quarterback-needy teams who will look hard at Mallett, but he should be a top-10 selection barring anything unforeseen happening.
Why Mallett Fits: The Alex Smith experiment failed miserably and Troy Smith probably isn't going to be the long-term answer in San Francisco. This team has a lot of talent on both sides of the ball. The 49ers just need a franchise quarterback.
7. Dallas Cowboys: Prince Amukamara, CB, Nebraska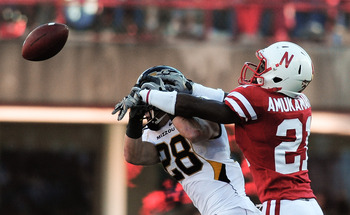 Eric Francis/Getty Images
Why Amukamara is Special: Everything about Amukamara makes scouts think he's going to be a superstar. He's quick, he's fast, he has excellent cover skills and he's very big for a cornerback at 6'0", 203 pounds.
Why Amukamara Goes Here: One of the most interesting debates of the Draft will be about which cornerback will go first: Amukamara or Patrick Peterson. No matter what happens, both of these guys should be great corners.
Why Amukamara Fits: Dallas needs secondary help for sure, especially with Mike Jenkins on his way out and Terence Newman's cover skills diminishing.
6. Denver Broncos: Nick Fairley, DT, Auburn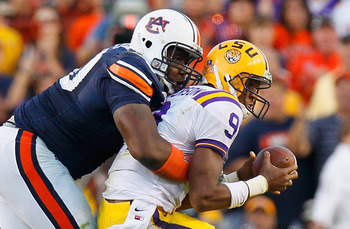 Kevin C. Cox/Getty Images
Why Fairley is Special: If it wasn't for Cam Newton, Fairley would be the Auburn player who everyone is talking about. He's been the most dominant defensive player in the SEC all season. He's racked up 51 tackles and 10 sacks, which is tremendous for a defensive tackle.
Why Fairley Belongs Here: Watch this dude play. He eats up a ton of space in the middle.
Why Fairley Fits: The Broncos have been pretty bad on defense all season, giving up more points than any defense in the league. They need all the help they can get on that side of the ball.
5. Arizona Cardinals: A.J. Green, WR, Georgia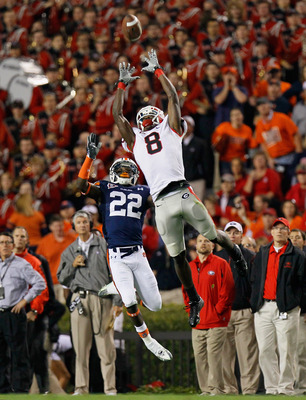 Kevin C. Cox/Getty Images
Why Green in Special: He's the most complete wide receiver prospect since Calvin Johnson, he's the most polished route runner in the last few drafts and his measurements and production are both off the charts.
Why Green Goes Here: Green probably should go higher than this, but the teams above this spot have more pressing needs elsewhere. I wouldn't be too shocked if a quarterback went in this spot, though, because Arizona needs a new gunslinger.
Why Green Fits: The Cardinals have more pressing needs, but Larry Fitzgerald has gone on record in saying that he misses having Anquan Boldin on the other side of the field. A guy like Green would undoubtedly open up the field for him.
4. Buffalo Bills: Marcell Dareus, DT, Alabama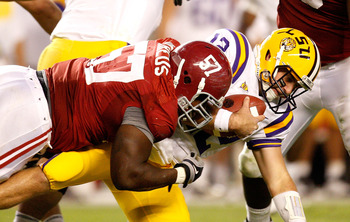 Kevin C. Cox/Getty Images
Why Dareus is Special: Dareus possesses the same size, strength and agility as your prototypical NFL defensive tackle. He can stuff the run, rush the passer and even play defensive end in certain 3-4 schemes.
Why Dareus Goes Here: He's the Ndamukong Suh of this year's Draft class, and he has the ability to be an unstoppable force up the middle.
Why Dareus Fits: The Bills have the league's worst rush defense, and a big reason why is because of what goes on between the tackles. Insert Dareus into the equation and their problems could turn around rather quickly.
3. Cincinnati Bengals: Da'Quan Bowers, DE, Clemson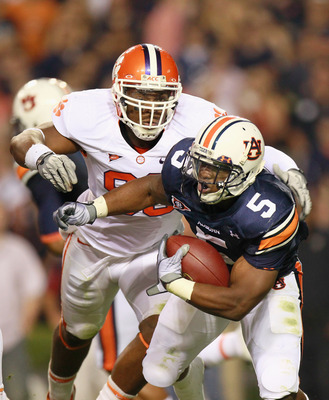 Kevin C. Cox/Getty Images
Why Bowers is Special: Size, strength, athleticism, speed, agility: You name it, Bowers has it. He's been virtually unstoppable this season, with 24 tackles for loss and an FBS-high 15 sacks.
Why Bowers Goes Here: Bowers will undoubtedly be the first defensive end off the board. It's just a matter of how he high goes. I can't see him slipping out of the top three no matter what.
Why Bowers Fits: The Bengals could go with a quarterback if they want to transition out of the Carson Palmer era, but they need help on the defensive line. Cincinnati ranks last in the NFL with just 11 sacks on the season. No other team has less than 16.
2. Detroit Lions: Patrick Peterson, CB, LSU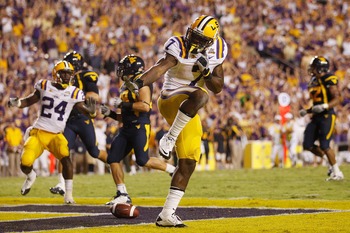 Chris Graythen/Getty Images
Why Peterson is Special: Peterson is listed at 6'1", 211 pounds, which is monstrous for a cornerback. Teams never throw his way because he's the nation's best shutdown cornerback and one of college football's most feared defensive players. He's also shown some amazing skills as a return man this season.
Why Peterson Goes Here: He's not falling out of the top five. It's not very often that you find a defensive player who's big enough to play safety but fast enough to line up at cornerback.
Why Peterson Fits: When's the last time the Lions had a shutdown corner? Now's a good time to grab a can't miss prospect.
1. Carolina Panthers: Andrew Luck, QB, Stanford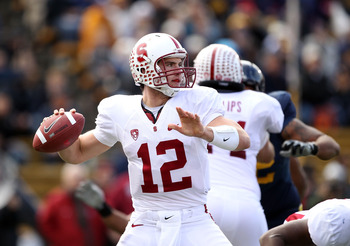 Ezra Shaw/Getty Images
Why Luck is Special: Luck has all the measurables you look for in a quarterback. He's got a reputation as a great character guy and he managed to turn once-lowly Stanford into a national powerhouse.
Why Luck Goes Here: He's the most complete quarterback prospect in this year's class and not many teams are willing to give No. 1-pick money to someone other than a franchise quarterback.
Why Luck Fits: The Panthers do have Jimmy Clausen, but Luck has the brighter NFL future. Even if the Panthers want to stick with Clausen, they'll take Luck and trade him for a bunch of other pieces or draft picks.
Keep Reading