Washington Redskins vs. New York Giants: 5 Key Matchups to Watch for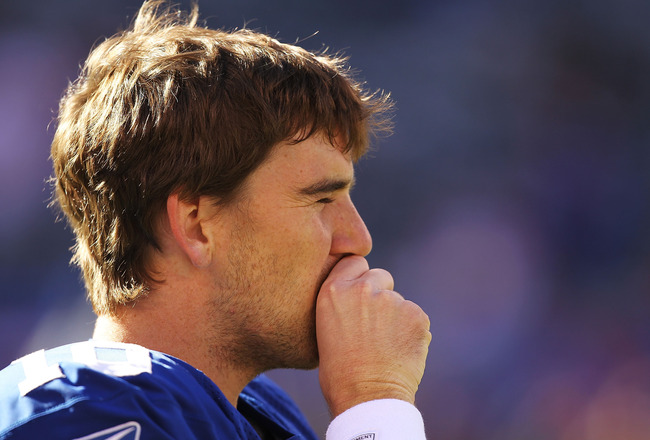 Al Bello/Getty Images
The Giants and Redskins meet this weekend at the Meadowlands, and for the Giants you can pretty much consider each game the rest of the way a "must-win."
Now, I'm not saying the Giants will have to be 12-4 to make the playoffs, but with four teams legitimately going for two Wild Card spots, every game has that much more importance.
This is the first meeting between the divisional foes, and the Giants have typically played well against their East Coast rival. In his career, Eli Manning is 9-3 against the Redskins, including a sweep of the season series in 2006, 2008 and 2009.
However, the Redskins are under a new regime with Mike Shanahan and Donovan McNabb being the major new parts, so they should not be taken lightly.
The following article will look at five player or unit matchups that will go a long way in deciding the outcome of the game.
You can also find Jeff at NY Giants Central, a website dedicated to covering the Giants with up to the minute news and updates.
Follow Jeff on Twitter @NYG_Central
5. London Fletcher Vs. Brandon Jacobs/Ahmad Bradshaw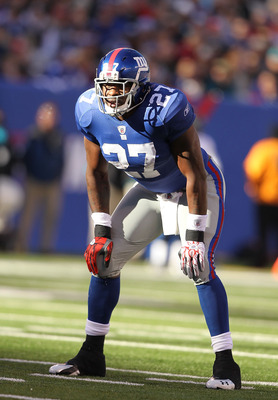 Al Bello/Getty Images
This is basically another way to look at the matchup of the Giants run offense vs. the Redskins run defense—obviously it is much more in-depth than just the MLB vs. RB.
The 'Skins are giving up 131.5 yards per game on the ground—which doesn't bode well for a game at the Meadowlands in December. Meanwhile, the Giants have moved the ball very effectively with the combination of Ahmad Bradshaw and Brandon Jacobs.
Jacobs started the Giants' last game at running back due to Bradshaw leading the NFL in fumbles with seven (six lost). Coughlin sent a message to Bradshaw, and Jacobs responded with his best game of the season, ending up with 14 carries for 87 yards.
London Fletcher might be one of the most underrated players in the league. He had been a great player for a long time, but only last year did he get his first ever Pro Bowl invitation.
He already has 98 tackles on the season and will have to be all over the field if the 'Skins hope to slow down the Giants' sixth-ranked rushing offense.
4. DeAngelo Hall Vs. Mario Manningham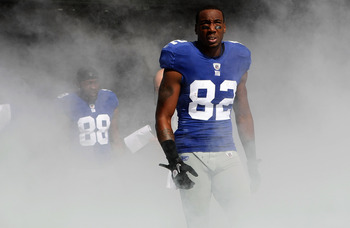 Nick Laham/Getty Images
With Hakeem Nicks and Steve Smith almost 100 percent likely to miss this weekend's game, Mario Manningham needs to have another good game.
I like to make understatements.
DeAngelo Hall is tied for second in the league with six interceptions, and even though four of those came in the Bears game, he has still been a good cover guy in other games this season.
Unfortunately, I can't say the same for the rest of the Washington defense in terms of pass coverage.
The Redskins have the 29th-rated pass defense and the 21st-ranked scoring defense. The Giants should be able to do what they want in the passing game, and it starts with Manningham.
He had a huge touchdown catch in the game against the Jaguars that tied the game (after a two-point conversion) but was kept relatively in check for most of the game. Other than around the last 17 minutes of the game, the Giants offense couldn't move the ball, and it had a lot to do with the receivers not getting separation.
Hopefully that's not the case this weekend.
3. Corey Webster/Terrell Thomas Vs. Santana Moss/Anthony Armstrong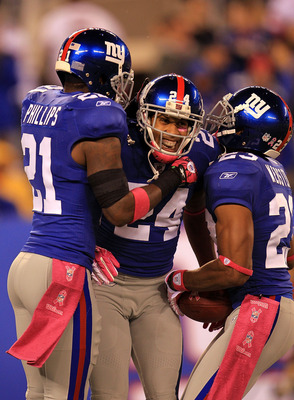 Chris McGrath/Getty Images
The Giants' defensive secondary has been the best it has been in a very long time. I can't remember a better collection of players at that position since at least the 2000 season.
However, there have been games where they fell asleep, especially against the Cowboys, when Dez Bryant torched them with three catches for 103 yards. He made big play after big play, and the Giants secondary looked lost at times.
Jon Kitna had 13 completions for 327 yards in that game—25 yards per completion.
Overall the Giants have the No. 1-rated pass defense, but don't let that number fool you—they've had a couple pretty bad games.
Santana Moss has the ability to get vertical, and the Giants can't afford to let him beat them over the top. On the other side of Moss is Anthony Armstrong, who has had a quiet rookie season and is second in the NFL with 21.8 yards per reception.
Both receivers have big play ability, and Donovan McNabb has the arm to stretch the defense. Webster and Thomas can't fall asleep or they will get burned, big time. Not to mention the Redskins will be without RB Clinton Portis and possibly even second stringer Ryan Torain; needless to say they will be looking to move the ball through the air.
2. Brian Orakpo Vs. *Insert Left Tackle Name*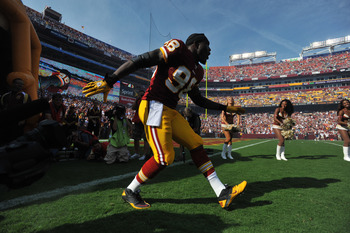 Larry French/Getty Images
The Giants are still uncertain who will be playing left tackle on Sunday. Shawn Andrews is dealing with a back problem, Will Beatty played well against the Jaguars this past weekend and David Diehl has returned to practice.
This also hinges on if Shaun O'Hara can make it back. He also has returned to practice this week, albeit to do individual drills. If O'Hara plays, then Rich Seubert would most likely move back to left guard and Diehl will play left tackle.
If O'Hara can't go, then Seubert would resume his duties at center and Diehl would probably play left guard, with Beatty at left tackle.
It's like musical offensive linemen, no?
Either way, the player at the left tackle spot will have his hands full with Brian Orakpo, who is having a stellar season. He has 8.5 sacks totaling 40 yards lost—nearly five yards lost per sack.
Orakpo made the Pro Bowl in his rookie year with 11 sacks and 50 tackles; if he keeps up his current pace, he will surpass both of those stats this season.
He has incredible strength, power and quickness—everything he needs to be a monster from the 3-4 outside linebacker position. He has been wreaking havoc on QBs all season, and the Giants' four-game streak of zero sacks will definitely be in jeopardy.
The Giants have allowed only 12 sacks of Eli Manning this season, best in the NFL.
1. Trent Williams/Jamaal Brown Vs. Justin Tuck/Osi Umenyiora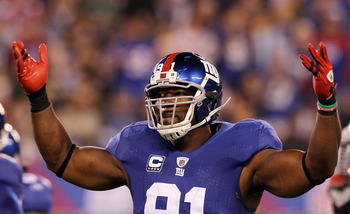 Jim McIsaac/Getty Images
Justin Tuck gave a halftime speech during last week's comeback victory against the Jaguars that was "one for the ages" according to DT Barry Cofield. He has emerged as a vocal leader this year and is backing it up with his play on the field.
He played very well in the Eagles game, forcing Michael Vick into his first turnover of the year, and will be going up against a Redskins offensive line that is finally healthy after a few weeks of uncertainty.
Osi Umenyiora mentioned at practice today that he is feeling the best he has felt all season, having dealt with knee and hip issues all year. He missed all of 2008 with torn ligaments in his knee and has had hip problems since 2006.
Fortunately, he seems to be able to play through these injuries.
The Redskins have Jamaal Brown and Trent Williams lining up at tackle—both first-round picks of their respective drafts—but they haven't done a good job of keeping McNabb's jersey clean.
This might be a product of McNabb holding on to the ball too long because his receivers can't get open; in any event, the Redskins will have to be on their A-game if they plan on stopping this tremendous duo of sack artists.
Keep Reading

New York Giants: Like this team?