NFL QB Power Rankings: Grades For All NFL Quarterbacks Through Week 12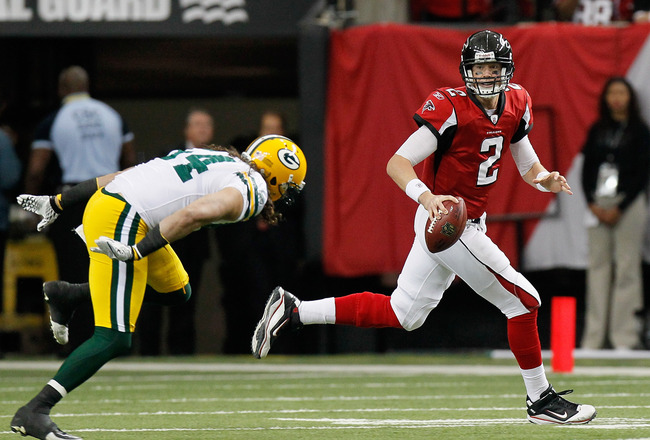 Kevin C. Cox/Getty Images
With only five weeks of football left in the regular season, this is shaping up to be a very exciting final stretch as teams are playing for the division and in some cases conference.
What we also have is the birth of a new generation of up-and-coming signal callers.
We have been blessed to see the likes of Drew Brees, Tom Brady, Peyton and Eli Manning and Ben Roethlisberger in the past few years, but we have a new generation of signal callers led by NFL MVP candidates, Phillip Rivers of the San Diego Chargers and the Atlanta Falcon's Matt Ryan.
Mark Sanchez of the New York Jets, Aaron Rodgers of the Green Bay Packers, Joe Flacco of the Baltimore Ravens and Josh Freeman of the Tampa Bay Buccaneers promise to be the next-generation marquee names to keep a eye on.
One cannot also take notice of the fine jobs that NFL Offensive Rookie of the Year front-runners Sam Bradford of the St. Louis Rams and Colt McCoy of the Cleveland Browns have done for their bottom-feeding teams.
This is a QB Power Ranking based on grades through Week 12 of the NFL season.
The three factors they are graded on are:
Team Value - What the QB's value is to his team; factor's that are considered is the team's performance if the QB is injured, suspended, team record when the QB is in/out of the line-up, etc.
Body of Work - The QB's overall performance on the field, basically a performance measurement of yards, TD's, leadership.
Supporting Cast - This is measured on the skill players that the QB works with so the featured positions will be looked at is the QB's go-to RB, WR, TE and so on.
All factors will be given a +/- along with a number from one being the lowest to 10 being the highest, and all three factors will be used to weight the individual grade given to a QB.
Sounds Good?
Without further adieu, let's start with the Top NFL QB Thru Week 12 Ranking
#1 Atlanta Falcons QB: Matt Ryan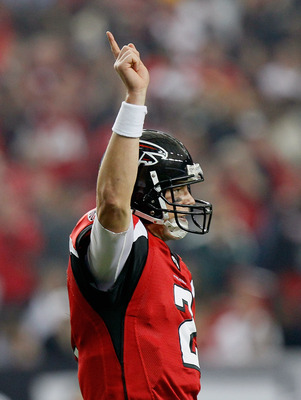 Kevin C. Cox/Getty Images
The top QB in the NFL does not have three Super Bowl rings, have flowing locks or is even in a commercial, but for Atlanta Falcons quarterback, Matt Ryan, he is truly cool as ice.
The third-year star from Boston College has led the NFL-leading Atlanta Falcons to a 9-2 record in the very competitive and unpredictable NFC South.
Since losing to the Pittsburgh Steelers in the season opener, the Falcons are 5-1 and in those games Ryan has not tossed a pick.
But, the most interesting stat about Ryan is that he is 19-1 in his career at home and if the road to the Super Bowl goes through Georgia, then Ryan and the Falcons better start packing for Arlington.
Team Value - (+ 10) Ryan is the perfect QB for the Falcons as he has shown a knack for remaining cool under pressure, as evidenced in wins over division rival and Super Bowl champion New Orleans and most recently, Baltimore and Green Bay. Ryan has proven to be a true leader on the field as he has also led four game-winning drives in his career
Body of Work - (+9.8) For the season, Ryan has thrown for 2,715 yards, 19 touchdowns and only five interceptions.
For his career, Ryan has thrown for 7,771 yards, 54 TD's and 30 INT's, completed 60.5 percent of his passes, posted a QB rating of 84.5 and is 29-14 as the Falcon's starter.
Supporting Cast - (+9.9) Ryan has developed a real chemistry with wide receiver, Roddy White who is second in the NFL in receiving with 1,099 yards and is also helped by a strong running game that features running back, Michael Turner who is also the fifth leading rusher in the league with 974 yards rushing and seven touchdowns.
Future Hall Of Fame tight end, Tony Gonzalez provides Ryan with a reliable safety blanket, as he has caught 51 passes for 499 yards and four touchdowns.
Overall, Matt Ryan has played the best football of any QB in the league and combined these factors along with his almost unbeatable 19-1 record at home, not only makes the solid and non-flashy Ryan a valid NFL MVP candidate but the top QB in the Bleacher Report QB Power Rankings.
Grade : A+
#2 San Diego Chargers, Phillip Rivers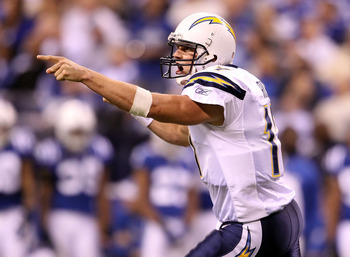 Andy Lyons/Getty Images
Loud-mouthed, brash, cocky and abrasive, these words have been used to describe San Diego Chargers QB Phillip Rivers. Another word may also be used to describe him soon: MVP.
The loud-mouthed QB from the deep south has led the San Diego Chargers on a four-game winning streak highlighted by a 36-14 demolition of the Indianapolis Colts on Sunday Night. River's campaign for the NFL's Most Valuable Player may have finally caught the league's attention as he is currently second in the NFL in passed at 3,362 yards passing
During the Charger's four-game win streak, Rivers has posted triple-digit QB ratings in every game and has San Diego playing some great football right now. Rivers has thrown for 23 touchdowns and nine INT's for a QB rating of 104.5.
Team Value - (+9.9) Having set the NFL record for most yards passing through 10 games at 3,251 yards, Rivers is the NFL's second-leading passer behind Denver Bronco's QB Kyle Orton. Rivers is on pace to pass for 5,083 yards, one yard short of Dan Marino's single-season passing record of 5,084 yards in 1984.
Body of Work - (+9.9) Since becoming the starter in 2005, Rivers has the best QB passer rating of 97.3 for a QB with 1,500 passing attempts and has passed for 18,313 yards, thrown 129 touchdowns, 54 INT's and completed 63.6% of his passes
Supporting Cast - (+9.9) Being a product of San Diego's pass-oriented system, Rivers is blessed to have such a dynamic supporting cast of All-Pro tight end, Antonio Gates, wide receivers Malcolm Floyd and Legedu Nannee makes you wonder how rivers has managed to produce at such a astonishing level without Pro Bowl wide receiver, Vincent Jackson who just returned from a long and protracted contact dispute and three-game suspension.
River's record setting pace only shows that he a legit MVP candidate but should easily win over Atlanta's Matt Ryan and New England's Tom Brady.
San Diego will roll into the playoffs on a tear and any team that has to play San Diego needs to be very wary of the Chargers and Phillip Rivers.
Grade - A+
#3 New England Patriots QB, Tom Brady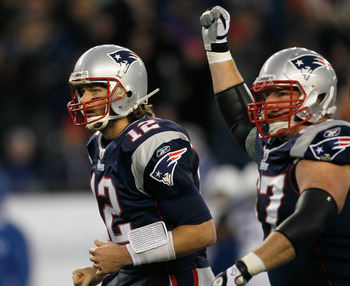 Jim Rogash/Getty Images
I'm sure many of you who are reading this are wondering how New England Patriots quarterback Tom Brady is the third best QB in the Power Rankings?
This slideshow is not about popularity or good looks, it is about production and performance, which is why Matt Ryan and Phillip Rivers are ahead of Tom Brady, who has recently performed like the 2007 version of himself since a humbling loss to the lowly Cleveland Browns.
Brady has tossed 13 touchdowns without an INT in the Pat's last five games and is the NFL's second-rated passer behind Philadelphia Eagles quarterback Michael Vick. Brady has the Patriots looking Super again.
Tom Brady is also tied with New York Giants QB Eli Manning, New Orleans Saint's QB Drew Brees and San Diego Chargers QB Phillip Rivers with 23 touchdowns.
Team Value - (+10) Not even a fair argument as to how valuable Tom Brady is to New England, but for the sake of debate, New England is 120-36 with him as a starter
Body of Work - (+10) Once again not even a fair argument, let's move on.
Supporting cast - ( +9.1) This is my reason why Brady is ONLY number No. 3 in my rankings is that his supporting cast is not as good as the ones he has worked with in the past, but then again he won three Super Bowls with Deion Branch and Troy Brown and lost with Wes Welker and Randy Moss.
This current group is beginning to remind a lot of people of those early 2000's Patriot teams with the addition of two promising rookie tight end bookends in Bruce Gronkowski and Aaron Hernandez, the only flaw I can see in Tom Brady is the lack of a decent running game to keep defenses honest.
And while running backs, BenJarvis Green-Ellis and Danny Woodhead are high profile third stringers on any other team, Belichick and Brady know how to work with their personnel.
Without a question Tom Brady is back and is the best QB of this current generation and while Manning can make an argument along with Steelers QB Ben Roethlisberger, please consider that Brady is a combined 14-6 against both Manning and Big Ben in his first ballot Hall Of Fame career.
Grade - A
#4 New Orleans Saints QB, Drew Brees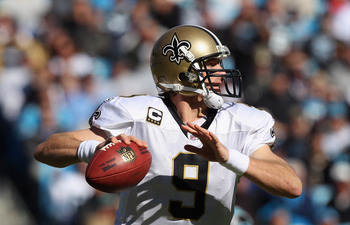 Streeter Lecka/Getty Images
Congratulations to the 2010 Sports Illustrated Man of The Year, Super Bowl quarterback Drew Brees, you have also been ranked No. 4 on my Bleacher Report NFL QB Power rankings.
And for the former Purdue Boilermaker and San Diego Charger, Brees has become a civic icon in the Crescent City as he has led the once moribund Saints to heights never before dreamed of down in the Bayou, as for this season, Brees has the Saints in contention to defend their Super Bowl title and be a very formidable for on the road as a wild-card.
Brees has passed for 3,321 yards and thrown for 23 touchdowns and 15 interceptions, with the low light being a nightmarish four-interecption day against the Cleveland Browns in a 30-17 upset in the Superdome.
Brees would bounce back with a two touchdown, 305 yard passing performance in a 20-10 win over the Pittsburgh Steelers, so Brees is very consistent in bouncing back from adversity.
Team Value - ( +9.7) Since signing as a free agent in 2006, Brees has passed for 17,348 yards, 122 touchdowns, led the Saints to two NFC Championship Games and one Super Bowl victory.
Body of Work - ( +9.6) Practically discard by San Diego because of a separate shoulder and the drafting of Phillip Rivers, Brees has become a hero and true leader in New Orleans, for his career Brees has posted a 91.9 QB rating and passed for 33,233 yards.
Supporting Cast - (+9.1) With starting running backs, Pierre Thomas and Reggie Bush missing much of the season, more pressure has been put on Brees to lead new Orleans, which is also the reason for his 15 INT's this year and while his receiving corps of Colston, Henderson and Moore are still dangerous, the lack of a true running game makes the Saints a bit more one-dimensional.
Grade - A
#5 Philadelphia Eagles QB, Michael Vick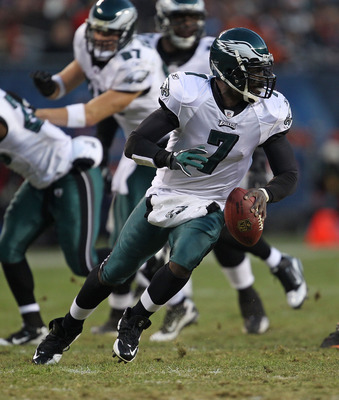 Jonathan Daniel/Getty Images
Anyone remember Kevin Kolb?
You know the kid that was supposed to be the future of the Philadelphia Eagles, post-McNabb?
Remember that?
Does anyone remember Michael Vick when he was signed as a back-up?
How about when Vick was the most hated and(sometimes still) reviled figure is sports not named LeBron James?
If there is anything in life is that there is redemption even for someone such as Michael Vick who went from begin the most infamous dog killer to Eagles savior and hero?
Only in America.
Vick has been on a personal mission of redemption since taking the Eagles starting job from Kevin Kolb and with his performance, Kolb will soon become known as "that guy" in South Philly.
Vick has led the first place in the tough NFC East and despite losing in Chicago, 31-26, The Eagles are clearly Vick's team and even more impressive is that Vick has finally matured into the dual-threat QB that was expected of him when being selected by Atlanta out of Virginia Tech.
Currently, Vick is the NFL's top-rated passer in the league with a QB rating at 106.0
Team Value - (+8.9) Since taking over for Kolb, the Eagles have become a very dangerous team in both running and passing as Vick is also the Eagles second leading rusher with 419 yards and five touchdowns.
Body of Work - (+8.5) In eight games,Vick has a combined 2,360 yards from scrimmage and 18 total touchdowns, so he is a true threat running and passing and thus making the eagles a real sleeper pick to win the NFC.
Supporting cast - (+9.4) With explosive wide receivers, DeSean Jackson and Jeremy Maclin along with LeSean McCoy and tight end, Brent Celek, Vick has the luxury of either going deep for the home-run or attacking the middle of the field with either Celek or McCoy out of the backfield which truly makes Vick and the Eagles a dangerous opponent in the NFC Playoffs.
Vick has truly emerged a more mature and better person since his indictment for dog-fighting and has shown that he is still contrite and willing to make up for it on and off the field and while he may be a possible candidate for MVP, I can honestly see a NFL Comeback Player of the year Award in his future, which considering where he has come from would be a perfectly fitting reward.
Grade - A -
#6 Green Bay Packers QB, Aaron Rodgers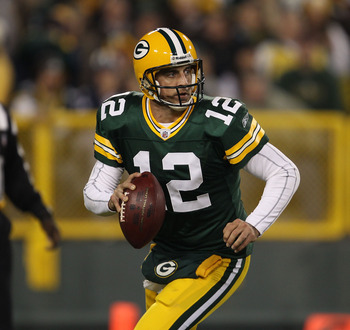 Jonathan Daniel/Getty Images
The former Brett Favre protege has officially surpassed his former teacher and has now become the master, while Favre is on the brink of vanishing into obscurity.
Rodgers, the prolific former Cal standout has led the Pack to a second place record of 7-4 in the NFC North and despite having no real run game, Rodgers has truly emerged into one of the top gunslingers in the NFL.
Rodgers current has thrown for 2,945 yards, 20 touchdowns and nine interceptions for a QB rating of 97.4
Team Value - (+8.9) Rodgers had truly become a Pro Bowl QB by flourishing in Mike McCarthy's pass-happy West Coast offense, and Rodgers will carry the Pack as far as he can with or without a running game.
Body of Work - ( +9.5) In three full seasons as a starting QB, Rodgers has thrown for 11,417 yards and 78 touchdowns, showing that Packers GM, Ted Thompson was smart in letting former Packer hero, Brett Favre walk.
Supporting Cast - ( +8.2) Outside of starting wide receiver, Greg Jennings, Rodger's supporting cast is very shaky and lacks depth, and with losing starting tailback, Ryan Grant and tight end Jermichael Finley, Rodgers has had to pick up the slack along with Brandon Jackson.
Rodgers still had Jordy Nelson and James Jones to throw to, but they lack the experience of go-to guy, Donald Driver
With no real running game and losses at tight end and tailback, Rodgers is going to have to put up All-Pro numbers for the Pack to go far in the NFC playoffs.
Grade - A -
#7 Pittsburgh Steelers QB, Ben Rothlisberger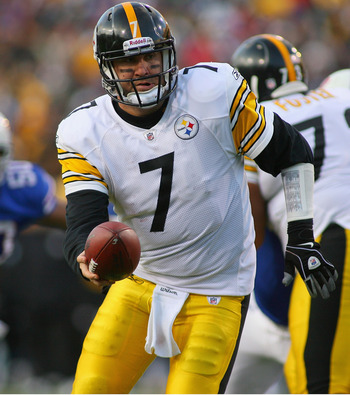 Rick Stewart/Getty Images
As much as you may either like him or hate him, Ben Rothlisberger is one of the truly elite QB's in the NFL, and even though he may not get the media adoration of fellow quarterbacks, Peyton Manning and Tom Brady, Big Ben is quite simply a winner.
This was a touch choice, not just by being a browns fan, but being truly objective and my job as a featured Columnist is to be just that, and despite his off-thefield antic, this slide show is about Ben's production on the field.
As all of you are well aware, Rothlisberger returned from a four-game suspension for violating the NFL Personal Conduct for allegedly sexually assaulting a 20-yeal old woman down in Georgia.
Rothlisberger returned in true style by defeating the Cleveland Browns 28-10 and since his return from the four-game suspension has thrown for 1,890 yards, 12 touchdowns and four interceptions for a QB rating of 99.1
Team Value - (+9.8) Pittsburgh was near the bottom in the NFL in scoring points and was 3-1 with Charlie batch under center, since Big Ben has returned the Steelers offense has risen to the near top of the league and the Steelers are 5-2.
Body of Work - (-7.5) This is only because he has played seven games and hasn't really hit his true groove yet, but with the way Big Ben is playing now this rating will go up.
Supporting Cast - (+9.7) Rothlisberger's return to the field has been eased by Rashard Mendenhall, the clutch and crafty, Hines Ward and the explosive down field duo of wide receivers, Mike Wallace and the emerging Emmanuel Sanders. and then there is also Heath Miller, Issac Redman and Mewelde Moore to help Ben lead the Steelers deep into the AFC playoffs.
Whomever faces Pittsburgh will know that they are facing one tough team with one of the truly elite QB's and better pack a serious lunch-pail.
Grade - A-
#8 St Louis Rams QB, Sam Bradford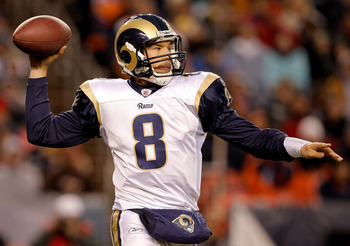 Justin Edmonds/Getty Images
Who would have honestly thought that former Heisman Trophy winner, Sam Bradford would be leading all NFL rookies in passing yards and touchdowns?
Let alone a team to the top of the NFC Less, I mean West.
Rams rookie quarterback, Sam Bradford is solidifying his lock for NFL Offensive Rookie of the Year by passing for 2,466 yards yards along with throwing for 17 touchdowns and nine INT's for a respectable QB rating of 82.0
And while the Rams are on top of the NFC West with a losing record of 5-6, Bradford is simply playing lights out football for the Rams this year and has given the rams a worthy successor to the legacy of Kurt Warner.
Team Value - (+9.6) Bradford has simply and without question, exceeded all expectations in St Louis and has given the rams hope for a very promising future with him under center.
Body of Work - ( +9.3) For a rookie, Bradford has played with the skills of a veteran at times as evidenced during the ram's 36-33 win in Denver, Bradford became the first NFL rookie QB to throw for three touchdowns, 300 yards and no interceptions in a game. Yeah this kid is good.
Supporting cast - (-5.5) With the exception of Rams running back, Steven Jackson, the rams really don't have no one which justifies Bradford's spot in the Power Rankings and before he was sustained a season-ending leg injury, former Sooner and current Rams WR, Mark Clayton had a good chemistry with Bradford going.
For the simple fact that Bradford has had to rely on the likes of wide receivers, Laurent Robinson, Brandon Gibson, Danario Alexander and Michael Hoomanawanui really says something about Bradford.
Grade - A -
#9 New York Giants QB, Eli Manning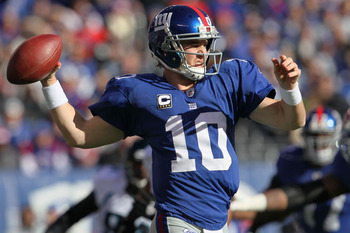 Chris McGrath/Getty Images
Tied with Tom Brady, Drew Brees and Phillip Rivers with 23 touchdown passes, Eli Manning is only just beginning to play some truly top-notch football.
And while he is known as Peyton's little brother, Eli is beginning to distinguish himself from his older brother this season in New York, Currently, Manning has thrown for 2,821 yards, 23 touchdowns and 16 interceptions this year.
With his Giants currently in second place behind the Philadelphia Eagles, Manning will need to continue to play at his current level if Big Blue is to make the NFC playoffs.
Team Value - (+8.9) Manning is a top-notch QB and while his TD-INT ratio is only six, Manning needs to do a better job of not trying to force plays and make stuff happen as he is second in the league after Minnesota QB, Brett Favre with 16 interceptions.
Body of Work - (+8.4) In spite of his interceptions, Manning is in a four-way tie for TD passes at 23, and that is because of the emergence of second-year wide-out, Hakeem Nicks and Mario Manningham, but Manning has been plagued with periods of inconsistency as his QB ratings and completion percentages have often fluctuated.
Supporting cast - (+9.0) With the emergence of both Mario Manningham and Hakeem Nicks, manning has a good wide receiving corps to bail him out in tight spots and a solid running game led by Ahmed Bradshaw, Manning's supporting cast is good but not great especially against upper-tier teams.
Overall, Manning is a border line elite QB that is dealing with some minor consistency issues, but once he resolves those then he will grade out much higher,
Grade - B+
#10 Kansas City Chiefs QB, Matt Cassel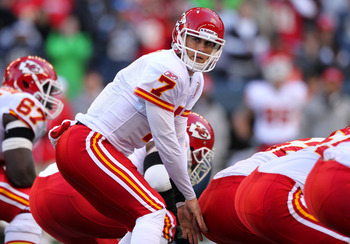 Otto Greule Jr/Getty Images
Once thought to be stuck on the bench in New England as Tom Brady's eternal back-up, Kansas City Chiefs QB, Matt Cassel has truly emerged into a fringe top-tier QB for the AFC West leading Kansas City Chiefs.
In his last three games, Cassel has thrown for 10 touchdowns and zero interceptions, including a four touchdown, 469 yard performance in a 49-29 blowout of the hated Denver broncos. Cassel has currently thrown for 2,307 yards, 23 touchdowns for a QB rating of 99.7.
Team Value - (+8.9) A sleeper stud in fantasy football leagues, Cassel has thrown 18 touchdowns and one interception in his last seven games.
Body of Work - (+9.1) Simply put, Cassel has been a pleasant surprise since being acquired from New England in a trade and nearly dealt to Denver, Cassel has cashed in on his breakout 2008 3,693 yard season when filling in for Tom Brady and since being in KC has passed for 5,231 yards and 38 touchdowns.
Supporting cast - (+9.8) Cassel has a MVP-like supporting cast of Jammal Charles, Thomas Jones, Tony Moeaki and MVP candidate WR, Dwayne Bowe who is simply having a monster season with 14 touchdowns and 887 yards receiving, the Cassel-Bowe connection could prove fatal to any team that faces the Chiefs.
Cassel has truly emerged from Tom Brady's shadow to become his own QB and with Dwayne Bowe and Jammal Charles as weapons at his disposal, Cassel could be a sleeper NFL MVP pick.
Grade - B+
#11 Denver Bronco's QB, Kyle Orton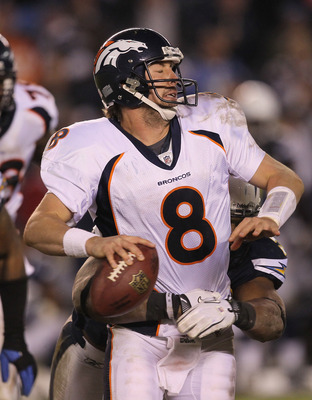 Stephen Dunn/Getty Images
Currently leading the NFL in passing yards with 3,370 yards passing thru 12 weeks, Kyle Orton is the only reason why the Denver Broncos are even relevant in the NFL this year.
With five weeks left in the season, Kyle Orton has a very good chance of breaking Dan Marino's single-season passing record of 5,084 yards and with a favorable schedule including Kansas City, Arizona and Oakland, I think it is safe to say that Orton will claim the mark easily.
Team Value - (+9.2) Orton has also thrown for 20 touchdowns and only six interceptions and posted a impressive QB rating of 96.0.
Body of Work - (+9.8) The one complaint about Orton's remarkable passing stats is the fact that the Bronco's are usually behind and have to abandon the run and rely on Orton's arm, and while that is a legitimate argument, you still cannot argue that passing for almost 3,400 yards in 12 NFL games is not legit.
Supporting cast - (+8.3) Losing Brandon Marshall and Tony Schelffer in free agency is huge for Orton and while he does have Brandon Lloyd, Jabar Gaffney and Knowshon Moreno, the loss of those two has hurt the Bronco's in the win column.
Grade - B
#12 Jacksonville Jaguars QB, David Garrard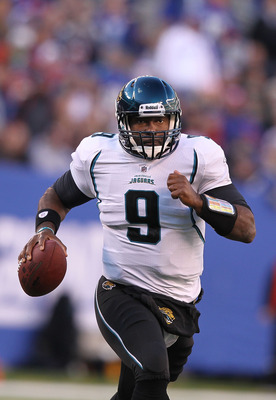 Al Bello/Getty Images
A true threat on the ground and in the air, Jaguars QB, David Garrard is tough to contain and sometimes even harder to stop as he has help the Jacksonville Jaguars to the top of the AFC South with a record of 6-5.
Garrard currently has thrown for 1,856 yards, 17 touchdowns and 11 INT's for a QB rating of 92.7, Garrard is also the second leading rusher with three touchdowns with 181 yards rushing.
Team Value - (+8.8) Very versatile and must be accounted for in all phases, Garrard is one of the borderline elite QB's that no one mentions but that everyone fears.
Body of Work - (+8.6) Solid, nothing great or flashy, but a real consistent threat to run or pass at anytime.
Supporting Cast - (+7.3) The loss of home-run threat Mike Sims-Walker hurts Garrard and while Mike Thomas can try to fill the void, that will put more pressure on Garrard to either run or dump off to All-Pro running back, Maurice Jones-Drew.
Garrard is a solid, tough-nosed QB who doesn't get enough exposure or love as a elite QB, but believe me when I say that all teams fear Jacksonville when he is under center.
Grade - B
#13 Indianapolis Colts QB, Peyton Manning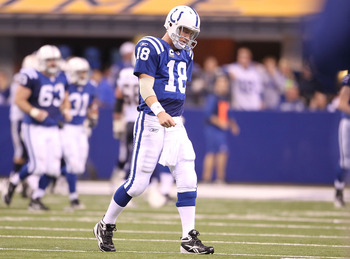 Andy Lyons/Getty Images
Indianapolis Colts QB, Peyton Manning maybe the either the best QB or our generation or the biggest playoff chock artist.
Depending on who you ask and I'm sure at this point most of you are wondering why I have Peyton Manning ranked #13?
This is just based on perfomance after 12 weeks and did anyone else see Peyton get owned by his OTHER eternal nemeis, San Diego, 30-16 on Sunday Night?
Manning seems to have hit a bit if a slide, and I'm not sure if NFL teams have been digging up the Steve Spurrier Florida Gator tapes on how to stop and baffle Peyton but it seems that more teams are beginning to figure out ol' Peyton.
Team Value - Not even a discussion(refer to Tom brady slide #3)
Body of Work - See Above
Supporting Cast - (-5.7) I do not mean any disrespect to such a great QB as Manning and really I do think that either teams have figured him out or he is pressing, you have to also look at the fact that he has lost Joseph Addai, Anthony Gonzalez, Dallas Clark and has had to work with the likes of Jason Tamme, Blair White and Austin Collie.
Grade - B
#14 Baltimore Ravens QB, Joe Flacco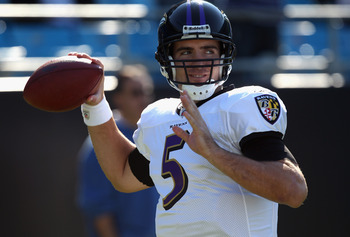 Streeter Lecka/Getty Images
Very quietly, Baltimore Ravens QB, Joe Flacco has become of the best signal-callers in the NFL and has given Baltimore a face that can lead the franchise well into the next decade.
Flacco, has thrown for 2,722 yards, 18 touchdowns and only eight interceptions along with a QB rating of 93.2
Team value - (+8.6) Flacco just recently became the all-time leader in touchdown passes with 53 and only has room to grow with Ray Rice alongside him in the backfield.
Body of Work - (+9.3) With victories over the New York Jets and Pittsburgh Steelers, Flacco not only cemented his name as one of the best QB's in the AFC but maybe the whole NFL.
Supporting Cast - (+9.1) With Ray Rice, Pro Bowl wide receiver, Anquin Boldin in the fold, Flacco has seen the full potential of Jim Zorn's offense and will only get better with more knowledge.
In other word's watch out NFL. Flacco is coming.
Grade - B
#15 New York Jets QB, Mark Sanchez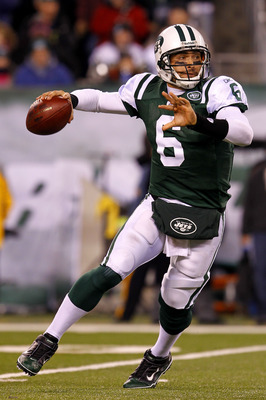 Chris Trotman/Getty Images
One of the true up-and-comers in the NFL, New York Jets quarterback, Mark Sanchez is quickly gaining a reputation as one of the best clutch quarterbacks in the league.
In games on the road against the Lions and Browns, Sanchez rallied Gang Green from near losses to snatch victory with his most recent last-second comeback coming on a dramatic 37-yard touchdown to Jets wide receiver, Santonio Holmes with 16 seconds left in overtime against Cleveland.
Team Value - (+9.2) Currently Sanchez has helped lead the jets to the top of the AFC East and into a big game on Monday night against the new England patriots in Foxborogh, Sanchez led the Jets to a 28-14 win over the Pat's in Week 2, as he threw three touchdowns and passed for 220 yards.
Sanchez currently has thrown for 2,472 yards, 16 touchdowns and eight interception's for a QB rating of 81.9
Body of Work - (+8.2) Sanchez has become the face of the Jet's since becoming the starter in week 1 of his rookie year and the Jets are 17-10 with him at the helm, although plagued by inaccuracy at times as he has only completed 55.2% of his passes, Sanchez is clutch when it matters most.
Sanchez is also only the fourth rookie quarterback in NFL history to win his first playoff game and the second to win two playoffs games in his rookie season. Since becoming starter he has tossed 28 TD's and 28 INT's for a QB rating of 72.5 and thrown for 4,916 yards.
Supporting Cast - (+9.8) Sanchez would be higher in the rankings if his body of work were a bit more impressive, but this is where he solidify s his B grade is that he has a supporting cast of Pro Bowl players in running backs LaDainlian Tomlinson and Shonn Greene, a stellar wide receiver corps of Braylon Edwards, tight end Dustin Keller and former Super Bowl MVP, Santonio Holmes makes Sanchez a deadly A-grade QB.
Sanchez is a true force to be reckoned with and despite his current grade, he is not that far off from being a true elite QB.
Grade - B
#16 Buffalo Bills QB, Ryan Fitzpatrick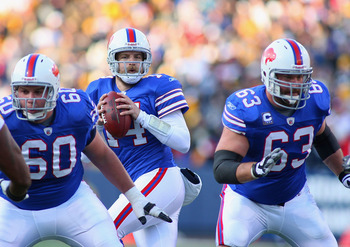 Rick Stewart/Getty Images
The former Harvard-bred journey-man QB who has played in St Louis and Cincinnati, Buffalo Bills QB, Ryan Fitzpatrick has really given the 2-9 tough-luck Biffalo Bills at least something to cheer about.
Since taking over the starting job from former QB, Trent Edwards, Fitzpatrick has simply exploded onto the scene by posting some fantasy-football worthy numbers.
Team Value - (+9.5) You cannot help but think that if Fitzpatrick was the Bills QB a lot sooner then maybe the Bills might have a better record than 2-9 as Buffalo does have some talent.
Body of Work - (+8.7) Very impressive considering the circumstance and his 382 yard, four touchdown breakout game against the Baltimore Raven's put the league on notice.
Fitzpatrick's other impressive performances include a 49-31 comeback win over the Cincinnati Bengals in which he threw four TD's and passed for 316 yards in the comeback. Currently, Fitzpatrick has thrown 19 touchdowns and 10 INT's for 2,269 yards in his nine games as a starter.
Supporting Cast - (-5.3) His lack of quality talent and the trading away of Marshawn Lynch to Seattle didn't help Fitzpatrick and despite explosive skill players such as running backs, C.J Spiller and Fred Jackson, and wide outs suchs as Lee Evans and Steve Johnson, Fitzpatrick sufferes purely from the lack of a true dominant player.
Grade - B
#17 Tampa Bay Buccaneers QB, Josh Freeman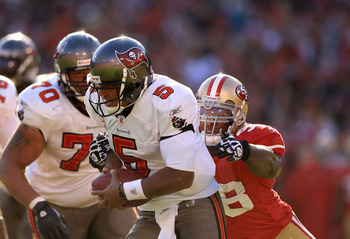 Ezra Shaw/Getty Images
Another up-and coming young gun among NFL quarterback, Tampa Bay Bucs QB, Josh Freeman has helped lead the Tampa Bay Buccaneers to the playoff contention.
Freeman, freshly removed from Kansas State has helped transform Tampa Bay from near bottom-dwellers to contenders in less than a year as he has thrown15 TD's 5 INT's and for 2,261 yards for a QB rating of 89.3
Team Value - (+9.1) Freeman became the first rookie in Tampa bay history to start and win his first game, Freeman is the future of the Tampa Bay Buccaneers franchise.
Body of Work - (+8.3) Still learning the in's and outs of the NFL, Freeman has come along nicely and has settled into the starting job in Tampa Bay and has thrown 25 TD's, 23 INT's and for 4,116 yards for a respectable QB rating of 75.4
Supporting cast - (+8.2) While he does have former Pro Bowl tight end, Kellen Winslow to throw to, he still lacks a true downfield threat, and while the emergence of rookie wide out, Mike Williams is a pleasant surprise, what has also helped Freeman is the play of Oregon rookie, LeGarette Blount.
Josh Freeman and the Bucs are one or two key players away from being a legitimate playoff contender.
Grade - B
#18 Washington Redskins QB, Donovan McNabb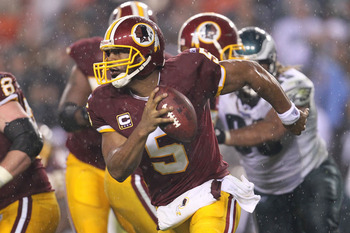 Chris McGrath/Getty Images
How can such a venerable and decorated QB such as Donovan McNabb who is the Philadelphia Eagles all-time leader in career wins, pass attempts, pass completions, passing yards, and passing touchdowns and led the Bird's to five NFC Championship games and one Super Bowl appearances be ranked ONLY #18 in the Bleacher Report QB Power Rankings?
Have you seen him play for the Washington redskins this year, I mean he was benched for backup QB, Rex Grossman, that's why?
The much bally-hooed move to Washington can officially be labeled a bust as McNabb has not only failed to live up to expectations, But now there is talk of the Redskins drafting a QB in the draft and this is after the Redskins signed McNabb to a five-year extension worth $78 million ($3.5 million guaranteed) with a chance to make it $88 million by completing incentives.
This was on the same day his Redskins suffered an embarrassing 59-28 defeat to his former team, the Philadelphia Eagles.
Currently McNabb has tossed 11 TD's and 13 INT's for 2,863 yards and a QB rating of 76.0, nine points below his career QB rating of 85.0
Team Value - (-5.7) If a team trades for you from within your own division and then benches you for a bust journeyman QB, and then your new coach makes up a vague excuse for the reason you were yanked in the game, you have no team value, Sorry, McNabb.
Body of Work - (+8.1) For all of his accomplishments in guiding the Eagles to glory, McNabb has been a horrible fit in Washington, end of discussion.
Supporting Cast - (-4.7) Having Santana Moss and Chris Cooley are nice, but with no true threat in the running game, McNabb has had to shoulder more of the load for the redskins and while Ryan Torain has been a nice surprise, McNabb lacks a legitimate running back.
Grade - B -
#19 Houston Texans QB, Matt Schaub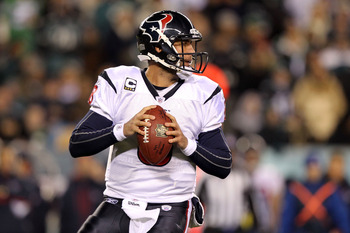 Al Bello/Getty Images
The always prolific and deadly, Houston Texans QB, Matt Schaub is a very good quarterback, and in some circles is a border-line elite QB, the only problem for him is that he is stuck in the same division as Peyton Manning and with the raised expectations of the playoff-hungry Houston Texans, Schaub is a victim of high expectations.
Don't get me wrong, I love Matt Schaub as he is one of the most underrated and most talented passers in the NFL and he has two bona-fide play makes in All-Pro best, Texans WR, Andre Johnson and running back, Arian Foster.
But for Schaub to move up higher in future rankings, Schaub needs to show more assertiveness and leadership in tight spots.
Schaub has currently thrown for 3,089 yards, 17 TD's and 8 INT's for a QB rating of 93.2
Team Value - (+9.2) Schaub is simply the man in Houston and his performance this year for the contending Texans is a real testament as he is the fifth-leading passer in the NFL with 3,089 yards.
Body of Work - (-7.4) This is what hurts Schaub is that in tight spots in big games, he often vanishes and basically folds in the clutch, and while he is a great passer early in the season he tends to either lose confidence or tightens up.
Supporting Cast - (+9.8) With a Pro Bowl monster of a wide receiver in Andre Johnson, who is thirds in the league in receiving with 1,018 yards and the leagues leading rushing in Arian Foster, Schaub does not have to throw the ball as often as he did last year when he led the league in passing yards with passing yards (4,770), completions (396), yards per game (298) and passing attempts (583), while finishing fifth in touchdowns (29) compiling a quarterback rating of 98.6
Schaub really needs to step up in big games before being considered a truly elite QB in the NFL.
Grade - B-
#20 Cleveland Browns QB, Colt McCoy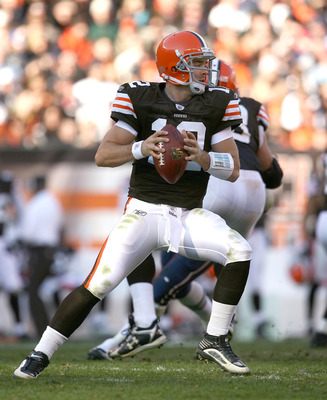 Matt Sullivan/Getty Images
After a long and often vain search for a franchise quarterback, Cleveland Browns rookie QB, Colt McCoy may be the answer in Cleveland.
Cleveland has gone through 16 different quarterbacks since returning to the league in 1999 including former first round busts Tim Couch and Brady Quinn.
What McCoy has finally brought to the Browns is a sense of clarity and excitement that has long been forgotten.
Making his first start on the road in Pittsburgh, McCoy threw his first NFL touchdown in a 28-10 loss, but he also threw for 281 yards, and after that loss he would lead the upstart 4-7 Cleveland Browns to back-to-back wins over defending Super Bowl Champion, New Orleans and the New England Patriots.
Currently on the sidelines due to a high ankle sprain, McCoy looks to be the real deal for the Browns.
Team Value - (+9.4) After showing impressive maturity, mobility and pose, Cleveland has latched onto McCoy as it's franchise QB and will look to provide him with more weapons in free agency and the 2011 NFL Draft.
Body of Work - (+9.8) No rookie has ever played the last three Super Bowl contending teams, let alone go 2-1 against them, as McCoy lost in Pittsburgh, won in New Orleans and defeated the New England Patriots soundly and in a convincing fashion that McCoy has and while it is only in five games, McCoy has passed for a impressive 975 yards and thrown three touchdowns and three interceptions in that span.
Supporting Cast - (-6.2) Besides Pro Bowl bound halfback, Peyton Hillis and tight end, Benjamin Watson, McCoy has no real weapons or supporting cast in Cleveland, which makes his ascent in the QB Power Rankings all the more impressive.
Just imagine when and if Cleveland ever gets him a stud wide-out. Look out NFL!
Grade - B -
#21 Detroit Lions QB, Shaun Hill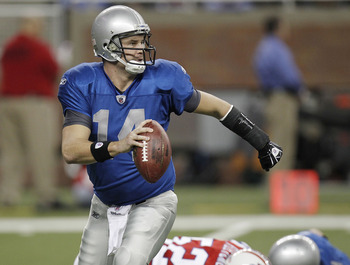 Gregory Shamus/Getty Images
With reports coming out of Detroit that starting QB, Shaun Hill will not play this week against the Chicago Bears, Shaun Hill has more than been a valiant fill-in for franchise QB, Matthew Stafford
Hill has played very well since taking over for starting QB, Matthew Stafford who separated his shoulder, as the former Maryland standout has thrown 13 TD's and 11 INT's for 2,206 yards and a QB rating of 78.6
The Lions are heading in the right direction with Stafford, but if things ever go wrong then they can rely on Shaun Hill.
Team Value - (+7.3) A journeyman QB who has some skill, Hill has shown that he can win games for Detroit and while he doesn't have the arm that Stafford does, Hill is clearly a valuable part of the renewed excitement for the Lions in the Motor City.
Body of Work - ( - 5.4) Very spotty, even during his time in San Francisco and though he has plenty of experience having played for the NFL Europe Amsterdam Admirals, where he led the league in passing yards and tied for second in touchdowns. Hill is just a decent fill-in and back-up.
Supporting Cast - (+9.3) It begins and ends with "Megatron" also know as Calvin Johnson and continues with Nate Burleson and tight end Brandon Pettigrew, the Lions have the pieces in place and with rookie running back, Jahvid Best in the mix, look for the Lions to be a real threat in the future.
Grade - C+
#22 Chicago Bears QB, Jay Cutler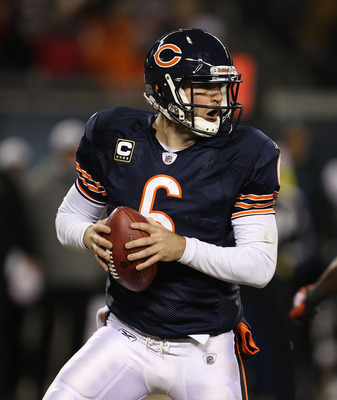 Jonathan Daniel/Getty Images
In his second full season in Chicago, Jay Cutler is finally beginning to look like the strong-armed quarterback that they got from Denver.
With his NFC North leading Bears in control of the division, Cutler looks like he has finally come around to top form as last week he threw a career best four touchdowns in a 31-26 win over the Philadelphia Eagles.
Team Value - (+8.5) Cutler is a good quarterback with a very strong arm, but not a great quarterback in terms of intangibles at times, and while his four-toucdown outburst is a encouraging sign, Cutler still has a tendency to sometimes throw into double-coverage.
Body of Work - (+8.2) Cutler has seemingly been revived in Chicago under Bears offensive coordinator, Mike Martz's pass-happy system as Cutler has thrown for 16 TD's, 10 INT's and 2,311 yards passing,
Currently, Cutler is on pace to better his stats from last year with five games left to play when he threw for a league high 26 interceptions, 27 touchdowns and 3,666 yards passing.
Supporting Cast - (-7.8) This may be Cutler's Achilles heel, and while he does have a Pro Bowl tailback in Matt Forte and solid running back in Chester Taylor to hand the ball too, Cutlet lacks a true home-run threat at wide receiver like he had in Denver with Brandon Marshall.
Cutler will take the Bears as far as his arm will allow him, but he must cut down on his interceptions if Chicago is to have a chance.
Grade - C+
#23 Seattle Seahawks QB, Matt Hasselbeck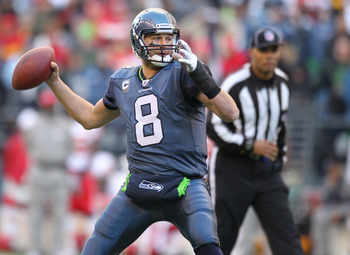 Otto Greule Jr/Getty Images
At the age of 35, Seattle Seahawks QB, Matt Hasselbeck's career in Seattle may be soon coming a end.
With future quarterback in waiting, Charlie Whitehurst waiting in the wings, Seattle will most likely cut ties with Hasselbeck in the off-season.
Hasselbeck has currently thrown for only 10 TD's and 9 INT's for 2,392 yards passing and a QB rating of 78.9 and yet his 5-6 Seahawks are a game out of first place in the NFC West.
Team Value - (-6.5) At the age of 35, Hasselbeck's time is just about out in Seattle and the recent defections of wide receivers, Nate Burleson and Deion Branch to Detroit and New England have only dropped his stock.
Body of Work - (-5.7) Not very good, as despite his past successes in Seattle, Hasselbeck's time in almost up.
Supporting Cast - (+7.9) Former first-round bust, Mike Williams is enjoying a brief revival in Seattle under old coach, Pete Caroll and while Seattle has also landed running back, Marshawn Lynch from Buffalo and still have Justin Forsett, Hasselbeck does not have enough pieces around him to get back to his old heights.
Grade - C
#24 San Francisco 49ers QB, Troy Smith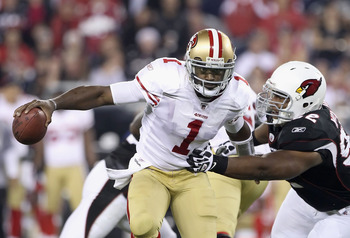 Christian Petersen/Getty Images
The former Heisman Trophy winner out of The Ohio State Univeristy, Troy Smith appears to have lit a sprak in San Francisco's once dormant offense.
Since replacing former starting QB, Alex Smith, Troy Smith has led the Niners to a 3-1 record including a impressive 356-yard, one touchdown performance in a 23-20 win over St Louis in Week 10.
Currently Smith has thrown for 829 yards, three touchdwons and two interceptions for a QB rating of 84.1
Team value - (+8.4) As stated above, San Francisco is 3-1 with Smith under center.
Body of Work - (-4.6) While it is only five games, it is not a fair judgemnt upon Smith based on the fact that he playes in the weakest division in the nFL. Smith is a good border-line back-up, but is no franchise QB.
Supporting cast - (-7.9) Losing starting runningback, Frank Gore and reling on former Philadelphia eagle, Brian Westbrook is going to be tough and while he has wide receiver, Michael Crabtree and Pro Bowl tight end, vernon davis, Smith does not have enough firepower to take the Niners further down the stretch.
Grade - C -
#25 Dallas Cowboys QB, Jon Kitna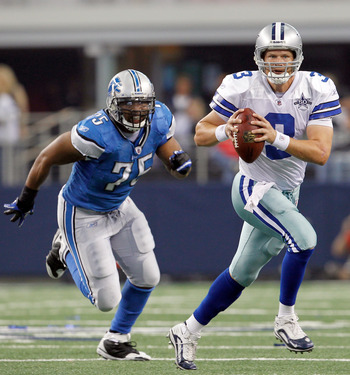 Tom Pennington/Getty Images
A solid and career back-up, Dallas Cowboys starting QB, Jon Kitna has done a fine job in filling in for starting QB, Tony Romo.
The 14 year veteran who has played in Seattle, Cincinnati and Detroit, has led the Cowboys to a 2-4 record and since Jason Garrett became head coach in Dallas, the Cowboys have gone 2-1 under Kitna.
Currently Kitna has thrown for 10 TD's, 8 INT's for 1,536 yards and a QB rating of 88.2
Team Value - (+7.5) Solid and not over-whelming, Kitna is a good care-taker and game manager for the Cowboys who clearly are not the same team with Romo on the sidelines.
Body of Work - (-5.9) Average, shoddy in some spots such as the disastrous 45-7 humiliation, which was also Wade Phillips last game as Dallas head coach, Kitna is a serviceable QB, but not a starting QB in the NFL like he was back in Cincinnati.
Supporting Cast - (-6.9) Despite having Pro Bowl wide receiver, Miles Austin and Pro Bowl tight end, Jason Witten, along with a enviable stable of tailbacks in Marion barber, Felix Jones and Tashard Choice, you cannot help be wonder why are the Cowboys so bad offensively?
This is not a indictment or criticism of Kitna at all as he was clearly handcuffed by the stubborn incompetence of Wade Phillips, Kitna clearly looks revitalized under Garrett.
Grade - C -
#26 Minnesota Vikings QB, Brett Favre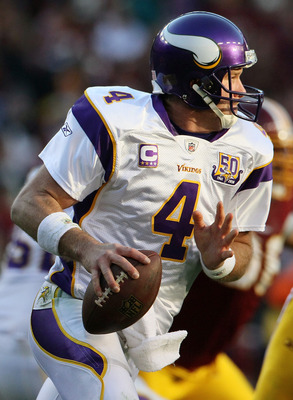 Win McNamee/Getty Images
One would hope to age gracefully, for Minnesota Vikings QB, Brett Favre that is clearly not an option as the 40-year old quart back seems to be going thru a bit of a mid-life crisis.
With the Jenn Sterger sexual misconduct allegations hanging over him, Favre just wants this season to end as quickly as possible.
On the field, Favre has taken some big hits but not as many as he has this year and it has clearly affected him as he has thrown for only 10 TD's and 17 INTs for a meager QB rating of 71.0
Clearly these are not the numbers one would normally expect from the future hall-of-Famer, but stats don't lie.
Team Value - (-4.7) Favre was once seen as a savior and the missing piece to help Minnesota get to the Super Bowl, but with the firing of head coach, Brad Childress and the abrupt release of wide receiver, Randy Moss, Favre's value to the Vikings has also taken a huge hit.
Body of Work - (-5.3) With respect to his past accomplishments, this has been the worst season for Favre in recent memory and with the team in turmoil and flux, the only thing Favre can hope to remain somewhat intact is his legacy, at least what's left of it, anyways.
Supporting cast - (+8.3) The loss of Randy Moss is minor compared to the constant migraine issues of Pro Bowl wide receiver, Percy Harvin, and the constant fumbling issues of All-Pro running back, Adrian Peterson don't help Favre either.
While starting wide receiver, Sidney Rice has returned from a serious hip injury, Favre can now only hope to finish his career on a high note.
Grade - C-
#27 Tennessee Titans QB, Vince Young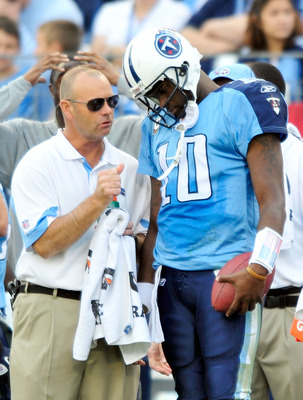 Grant Halverson/Getty Images
How the mighty have fallen, once seen as the future in Nashville, Titans QB, Vince Young could very well be done in Tennessee.
This wasn't supposed to be like this for Vince Young who was supposed to be the next coming of local icon, Steve McNair, Young had everything going for him and while Young has shown glimpses of promises in Nashville, you cannot be help but wonder what happened?
Currently, Young is in a fight with his coach, Jeff Fisher and allegedly sent a very nasty text message, as of last week, Young is out as starting QB, which means that the Titans will go forward with Kerry Collins and if this is indeed true, then Vince is indeed done.
For the season, Young has tossed 10 TD's and three INT's, Young has also thrown for 1,255 yards and has posted a QB rating of 98.6
Team value - (-3.9) Young is on the outs in Nashville, Enough said.
Body of Work - (-3.9) Not good, as he has had run ins with coach,Jeff Fisher and also a man in a bar wearing a Oklahoma Sooners jersey, Young needs to show some maturity if he ever hopes to continue his NFL career.
Supporting cast - (+8.5) the only saving grace for young is that he shares the same backfield as Pro Bowl running back, Chris Johnson and now with the addition of randy Moss, it may open up things for him, but he has to earn his way back onto the field first.
Grade - D
#28 Cincinnati Bengals QB, Carson Palmer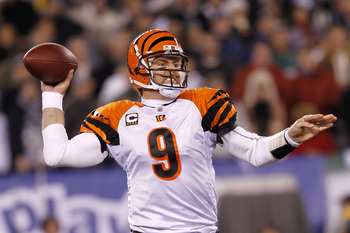 Chris Trotman/Getty Images
Once seen as one of the top passers in the NFL, Cincinnati Bengals quarterback, Carson Palmer has regressed to a shell of his former Pro Bowl form.
One simply cannot explain the reason why a quarterback as intelligent, gifted, and arm strength would fall from the upper-tier echelon of passers, once mentioned in the same breath as Tom Brady, Drew Brees and Peyton Manning, Palmer is now a afterthought at this point in his career.
Rumors have already been coming out of the Queen City that the Bengals will be looking to draft his replacement, whether it is Stanford's Andrew Luck or possibly Arkansas' Ryan Mallet, Palmer could be on his way out in Cincinnati.
For the season, Palmer has thrown 19 TD's ands 15 INT's for 2,760 yards passing and a QB rating of 78.5
Team Value - (-3.5) Once seen as the Bengals quarterback well into the next decade, Palmer must now deal with constant NFL Draft rumors as well as his declining numbers.
Body of Work - (+5.5) Overall mediocre at this point in his career, Palmer is at a real crossroads, is it the coaching, play-calling, receivers or just the fact that Palmer has gradually declined since the hit to his knee vs Pittsburgh in the 2005 AFC Wild card game, one will never know, but it would be a real tragedy if Palmer went out a real loser.
Supporting cast - (+7.8) Palmer has two of the best wide receivers in the NFL in Chad Ochocinco and Terrell Owens, a real gem in Jordan Shipley and a pass catching tight end in Jeremiah Gresham, then how in the world is this team only 2-9 and dead last in the AFC North?
You cannot help but shudder at the thought that this may be Palmer's last year as a Bengal, if he continues to play like this, then that thought will indeed be a nightmare come to life for Bengals fans.
Grade - D
#29 Miami Dolphins QB, Chad Henne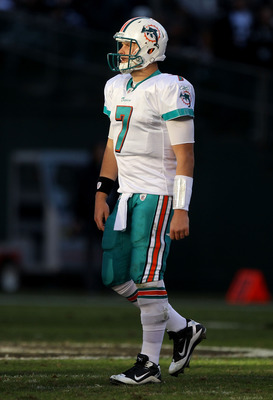 Ezra Shaw/Getty Images
Once thought to be the heir to Hall of Fame legend, Dan Marino, it appears that Dolphins QB, Chad Henne is another pretender to the throne that many in Miami can never attain.
The third year signal-caller from Michigan has shown glimpses of promise, but hasn't shown that he can either stay healthy or hold down the job on a consistent basis.
Henne has currently thrown 11 TD's and 12 INT's for the Dolphins, he has also thrown for 2,447 yards and a QB rating of 81.3
And despite the addition of Pro Bowl wide out, Brandon Marshall from Denver, Henne has not taken the next step that Miami has expected.
Team Value - (-3.0) Henne has not shown neither the drive nor the leadership to make Dolphins fan see him as the next coming of Dan Marino. unfair comparison I know, but in Miami every QB has and will forever be compared to him.
Body of Work - (-3.2) Not enough to validate and with his history of injuries, Henne needs to show more durability.
Supporting Cast - (+7.6) Henne has a good supporting cast made up of possession wide outs, Davone Bess and Brian Hartline, Pro Bowl wide outs, Brandon Marshall and tailbacks Ronnie Brown and Ricky Willams and while they are good, they are not great.
Grade - D
#30 Oakland Raiders QB, Jason Campbell
Jared Wickerham/Getty Images
Originally seen as the missing piece are quarterback in Oakland, Raiders QB, Jason Campbell, acquired in a trade with the Washington Redskins has turned out to be another free-agent bust for Raiders maverick owner, Al Davis.
For all the physical tools that Campbell seems to possess, he has never seemed to grasp the offensive system in Oakland, nor truly claimed the QB spot outright as it seems that Bruce Gradkowski has taken over under center.
Campbell has currently thrown for 1,322 yards, seven touchdowns and six interceptions for a QB rating of 75.8, Not exactly a good return on a investment.
Team value - (-2.4) Campbell was originally seen as a savior and the next coming of former Raider great, Jack Blanda at one point and while Campbell has been given a fair shot and solidifying the QB spot, he seems terribly inconsistent when on the field.
Body of Work - (-1.5) Consistently inconsistent and simply horrible to watch if you're a Raiders fan at times, how can you go from throwing for 310 yards and one TD in a 33-3 win in Seattle to laying a 70 yard, one interception, 26.2 QB rating dinosaur-sized egg on the road in Pittsburgh, when you have a bye to prepare?
Supporting cast - (+8.3) You have a vaunted rushing attack led by Darren McFadden and Michael Bush, dynamic play-makers in Louis Murphy and Jacoby Ford and one of the most underrated tight ends in Zach Miller and you still cannot win games?
Then there is a real problem and Jason Campbell may be the reason.
Grade - D
#31 Carolina Panthers QB, Jimmy Clausen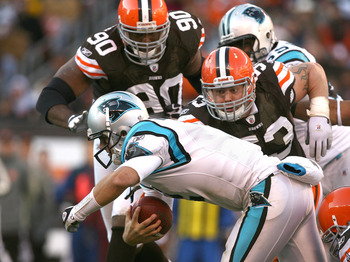 Matt Sullivan/Getty Images
For the Carolina Panthers, they must be suffering from a case of buyers remorse as the pick of former Notre Dame QB, Jimmy Clausen is looking like a pie to their collective faces.
Clausen has the NFL's lowest QB passer rating of 55.5 and also has completed just a NFL-worst 50.0% of his passes for the Carolina Panthers this year.
Currently, Clausen has thrown one touchdown, five interceptions and has the lowest amount of yards passing with 887 in the NFL.
Body of Work - (N/A)
Team Value - (-1.5) Taken in the second round and originally was projected to be a top-10 pick, Clausen is a work in progress.
Supporting Cast - (-3.5) Clausen really has almost nothing to wok with except, Pro Bowl wide out Steve Sith, but outside of Smith and possibly DeAngelo Williams and Mike Goodson, Clausen's road in the NFL is going to be a tough one.
Grade - D-
#32 Arizona Cardinals QB, Derek Anderson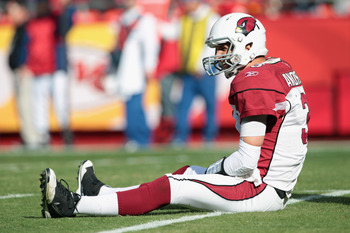 Jamie Squire/Getty Images
And the lowest ranked QB, in the Bleacher Report QB Power Rankings is none other than Arizona Cardinals QB, Derek Anderson.
You cannot simply say that Anderson deserves this just for his now legendary meltdown following a loss to the San Francisco Giants on Monday Night, it is based on the simple fact, that he is inconsistent, inaccurate and tends to throw a lot of bone-headed interceptions.
I used to be a big Derek Anderson supporter back in 2007 during his fluke 29 touchdown, 3,787 yard Pro Bowl fluke of a year he had for my beloved Cleveland Browns.
And while Anderson was good for the first half of 2007, it didn't take the league long to figure out that if you take the deep ball away from him and make him throw short and underneath he is very inaccurate
While he will show you glimpses of talent and promise, Anderson has never been more than a one-year tease who simply has not developed into a pure passer even though he does have one of the best deep balls in the league.
Currently, Anderson has thrown seven touchdowns, nine interceptions for 1,972 yards, Anderson is the 31st ranked QB in accuracy at 52.8 and has the third-worst rating of 68.9
Team Value - (-0.89) The only reason why Anderson is even starting is becuase Max hall isn't ready yet and rookie Jon Skelton doesn't have enough reps to see live action yet.
Body of Work - (-0.00) Inconsistent and inaccurate. Period.
Supporting Cast - (+8.7) This is why Anderson is the worst QB in the Power rankings and even though Clausen could be #32, the reason why Anderson is #32 is that he has better running backs in Beanie Wells and Tim Hightower, and a stud All-Pro wide out in Larry Fitzgerald to throw too and while Carolina Panthers wide out, Steve Smith is no slouch, I'll take Fitz over "Mighty Mouse" any day.
Bottom line is that Anderson has a better supporting cast than most other QB's in the league, but his inaccuracy and inconsistency has continued to haunt him ever since he has left Cleveland and that is why he is the worst QB in the Bleach report QB Power Rankings.
Grade - F
Keep Reading