NFL Power Rankings: The League's Top Linebacker Units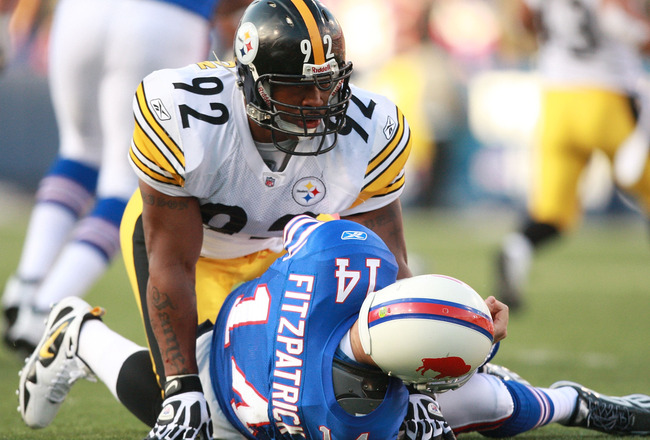 Karl Walter/Getty Images
Power rankings are all the rage in sports these days. Every single aspect of every league is now ranked and debated on whose better than who.
So what better way to debate which team in the NFL has the best linebacker corps?
They are the glue that holds the defense together. They are run-stoppers, pass defenders, and even sometimes pass rushers. They are the quarterbacks of a defense, ballhawks and the difference sometimes between a good defense and a great one.
So without further ado, here are the NFL linebacker power rankings.
32. Detroit Lions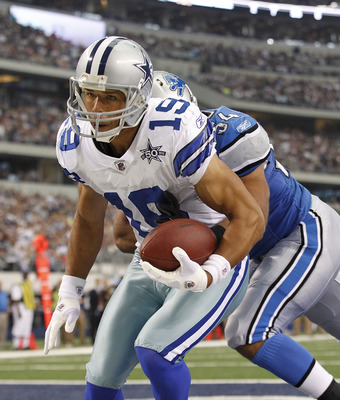 Leon Halip/Getty Images
There wasn't much left on this group after Ernie Sims was traded to Philadelphia. Julian Peterson is a solid veteran presence on a pretty green group of linebackers that includes promising DeAndre Levy up the middle. Levy, though, has only played six games this season due to injuries. Peterson is nothing if not solid and consistent, accruing more than 70 tackles each of the last five years and missing only four games since 2004.
But it's still one of the worst defenses in football, especially against the run.
31. Carolina Panthers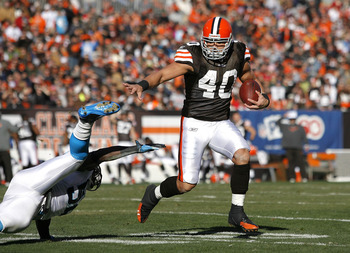 Matt Sullivan/Getty Images
Carolina's defense has been strong against the pass (top 10 in yards allowed), and Jon Beason is still a nice middle linebacker. But the loss of Thomas Davis has been hard for the Panthers to overcome, and it's showed on the ground, where Carolina allows more than 130 yards per game.
Beason is still solid and James Anderson is among the league leaders in tackles, but three linebackers on IR have made the group extremely thin and vulnerable as a result. The way Peyton Hillis ran through the Panthers last week was proof of that.
30. Arizona Cardinals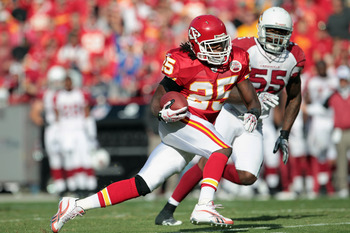 Jamie Squire/Getty Images
Kurt Warner didn't play defense too, did he?
The loss of Karlos Dansby was a big blow to the Cardinals' linebacker corps, but no one knew it would be this bad. The linebackers and the defense as a whole have looked as lifeless as the offense, near the bottom in both rushing and passing yards allowed.
Of course two starters are injured right now in Clark Haggans and Paris Lenon, but that still doesn't completely explain that the linebackers seem to be having little to no impact. After Lenon, the Cards' next two leading tacklers are two defensive backs. That's not an encouraging sign.
29. Cleveland Browns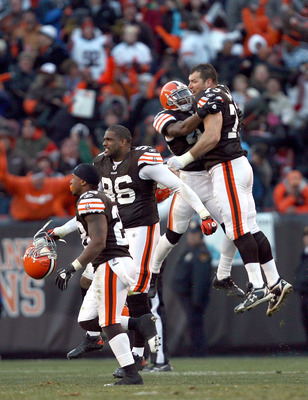 Matt Sullivan/Getty Images
The Browns should be commended for how well they've played the last few weeks. But it still doesn't resolve the fact that the team is still a work in progress. David Bowens is a veteran, albeit one who's made a couple of big plays and Chris Gocong is a former Philadelphia Eagle.
There's nothing overly outstanding about the group, and Santonio Holmes' game-winning touchdown a couple of weeks ago was an exercise in how not to tackle. There's hope in Cleveland, but they'll have to upgrade at linebacker first.
28. St. Louis Rams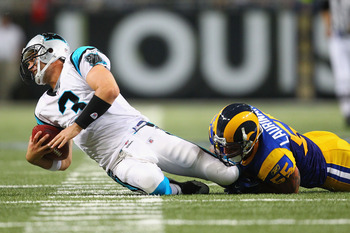 Dilip Vishwanat/Getty Images
James Laurinaitis is the defensive leader of a group that has overachieved and leads the NFC West. St. Louis is 13th against the run, but 21st against the pass. Laurinaitis has played very well, but he's the best in a transitional group that includes long-time veteran Na'il Diggs and seventh-round draft pick Larry Grant.
Laurinaitis has the potential to be a solid player and along with the improving defensive line, they're the defensive pieces that are helping the Rams' revival. But there's still work to be done.
27. Tampa Bay Buccaneers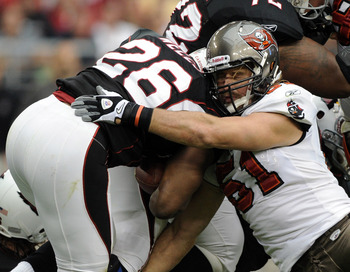 Harry How/Getty Images
Buccaneers coach Raheem Morris said earlier in the season that stats are for losers. Obviously the rest of the team buys into the notion, because despite having a middle of the road defense, the Bucs are right in the middle of the playoff hunt. Barrett Ruud is a solid player who has continued on the tradition of strong defensive players out of Nebraska.
But he's not Derrick Brooks, and this isn't the intimidating Tampa 2 defense of the late '90s. Tampa Bay is 27th in the league against the run, a number that will have to improve if the Buccaneers want to make the playoffs. That starts with the linebackers.
26. Buffalo Bills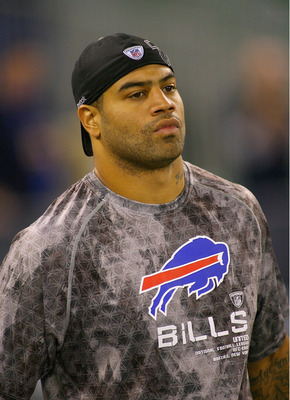 Rick Stewart/Getty Images
Only Buffalo could pick up Shawne Merriman, not far removed from being one of the most feared pass-rushers in the game, and have him injured not long after he heads to Orchard Park. Such is life for one of the worst defenses in the league. Paul Pozluszny is another linebacker who has a checkered past when it comes to injuries, but when he's healthy, he's been a nice addition and one of the more consistent contributors to the Bills defense.
But if the Bills want to improve, Merriman and Pozluszny have to be healthy. So far, easier said than done.
25. Seattle Seahawks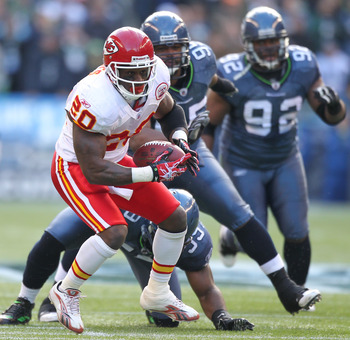 Otto Greule Jr/Getty Images
The Seahawks' defense has been shredded at points this season, including last week at home against Kansas City. Individually, the linebackers are strong. Lofa Tatupu has consistently been one of the better middle linebackers in the NFL and Aaron Curry looks like a keeper. David Hawthorne has been pressed into duty with Leroy Hill out.
Individually, they're solid and on paper should be good as a group. But the defense has struggled and they have as well.
24. Jacksonville Jaguars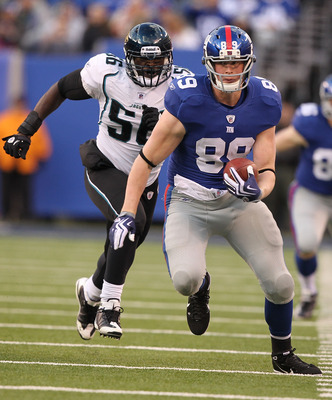 Al Bello/Getty Images
It's a young group that doesn't have familiar faces like Mike Peterson or Hardy Nickerson patrolling the defense. It does however have a promising young strong side linebacker in Justin Durant and the usually dependable former Raider Kirk Morrison. But the youth and Durant and Daryl Smith switching positions have showed for the Jags, who are 28th against the pass and 20th against the run. Like Seattle, another group that should be solid on paper but have struggled.
23. Kansas City Chiefs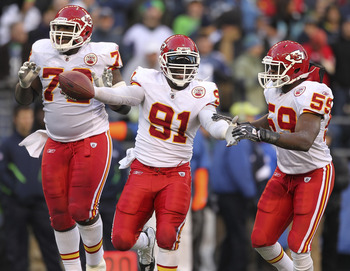 Otto Greule Jr/Getty Images
Don't let the total defense numbers fool you. Kansas City's defensive numbers are somewhat skewed because of an inexperienced secondary that's been exploited at times. The Chiefs are seventh in the league against the run, and a big part of that can be contributed to the re-emergence of Derrick Johnson and Tamba Hali. Hali was moved to outside linebacker and has thrived, registering eight sacks. Meanwhile, Johnson has become the Chiefs leading tackler. The potential for a strong defense is there in Kansas City.
22. New York Giants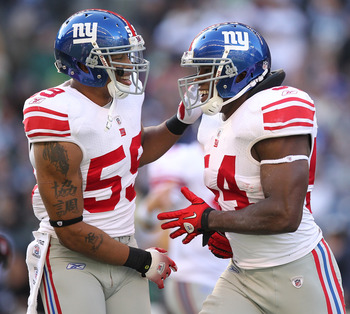 Otto Greule Jr/Getty Images
The Giants have a long history of outstanding linebackers. Harry Carson, Lawrence Taylor, Sam Huff, all Hall-of-Famers who did fantastic work for Big Blue. There's nothing to say that the linebackers the Giants have now can't be pretty good, but like many of the units at the bottom of these rankings, they're a relatively young bunch. Michael Boley and Keith Bullock are solid veterans, but too many times the linebackers seem to not be able to keep contain or miss assignments.
Again, especially with the young linebackers like Clint Sintim and Jonathan Goff, there's potential. But it needs time.
21. Miami Dolphins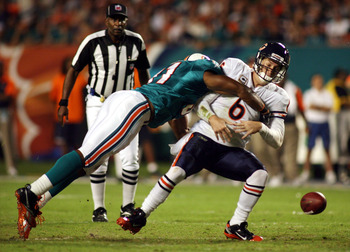 Marc Serota/Getty Images
Cameron Wake has been one of the better finds of the year. The former Penn State and British Columbia Lion has been the speed rusher Miami needs out of the 3-4. But Karlos Dansby and Channing Crowder, the two anchors in the middle of the defense have been underwhelming. Crowder might have made more headlines this year for Spitgate with Baltimore's LeRon McClain than he has for his play this year.
And that's not a good thing.
20. New England Patriots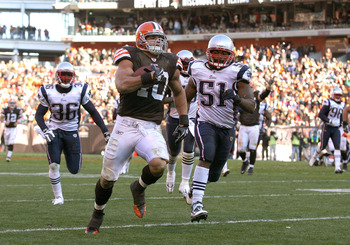 Matt Sullivan/Getty Images
Young and aggressive. Stop me if you read this already in these rankings.
Jerod Mayo is a star in waiting. The middle linebacker is the league leader in tackles with 132, 22 more than Tennessee's Stephen Tulloch. Brandon Spikes is a rookie with potential to be strong. But Tully Banta-Cain is the only real veteran linebacker the Patriots have. And the defense has suffered, posting some of the worst numbers a Patriot defense has ever put up under Belichick.
That being said, New England is 9-2 and tied for the best record in the NFL. I think Patriot fans will live with the young linebackers.
19. Tennessee Titans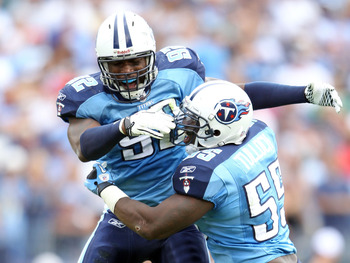 Andy Lyons/Getty Images
A little bit more star power in these linebacking groups, starting with the Titans. Stephen Tulloch has had a very fine year and as previously mentioned, is second in the league in tackles. Will Witherspoon is a veteran who's been around a long time and is recognizable at least in name. They're part of a hard-hitting, aggressive, agitating defense that can be very stingy at times.
But the Titans' losing streak has taken a bit of the edge off.
18. Oakland Raiders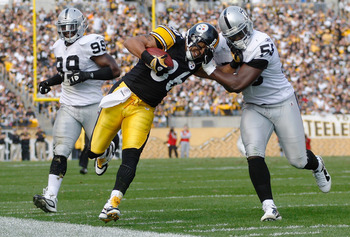 Jared Wickerham/Getty Images
Not often do draft experts these days find themselves uttering something to the effect of "the Raiders got it right."
But there's a first time for everything. And the Raiders did seem to get it right with Rolando McClain, the rookie from Alabama. He's provided a spark to a defense that was already stingy against the pass. McClain and another young 'backer in Kamerion Wimbley have reenergized the defense and the fanbase. It's a big reason why the Raiders are hanging around in the AFC West. There's a feeling now that hasn't been going around Raider Nation for a while: hope.
17. New Orleans Saints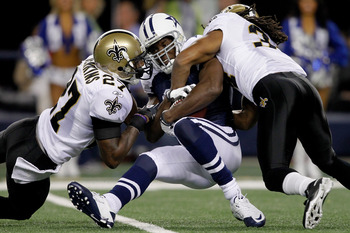 Matthew Stockman/Getty Images
Jonathan Vilma is the leader of a group that takes the lead and the personality of defensive coordinator Gregg Williams' aggressive attack defense. He's a fast linebacker who can fly all over the field and seems to find his way to the ball. Scott Shanle and Danny Clark aren't flashy, but they're good veterans on a playmaking defense.
A defense that with each and every win, seems to be getting its karma and swagger back.
16. Philadelphia Eagles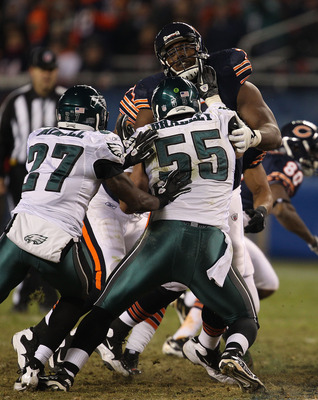 Jonathan Daniel/Getty Images
This is a tough group to figure out. Ernie Sims proved to be a worthwhile addition as a ballhawk who combines speed and the ability to send opposing players into next week with a tackle. Stewart Bradley, when he's healthy, has been a solid middle linebacker for the Eagles. The key word there is healthy. Between his season-ending injury last year and his concussion against Green Bay this year, Bradley was somewhat hesitant for a good part of the season.
Moise Fokou has stepped up into the other outside linebacker position that no one seems to want, and has played well right now.
15. Indianapolis Colts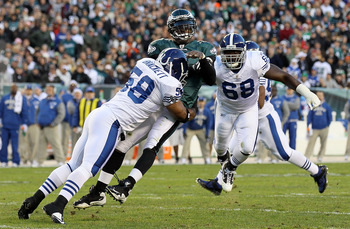 Jim McIsaac/Getty Images
The Colts are such a tough team to rank in this countdown because of their injuries. Gary Brackett is one of the more underrated linebackers in the league and one of the more consistent players on the Indianapolis defense. Yet he's injured right now, same for Clint Session. Two other linebackers are on IR, so the Colts are forced to turn to Tyjuan Hagler, Pat Angerer and Philip Wheeler to hold the fort.
Only time will tell how well they do. So far from a team perspective, it hasn't been outstanding.
14. Denver Broncos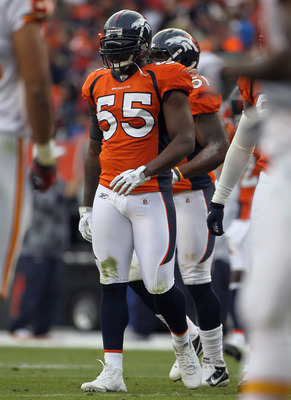 Doug Pensinger/Getty Images
It's been an awful season in the Mile High City, with the Broncos' version of Spygate just adding more fuel to the fire. But it's hard not to think what might have been if Elvis Dumervil wasn't on IR with a torn pectoral muscle. Dumervil was one of the better outside pass rushers in the game, and he combined with D.J. Williams to form a pretty formidable group of linebackers.
With Dumervil out, Denver has struggled putting pressure on the quarterback and the rest of the defense has been exposed because of it.
13. Houston Texans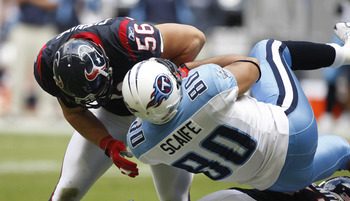 Bob Levey/Getty Images
During the 2002 expansion draft, the Texans selected Jamie Sharper from the Ravens and Kailee Wong from the Vikings as the core of the franchise's linebackers and defense. Sharper was solid during his time in Houston, but Wong was hard to notice.
That problem hasn't been an issue with Demeco Ryans and Brian Cushing. The pair give the Texans two impact linebackers that can make plays all over the field, something they though they could get from Sharper and Wong. Ryans has been sidelined with an injury, but Cushing has been strong since returning from his suspension.
12. Washington Redskins
Grant Halverson/Getty Images
During the Redskins' opening night win over the Cowboys, NBC's Cris Collinsworth made an observation that Brian Orakpo was getting pressure and trying to get to the quarterback. He just wasn't getting sacks because he was getting held so many times.
They've had to hold him. 19.5 sacks in less than two seasons have made Orakpo one of the more dangerous outside rushers in a 3-4 scheme. He's part of a very good Redskins' linebacking core that includes Rocky Macintosh and the seemingly ageless London Fletcher. Together, they've put together a strong unit. It's the rest of the defense that's struggled.
11. Atlanta Falcons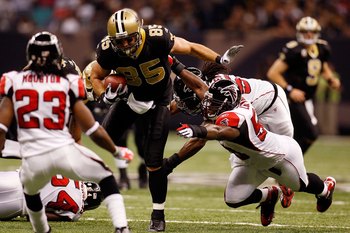 Chris Graythen/Getty Images
Curtis Lofton, Mike Peterson and Sean Weatherspoon may not be household names. But they're part of a much improved Atlanta defense and a team that has a winning vibe about them. Not flashy, not players who will get a ton of attention. Most of the attention in Atlanta goes to the offense or the defensive line that includes John Abraham.
But it might be better that you don't know who they are. They seem to be extremely motivated by that.
10. Minnesota Vikings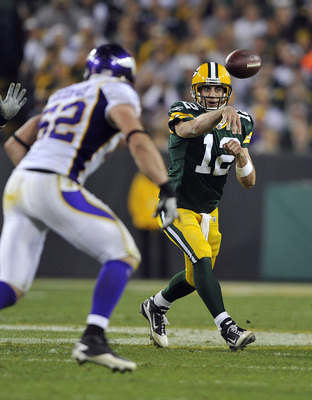 Jim Prisching/Getty Images
If this was a year ago, this group might be ranked higher. Such is life these days aboard the Vikings' ship (no pun intended).
In all there's nothing overly spectacular about this bunch, other than they're very smart, don't make a lot of mistakes and don't shoot themselves with penalties. Chad Greenway is the prototypical overachieving Iowa linebacker that works his tail off and just makes smart plays.
But the Vikings defense has been severely exposed this year because of the lack of a pass rush. Because of that, they get stuck with the "better on paper than on the field this year" label.
9. Cincinnati Bengals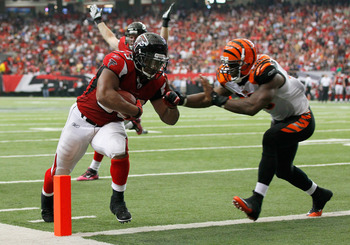 Kevin C. Cox/Getty Images
Another group that last year would've been ranked a little higher than where they are and maybe get stuck with the "better on paper" label. Last year, the trio of Rey Maualuga, Keith Rivers and Dhani Jones were a big reason why the Bengals were one of the best defenses in football and won the AFC North.
This year, they were part of a unit that got torched in the second half two weeks ago by the Buffalo Bills. Oh, how quickly things can change.
8. San Diego Chargers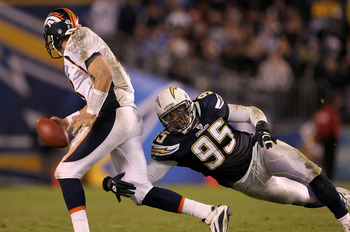 Stephen Dunn/Getty Images
They may not be the flashy Shawne Merriman-led "Lights Out" Chargers that made quarterbacks run for their lives while helping the team rise to prominence a few years ago, but they're still getting the job done. Shaun Phillips is still in San Diego and anchoring the defense. They're starting to play better as the season's worn on, even without Merriman, and the defense as a whole is one of the best in the NFL.
These Chargers might not be flashy, but they're just as effective.
7. San Francisco 49ers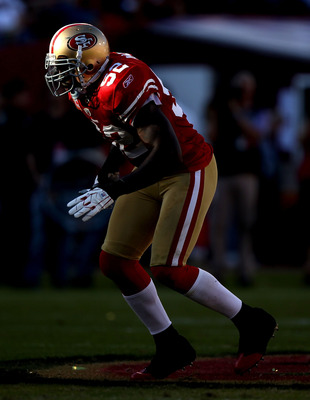 Jed Jacobsohn/Getty Images
There are only a handful of players on a defense that offenses will gameplan for, to make sure each and every offensive player knows where he is at all times. Patrick Willis is that type of linebacker, he flies all over the field, he helps on run and pass, and he's just an all-around fantastic linebacker and one of the better ones in the game today.
He has help from fellow linebackers like Manny Lawson and another rejuvenated veteran in Takeo Spikes, which has helped the Niners have one of the better linebacking corps in the league.
6. Dallas Cowboys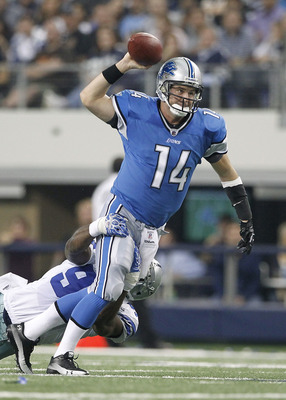 Leon Halip/Getty Images
On paper, there may not be a more recognizable crop of linebackers in the league.
DeMarcus Ware, Bradie James, Keith Brooking, Anthony Spencer. Together they formed one of the more dominant linebacking corps in the league, or if nothing else, a hell of a defense to play as in Madden 11.
But as the Cowboys found out the hard way, games aren't played on paper. Too many times Ware has been invisible and not getting through to the quarterback, and many times until Wade Phillips was fired, the effort was non-existent.
They've played a little better under interim coach Jason Garrett, and I'm sure he's hoping for his sake that they're building towards something for next year.
5. Baltimore Ravens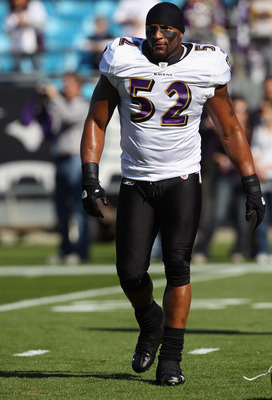 Streeter Lecka/Getty Images
He may not be as quick as he once was and a little older, but just like players in the 1980s always knew where LT was, today they all make sure to know where Ray Lewis is. He's still a dominant force who can intimidate and send messages with a crushing blow (Dustin Keller found that out the hard way). He's still a quarterback of the defense and every hit he makes seems to reverberate throughout the entire stadium.
His defense is still aggressive like his linebackers, which include pass rusher Terrell Suggs.
4. New York Jets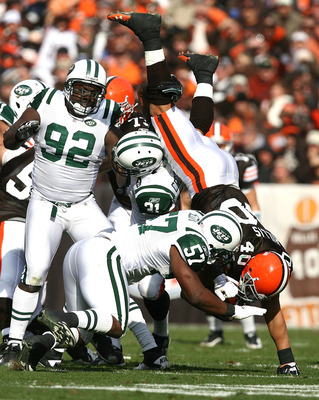 Matt Sullivan/Getty Images
Bart Scott and Rex Ryan have a lot in common.
They're not afraid to say what they feel. They both have a confidence about them that can come off to some as arrogant and cocky.
But most of all, they back up their words a lot of the time.
It's no surprise they came from the Baltimore school of football. That aggressive, attack and force mistakes defense has become a hallmark of Ryan, the Jets and the linebackers, a solid group that includes Bryan Thomas, David Harris and Calvin Pace.
3. Chicago Bears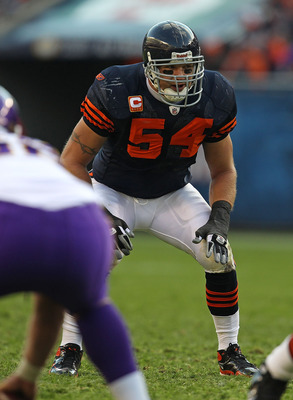 Jonathan Daniel/Getty Images
No other team in the NFL had been able to slow down Michael Vick and the explosive Eagles offense. Until they faced the Bears Sunday, that is.
Brian Urlacher, Lance Briggs and company contained Vick and even forced him into his first interception of the season. Forget about the points they put up, the Bears' defense played very well and the linebackers have restored the pride of the defense. Urlacher is just having a normal Urlacher-type year, where the ball just seems to find him, and Briggs is playing well also.
The Monsters of the Midway just might be back.
2. Green Bay Packers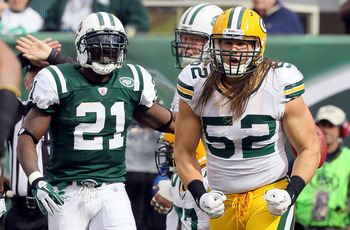 Jim McIsaac/Getty Images
There may not be a more dominant player in the NFL defensively right now than Clay Matthews.
He does everything. He plays run support, attacks and pressures the quarterback, sits back in pass coverage and makes plays. He's been everything advertised and more for the Packers' defense. His fellow linebackers have played well too. Whereas the linebackers might have had pressure put on them because of all the injuries early on, Matthews, A.J. Hawk and others have stepped up and been the constant on defense all season.
That might pay huge dividends in Titletown come January.
1. Pittsburgh Steelers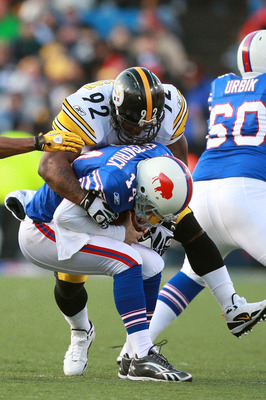 Karl Walter/Getty Images
No matter what you might think of him, whether he's a clean player or not, you make sure at the line of scrimmage where No. 92 in the black and gold is.
James Harrison might have gotten attention this year for his fines and his faux retirement, but he's also been one of the best rushing linebackers in the sport and one of the more dominant linebackers in the game.
Between him and Lamar Woodley, there's pressure coming from both outside spots, while Lawrence Timmons is another stud on the inside and James Farrior is a solid veteran, especially on the run.
The four of them cover a lot of ground, and they also cover the top spot in the rankings.
Keep Reading