Josh Cribbs and the NFL's 14 Most Electric Special Teams Players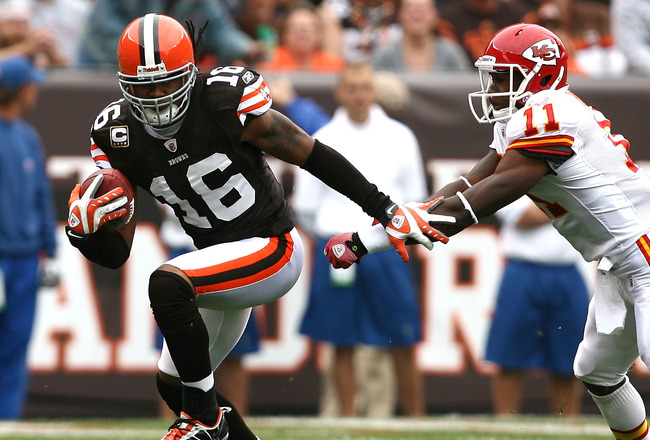 Matt Sullivan/Getty Images
It's always the most exciting moment of the game. The instant you see the hole opening up during a kick return and you think to yourself—he could…go…all…the…way!
For the past few years, Josh Cribbs has been one of the league's gold standards for this excitement. After all, he does have ten career return touchdowns.
But who else ranks amongst the league's most electric performers, and does anybody challenge Cribbs for the title of most exciting special teams player? Read on to find out.
14. Patrick Chung
Patrick Chung was one of the best special teams players in Oregon history, and has been an excellent addition to the Patriots unit.
In a 41-14 Week 4 demolition of the Dolphins, the 5'11 safety blocked a punt to set up a touchdown and a field goal that Kyle Arrington returned for a score.
13. C.J. Spiller
Although Spiller has been nicked up and seen his playing time dwindle, he is one of the NFL's most dynamic special teams performer.
His blazing speed and unbelievable quickness make him a dangerous threat as both a kickoff and punt returner.
Spiller's 95-yard touchdown return against the Patriots displayed his full arsenal of talents, and Spiller should evolve into one of the league's premier return men.
12. Brad Smith
The former Missouri quarterback is about as versatile at they come. At any given time, Smith could be playing wide receiver, quarterback in the wildcat formation, or returning kicks.
On the season, the fifth-year player leads the NFL with a 29.2 return average.
While he's not the fastest return man in the league, Smith is shifty with nice moves and terrific acceleration.
11. Brendon Ayanbadejo
Jeff Gross/Getty Images
For those of you who expected a list of all return men—surprise! Ayanbadejo has been injured this season, but last year proved himself to be one of the most valuable special teams performers in the league.
The 34-year-old UCLA product was undrafted out of college, but has made the Pro Bowl three times as a special teams player.
He has 163 career tackles of which a majority have come on special teams. An unheralded star in his own right, Ayanbadejo is deserving of a spot on this list.
10. Percy Harvin
In only his second NFL season, Harvin has proven himself to be an elite kick returner. The University of Florida product ranked third in kick return average as a rookie (27.5 yards per) while returning two kicks for scores.
This year, Harvin's productivity as a return man has dwindled down to 23.3 yards per, but he remains one of the league's most exciting special teams performers.
Harvin has a wide array of quick moves and is one of the fastest players in the NFL.
9. Kassim Osgood
Technically, Osgood is a wide receiver, but the former San Diego State Aztec has only 39 receptions in his seven year career.
Instead, Osgood has defined himself as one of the league's premier special teams performers and was named to the Pro Bowl in three of the last four seasons.
Osgood is unbelievable in both kick and punt coverage and has displayed his athletic gifts both on and off the field. Back in September, a story broke about Osgood jumping out of a second story window to escape a gun-wielding intruder.
8. Jacoby Ford
Last week's special teams player of the week, Jacoby Ford, is worth the price of admission.
A rookie out of Clemson, Ford has already returned two kickoffs to the house while averaging 24.7 yards per return. Ford ran a 4.28 40 at the NFL combine and ranks amongst the fastest players in the league.
As a collegiate track star, Ford was one of the nation's top runners in both the 60 and 100-meter dash. Anybody who has watched this youngster play can't be surprised by that.
7. Brandon Tate
Before the season began, fans around New England were worried about Tate. The Patriots had used a third round draft pick on the North Carolina receiver despite a torn ACL and MCL that ended Tate's senior season.
His rookie season, Tate played in only two games before injuring his knee and being places on injury reserve. Now in his second season, Tate is showing people why he is the NCAA's all-time leader in combined kick/punt return yardage.
Tate lacks the agility of some of the league's premier returners, but has a phenomenal combination of speed and strength. Already Tate has returned two kicks for six and ranks sixth in the league with a 26.6 yard per return average.
6. Darren Sproles
Standing only 5'6, Darren Sproles doesn't look like a world class athlete, but the lighting bug certainly performs like one. For the past few years, the diminutive back has excelled as both a kick and punt returner.
Back in 2007, Sproles returned both a kick and punt for a score while ranking fifth in kick return average. Sproles went on to score a special teams TD in 2008 and 2009, although he has yet to visit the end zone this season.
Sproles is quick and elusive with tremendous vision. He's sure-handed, tough and accelerated like nobody else. Sproles' short stature allows him to hide behind blockers and allows him to get lower than his defender every time.
He's a human highlight reel and one of my favorite players to watch.
5. Larod Stephens-Howling
Perhaps best known for his odd name, Stephens-Howling has been one of the league's most unheralded players.
The second-year man out of Pittsburgh is small in stature, but big on talent. After posting a 24.2 yards per return average and scoring on a 99-yard kickoff return as a rookie, LSH elevated his production to a new level as a second-year player.
The 5'7 back ranks fourth in the league with a 27.7 yard kick return average while posting two touchdowns. Howling is quick with dynamic moves and stays extremely low.
It's nearly impossible to get a clean shot off on this pint-sized special teams ace, and he deserves more recognition on the national level.
4. Dez Bryant
Only a rookie, Dez Bryant has made dozens of teams look silly for passing on him. The 6'2 rookie out of Oklahoma State has been utilized more on punts than kickoffs, and the results have been tremendous.
Bryant's 14.3 yards per punt return rank third in the NFL while his two touchdowns tie Devin Hester for the lead.
Bryant is a superb athlete with world-class speed, strength, vision and decisiveness. Bryant looks like a star in this league and it will be interesting to see how much longer the Cowboys allow him to return punts.
3. Leon Washington
It seems like Washington has been a stupendous return man for an eternity. The 28-year-old Florida State alum has six career kickoff return touchdowns including two this season (both coming in a win over the Chargers).
At 5'8 210, Washington is a bit wider than most returners, but an electric player nonetheless. Washington is fast and decisive. He allows very little wasted movement and always runs north to south, never east to west.
He's only made one Pro Bowl, but ranks second all-time in kick return touchdowns.
2. Josh Cribbs
A former college quarterback at Kent State, Cribbs has turned into arguably the league's most exciting player. His eight combined kick return touchdowns are the most in league history and have helped guide the 6'1 receiver to two Pro Bowl appearances.
Cribbs can make cuts that most of us could never dream of. He's fast, strong, breaks tackles and accelerates like a Bugatti. Cribbs is the active leader in kick return yards despite only six years experience and may go down as one of the best to ever field a return.
1. Devin Hester
How can I squeeze the all-time special teams touchdown leader? It's not easy, but Devin Hester is that dynamic. Teams have been smart enough to kick away from the former Miami product, but he still finds ways to score.
A two-time All-Pro selection, Hester has amassed a staggering 13 return touchdowns including nine punt return scores. Hester is explosive with eye-popping agility and absurd top end speed.
To this day, his punt return against Duke remains one of my favorite YouTube highlights ever.
This season, Hester ranks second in the league in punt return average with a 14.8 mark. He's the most exhilarating player I have ever watched and deserves the top spot on this list.
Keep Reading