NFL Power Rankings: Are The Chicago Bears The League's Best Kept Secret?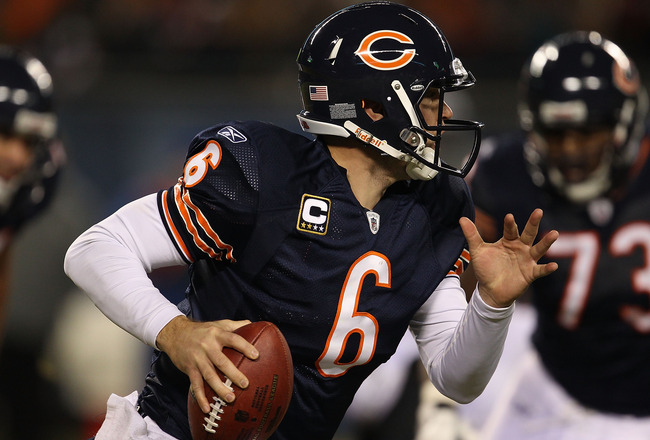 Jonathan Daniel/Getty Images
NFL Power Rankings are ready to go. Who's in the Top 5? You must be dying to know.
This week's action one big close call. We were just a Steve Johnson touchdown away from seeing the Pittsburgh Steelers fall in the rankings and seeing the the Buffalo Bills scrape themselves off the bottom.
But that didn't happen. This week we saw the Falcons come-from-behind against the Green Bay Packers late in the fourth quarter. And we also saw the Bears give Michael Vick and the Eagles trouble on their way to a win.
There's no question the Falcons are the best team out of the NFC. Are they the best in the league? While we're at it, how far do the Bears shoot up now that they've taken down the high-flying Eagles. Did they take over the Eagles spot in the Top 5 with their win?
Let's get started. It's time for Week 13 NFL Power Rankings. Enjoy!
32-23: The Bottom 10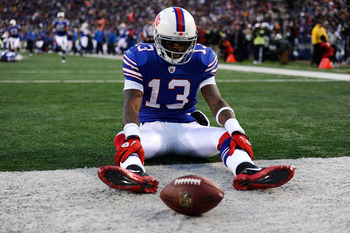 Karl Walter/Getty Images
32. Carolina Panthers (1-10): Their losing ways continue as they lose by a point in the last few minutes of the fourth quarter – on the bright side this Mike Goodson guy continues to play well. (Last Week: 32)
31. Detroit Lions (2-9): For a Thanksgiving special, we got to watch the Lions get a spanking courtesy of the Patriots – no surprise there. (Last Week: 31)
30. Cincinnati Bengals (2-9): The "terrible!" Bengals keep playing terribly and drop their seventh in a row – this week they only manage to score ten points against the Jets defense. (Last Week: 30)
29. Buffalo Bills (2-9): Steve Johnson blames God for letting a game-winning touchdown slip right through his fingertips – not himself. What a baby. (Last Week: 29)
28. Arizona Cardinals (3-8): We might as well just count the Cardinals out of this NFC West race, two field goals against a division rival just ain't going to cut it. (Last Week: 28)
27. Denver Broncos (3-8): What's Josh McDaniels' excuse this week as the Rams scored 36 points on them? (Last Week: 25)
26. Dallas Cowboys (3-8): Thanksgiving Day didn't bring their third win in a row, it was close though and this Cowboys team is definitely playing with more motivation. . (Last Week: 24)
25. San Francisco 49ers (4-7): And with this Monday night win, the Niners are only a game behind in the NFC West, someone's going to win this division – it just may be them. (Last Week: 27)
24. Minnesota Vikings (4-7): New interim head coach and they win a game; maybe Zigy Wilf should have fired Brad Childress a week earlier. (Last Week: 26)
23. Cleveland Browns (4-7): Peyton Hillis, oh how Josh McDaniels misses you; the Hulk is the best rusher with three TD's and best receiver with 63 receiving yards. If not for him this team would be a lot worse. (Last Week: 23)
22. Seattle Seahawks (5-6)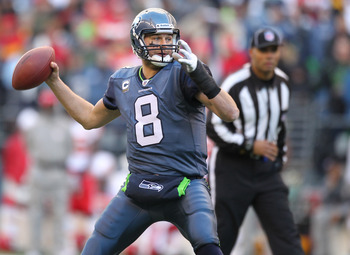 Otto Greule Jr/Getty Images
(Last Week: 21)
Why They Drop: That's two losses in a row and they certainly had a tough time against the Chiefs without Mike Williams. The Chiefs offense couldn't be stopped and the Seahawks turned the ball over too many times on offense.
This is definitely a game Pete Carrol would like have a do-over. Luckily they may be able to bounce back against the one-win Panthers this weekend.
21. Tennessee Titans (5-6)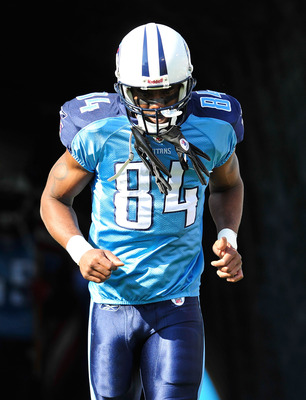 Grant Halverson/Getty Images
(Last Week: 17)
Why They Drop: What happened to this Tennessee team? They looked so good to start the season and everything started falling apart.
Vince Young is out for the season and their losing streak has reached four games. Not only did they lose to the Texans but they got shut out! Maybe Randy Moss is cursed.
20. Washington Redskins (5-6)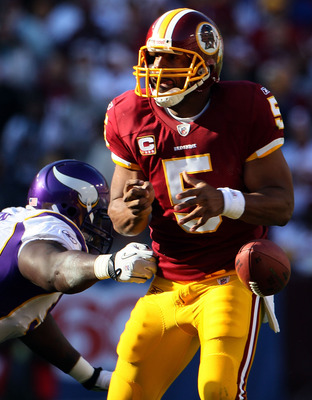 Win McNamee/Getty Images
(Last Week: 19)
Why They Drop: The Redksins struggles continue and this recent loss came against Brett Favre and the Vikings on their own home field. One of the reasons for loss was a lack of a successful running attack.
But aside from that this question needs to be asked: Is Donovan McNabb really the right quarterback for this team? Really?
19. St. Louis Rams (5-6)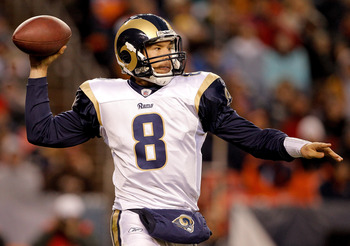 Justin Edmonds/Getty Images
(Last Week: 22)
Why They Rise: This week the Rams find themselves tied with the Seahawks for the NFC West lead. Against the Broncos their offense never looked so good with Sam Bradford at quarterback. He threw for over 300 passing yards and three touchdowns this past Sunday.
Good news for the Rams, they can keep rolling this coming weekend against the defensively handicapped Arizona Cardinals.
18. Oakland Raiders (5-6)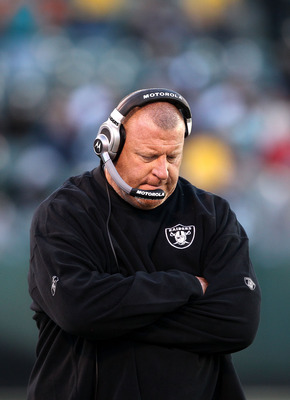 Ezra Shaw/Getty Images
(Last Week: 15)
Why They Drop: It was just earlier this month that we were giving the Raiders plenty of props for being over .500 in November. But times have changed. They're back to their losing ways and their running game has disappeared.
There's a big road game to look forward to against the Chargers on Sunday – it could make or break their season.
17. Miami Dolphins (6-5)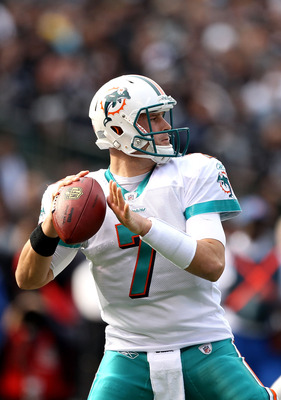 Ezra Shaw/Getty Images
(Last Week: 20)
Why They Rise: The Dolphins travelled across the country and managed to limit the Raiders. Darren McFadden was limited to only eight rushing yards and no other runner besides Jacoby Ford reached double digits.
That's one heck of a defensive effort. Plus, Chad Henne makes a return from injury to throw for over 300 passing yards. Well done, Dolphins.
16. Houston Texans (5-6)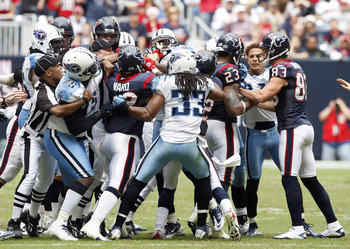 Bob Levey/Getty Images
(Last Week: 18)
Why They Rise: The Texans shook off their four game losing streak by extending the Titans own losing streak to four. Take that Tennessee!
They won the game in a pretty impressive fashion. Houston pitched a shutout. That's a big deal considering their pass defense has been one of the worst in the league.
15. Jacksonville Jaguars (6-5)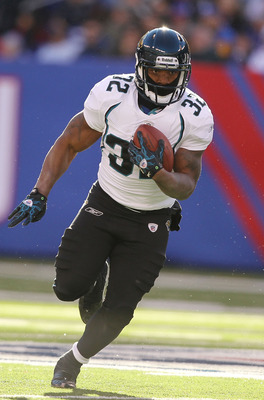 Al Bello/Getty Images
(Last Week: 14)
Why They Drop: The Jags recent string of close wins came to an end this week. The Giants battled back with a game-winning touchdown near the end of the game.
Maurice Jones-Drew reached the century mark in rushing yards once again but he and David Garrard did not account for a single touchdown. That's not a recipe for success.
14. Indianapolis Colts (6-5)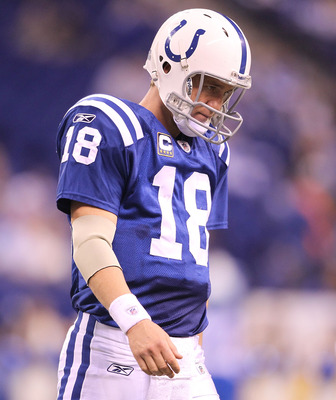 Andy Lyons/Getty Images
(Last Week: 12)
Why They Drop: Peyton Manning must hate playing against the San Diego Chargers because they seem to have his number. This past weekend he threw for four interceptions.
The Chargers locked in during the second half when the Colts were kept scoreless the whole time. Peyton needs more guys to get healthy and more of the guys that are in there to step up their play. He can't do it all himself, he needs help.
13. San Diego Chargers (6-5)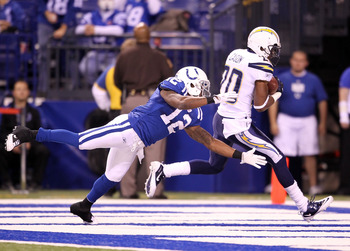 Andy Lyons/Getty Images
(Last Week: 16)
Why They Rise: Watch out for this San Diego team, their impressive statistical numbers are finally starting to turn into wins. They are starting to pick up momentum and have three straight games at home against division rivals.
In three weeks they could be on their way to winning the AFC West.
12. Kansas City Chiefs (6-4)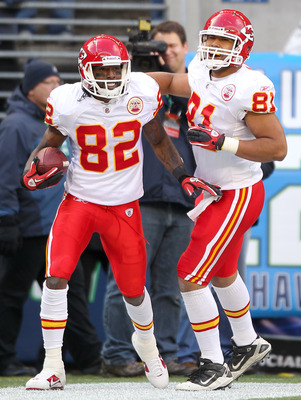 Otto Greule Jr/Getty Images
(Last Week: 13)
Why They Rise: Last week we called Dwayne Bowe the hottest receiver in the league. This week, the guy is still on fire and is burning threw opposing secondaries.
Matt Cassel showed plenty of love for Bowe's hard work by throwing to him for three touchdowns against the Seahawks.
11. Tampa Bay Buccaneers (7-4)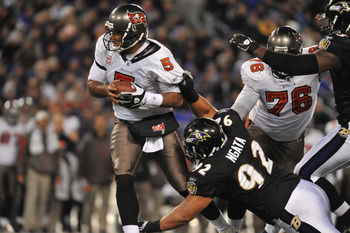 Larry French/Getty Images
(Last Week: 9)
Why They Drop: These Bucs can't beat teams with winning records and have their way with sub .500 teams. They may have seven wins but you need to win big games to make the playoffs – especially in the very competitive NFC South.
They host Atlanta this Sunday for another big test.
10. Green Bay Packers (7-4)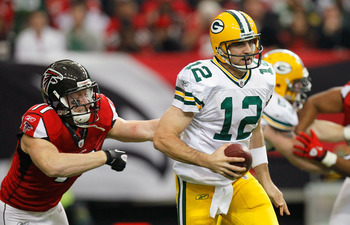 Kevin C. Cox/Getty Images
(Last Week: 8)
Why They Drop: This most recent game was a heartbreaking loss to the best team in the NFC. The Pack also lost ground in the NFC North division race.
It's never a good sign when Aaron Rodgers is the team's leading rusher with 51 yards, instead of Brandon Jackson. Maybe they can shake off this loss and bounce back against the 49ers this coming weekend.
9. New York Giants (7-4)
Al Bello/Getty Images
(Last Week: 11)
Why They Rise: Without Steve Smith and Hakeem Nicks, the depleted Giants receiving corps still found a way to win with Kevin Boss and Mario Manningham stepping up their games.
Eli and Boss connected late in the game to put the Giants ahead for good. The Giants got back on the winning track and just need to get healthier.
8. Philadelphia Eagles (7-3)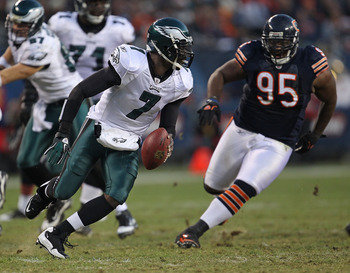 Jonathan Daniel/Getty Images
(Last Week: 5)
Why They Drop: Michael Vick and the streaking Eagles came back to earth after losing to the Chicago Bears. Vick didn't look like his usual electric-self in that game.
Chicago forced Vick to turn the ball over for the first time all season with an interception and he also fumbled the ball four times but never turning it over. That's quite an accomplishment.
7. Chicago Bears (8-3)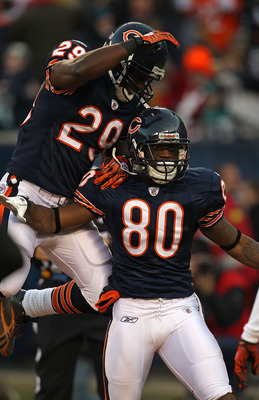 Jonathan Daniel/Getty Images
(Last Week: 10)
Why They Rise: Holy cow the Bears are the best in the NFC North after taking down the streaking Eagles, led by Michael Vick. Props to Jay Cutler for looking much better in the pocket by making smart decisions with the ball and escaping the pass rush.
He looks like a much different quarterback than he did to start the season when he looked pretty clueless and folded like a tent every time there was pressure. They may not have broken into the Top 5 in this week's rankings but that may finally get there after Sunday's game at Detroit.
6. New Orleans Saints (8-3)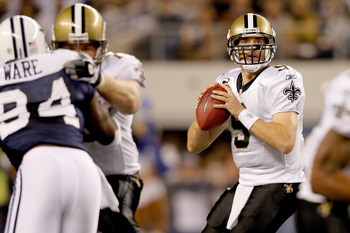 Matthew Stockman/Getty Images
(Last Week: 7)
Why They Rise: This four game winning streak is their longest of the season. They had a thrilling late fourth quarter win led by Drew Brees against the Cowboys on Thanksgiving Day and the momentum from that victory should help them finish the season strong. Up next are the hapless Bengals.
5. Pittsburgh Steelers (7-3)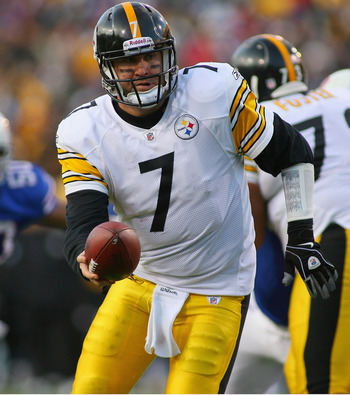 Rick Stewart/Getty Images
(Last Week: 3)
Why They Stay Drop: Where did their defense go? The Steelers lucked out when Steve Johnson failed to haul in the game-winning touchdown for the Buffalo Bills. Yes, the bottom dwelling Bills were a touchdown away from upsetting one of the league's best football teams.
The Steelers aren't looking good with a big match against the Ravens coming up – Ben Roethlisberger is on a walking boot!
4. New York Jets (9-2)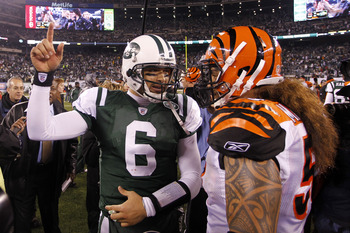 Chris Trotman/Getty Images
(Last Week: 6)
Why They Rise: It's actually refreshing to see the Jets play a game that wasn't really close until the game's last minutes.
They've shown they can win close games but now they need to stop playing down to their opponents and start implementing themselves as a team that can dominate competition.
3. Baltimore Ravens (8-3)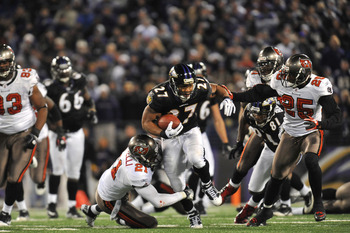 Larry French/Getty Images
(Last Week: 5)
Why They Rise: This team fended off the upstart Buccaneers and only limited the youngsters to ten points. Their win proved that the Bucs still have a lot of growing and learning to do.
But this weekend's match against the Pittsburgh Steelers probably won't be as easy. The winner of that game could ultimately determine who wins the AFC North.
2. Atlanta Falcons (9-2)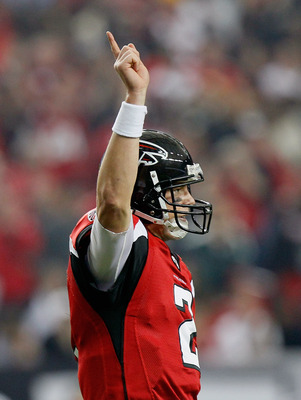 Kevin C. Cox/Getty Images
(Last Week: 2)
Why They Stay Put: Matt Ryan has turned into quite the leader in the game's last minutes. Because of him the Falcons were able to put themselves in field goal range for a chance to win the game – and that they did!
It was a heartbreaking loss for Green Bay but a season defining win for the Falcons. This team has proven to play well in the clutch.
1. New England Patriots (9-2)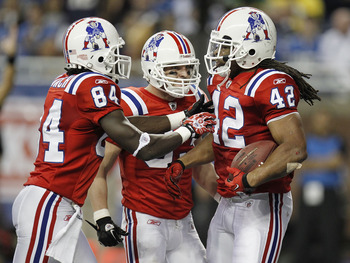 Gregory Shamus/Getty Images
(Last Week: 1)
Why They Put: Well look at this, the Patriots veteran receivers are starting to come back to life.
Welcome back Wes Welker and Deion Branch, you two have been sorely missed most of the season. This team must smell the playoffs and the vets are starting to turn up their games.
Keep Reading