Frank Gore's Cracked Hip and Possible Fantasy Football Replacements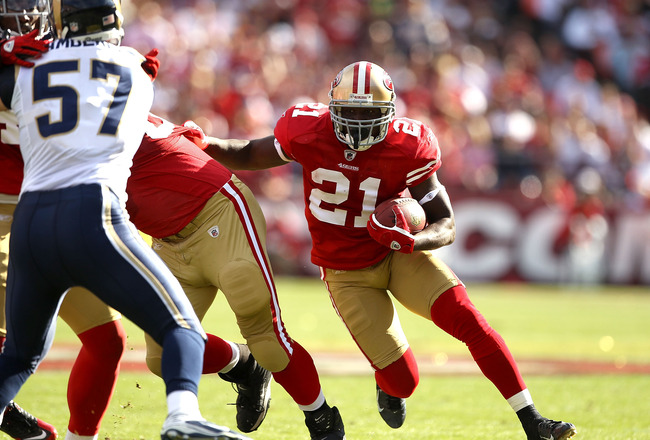 Ezra Shaw/Getty Images
Fantasy football teams across the country took a big hit Monday night as Frank Gore of the San Francisco 49ers left the game against the Arizona Cardinals with a cracked hip and is likely done for the season.
Gore had been his usual dominant and physical self this season, and with the exception of last week's 23-yard stinker, he has been one of the best backs in the league.
Gore was the seventh highest-scoring running back in ESPN leagues with 147 points on the season, with 853 yards on the ground along with 452 through the air and five total touchdowns this season, production that will be difficult to replace.
But there are still a few decent running backs out there that will grab a few points for you if you don't have a discernible backup for Gore.
So, here are five backs available in the majority of leagues that Gore owners would be advised to at least take a gander at.
5. Keiland Williams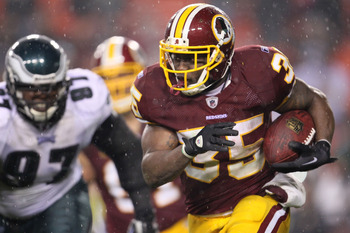 Chris McGrath/Getty Images
Williams would be a good pickup if you are confident that you can tell what Mike Shanahan is going to do, something that has been nearly impossible for the past two decades.
After three weeks in which Williams ran for 182 yards and scored four times, Shanahan gave the guy five carries Sunday against Minnesota, opting for James Davis the most, with six carries.
Washington only ran the ball 13 times on Sunday, possibly overreacting to the Vikings' good run defense, and it should revert back to around 25-to-30 this weekend, as the Giants have struggled against the run for the past two weeks for whatever reason.
So take your chances with Williams only if word comes out that he will be the featured back on Sunday. Otherwise you could be kicking yourself or worse, me.
4. Chris Ivory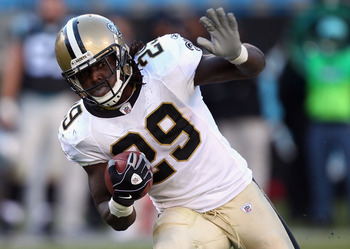 Streeter Lecka/Getty Images
Ivory is an iffy pickup at this point, with Reggie Bush getting healthier. Julius Jones is producing more and Pierre Thomas is expected back within the next week or two.
On top of that, Ivory has been battling shoulder problems for the past couple of weeks, shown in his decreased role against Dallas on Thursday night's Thanksgiving battle.
There is one indisputable fact, however, and that is that Chris Ivory is the undisputed go-to back on the goal line.
In the past two weeks, Ivory has three touchdown runs of one, three and six yards, and it seems that coach Sean Peyton has no hesitation in going to him in these situations.
Plus, he is only owned in 12 percent of leagues, so chances are that he is available, and he could have an impact if his role as the goal-line back continues.
3. Toby Gerhart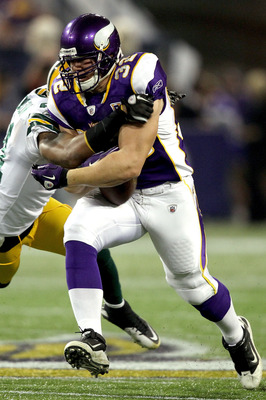 Matthew Stockman/Getty Images
Picking up the big guy from Stanford is completely dependent upon the health of Adrian Peterson, obviously.
The Vikings have yet to announce what type of ankle sprain Peterson is dealing with, but if the words "high ankle sprain" come out, jump on Gerhart like a trampoline, as he will at least see the start this weekend.
Gerhart showed that he can run on an NFL defense on Sunday, even though the one he ran on wasn't exactly one of the better run defenses in the league.
The Vikings will face the Buffalo Bills this week, however, and that is always a recipe for a big running week for the opposition, as they have given up 151 and 124 yards to the lead back in consecutive weeks.
Look for Toby to get a bigger offensive load this week if he is starting, as the Vikings now know what he is capable of.
2. Mike Goodson
Matt Sullivan/Getty Images
The Carolina Panthers got Jonathan Stewart back on Sunday and they gained a passing threat in Mike Goodson.
After back-to-back 100-yard weeks by Goodson, things looked glum with Stewart returning and taking carries away from Goodson—but he stepped up in the passing game, catching eight passes and leading all receivers on the team.
In three weeks, Goodson has gone from three to five to eight catches and established himself as part of the offense.
While he may be given a lesser role in the passing game, look for him to continue to catch passes, as Jimmy Clausen has shown no ability to pass downfield, and Goodson is a good dump-off target if things go awry.
1. Brian Westbrook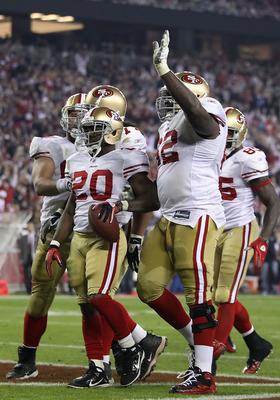 Christian Petersen/Getty Images
Jump on Brian before everybody else does, because he will be getting carries and scoring fantasy points.
Westbrook scored a whopping one point prior to Monday night, when he put up 19 on 136 yards rushing and a touchdown rushing and receiving.
In the coming weeks, Westbrook should be the premier back in San Francisco, and for a team that had its previous lead back put up 40 percent of the offense, that can only be a good thing in fantasy land.
Westbrook showed that he can still run the ball Monday, and that he still had those soft hands from Philadelphia, catching a 19-yard touchdown.
The 49ers face a decent run defense this week against Green Bay, but they play Seattle at home, which has been in the bottom third of the league.
Westbrook is definitely the best option here, so if he is still available, go get him now.
Actually, hold on a second. I'm gonna go pick him up real quick.
Keep Reading