DeSean Jackson and the Top 5 NFL Underachievers for Week 12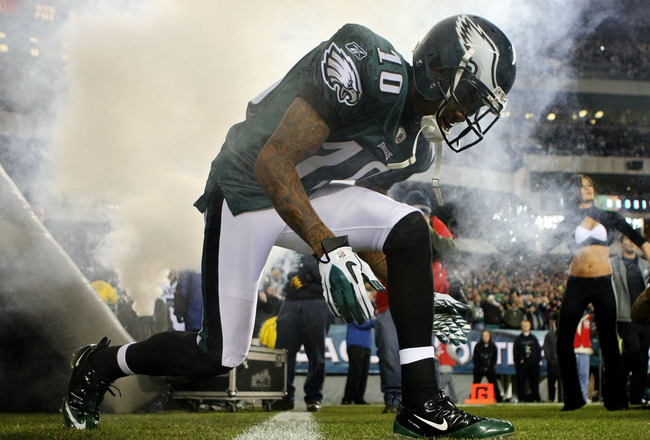 Nick Laham/Getty Images
Tom Landry once said: "Football is an incredible game. Sometimes it's so incredible, it's unbelievable." and while that statement holds true to the more ceremonious feats in the games, it also hold true when players or teams simply underachieve in any given week.
For the fans watching the game, and the coaches orchestrating the contest, there is nothing more maddening than watching a single player, or group of players, perform well below their expectations.
In Week 12 we saw a great deal of this. Underachieving can be defined in various different ways, from the more complex team breakdown, to something as simple as losing your cool—as exemplified by Andre Johnson and Cortland Finnegan.
Let's take a look at the Top Five Underachievers for Week 12.
5. Brandon Jackson, RB, Green Bay Packers: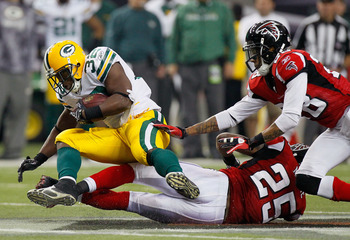 Kevin C. Cox/Getty Images
When you are given the green light to participate as the starting running back in one of the most explosive offenses in all of football—ya know after several seasons being on the bench—it's the player's job to make due on such an opportunity.
Brandon Jackson has yet to do this.
Against Atlanta this week, Jackson was afforded some really nice holes, and some really nice after the catch opportunities, but failed to make good on any of it. It was so bad, he was OUT-RUSHED by his own quarterback.
Jackson consistently shows himself to be afraid to take a hit, run the ball effectively and just downright quit in that game against the Falcons.
Moving forward, don't be surprised if you see Dimitri Nance take over the duties as the starter.
4. DeSean Jackson, WR, Philadelphia Eagels: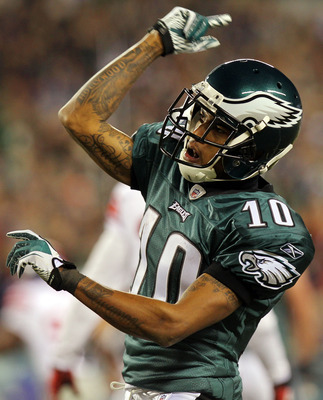 Nick Laham/Getty Images
At the risk of having the Philadelphia faithful demanding my head on a stick for this one, Jackson DID NOT give it his all in their all-too-important match up against the Chicago Bears.
Nearly the whole game DeSean Jackson looked bored, uninterested and downright lazy in his routes, his demeanor and overall performance without any explanation.
It was so bad, it caused head coach Andy Reid to carve him a new you-know-what so bad, that one player said he had never seen Reid flip his lid like that before.
That game against Chicago was incredibly pivotal making his underachieving ways one of the most un-opportunistic actions in Week 12.
3. The Browns Defense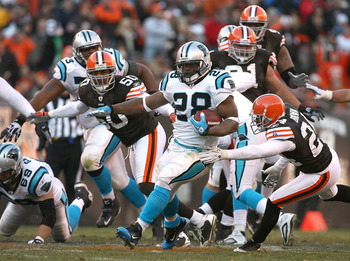 Matt Sullivan/Getty Images
Yup, sometimes an entire team can just underachieve straight across the board, and the Browns are a prime example of this.
Does anyone remember last year, when the Browns looked so bad on defense at times, they seemed as if they didn't even know how to execute the plays that were being called?
Well this year, that seemingly changed.
The Browns looked crisp, willing to get to the attack point and showed themselves to be sure tacklers. But against Carolina this week they looked like last year's version, failing to make even the easiest of tackles.
Really, it looked like the NFL's version of the bad news bears.
The Browns did wind up winning that game, but still underachieved by far as a defensive unit.
2. Steve Johnson, WR, Bills: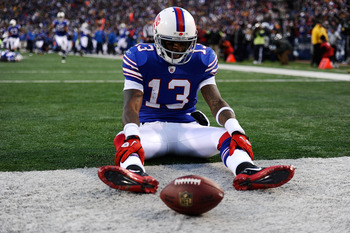 "Wanna get away?"
Karl Walter/Getty Images
Why does every rising receiver in the NFL, who has a couple of good weeks, think they are the cat's pajamas and should not be called out when they screw up?
A word to the wise Mr. Johnson: Don't fall into the category of diva just because you have had a couple of really good outings…that doesn't mean squat when you literally "drop the ball!"
Sometimes underachieving can be a simple example of "falling asleep at the wheel" since every single instant in an NFL game counts.
It was a catch that should have been made, and an underachieving last minute performance on his part, hands down!
1. Alphonso Smith, CB, Lions:

This is where it all began.

Although I am deeming Mr. Smith's Thanksgiving performance as the most underachieving performance of Week 12, I have to admit I hate doing it.
Why?
Did anyone see that game? Did anyone see how many times Smith quit on his open field tackles or blown coverage? Does anyone know where that all started?
Patriot's running back BenJarvus Green-Ellis completely embarrassed this guy with a one–on-one meeting near the five that saw Green-Ellis just plow right over Smith with nothing more than his head and shear will.
I mean, literally, flat out ran the guy over and embarrassed him to no end..
And when that happens, it often removes the player out of the game entirely because they just can't get over it.
Up until that point, Smith was having a nice season for himself. But an elite player will know how to generate a short memory, where as an average player will let things like that eat him alive for four quarters.
The rest of the contest, Smith just simply underachieved in the worst way, so bad, you almost felt sorry for the guy.
Another sad performance for the Lions on Thanksgiving.
So who would you put on this list? Leave a comment below, and let's get the debate going!
And if you enjoyed this article feel free to check out my WR Week 13 Start Sit column if you're a fantasy fan.
Keep Reading