NFL Power Rankings Week 13: How Far Did San Diego Charge in the AFC with Win?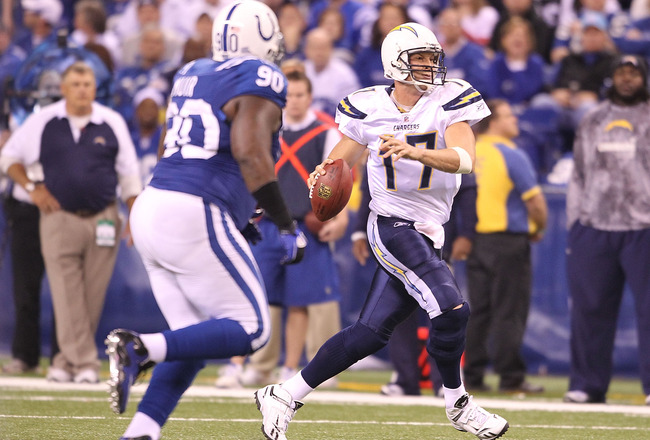 Andy Lyons/Getty Images
Twelve weeks are in the books, and there is not one sure thing to be had in the AFC playoff picture. Philip Rivers and the Chargers look pretty comfortable at the front of the pack in the AFC West, but even they are still vulnerable. Elsewhere, the conference's best two teams by record (the 9-2 Patriots and Jets) are wrestling for control of the East, and either Tom Brady or Mark Sanchez could well be watching the postseason from home, given their tough remaining schedules and the competition for those berths.
Still, with two-and-half months' worth of information, it is pretty safe to say that we know who the best of the best in the AFC really are, and who are the pretenders who will fade down the stretch. Of course, the dregs of the conference (Buffalo, Cincinnati, Denver) are painfully clear.
Are the Chargers, the hottest team in football, also the best? Or do Brady's Patriots still reign supreme? What of the Ravens and Steelers, only one of whom will be guaranteed anything? Can Peyton Manning rally the Colts in time to get them to the playoffs? Read on for those answers and more and be sure to check out the NFC power rankings for this week, too.
16. Cincinnati Bengals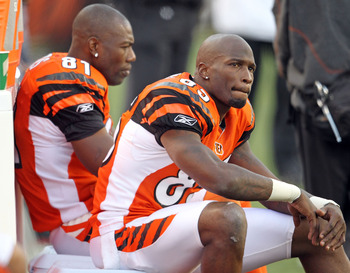 Andy Lyons/Getty Images
Record: 2-9
Last: L, 26-10 @ NYJ
Next: vs. NO, Sunday
Who saw this coming?
Sure, the Bengals had holes entering the season, but could anyone have predicted they would implode like this? Carson Palmer has tumbled in the estimation of many from among the game's best quarterbacks to something closer to the back of the pack. Chad Ochocinco has disappeared after a hot start, and Terrell Owens has become his usual disgruntled self despite a strong season.
The defense has been its usual underachieving self, with not even the turnover proclivity that past Cincy defense have shown. It all adds up to a miserable season that is only going to get worse.
15. Buffalo Bills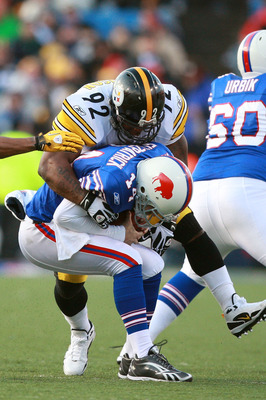 Karl Walter/Getty Images
Record: 2-9
Last: L, 19-16 vs. PIT
Next: @ MIN, Sunday
This was a bit more predictable: The Bill indulged themselves by selecting C.J. Spiller in the first round of April's draft instead of shoring up the miserable front seven on the defensive side of the ball, and they have paid dearly for that decision. Opponents average 167.4 yards per game against Buffalo, the most in the league.
Ryan Fitzpatrick and Steve Johnson have emerged as an explosive tandem in the passing game, but it has been far from enough. The Bills will have a high draft pick this year, so they would do well to make their top pick a defender.
14. Denver Broncos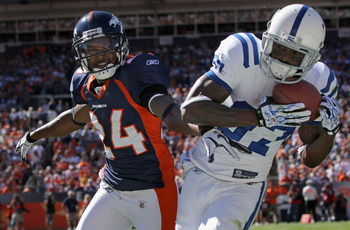 Doug Pensinger/Getty Images
Record: 3-8
Last: L, 36-33 vs. STL
Next: @ KC, 1 PM ET SUN
The Broncos started 2-2, but they have lost six of their last seven and have looked bad doing it. The revelation that they filmed the 49ers in anticipation of one of those losses only proves their desperation.
Kyle Orton continues to put up big numbers, but they are mostly empty ones. The running game averages fewer than 80 yards per game, and the rush defense is one of the NFL's three worst. Knowshon Moreno has been a tremendous disappointment, failing to create a consistent running attack despite the fairly strong offensive line in front of him.
13. Oakland Raiders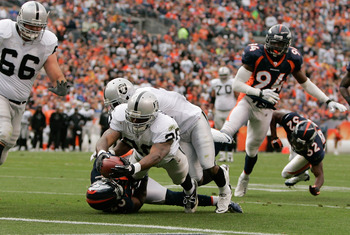 Justin Edmonds/Getty Images
Record: 5-6
Last: L, 33-17 vs. MIA
Next: @ SD, 4:05 PM ET Sunday
They started 5-4 and had some wondering aloud whether they could reach the playoffs for the first time since their failed Super Bowl run in 2002. They will still end up with more wins than in any season since then, but the playoff talk can stop now. Two straight losses and a looming date with the red-hot Chargers spell the end of the Raiders' contending efforts for 2010.
12. Cleveland Browns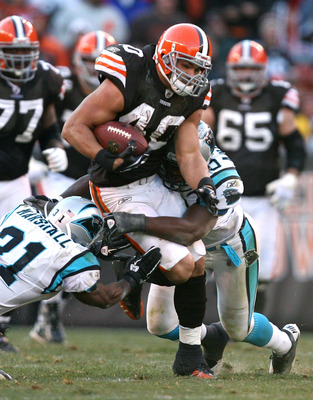 Matt Sullivan/Getty Images
Record: 4-7
Last: W, 24-23 vs. CAR
Next: @ MIA, 1 PM ET Sunday
After a miserable 1-5 start, the Browns beat the Saints and Patriots to earn some confidence and respect. Of course, as had to happen, they then ebbed back into the AFC ether. Still, this time packs some punch, with Peyton Hillis proving that the Alstott model still works in the NFL—only Hillis is already better than Alstott ever was.
11. Jacksonville Jaguars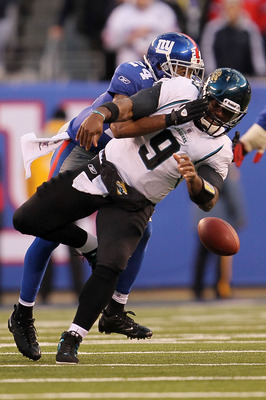 Chris McGrath/Getty Images
Record: 6-5
Last: L, 24-20 @ NYG
Next: @ TEN, 1 PM ET Sunday
The Jaguars are the biggest frauds in the NFL. They stand in a tie for first place in the AFC South but are not realistically one of the AFC's 10 best teams. Their point differential this season, -54, is more telling than their actual record.
The Giants began to expose them this week, and all four teams in the South are separated by one game, but the fact that Jacksonville remains very seriously in the hunt for the division crown is laughable.
10. Tennessee Titans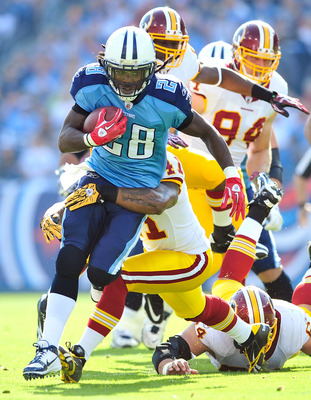 Grant Halverson/Getty Images
Record: 5-6
Last: L, 20-0 vs. HOU
Next: vs. JAC, 1 PM ET Sunday
If the Titans' top two quarterbacks had not gone down for the season within the last month, this might be a very different AFC South race. As it is, though, the team showed its frustration when Cortland Finnegan brawled with Andre Johnson of Houston during the Texans' 20-0 shellacking of Tennessee Sunday. They likely will not recover anytime soon, though they could catapult themselves right back into the playoff conversation with a win over first place Jacksonville this week.
9. Houston Texans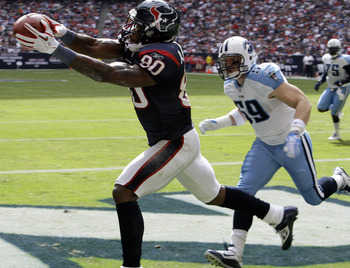 Bob Levey/Getty Images
Record: 5-6
Last: W, 20-0 @ TEN
Next: @ PHI, 8:20 PM ET Thursday
The Texans have struggled to put it all together this season, mostly because one of the key ingredients to a put-together football team is its pass defense. Houston's is one of the worst in recent memory.
That said, they have one of the NFL's most dangerous and balanced offenses, with Matt Schaub throwing to a pair of very talented receiver and Arian Foster availing himself of defenses wary of being burned by that aerial attack.
8. Miami Dolphins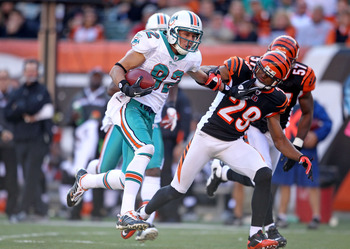 Andy Lyons/Getty Images
Record: 6-5
Last: W, 33-17 @ OAK
Next: vs. CLE, 1 PM ET Sunday
An afterthought in the AFC, the Dolphins might be a playoff contender in the NFC. They simply have no route to the postseason, though, with New England and New York dominating the division. A healthy Brandon Marshall would certainly help down the stretch, but it is unlikely to be enough for Miami to bring the playoffs to South Beach.
7. Indianapolis Colts
Andy Lyons/Getty Images
Record: 6-5
Last: L, 36-14 vs. SD
Next: vs. DAL, 4:15 PM ET Sunday
Forget good health: Given even fair health, the Colts would be legitimate contenders for the AFC Championship game. As it is, though, the team is forced to reach deeper into its bag of tricks (and its practice squad) with every passing week. Even Peyton Manning, superhero that he is, cannot seem to salvage the Colts' season.
6. Kansas City Chiefs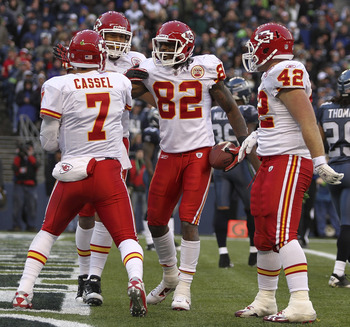 Otto Greule Jr/Getty Images
Record: 7-4
Last: W, 42-24 @ SEA
Next: vs. DEN, 1:00 PM ET Sunday
It's official: The Chiefs can light up the scoreboard. They have scored 29 or more points six times this season and continue to run the ball better than anyone else in the league. Meanwhile, Matt Cassel and Dwayne Bowe are turning each other into household names with consistent success through the air. The pass defense has to improve to make them serious challengers to San Diego down the stretch, but they stand alone in first place for the moment.
5. Baltimore Ravens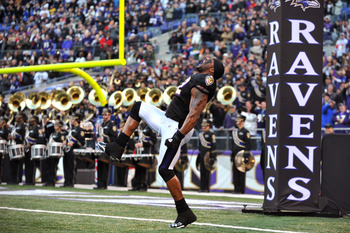 Larry French/Getty Images
Record: 8-3
Last: W, 17-10 vs. TB
Next: vs. PIT, 8:20 PM ET Sunday
It's not quite the same formula it used to be in Baltimore, where Joe Flacco and Ray Rice have led a minor offensive revival, and the defense has slipped from incredible to merely excellent. Still, the results are what they usually are for the Ravens: A fair number of wins, a real shot at the playoffs and a reputation as the toughest team in football. They beat Pittsburgh once already, so if they can finish the season sweep this Sunday night at home, they will practically lock up the AFC North. Don't count those chickens just yet, though.
4. San Diego Chargers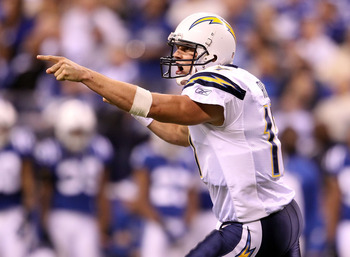 Andy Lyons/Getty Images
Record: 6-5
Last: W, 36-14 @ IND
Next: vs. OAK, 4:05 PM ET Sunday
In a game that saw him throw no touchdown passes and lose significant ground in his race toward the all-time single-season passing yardage record, Philip Rivers may still have had his most impressive performance of the season. He was surgical against Indianapolis, completing 19-of-23 passes. If he can do that to some of the stauncher AFC defenses (and he can), the Chargers are a serious dark horse to charge into Super Bowl XLV.
3. New England Patriots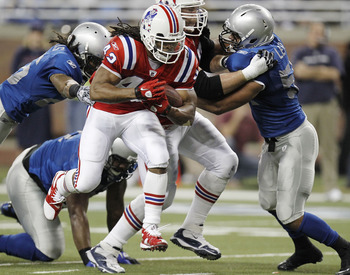 Gregory Shamus/Getty Images
Record: 9-2
Last: W, 45-24 @ DET
Next: vs. NYJ, 8:30 PM ET Monday
The Pats were in serious danger after one half of football in Detroit on Thanksgiving, but they came alive thereafter and lit up the Lions for 35 second-half points. Tom Brady, Wes Welker and Deion branch made their usual number of big plays in the passing game, but the emergence (not only in that game but over the course of the season) of BenJarvus Green-Ellis and Danny Woodhead at running back have made a world of difference for New England.
2. Pittsburgh Steelers
Rick Stewart/Getty Images
Record: 8-3
Last: W, 19-16 @ BUF
Next: @ BAL, 8:20 PM ET Sunday
The Bills forced the Steelers to win ugly last week, and in fact, it is not so hard to contain and entangle the less explosive Steelers offense in the post-Santonio Holmes era. Still, this team (with the NFL's most dominant defense) has everything it needs to pound opponents into submission. The pass rush is vicious, opposing rushers gain fewer than three yards per carry, and the Rashard Mendenhall-led ground attack chews up yardage and clock.
1. New York Jets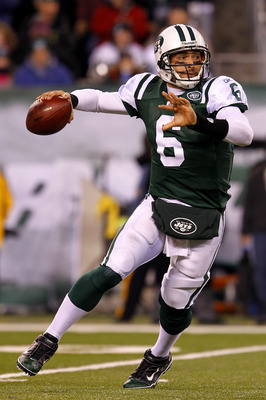 Chris Trotman/Getty Images
Record: 9-2
Last: W, 26-10 vs. CIN
Next: @ NE, 8:30 PM ET Monday
After the thrilling last-second touchdown pass that won the Jets' Week 11 game against the Houston Texans, a letdown would have been perfectly understandable, if a bit troubling, in a short week matchup with Cincinnati. Instead, the team dominated every facet against a team they had no reason to toy with.
Monday could be the end of the Patriots dynasty if Mark Sanchez, Santonio Holmes and New York's vaunted defense can make a statement with a big win. Since the Jets have already taken down the Pats at home this year, it would also virtually seal the AFC East for Rex Ryan's squad.
Keep Reading

San Diego Chargers: Like this team?