NFL Week 12: Fantasy Football's Top Performers on Sunday
Otto Greule Jr/Getty Images
It was another great day of football with several upsets and games that went down to the last minute. Amidst the excitement there was an array of great individual performances, though none can match Tom Brady's perfect game (341 yards passing, 4 TD's) on Thanksgiving against the Detroit Lions.
With Week 12 nearly in the books, here's a look back at Sunday's best fantasy performers.
Aaron Rodgers (344 Yards Passing, 51 Yards Rushing, 2 TD's)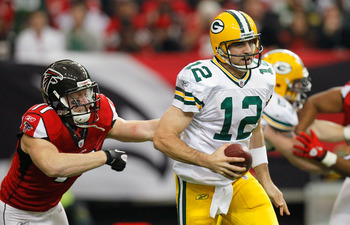 Kevin C. Cox/Getty Images
Rodgers took full advantage of the Packers' five-wide receiver sets in completing 26 of 35 passes for 344 yards and a touchdown.
With the Falcons all but abandoning their pass rush to put defenders into the secondary, Rodgers also had time to scramble 12 times for 51 yards, including a long of 11 yards and a rushing touchdown in the third quarter. He would have had two rushing touchdowns if not for a fumble at the goal line in the second quarter, which cost his team the lead.
Rodgers led Green Bay to a comeback when he tied the game at 17 with a 10-yard touchdown pass to Jordy Nelson with less than a minute left in the game. But Atlanta still had enough time on the clock for one final drive and got the game-winning field goal to take the game 20-17.
Rashard Mendenhall (151 Yards Rushing, 1 TD)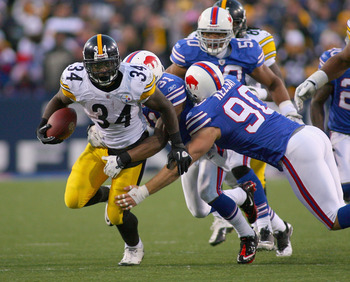 Rick Stewart/Getty Images
The Steelers might have lost this game if not for Mendenhall. The third-year back had a career-high 36 carries for 151 yards, including a touchdown in the first quarter that was Pittsburgh's only TD of the day.
It was the most carries by a Steeler since Willie Parker's 37 carries in Week 17 of 2006. With Ben Roethlisberger unable to penetrate the Buffalo defense, the Steelers relied on Mendenhall to move the chains.
Pittsburgh won 19-16 in overtime.
Shaun Suisham (4 FG's, All 40+ Yards)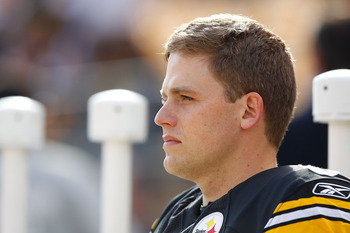 Jared Wickerham/Getty Images
Playing in only his second game as a Steeler, Suisham had the kind of day that kickers dream about.
With Pittsburgh struggling to get into the Bills' end zone, the bulk of the scoring fell upon Suisham. The fifth-year kicker connected on field goals of 45 yards, 46 yards and 48 yards.
He also kicked the game-winner, a 41-yard strike near the end of the overtime period to clinch the game for the Steelers.
Peyton Hillis (131 Yards Rushing, 63 Yards Receiving, 3 TD's)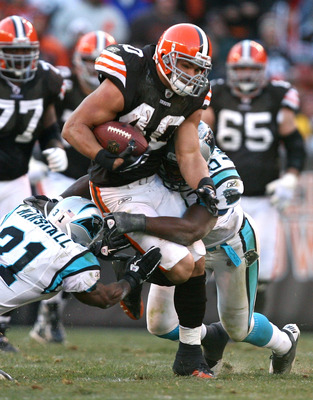 Matt Sullivan/Getty Images
Hillis was doing it all in this game: running (26 carries for 131 yards), receiving (six receptions for 63 yards) and scoring (three touchdowns).
The Browns could get nothing out of quarterback Jake Delhomme (245 yards and two interceptions), so Hillis became the focal point of the offense. He scored all of his three rushing touchdowns in the first half in pushing Cleveland to a 21-7 lead.
The Browns held on to win the game, 24-23.
Matt Cassel (233 Yards Passing, 4 TD's)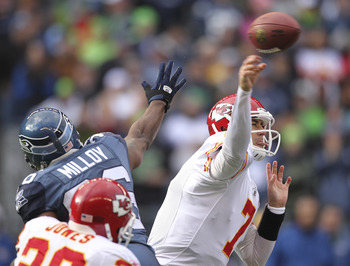 Otto Greule Jr/Getty Images
Cassel had a lot of help in this game, but his individual performance against his former college coach (Pete Carroll) deserves mention.
He completed 22 of 32 passes for 233 yards and four scores, including two touchdowns in the fourth quarter that put the game out of reach.
Chiefs running back Jamaal Charles, who also belongs on this list, rushed for 173 yards and a score as well.
Dwayne Bowe (13 Receptions, 170 Yards Receiving, 3 TD's)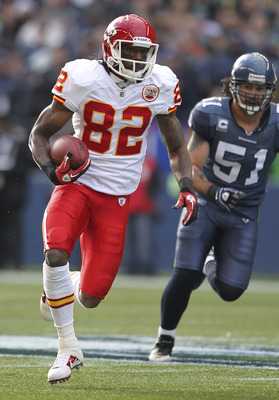 Otto Greule Jr/Getty Images
Bowe had himself quite the day, reeling in 13 of Matt Cassel's 22 completions for almost all of the quarterback's total yardage.
Bowe had touchdown receptions of seven yards, 36 yards and nine yards. It was his third consecutive multi-TD game and seventh consecutive game with at least one touchdown reception.
The Chiefs wide receiver now has 14 TD's on the season.
Jay Cutler (247 Yards Passing, 4 TD's)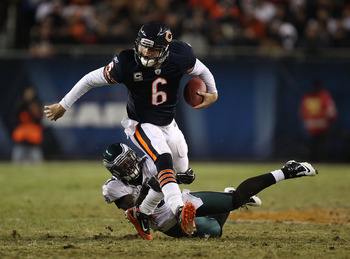 Jonathan Daniel/Getty Images
It was Cutler, not Eagles quarterback Michael Vick, who was showing off in this game.
The Bears QB completed 14 of his 21 passes as he threw for 247 yards and four scores, tying a career high. It was a near perfect performance, earning Cutler a 146.2 QB rating.
The 31-26 win put Chicago one game ahead of the Green Bay Packers for first place in the NFC North.
Kyle Orton (347 Yards Passing, 3 TD's)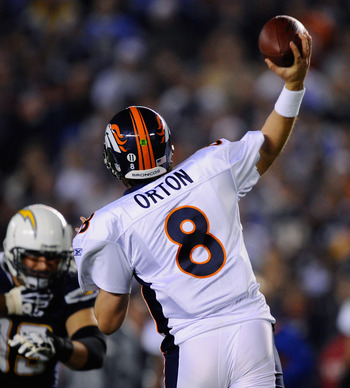 Kevork Djansezian/Getty Images
Orton put the Broncos on his back in this game and nearly carried them to victory. He completed 24 of 41 passes for 347 yards and three touchdowns, including two to wide receiver Brandon Lloyd.
Orton threw all three of his touchdowns in the fourth quarter as he tried to lead Denver back into a game that it trailed 33-13 in the third quarter. But the comeback fell short as the Broncos lost 36-33.
Sam Bradford (308 Yards Passing, 3 TD's)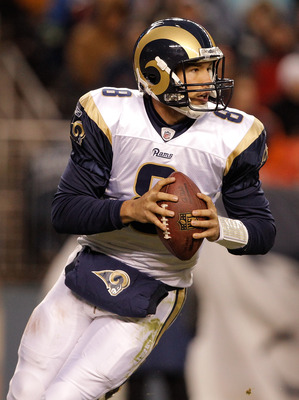 Justin Edmonds/Getty Images
Bradford had his first career 300-yard passing game against the Broncos, completing 22 of 37 passes for a 113.3 QB rating.
He's the first rookie to throw for three touchdowns and zero interceptions since Marc Bulger in 2002, also for the Rams. It was a career-defining performance that pushed St. Louis to 5-6 and a tie with Seattle for first place in the NFC West.
San Diego Defense (1 Sack, 1 Fumble Recovery, 4 INT's, 2 TD's)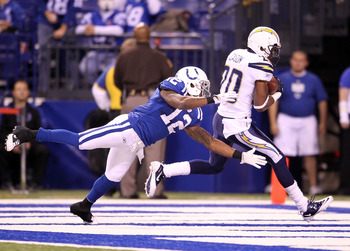 Andy Lyons/Getty Images
The Chargers defense can be thanked for handing Peyton Manning the worst home loss of his career.
San Diego picked off the Colts quarterback four times and returned two of them for scores, one each by Kevin Burnett (29-yard return) and Eric Weddle (41-yard return).
Manning had not been picked off that many times in a game since he threw six interceptions in 2007, also against the Chargers. San Diego has now beaten the Colts five of the last six times.
The 36-14 thrashing improved the Chargers to 6-5 and moved to them to within a game of the Kansas City Chiefs for first place in the AFC West.
Keep Reading