Week 12 NFL Power Rankings: Who's No. 1?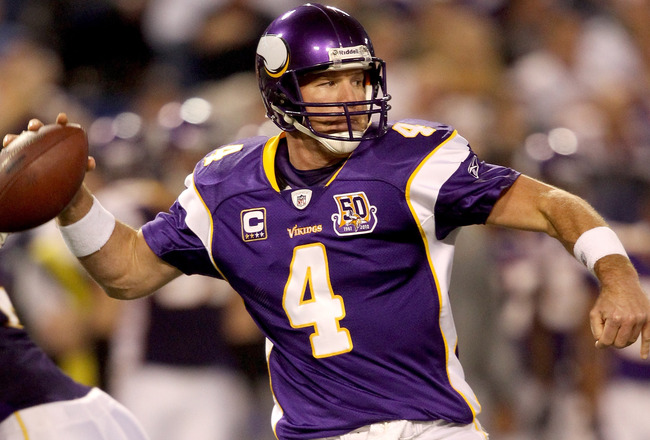 Matthew Stockman/Getty Images
It's been 11 weeks into the NFL season, and now football fans and analysts are beginning to predict who will win each division and make the playoffs, who's a contender and who's a pretender, and most of all, who will make it to the Super Bowl. These power rankings don't necessarily dictate who I think will go all the way, and records aren't an automatic factor in being ranked higher on this list. I'm listening to suggestions on writing tips, and leave your comments and discuss.
32. Carolina Panthers (1-9)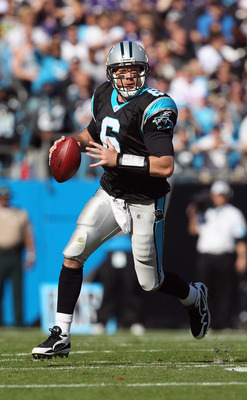 Streeter Lecka/Getty Images
You know you've hit rock bottom when you bring in Brian St. Pierre as an emergency starting QB, and Tony Pike must be really bad if he can't outperform St. Pierre. They're now ahead of the Bills in the race to be the draft's first pick.
31. Cincinnati Bengals (2-8)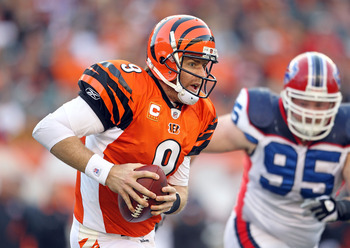 Andy Lyons/Getty Images
Marvin Lewis has added his name to the list of coaches on the hot seat and could very well be the next casualty after Brad Childress after the seventh loss in a row for the Bengals. Carson Palmer will likely be out the door as well, and now the Bengals might as well keep losing so they can draft Andrew Luck.
30. Arizona Cardinals (3-7)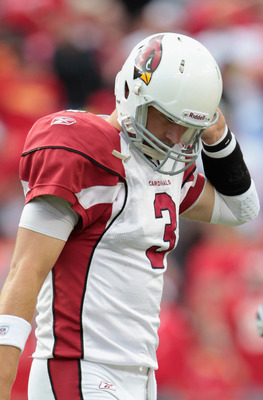 Jamie Squire/Getty Images
The Cardinals are in a dire QB situation as well, and their defense continues to struggle as well.
29. Buffalo Bills (2-8)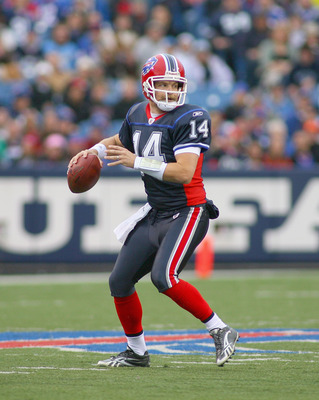 Rick Stewart/Getty Images
The Bills get ranked above the Cardinals here because they always play close games, and their comeback win against the Bengals was incredible. On the other hand, their chances of drafting Luck aren't looking as good now.
28. Detroit Lions (2-8)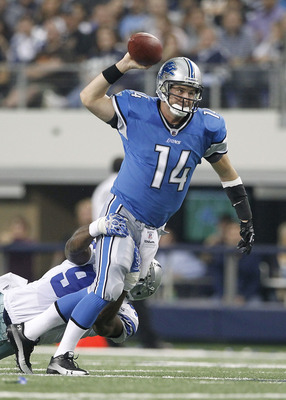 Leon Halip/Getty Images
The Lions' record is a bit misleading. They have actually made progress from last season, and Matt Stafford's injury hasn't helped matters, but they have a tough remaining schedule, and Shaun Hill is nothing more than a solid backup.
27. Denver Broncos (3-7)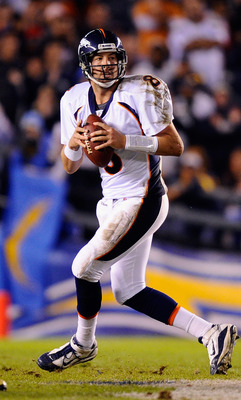 Kevork Djansezian/Getty Images
The Broncos' loss to the Chargers wasn't pretty. Their defensive woes continue, and Josh McDaniels' seat is getting hotter.
26. San Francisco 49ers (3-7)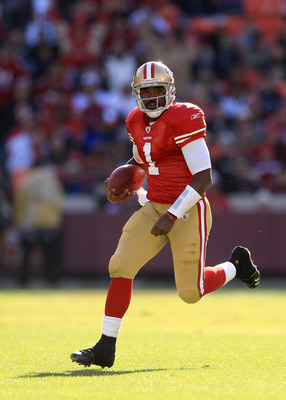 Ezra Shaw/Getty Images
After many fans were thinking that maybe Troy Smith could be the 49ers' starter of the future, he showed that he, just like every other recent QB for the 49ers, is just a career journeyman. Mike Singletary and the Smiths will be looking for work after the season ends.
25. Minnesota Vikings (3-7)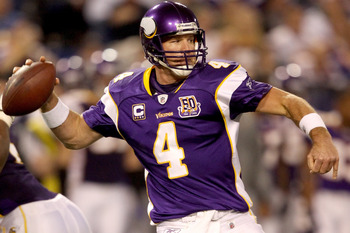 Matthew Stockman/Getty Images
The Vikings suffered a blowout to the Packers at home, and Brad Childress was dismissed following the game. It will be interesting to see how Leslie Frazier will handle Brett Favre from here on out. Tarvaris Jackson may finally get a chance to audition to be the starter going forward.
24. St. Louis Rams (4-6)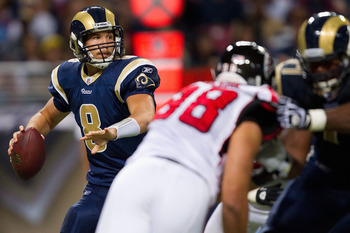 Dilip Vishwanat/Getty Images
The Rams showed yesterday that while they're a much improved team, they're still not ready to compete with the big boys. Sam Bradford made a rookie mistake by heaving a shovel pass at the 2-yard line that was intercepted and cost the Rams a chance to win, but overall, he's doing great considering the talent around him.
23. Dallas Cowboys (3-7)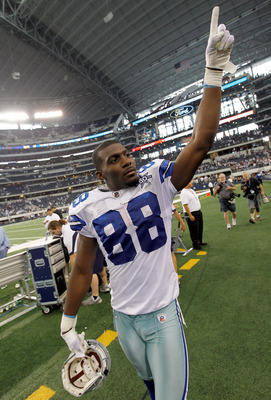 Tom Pennington/Getty Images
The Cowboys are now 2-0 with Jason Garrett as the interim head coach, and Dez Bryant has been on fire lately.
22. Tennessee Titans (5-5)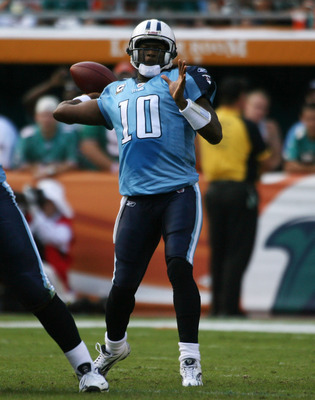 Marc Serota/Getty Images
Vince Young is done as the Titan's starting QB, and now an inexperienced Rusty Smith will be taking over. The Titans are down here because with Smith at QB, things will get worse for the Titans, and Randy Moss has been no help.
21. Seattle Seahawks (5-5)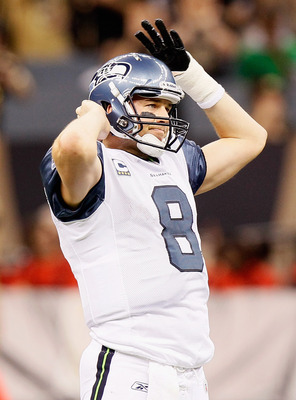 Kevin C. Cox/Getty Images
The Seahawks, just like the Rams, are an improved team, but aren't ready to compete with the big boys. They look like the favorites to win the NFC West, but barring a shocking upset, they won't win a playoff game.
20. Cleveland Browns (3-7)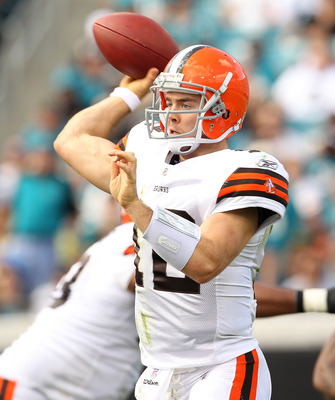 Mike Ehrmann/Getty Images
The Browns should be 5-5 right now, but Eric Mangini continues to coach the Browns very poorly. They blew what should have been the winning score against the Jets, and they blew their lead against the Jaguars. Colt McCoy has done well in his rookie season so far.
19. Washington Redskins (5-5)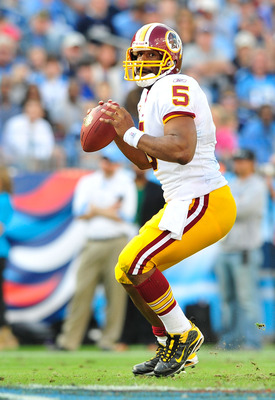 Grant Halverson/Getty Images
The Redskins are the most inconsistent team in the NFL. One week their defense allows 59 points, then the next they allow 16. Donovan McNabb isn't playing like he's worth $78 million either.
18. Kansas City Chiefs (6-4)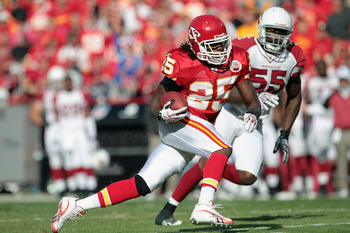 Jamie Squire/Getty Images
The Chiefs are still a middle-of-the-pack team, and they will continue to be until Matt Cassel starts living up to his $63 million contract.
17. Oakland Raiders (5-5)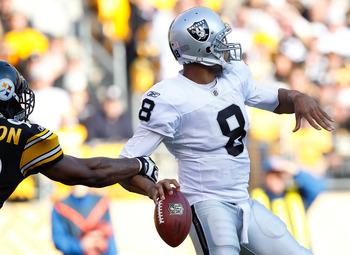 Jared Wickerham/Getty Images
The Raiders snapped their three-game winning streak by suffering an embarrassment to the Steelers. Jason Campbell struggled again, and the Chargers are closing in on their playoff hopes.
16. Houston Texans (4-6)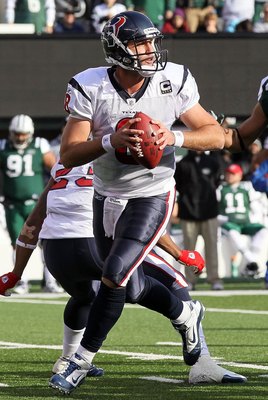 Jim McIsaac/Getty Images
Gary Kubiak is never talked about as a coach on the hot seat by football fans, but he should be since the Texans are 1-5 after starting 3-1. Their pass defense is an embarrassment, and if it was decent, they would be 6-4 right now.
15. Miami Dolphins (5-5)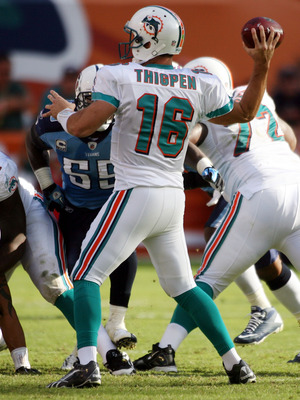 Marc Serota/Getty Images
The Dolphins have suffered injuries on their offensive line, and they have been forced to start their third-string QB Tyler Thigpen. Their offense has been woeful.
14. Jacksonville Jaguars (6-4)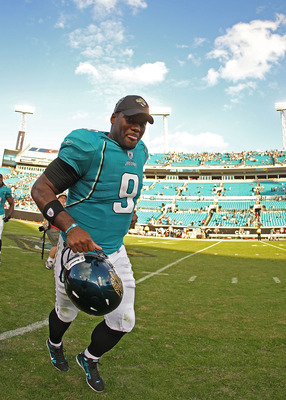 Mike Ehrmann/Getty Images
David Garrard has done surprisingly well lately, and they're in the lead for the AFC South title, getting the tiebreaker with their win over the Colts, but they still have a lot to prove in order to prove they're a legit playoff contender.
13. Tampa Bay Buccaneers (7-3)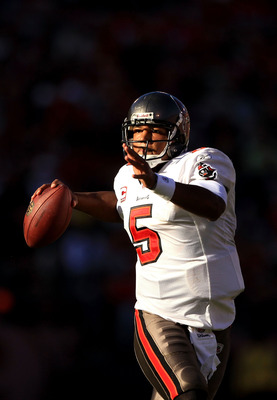 Ezra Shaw/Getty Images
The Buccaneers are so far keeping up in a tight NFC South race, but they have a tough remaining schedule, including the Ravens, Falcons, and Saints, and they didn't beat either of their division opponent. Josh Freeman is having a great second year though, and Raheem Morris is a frontrunner for Coach of the Year.
12. San Diego Chargers (5-5)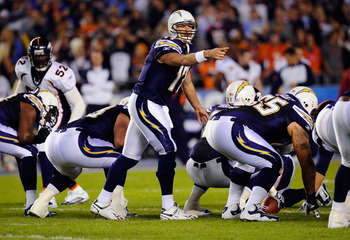 Kevork Djansezian/Getty Images
The Chargers are on fire in the second half of the season as usual, and Philip Rivers is making a push for the MVP award. He's done an amazing job considering he's been without Vincent Jackson the entire season, and last night without Antonio Gates. He's missed some time with Malcom Floyd as well, yet he leads the NFL in touchdown passes.
11. Chicago Bears (7-3)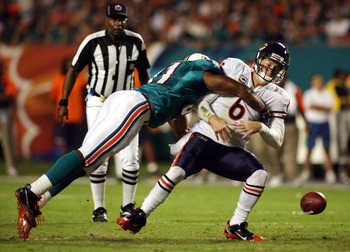 Marc Serota/Getty Images
The Bears are tied with the Packers for the league lead in points allowed on defense. Their offensive line has struggled though, and Jay Cutler isn't playing well enough for the Bears to be Super Bowl contenders. Their remaining schedule includes the Jets, Patriots, Eagles, and Packers.
10. New York Giants (6-4)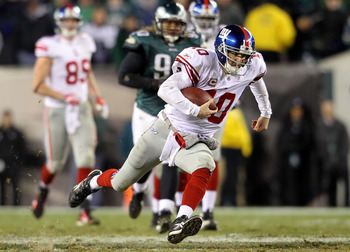 Michael Heiman/Getty Images
The Giants committed many turnovers against the Eagles. Eli Manning has thrown many interceptions, and Ahmad Bradshaw has fumbled six times. Hakeem Nicks and Steve Smith both out for significant team is a scary thought. The Giants at this point aren't the NFC favorites they were previously made out to be, but they're definitely a playoff team.
9. Indianapolis Colts (6-4)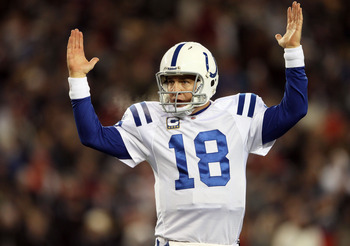 Elsa/Getty Images
The Colts were really close to making a comeback from a 17-point deficit, but Peyton Manning threw his third interception of the game in the red zone to seal the game. They will likely win the AFC South, but a Super Bowl is a long shot.
8. New Orleans Saints (7-3)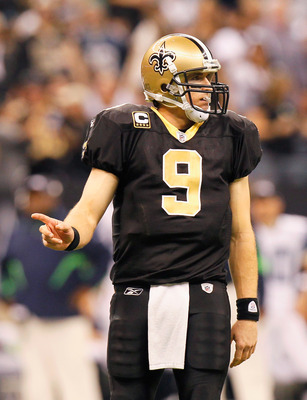 Kevin C. Cox/Getty Images
The Saints are playing much better football, and Drew Brees appears to have shaken off the Madden curse. A Super Bowl repeat is a possibility for them again.
7. Baltimore Ravens (7-3)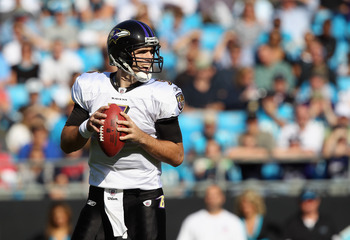 Streeter Lecka/Getty Images
The Ravens come off an easy win against the Panthers, and their rematch against the Steelers is coming soon.
6. Atlanta Falcons (8-2)
Dilip Vishwanat/Getty Images
The Falcons are 8-2, but they have the luxury of playing in a dome, and this week, they will be tested against the Packers' defense. Their pass defense is a weakness, and with Aaron Rodgers on fire, a loss at home is very possible.
5. Green Bay Packers (7-3)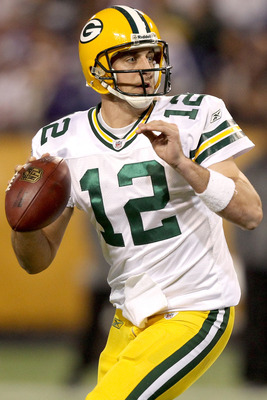 Matthew Stockman/Getty Images
The Packers have played lights-out defense, and Aaron Rodgers is crawling back into the MVP discussion. They have a road game against the Falcons. If they win, they can definitely make a case that they're the best team in the NFC.
4. New York Jets (8-2)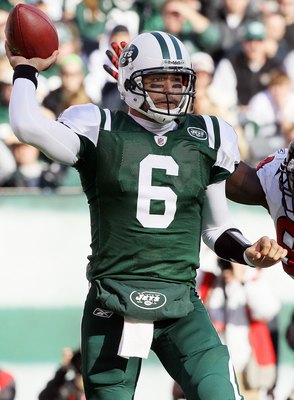 Jim McIsaac/Getty Images
The Jets have played a lot of close games, and they have always found a way to win, with a stroke of luck to go with it. Mark Sanchez has had clutch moments, but still has work to do if the Jets want to go to the Super Bowl.
3. Pittsburgh Steelers (7-3)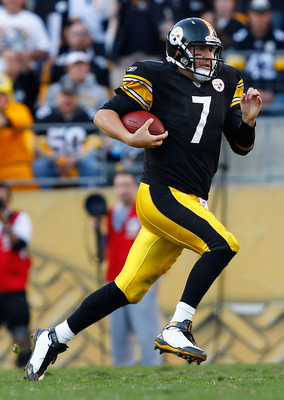 Jared Wickerham/Getty Images
The Steelers aren't the top team in the NFL since they lost to the Patriots, but they're still frontrunners to win the Super Bowl, and their defense has been dominant apart from the Patriots loss.
2. New England Patriots (8-2)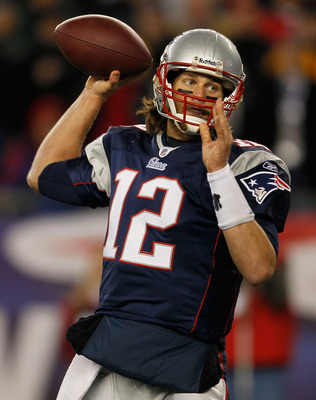 Jim Rogash/Getty Images
The Patriots are looking like the favorites to represent the AFC in the Super Bowl, and Tom Brady is definitely an MVP candidate. Their pass defense is a questionable area though, so they're not quite the best team in the NFL.
1. Philadelphia Eagles (7-3)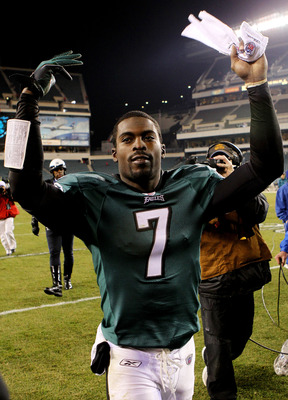 Nick Laham/Getty Images
The Eagles had a convincing win against the Giants on Sunday night. Michael Vick didn't play like Superman again, but he still played very well, and the team as a whole has looked excellent. At this point, the Eagles have the best team all-around.
Keep Reading