AFC West: 10 Reasons The Kansas City Chiefs Will Stay No.1 for the Rest of 2010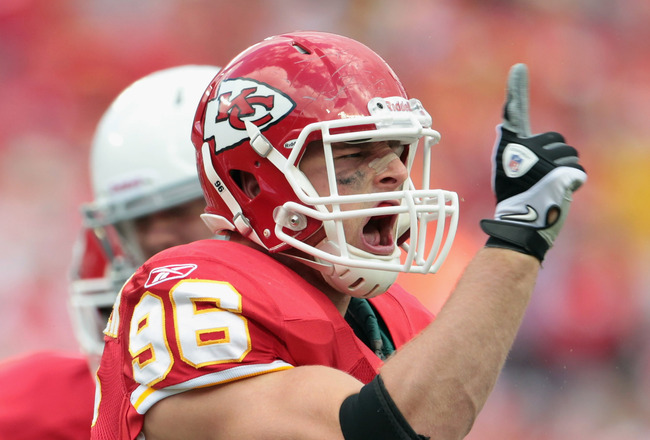 Jamie Squire/Getty Images
Thomas Jones and Jamaal Charles combine for the league's best running attack, Dwayne Bowe is possibly the NFL's hottest wide receiver, and Matt Cassel is one of the league's most consistent and error free quarterbacks, yet the Kansas City Chiefs have still been criticized for their lack of offensive execution.
In fact, going into Sunday's game against the Arizona Cardinals, even a substantial amount of Chiefs fans had given up on the team and written them off. However, the Chiefs reiterated in that game one of the reasons they have been the favorites to win the AFC West for much of the 2010 season, and showed us all once again why they still should be.
The Secondary Has Had Growing Pains, But Is Growing All The Same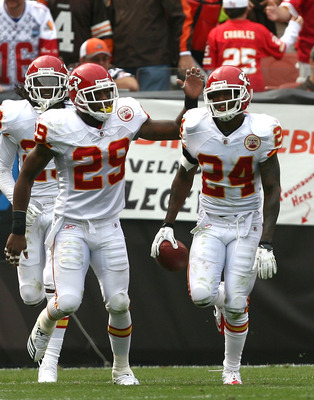 Matt Sullivan/Getty Images
This photo makes a great deal of this point for me. Despite being the secondary being viewed as the "weak link" on the team, rookie safety Eric Berry and third year cornerback Brandon Flowers are Already widely respected as studs in this league—and they're only getting started. The two are a near perfect blend of thunder and lightning in the Chiefs' secondary.
Flowers had struggled a little bit in the last couple of games going into Sunday, but he hasn't given up many TDs at all this season. Flowers is becoming the kind of corner that gets his own island, and he's only going to get better as he gains experience.
Berry is a run stopping, hard hitting safety who can play both sides of the field. He's actually getting much better in coverage as well, getting an interception or pass deflection in each of his last four games. He's also been matched up against some of the NFL's top elite tight ends already and held his ground. Dallas Clark, Antonio Gates, Owen Daniels, Mercedez Lewis, and Vernon Davis have produced only one TD and combined for around 270 yards.
The rest of the secondary isn't strong, but they're solid. Cornerback Brandon Carr is looking more aware in play, which is his only real weakness to speak of. The nickle back, Javier Arenas, may be lacking in size, but he can stick with slot receivers and makes good breaks on passes that come his way.
The Magnificent Seven—Front Seven, That Is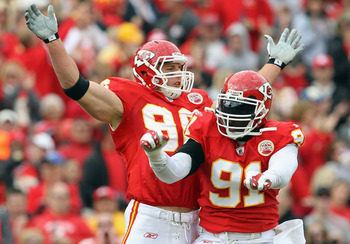 Jamie Squire/Getty Images
The Chiefs aren't setting the world on fire with their pass rush, but they have one that has to be accounted for on game day. That's more than the Chiefs teams of the recent past could say. Moving Tamba Hali to outside linebacker last season has a great deal to do with that.
Hali leads the team in sacks, pressures, and QB hits. He is speedy around the end, but he can rush inside the gap with a decent swim move or spin as well. Hali leads the team with eight sacks.
Defensive tackle Glenn Dorsey is finally playing like the first round pick that he was in 2008, and linebackers Derrick Johnson and Mike Vrabel are playing great in the middle stuffing the run with Dorsey. Part time outside linebacker Andy Studebaker is starting to see more action as a pass rusher. These guys aren't making us forget what a bust Tyson Jackson has been so far, but they lessen the blow a little.
The Quarterback Is Always a Key to a Team's Success, Even For The Chiefs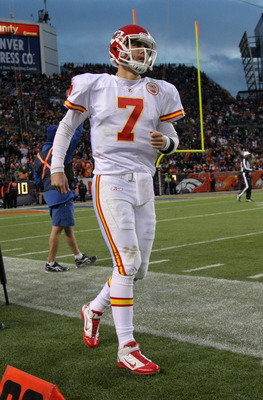 Doug Pensinger/Getty Images
Matt Cassel tood a lot of abuse last season, both physical on the field and verbal from the fans, but he's finally starting to prove his detractors wrong. Cassel was one of the league's most sacked and lowest rated QBs in 2009.
In 2010, he was getting just as much of the off the field abuse, but not nearly as much on the field battering. He's only been sacked 15 times this season, and as a result of the extra time to throw, Cassel boasts the league's seventh best passer rating at 96.2.
He is also seventh in the league in TD passes with 18. Only Peyton and Eli Manning, Tom Brady, Drew Brees, Philip Rivers, and Aaron Rodgers have more TD passes. The Chiefs are also the league's least intercepted teams. Cassel has only thrown four picks in 10 games, which is an incredibly low number.
Matt is helping the Chiefs win, despite what you might have heard on ESPN. He's getting better every week, and a big reason that I believe the Chiefs will still win the AFC West. Cassel is far better than he's getting credit for, and it's time for Chiefs fans to start noticing just how good he is playing.
Dwayne Bowe's Hands Up Play Has Him As a Hands Down Red Hot Receiver
Doug Pensinger/Getty Images
After dropping a potential go ahead TD pass in week five's loss to the Indianapolis Colts, it looked like Dwayne Bowe was going to give Chiefs fans yet another disappointing year of drops and disappointments. Then Bowe decided to do something he hasn't done since he first year in the league: He started taking football seriously and buying into the system in place.
After that game, former NFL receiver Chris Carter told Bowe to give Haley a chance and buy into the system. He told Bowe to give it a real chance and just see where it takes him.
Where it's taken him is to a league leading 11 TD receptions, 10 of which have come in the six games since the Colts blunder. Bowe has also gone over 100 yards in three of those games and averages over 90 yards per game in the last six games played. This guy is the real deal, and he's proving it by holding onto the TDs every week that he used to drop.
The Guys They're Getting Back Look To Get Back Into Action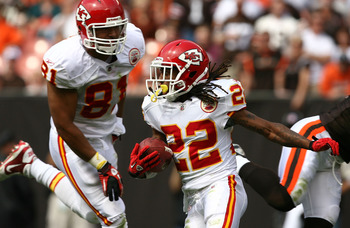 Matt Sullivan/Getty Images
The Chiefs haven't exactly been plagued by injury, but they have recently lost two key players. Two of the team's top rookies, Tony Moeaki and Dexter McCluster, have missed a little bit of action. Moeaki has really only missed one game, but McCluster has been out for a few weeks now and missing him has taken away a threat in many aspects of the game.
Dex is a guy who has to be accounted for every time he steps out onto the field. His speed and big play ability makes him an almost impossible matchup for any defense. He lines up in the backfield, in the slot, wide out, and in the return game.
Not only does he create his own scoring opportunities, but he create opportunities for guys like Moeaki over the middle by drawing away defenders and Jamaal Charles and Thomas Jones out of the backfield by drawing away a linebacker.
Getting back these guys will be a big addition to this young Chiefs team. They are a much more dynamic team with them than without them.
The Running Game Is The Run Away Best In The League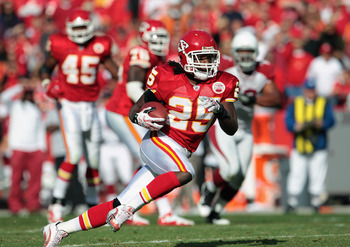 Jamie Squire/Getty Images
This slide will be short and sweet and to the point. Jamaal Charles is averaging a league best 6.1 yards per carry for backs with more than 100 carries, and Thomas Jones has six TD runs this year. This is truly a split time running back system.
These two guys are only 17 carries apart, and they're both on pace to get over 1,00 yards this season with Charles on pace to get around 1,400 on around 230 carries. The Chiefs have a total of 1,642 yards on the ground as a team, and they aren't showing any signs of slowing down.
As long as the Chiefs are running the ball like this, they're going to be a tough team to deal with for anyone who has to play them.
Pencil The Chiefs Into The Playoffs Do To Their Layed Back Schedule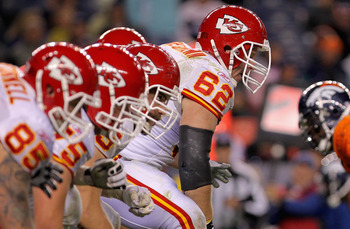 Doug Pensinger/Getty Images
The Chiefs have three more home games and three games on the road. The Schedule basically plays out like this:
@ Seattle Seahawks
vs. Denver Broncos
@ San Diego Chargers
@ St. Louis Rams
vs. Tennessee Titans
vs. Oakland Raiders
Both the Raiders and Chargers have to play the Colts still, but apart from that we all have pretty easy schedules. The trouble for these two teams is they have to play each other as well as against the Chiefs and Colts, and the Chiefs still have a one game lead on them both. If they can't gain any ground or lose to the Chiefs again, the Chiefs are basically a playoff lock.
College Teams Wish They Had This Kind Of Home Field Advantage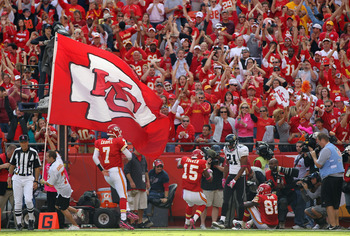 Jamie Squire/Getty Images
The Chiefs are currently 5-0 at home with three more games to play at Arrowhead. If they can win out in their own building and win just one more game on the road, that would put them at ten wins for the year. If they were to do that, they would be in great shape to win the West, and that would only involve going 4-2 in their remaining six games.
That isn't really a tough thing for this team to do, given the weapons they have. This is a good team, but their home crowd really dose something special to their level of play. No team has been better at home. After all, how can you get better than undefeated?
The Coaching Staff—Yeah, That's Right. I Said It.
Justin Edmonds/Getty Images
You might think head coach Todd Haley is snubbing Josh McDaniels in this picture, but he's not. He's scolding Chiefs fans for not buying into he and his staff's system as well as his players have. Charlie Weis and Romeo Crennel are pedigreed coordinators with rings to back up their systems, and their coaching has a team that many of you believed wouldn't win more than six games in position to win the division ten games into the season.
Many have criticized Weis for his uninspired play calling and Crennel for his defense folding late in games, but the coaches can't be blamed for the players' inexperience. They are a young group, and for the staff to have them achieving as much as they have already is nothing short of impressive.
As for the criticism of Haley, particularly in his choice of running back early in the year, I think it needs to stop. Haley goes for it on fourth down a little "too much" and does some unconventional things—and I love it, and so do you when it works. I for one am extremely excited at the prospect of having a fresh-legged Jamaal Charles for a late playoff run to hold serve in the division lead.
The man is doing a great job as head coach and should be in the coach of the year conversation. The Chiefs won six total games in the last two seasons, and they've already got that in ten games of the 2010 season. He even has the phrase "playing at Arrowhead" meaning trouble for the opposition. Keep it up coach. I love what you've done with the place.
All Of You, Fans. Remember, You're The Best Fans In The NFL!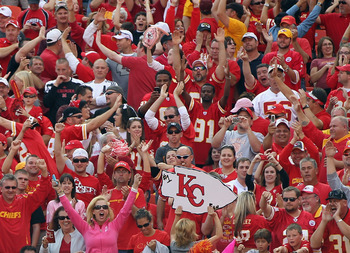 Jamie Squire/Getty Images
I miss the days when broadcasters routinely talked up Arrowhead and the Chiefs fan as being cut from a different cloth than the rest of the stadiums and fans around the NFL. This team has the chance to do something that almost none of you thought possible so soon. To give up on them when they're so close to getting to the real season, the one that starts in January, would be a flat out crime.
These guys are leaving everything out on the field on Sundays, and they ask of us is to appreciate it and root them on win, lose, or draw. I know you fans love this team, and that's why I've included you in the top ten reasons that the Chiefs will win the division. I even saved the best for last—you guys.
I'm Not Saying Lombardi Here We Come, But Lombardi Here We Come!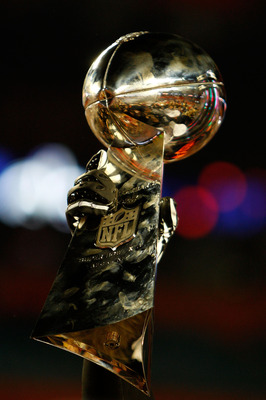 Chris Graythen/Getty Images
This is what it's all about, and winning the AFC West gets the Chiefs one step closer to hoisting this thing up in the center of Cowboys stadium come February. Just getting into the playoffs makes any team a contender. Just ask the Wild Card teams that got in in the last decade or so—the Ravens, the Steelers—or the 9-7 Cardinals who were one miracle drive away from winning it all.
Ask the abysmal 2007 Giants who beat the 18-0, possibly greatest team that will ever be forgotten, New England Patriots. I'm not predicting a championship this year, but I'm not going to rule it out either. After all, the Chiefs are going to the playoffs if my calculations are correct. If they're hot going into January, they may just stay hot all the way into February...
Keep Reading

Kansas City Chiefs: Like this team?