Baltimore Ravens-Carolina Panthers Review: Joe Flacco, Chris Gamble, and Others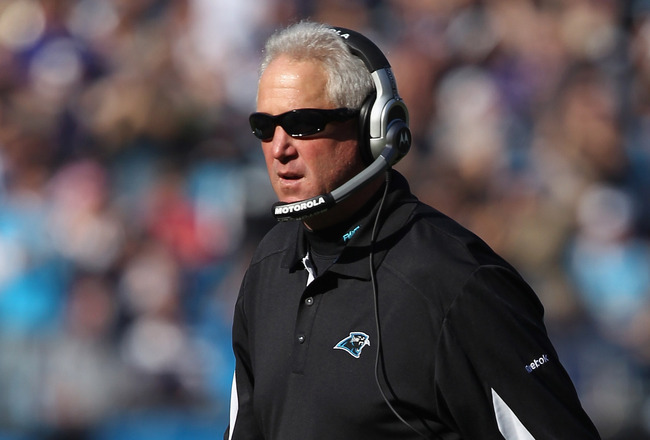 Streeter Lecka/Getty Images
The Carolina Panthers fell to 1-9 yesterday against the Baltimore Ravens, 37-13, behind valiant efforts by newcomer Brian St. Pierre, rookie receiver David Gettis and fourth string running back Mike Goodson.
Here are ten quick observations from the game, focusing specifically on the Carolina Panthers.
1. Center Ryan Kalil's Long Day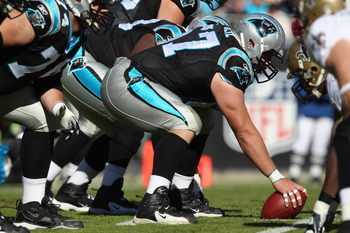 Ryan Kalil against the New Orleans Saints earlier in the season
Streeter Lecka/Getty Images
Ryan Kalil had a terrible day both snapping and pass-blocking.
He also failed to correctly call protection on a blitz through the A gap that resulted in a sack on Brian St. Pierre on a designed run play.
2. The Todd Heap Fumble, Chris Gamble, Charles Godfrey and James Anderson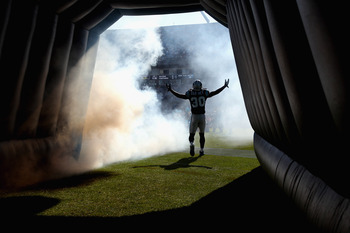 Safety Charles Godfrey entering the field.
Streeter Lecka/Getty Images
On the play in the second quarter, when Charles Godfrey forced Todd Heap's fumble—recovered by James Anderson out of bounds—Chris Gamble quit playing as soon as Heap was knocked out of bounds.
Worse still, he wasn't even looking towards Heap as the ball flew up into the air.
Had he kept his head in the game and finished the play, he could have made the recovery before the ball went out of bounds to Anderson.
Kudos to Anderson for the effort, but if this were Lovie Smith's Chicago Bears defense, that would be a "loaf" on Gamble's part.
3. Mike Goodson's Break-Out Season?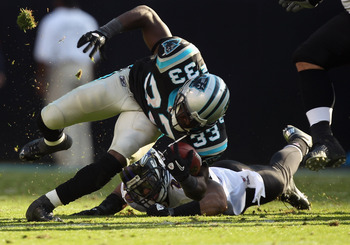 Mike Goodson powering his way forward over Baltimore Ravens safety Dawan Landry.
Streeter Lecka/Getty Images
Back in 2004, the Panthers were down to their backup fullback, Nick Goings, at the running back position. He came in and ripped off five consecutive 100-yard rushing performances, and finished the season with close to 1000 yards rushing. In 2010, Mike Goodson is now showing shades of that 2004 performance by Goings.
Starting the season as the fourth string running back, Goodson now has an outside shot at 1000 yards rushing, as he's 730 yards away with six games remaining. In two consecutive starts, he's rushed for 100 yards or more, calling to mind those heroic efforts by Goings in the latter half of 2004.
While statistics do not win football games and should not be a focal point, it is worth pointing out that a 1,000 yard season would be a major accomplishment for the Panthers, improving team cohesiveness and development, not to mention their morale.
Goodson would need to have one of the most consistent stretches for a Panther running back ever, but if he even gets in the neighborhood of 1000 yards, that would be amazing for Carolina.
4. Jordan Gross, Travelle Wharton and The Carolina Panthers Offensive Line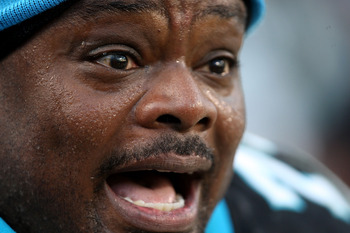 Carolina Panthers OT Travelle Wharton
Streeter Lecka/Getty Images
Passblocking is still an area of concern for the Panthers offensive line, comprised of Jordan Gross, Mackenzy Bernadeau, Ryan Kalil, Geoff Schwartz and Garry Williams.
They can consistently open holes up for running back Mike Goodson to hit the cutback lanes, which have been a staple of DeAngelo Williams' career thus far.
Unfortunately, they struggle to give Brian St. Pierre, Jimmy Clausen or any other Carolina QB enough time to make decisions on a reliable basis.
5. Joe Flacco and The No-Huddle Offense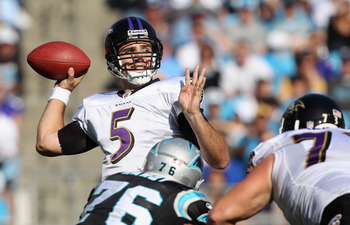 Joe Flacco picking apart the Carolina Panthers secondary.
Streeter Lecka/Getty Images
Baltimore Ravens QB Joe Flacco was very effective in the no-huddle versus the Carolina Panthers, yesterday.
I do not understand why more teams in the NFL will not run the no-huddle consistently, and in more than just the two-minute drill. The no-huddle is one of the best ways to get a quarterback in rhythm and keep a defense on its heels, limit substitutions and wear defensive players down.
6. Brian St. Pierre's Future: An Idea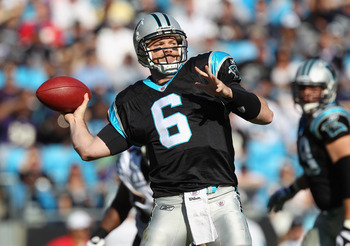 Brian St. Pierre heaving the ball against the imposing Baltimore Raven defense.
Streeter Lecka/Getty Images
While Mike Goodson is displaying shades of 2004's Nick Goings, newly signed journeyman quarterback Brian St. Pierre has shown shades of 2007's Vinny Testaverde. When Vinny Testaverde started against the Arizona Cardinals for the Panthers after only four days of practice, just like Brian St. Pierre, he hit a 65-yard touchdown pass to Steve Smith. Brian St. Pierre one-upped that with an 88-yard score to David Gettis - though of course didn't win the game like Testaverde did - but to me, that's an interesting similarity in the two games Carolina has had with veteran quarterbacks fresh off the street.
St. Pierre, in my mind, looked impressive for a self-admitted stay-at-home-dad less than two weeks ago.He probably experienced both the highlight and the low-light of his career to date yesterday, tossing an 88-yard touchdown bomb (beating safety Josh Wilson on the play) before throwing two consecutive interceptions returned for touchdowns in the space of 11 seconds.
As I watched St. Pierre, I came to the conclusion that he could be quite a successful West Coast Offense quarterback. He seems able to make good reads, and on more than one occasion, put the ball where only his receiver had a chance to make a play, even in tight coverage.
Carolina should consider keeping Brian St. Pierre around for more than just the rest of the season, as his veteran presence may prove invaluable to rookie Jimmy Clausen. He showed poise throughout the day in the face of the Ravens defense and has a productive back to lean on in Mike Goodson.
One knock on Brian St. Pierre was his perceived lack of arm strength, but he did throw a beautiful deep ball to David Gettis and could certainly work to develop his arm if needed.
Congratulations, Brian, on your first NFL start.
It may not have gone how you wished, but you showed great character, poise and moxie.
7. Rookie Standout David Gettis: The Real Deal?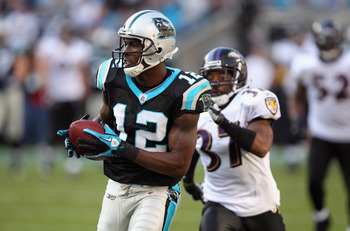 Standout rookie receiver David Gettis scampering towards the endzone on a career-long 88-yard touchdown reception.
Streeter Lecka/Getty Images
David Gettis torched safety Josh Wilson for an 88-yard strike from Brian St. Pierre yesterday, turning an otherwise low-key performance into something unforgettable for him, St. Pierre and the Carolina faithful.
Gettis has shown great consistency this season, continually improving and maturing through extended playing time. He should continue to shine and blossom into a solid number one or number two receiver in Carolina.
I am convinced that if Carolina added either a good veteran receiver in free agency or drafted a high-profile receiver such as A.J. Green or Malcolm Floyd in the 2011 NFL Draft, the passing attack in Carolina could be prolific with Steve Smith, David Gettis and company.
Carolina's other rookie wide receiver, Brandon LaFell, could also play a Brandon Stokely type of role with such a personnel grouping.
An offense with those receiving threats would make it much easier for the rest of Carolina's offense to continue developing and improving.
8. Charles Godfrey and NFL Geometry 101
Baltimore Ravens veteran Wide Receiver T.J. Houshmandzadeh beating Chris Gamble and Charles Godfrey for a touchdown.
Streeter Lecka/Getty Images
Yesterday, the Carolina Panthers secondary got burned for a 56 yard touchdown pass to T.J. Houshmandzadeh, on his 600th career reception.
On the play, cornerback Chris Gamble was covering Houshmandzadeh and released him to the safety, Charles Godfrey, over the top. Godfrey had a poor angle on Houshmandzadeh, which enabled the savvy veteran to catch quarterback Joe Flacco's bomb and fall into the end-zone for the first touchdown of the day.
After thinking about this, I realized that all NFL players should be taught football-specific geometry.
This could prove amazingly beneficial to all players, both offensive and defensive.
9. The Status Of The Carolina Panthers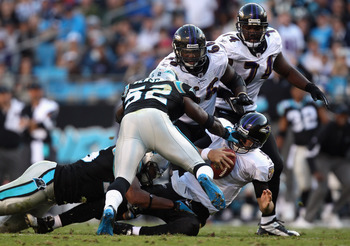 Jon Beason and the Panthers Defense gang-tackling Ravens QB Joe Flacco.
Streeter Lecka/Getty Images
10. Carolina Panthers Coaches John Fox, Jeff Davidson and Offensive Playcalling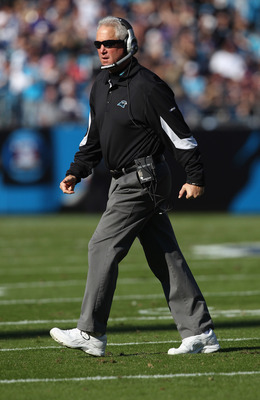 John Fox, ready for action on Sunday against the Baltimore Ravens in Charlotte's Bank of America stadium.
Streeter Lecka/Getty Images
The Carolina Panthers coaches, specifically John Fox and Jeff Davidson, need to be more aggressive on offense.
On 4th and short between the 40s, particularly with a 1-8 record and a running back that's gaining 5.6 yards per touch, the Panthers need to go for the first down and give the team something to fight for.
Give the team a chance to earn some pride in their play.
Keep Reading

Carolina Panthers: Like this team?