Fantasy Football: 2010 NFL Player Stock Market Watch Leading Up to Week 12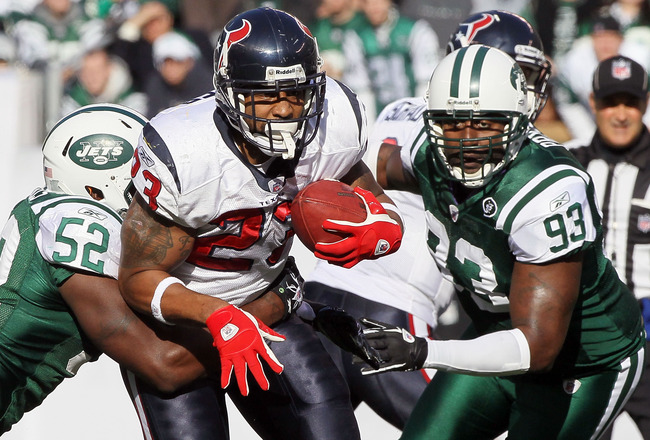 Jim McIsaac/Getty Images
Here's a look at the landscape of the rising and falling stocks of players around the league.
While some players did themselves favors with strong play, others have hurt their stock immensely with poor showings.
Now is the time to add some, trade for others or cut ties completely as Week 12 of the NFL season approaches.
Quarterback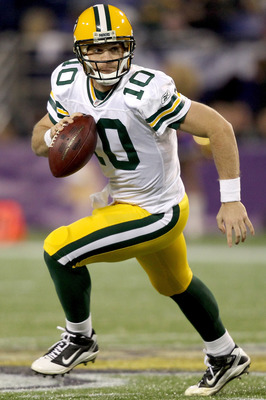 Matthew Stockman/Getty Images
Stock Up:

Aaron Rodgers, GB
Coaches beware when Aaron Rodgers and the Packers march into town. Two games and two opposing head coaches fired the following day.
All levity aside, Rodgers was brilliant against the once-fearsome Vikings' defense. He threw for 301 yards and four touchdowns without a single turnover.
Shaun Hill, DET
Now that the keys are back in his hands, Hill is picking up right where he left off.
Hill threw for 289 yards, two scores and a pick against the Dallas Cowboys.
It doesn't get easier for him in the coming weeks, but his Week 15 and 16 matchups against Tampa Bay and Miami are enticing to say the least.
Matt Hasselbeck, SEA
Matt had a huge day, posting 336 passing yards and a touchdown.
This is the second straight week he has topped the 300-yard barrier and he has a favorable schedule down the stretch.
Ben Roethlisberger, PIT
Ben turned in his second-straight three touchdown game.
He recorded 275 passing yards and ran the ball for another 55 yards against the Raiders.
Late in the second quarter, Big Ben ran for a 16-yard touchdown and he led the Steelers as they routed the Raiders.
Mark Sanchez, NYJ
Sanchez is starting to click with his receivers, particularly Santonio Holmes, and he should continue to assault defenses in the remaining weeks.
Mark threw for 315 yards, three scores and a pick against the Houston Texans.
Sanchez also orchestrated the game-winning drive and threw the winning touchdown with seconds remaining.
Ryan Fitzpatrick, BUF
Fitzpatrick continues to get the job done for the Buffalo Bills.
He threw for 316 yards along with four touchdowns and two interceptions against the Bengals respectable secondary.
If you picked him up off the waiver wire, enjoy.

Stock Down:

Jay Cutler, CHI
As great as Jay Cutler may think he is, he is not an elite quarterback and will never reach that status.
Against Miami's vulnerable secondary, Cutler managed only 156 yards with a pick.
Brett Favre, MIN
Playing Green Bay for what should be the final time in his career, Favre was awful. He threw for only 208 yards and threw a pick while failing to throw a touchdown.
The Vikings are playing for nothing more than pride at this point and Brett will be leaving the NFL on a sour note.
Even with the departure of Brad Childress, Favre has simply not gotten the job done this year and doesn't look to be turning things around anytime soon.
Yes, he did get Sidney Rice back, but the team is in shambles right now.
Owners can pray that the coaching change injects some life into the team, but don't expect much.
Vince Young, TEN
Things are not looking pretty in Tennessee.
The feud between coach Fischer and Vince Young has reached a boiling point and it's likely that Young will be shipped out.
Troy Smith, SF

After a strong performance last week against the Rams, Troy was lost on the field against the Tampa Bay Buccaneers of all teams.
The 49ers were shut out with the former Heisman winner throwing for only 148 yards and an interception.
The only upside was the 45 rushing yards he piled up as he scrambled out of the pocket.
Running Back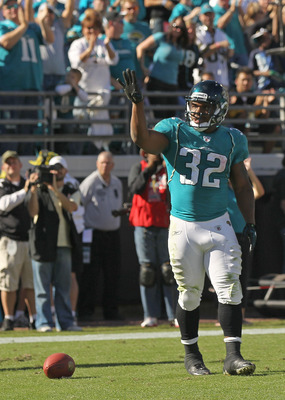 Mike Ehrmann/Getty Images
Stock Up:
Maurice Jones-Drew, JAC
Maurice is getting hot and finally justifying his top-five draft pick.
MJD ran for 133 yards and broke the goal line once while hauling in three catches for 87 yards.
One of his receptions was a screen play where he essentially embarrassed the entire Browns' defense.
This is the third straight 100-yard rushing performance by Jones-Drew and he has a tasty fantasy playoff schedule.
If you patiently held onto Maurice through his rough start, congratulations. You should be in for a wild ride down the stretch.
Fred Jackson, BUF
Fred is getting the lion's share of carries, and he's making the most of them.
Jackson broke the century mark and recorded two touchdowns for the second straight week.
He has a tough schedule remaining, but as a focal point of the Bills' offense, he'll continue to get plenty of touches to produce.
Cedric Benson, CIN
Cedric recorded his second 100-plus rushing yard performance of the season. He ran for 124 yards and a touchdown with three receptions going for 22 yards.
While the Bengals' season is essentially over, Benson is playing for that next big pay day. He may not have an easy schedule, but you know he'll continue to run hard.
Thomas Jones, KC
After a pathetic performance last week in which he piled up 22 total yards from scrimmage, Jones bounced back with a huge effort against the Cardinals.
Thomas ran for 71 yards and reached the end zone twice.
The Chiefs are a run -team and they have a favorable schedule coming up. Play him with confidence.
Michael Turner, ATL
After getting completely shut down by the Ravens defense last week, Turner went berserk against the Rams.
Michael ran for 131 yards and a touchdown.
With the exception of a matchup against Green Bay next week, Atlanta has a soft schedule the rest of the way. Expect more performances like he had on Sunday.
Matt Forte, CHI
From week to week, you never really know what you'll get out of Forte.
At least this past Sunday, he exceeded expectations and ran for 97 yards and a touchdown.
He has a tough schedule coming up, but his 25 carries is a good sign for his future prospects, especially since he received some goal-line work.
Danny Woodhead, NE
The diminutive running back-wide receiver hybrid continues to be a steady source of production.
Danny piled up 90 total yards from scrimmage and he pulled off a ridiculous 36-yard scamper for a score against the Colts.
Mike Goodson, CAR
Goodson appears to have the running back position in Carolina all to himself with DeAngelo Williams out for the year and Jonathan Stewart hobbled.
Against the Ravens' defense, Goodson practically made up the entire Panthers offense, rushing for 120 yards.
This is his second-straight 100-plus rushing yard performance.
Stock Down:

Frank Gore, SF
Gore was abysmal against Tampa Bay and its horrendous rush defense.
He managed only 23 rushing yards on 12 attempts, with five receptions going for 37 yards.
Not really sure what to make of this performance since he's been on a hot streak with four straight productive games.
Next week's matchup with Arizona should cure his troubles.
Felix Jones, DAL
After a strong game against the New York Giants, Felix was expected to run wild against the Detroit Lions.
Well, he was a massive disappointment, getting only 86 total yards from scrimmage with a fumble lost.
Adrian Peterson, MIN
For the second week in a row, Adrian was held to a sub-73-yard rushing performance and failed to get into the end zone.
Washington and Buffalo are up next, but he has a tough schedule for the fantasy playoffs.
Owners can only hope that Brett Favre finds his form and eases the constant seven-and-eight-man fronts Peterson sees on a weekly basis.


Wide Receiver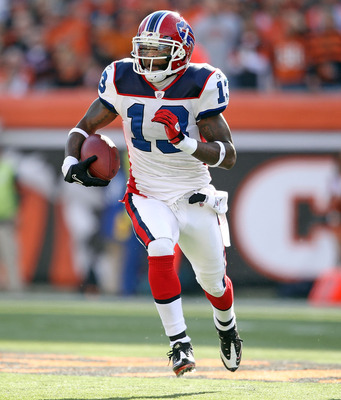 Andy Lyons/Getty Images
Stock Up:

Steve Johnson, BUF
Steve Johnson will go down as one of the greatest waiver wire finds of the year.
He continued his decimation of opposing defensive backfields with eight catches for 137 yards and three scores.
Santana Moss, WAS
After two weak performances in his last two outings, Moss blew up for 106 yards and a touchdown against the Titans.
Moss has two rough outings coming up, but then three cakewalk matchups during the playoffs.
Santonio Holmes, NYJ
The Sanchez-to-Holmes connection continues to build and get stronger.
Santonio had seven receptions for 126 yards and two touchdowns. One of his touchdowns was on a fade route in the closing seconds for the game-winning score.
Santonio Holmes for a fifth-round pick is looking like an absolute steal.
Braylon Edwards, NYJ
Edwards had a strong day opposite from Holmes. He had four catches for 86 yards and a score.
Braylon was also a vital contributor in the win as he caught a long pass near the end of regulation to set up the game-winning touchdown.
Greg Jennings, GB
Greg had a rather pedestrian year last season, but he has become one of the top options at the wide receiver position this year.
The three touchdowns he caught against the Vikings were one shy from his entire total from last season.
His 152 receiving yards was by far his highest output of the season and, surprisingly, only the second time he has broken the century mark.
Larry Fitzgerald, ARI
Larry was considered a huge bust through the first half of the season, but he has since caught fire. Sunday marked the fourth-straight productive game he's had and he is finally justifying his high draft pick.
If you held onto him through his rough first half, enjoy the second as he has a nice schedule.
Marques Colston, NO
Colston started the season incredibly slow, but he has picked up the slack in the past few weeks.
His eight receptions for 113 yards and two touchdowns against the Seahawks was by far his most productive game of the season and he has a few easy matchups coming up.
Nate Washington, TEN
It looks like Washington will continue to reap the rewards of playing opposite Randy Moss. While Randy draws all of the attention, Nate finds himself in one-on-one situations or open in coverage.
Nate caught five balls for 117 yards against the Redskins and this is the third-straight productive game he has put in.


Stock Down:

Randy Moss, TEN
As if things weren't already bad for Moss, the sticky quarterback situation brewing in Tennessee only makes things worse.
Moss has been near useless in Tennessee, acting as a decoy and drawing coverage away from the other receivers.
The Titans have some easy matchups down the stretch, but it's hard to see if he can make any sort of impact.
Brandon Marshall, MIA
No matter who's behind center for Miami, Marshall simply has not had any consistency all season long. Sure, he's good for five to six catches and 50 or so receiving yards, but that's not what was expected out of one of the best receivers in the NFL.
Brandon caught his lone touchdown on the year in Week 3, and he has amassed 105 total receiving yards in the last three games combined.
Maybe Brandon Marshall should have forced his way to Chicago.
Michael Crabtree, SF
Crabtree had a soft matchup against Tampa Bay and its awful defense.
He managed to catch only one ball for 15 yards as the 49ers offense was shut out.
Tight End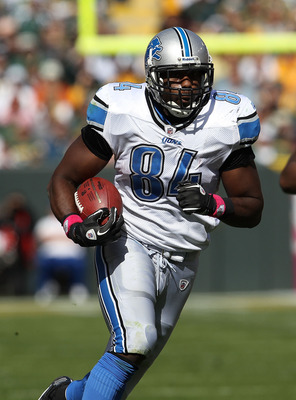 Jonathan Daniel/Getty Images
Stock Up:

Joel Dreesen, HOU
With Owen Daniels hobbled by injury, Dreesen filled in for Owen quite nicely against the Jets.
Joel had four catches for 106 yards, with one of his receptions going for a 43-yard touchdown.
This was a career day for the tight end and, as long as Daniels is out, Dreesen is a viable fantasy option.
Chris Cooley, WAS
Cooley has had a disappointing season thus far.
However, his seven receptions and 91 receiving yards is a bright spot on the season and hopefully a sign of things to come for the talented tight end.


Stock Down:

Zach Miller, OAK
After two weeks off, Miller was expected to come in and have his way with a Steelers defense that has been susceptible to tight ends.
Instead, Pittsburgh responded to the thrashing it received last week and shut down the Raiders offense. Miller had only one catch for nine yards.
Jason Witten, DAL
Against the Detroit Lions, Witten was expected to decimate that defense.
Instead, the Lions held Witten to four receptions and 48 yards.
This is the third straight week that Witten has failed to produce. The Cowboys schedule gets tougher from here on out and you shouldn't expect him to be productive if-and-when Tony Romo returns.
Defense/Special Teams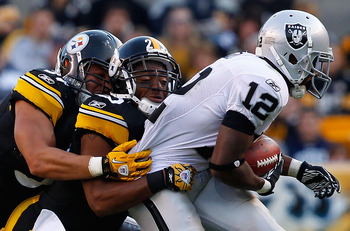 Jared Wickerham/Getty Images
Stock Up:

Baltimore Ravens
After a heartbreaking loss to the Falcons last week in which the defense collapsed on a closing drive led by Matt Ryan, the Ravens bounced back and crushed the Panthers.
They recorded three sacks and two interceptions, one of which was returned for a touchdown by Ray Lewis.
Pittsburgh Steelers
After getting embarrassed by the New England Patriots, the Steelers bounced back with a dominating performance over the Oakland Raiders.
The Steelers picked the Raiders off twice, forced three fumbles and recorded six sacks.
Oakland was held to three points.
Chicago Bears
The Bears had an answer for everything the Dolphins threw at them, both literally and figuratively.
Chicago completely shut out Miami and recorded six sacks, one interception and allowed just 187 yards of total offense.
Green Bay Packers
In what was likely to be Favre's last game against the Packers, he couldn't get anything done.
The entire Vikings' offense was stifled from the start as they managed to put up only three points.
While the Packers only recorded a single sack, interception and forced fumble, Minnesota was completely lost on offense.
Stock Down:
Minnesota Vikings
Minnesota's defense is no longer frightening to opposing offenses.
Aaron Rodgers had his way with the Vikings on the way to a dominating four-touchdown performance.
The Packers put up 31 points and nearly 400 yards of total offense.
New York Jets
New York gave up 27 points to the Houston Texans. The rush defense could do nothing to contain Arian Foster.
While the Jets ultimately won, it was in spite of the defense's efforts. They allowed 343 yards of total offense to Houston.
Cincinnati Bengals
The Bengals were stomped at home by the Buffalo Bills of all teams.
Buffalo put up 49 points and and 449 yards of total offense.
Cincinnati made Ryan Fitzpatrick look like Peyton Manning, Steve Johnson like Roddy White and Fred Jackson like Chris Johnson.
Keep Reading