Brad Childress Fired: Will Brett Favre Be the Next To Go for Vikings?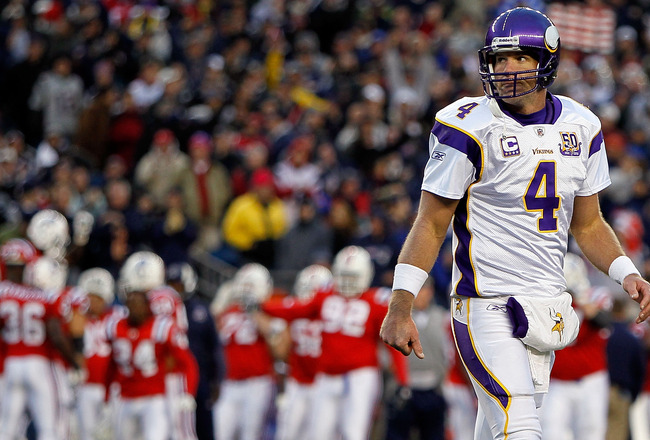 Jim Rogash/Getty Images
Today's news that Minnesota Vikings head coach Brad Childress has been fired likely means there will be some major changes in Minnesota these next few months.
In the meantime, defensive coordinator Leslie Frazier will take over the head coaching duties.
Will the new head coach keep Brett Favre as his quarterback, or will he decide to look to the future with Tarvaris Jackson and Joe Webb?
The fact is the Vikings have been even more disappointing than the Miami Heat this year. Brett Favre is playing like the Chris Bosh (very disappointing) to Adrian Peterson's Dwyane Wade and Percy Harvin's LeBron James (superstars).
Injured wideout Sidney Rice could be compared to Udonis Haslem now that Haslem has gone down with an injury. Rice's injury really hurt Favre's confidence earlier this season.
But that's enough comparison of the two disappointing teams. The Heat will probably turn things around, while the outlook for the Vikings is much worse.
So how will Frazier handle this mess? Let's take a look at five players who could be playing for their jobs for the remainder of the 2010 season.
5. Bryant McKinnie, LT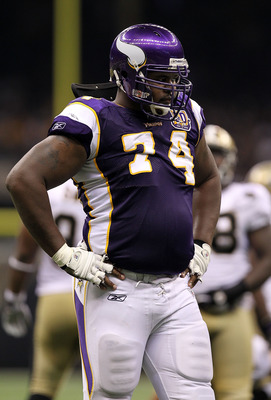 Ronald Martinez/Getty Images
The entire Vikings offensive line has been worse this year than they were in 2009. However, left tackle Bryant McKinnie is one of the biggest reasons for that decline.
Brett Favre has been hit much more this year, and it's clearly affected his play. The primary reason for his career year last year was that he wasn't facing much pressure.
This year, he's being hit a lot, a good percentage of it coming from his blind side. If McKinnie doesn't improve, it's not unreasonable to think Leslie Frazier might find someone else to do the job.
4. Pat Williams, DT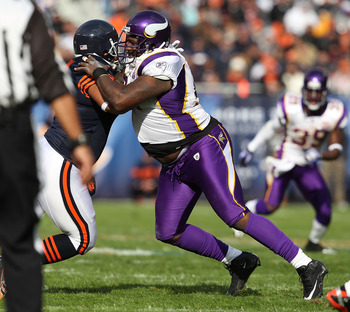 Jonathan Daniel/Getty Images
This will be Pat Williams' last season in the NFL. At age 38, he's on the last legs of his career, and it shows.
He has zero sacks, only one forced fumble and only 20 tackles. In addition to that, the Vikings' run defense as a whole has been worse this year.
Look for Frazier to try to get some younger players game experience in place of Williams.
3. Chris Cook, CB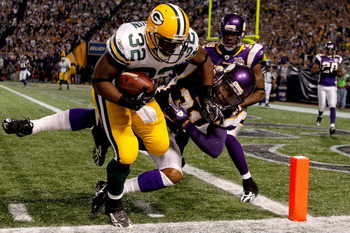 Matthew Stockman/Getty Images
Teams have been picking on Chris Cook all year. Cook is still a rookie, so he's going to improve, but it's looking more and more likely that Cook will be pushed back into the nickel corner role.
He has been starting alongside Antoine Winfield, but his performance hasn't been what it needs to be.
Look for Asher Allen to retake the starting job soon.
2. Bernard Berrian, WR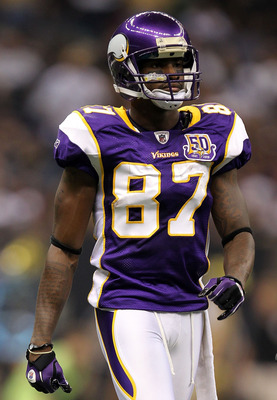 Ronald Martinez/Getty Images
Three weeks ago, Bernard Berrian had nine catches for 89 yards. That was by far his best performance of the year.
Now, he's battling a groin injury and may not play next week.
With only 18 catches for 176 yards and no touchdowns, Berrian has been a huge disappointment. Don't look for Frazier to coddle the embattled receiver, especially now that Sidney Rice is back.
1. Brett Favre, QB
Matthew Stockman/Getty Images
Yes, it's about time for the ol' gunslinger to ride off into the sunset. The question now is when will that time come?
Will Favre be rejuvenated under Leslie Frazier, or will Frazier pull the plug on the Favre era?
My guess is that Favre has two more games to turn things around, or the new head coach will go to the younger QBs and send Favre back to Mississippi.
Dishonorable Mentions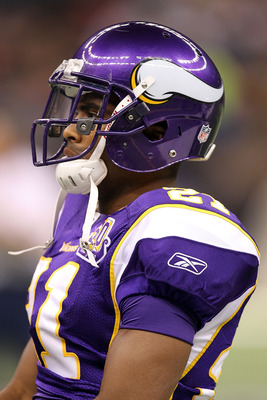 Ronald Martinez/Getty Images
Asher Allen, CB
Greg Lewis, WR
Hank Baskett, WR
Keep Reading

Minnesota Vikings: Like this team?