Oakland Raiders 2011 NFL Mock Draft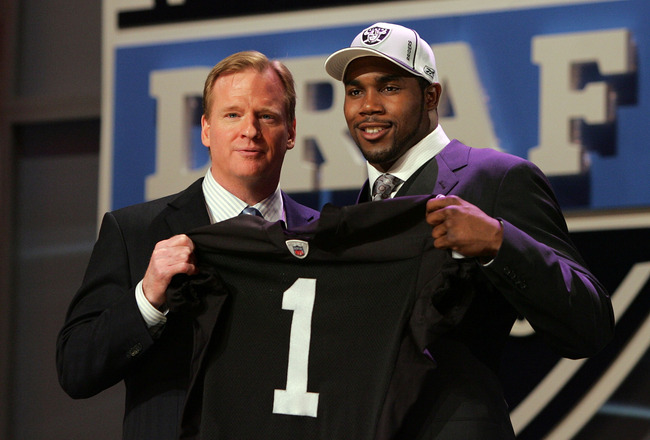 Jim McIsaac/Getty Images
In 2010 the Oakland Raiders had a great draft. All nine of the players the Raiders drafted made the team and throughout the season, four of them would make it into the starting lineup.
In 2011 the Raiders hope to repeat that success.
Currently the Raiders biggest needs in the draft are the offensive line and wide receiver, but they could use depth at nearly every position.
Here's a look at the direction I think the Oakland Raiders should go in the 2011 NFL draft.
Round 2: Jake Kirkpatrick OG/C TCU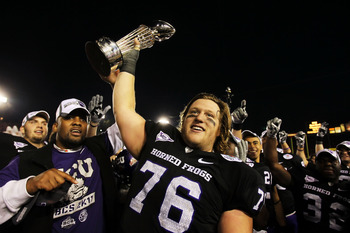 Jeff Gross/Getty Images
It's no secret the Raiders desperately need help on the offensive line.
The fan favorite in the draft is Stefan Wisniewski, nephew of a former Raider offensive linemen and current Raiders assistant offensive line coach.
Other Mocks have the Raiders selecting Marcus Cannon OT TCU, who projects as a guard at the NFL level.
I feel the Raiders should take another Horned Frog out of TCU, Jake Kirkpatrick.
Though Kirkpatrick doesn't have the same pedigree and polish of Wisnewski, he is still the better choice. Jake Kirkpatrick is more dominant of a blocker and doesn't have the same injury concerns as Wisnewski.
Wisnewski is a perfect fit for a zone-blocking scheme, though, unfortunately, the Raiders are moving away from such a scheme.
In my personal opinion it would make more sense to retain Samson Satele to play center and bring in Kirkpatrick to play right guard.
Other Options:
-Benjamin Ijalana, OT/OG Villanova
-Stefan Wisniewski OG/C Penn State
-Marcus Cannon OG TCU
Round 3: Dontay Moch OLB Nevada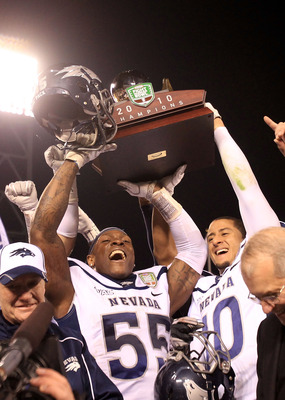 Ezra Shaw/Getty Images
Internet rumors about this guy's athleticism have been spreading like wild fire. The Nevada defensive end allegedly breaks the 4.3 mark in the 40-yard dash. A feat rare even for NFL receivers and defensive backs.
Some rumors even suggest that this guy can break the 4.2 mark, something that has never been done in the NFL since they have began timing 40-yard dashes digitally.
Throughout his college career he has played safety, linebacker and defensive end. At the NFL level he is projected as an outside linebacker, but with the kind of athleticism he possesses, he can play wherever a team decided to put him. Currently he is projected to go anywhere from the 1st to the 4th round.
If rumors of his athletic ability materialize into reality and he lasts until the third round, there is no way Al Davis can resist drafting him. Hell, even if his speed turns out to be a slight exaggeration, it would be hard to pass on him.
Other Options
-Bruce Carter, North Carolina
-Lawrence Wilson, Connecticut
-KJ Wright, Mississippi State
Round 4: DeAndre Brown WR/TE Ole Miss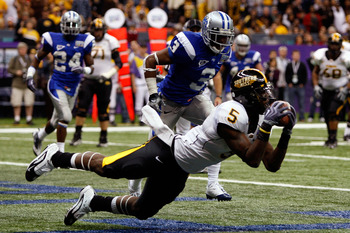 Chris Graythen/Getty Images
The Raiders have a ton of physical talent at receiver. They are quick, athletic and can stretch the field with their blazing speed. With these guys the Raiders could put together a team that would put most college 4X100 relay teams to shame. These guys can do it all, except for catch the ball that is.
What the Raiders need is a receiver in the mold of players like Larry Fitzgerald, Calvin Johnson and Vincent Jackson. The Raiders need a tall physical receiver who can go up over defenders and get the ball.
Unless the Raiders can bring in free agent like Larry Fitzgerald or Vincent Jackson they will need to draft a wide receiver.
That is where 6'6'' 240 pound DeAndre Brown comes in.His height, hands and athleticism would compliment the speed of Louis Murphy, Darius Heyward-Bey and Jacoby Ford very well. He would also be a dangerous target in the red zone.
Other Options:
-Austin Pettis
-Julias Thomas
-Greg Little
-Terrence Tolliver
-Tori Gurley
Round 5 Darius Morris, OT/G, Temple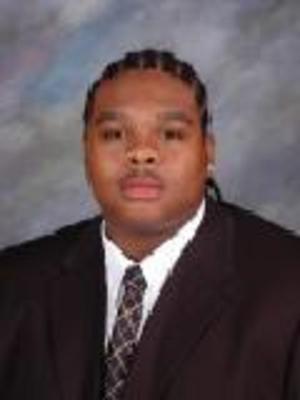 Currently the Raiders have one guard under contract for the 2011 season. This team is desperately in need of not just depth but bodies to fill the roster.
Morris has great strength, but is said to lack the quickness to play left tackle in the NFL. That is why he is projected to play guard or right tackle in the NFL.
With Morris the Raiders will add valuable depth to the offensive line in a player that can play multiple positions along the offensive line.
Round 6 Mike Mohamed Linebacker Cal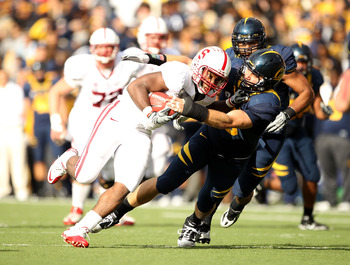 Ezra Shaw/Getty Images
With Travis Goethel and Ricky Brown both having injury marked NFL careers, the Raiders depth at middle linebacker is suspect.
Mohamad led Cal in tackles for the past two seasons and will add valuable depth to the Raiders defense behind Rolando McClain.
Round 7 Mario Butler CB Georgia Tech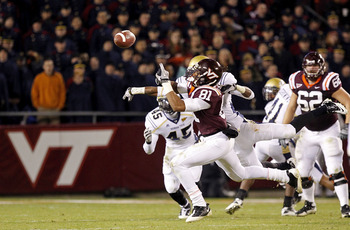 Geoff Burke/Getty Images
At 6'1'' 200 pounds Mario Butler has ideal size for an NFL corner. He has long arms and plays physical at the line of scrimmage and against the run.
He will add depth to the Raiders backfield as he competes for a spot on the roster against Walter McFadden and Jeremy Ware.
Keep Reading

Oakland Raiders: Like this team?