Philadelphia Eagles: 3 Key Match-Ups to Watch for Against the New York Giants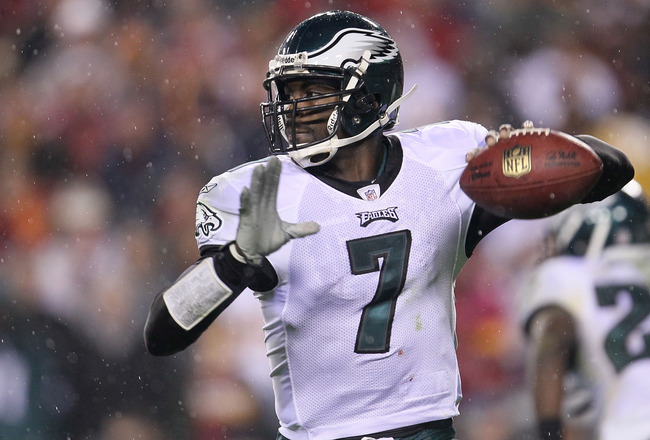 Chris McGrath/Getty Images
A win from the Eagles and a loss from the Giants currently has the two teams tied for the lead in the NFC East. The good news is that they won't be tied for long.

After a disappointing loss at home to the Cowboys, the Giants will make the sure trip to Philadelphia for a prime-time match-up on Sunday Night. The stakes are high, and the teams both know the importance of the game.

Will the winner of this game win the NFC East? Not necessarily, but it will be a big step in the right direction for the winner.

The Eagles definitely have the momentum on their side going into the game. They're coming off a historic win against the Redskins, and will have the home crowd behind them. We heard just how loud the fans could get in the last home game against the Colts, and I expect a repeat this Sunday.

Here are three key match-ups that will have a large impact in Sunday's game.
1. Michael Vick vs. Giants Defense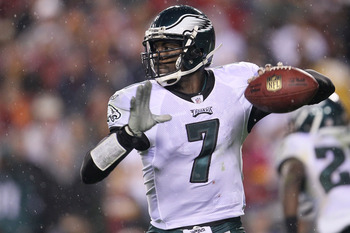 Chris McGrath/Getty Images
As it stands right now, Vick has to be the hardest quarterback in the NFL to game plan for. His versatility is better then it has ever been before, and it's giving defensive coordinators fits. Just ask Redskins defensive coordinator Jim Haslett.

He's always been known for being able to make plays with his feet. That ability hasn't left, but his throwing ability has surprised a lot of people this season. Vick has been delivering pinpoint deep balls as well as being very accurate with mid-range and short throws.

The Redskins didn't do a whole lot to stop Vick on Monday, so the Giants won't be learning a whole lot from that game. He's the ultimate weapon right now, and if the Giants want to have a chance to win this game, they're going to have to come up with an effective plan to slow him down.

I'm sure they will run a spy on him at times, but we saw the Redskins try to do that last week without success. If I'm playing against Vick, my biggest hope would be to get great pressure from my front four and not let him be comfortable in the pocket. Sure he has the ability to scramble, but with seven back in coverage, it would limit his options.

Can the Giants stop Vick? After the way he played Monday, you'd have to say no. However, if they fail to do so, it could turn into a long day.
2. Eagles Defensive Line vs. Giants Offensive Line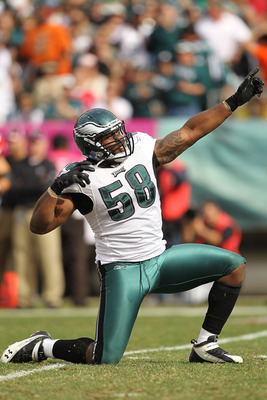 Al Bello/Getty Images
The Giants currently have three offensive linemen who have not practiced this week (yes, one of them is Shawn Andrews). This is bad news when you're playing against a team with as much talent on their defensive line as the Eagles have.

It's also bad when you have a quarterback like Eli Manning, who folds like a deck of cards when he gets pressure in his face. Manning makes poor decisions with the football when defenders are getting to him quickly. The Eagles know this and will make sure to do this come Sunday.

With the current status of the Giants offensive line, I look for a guy like Trent Cole, who was relatively quiet against the Redskins, to be an absolute menace. On long third down situations, we will see the Eagles speed rush package take the field, and I can definitely see that causing problems for Manning and the Giants line.
3. Hakeem Nicks vs. Eagles Secondary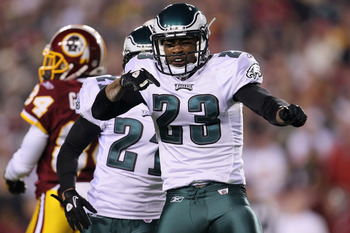 Chris McGrath/Getty Images
Nicks has been an absolute bull this season for the Giants. He already has more receptions and touchdowns this year then he did last season, and almost as many yards.

The Eagles have been pretty successful against the pass and currently lead the league in interceptions. Dimitri Patterson has stepped up well, creating some stability that the pass game lacked with Ellis Hobbs. Nate Allen should be returning to the line-up and has played extremely well as a rookie.

With Steve Smith not playing for the Giants, Nicks will be a popular target for Manning on Sunday. He's definitely going to have a size advantage no matter who he lines up against. The Giants will probably look to use that to their advantage so the Eagles will need to get some help over the top to make a play on the football.

Shutting down Nicks should lead to a lot of success for the Eagles come Sunday.
Keep Reading

Philadelphia Eagles: Like this team?