100 Greatest Quarterbacks In NFL History Part I: 100-51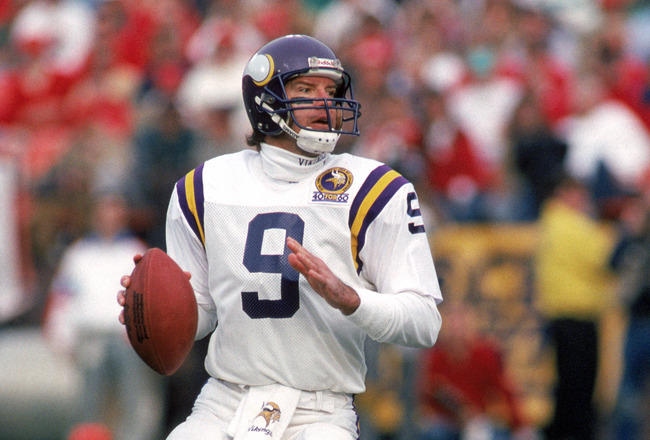 George Rose/Getty Images
Coincidentally, this is the second 100 Greatest QB countdown posted online this month, after the last big countdown was made in 2007 on an unrelated webpage.
Obviously, a list this size was immensely difficult, but after hours upon hours of watching archive footage from games in the last 60 years and peer by peer comparisons of quarterbacks of different decades, eras and playing styles, I have concluded a list I will be presenting in three parts; it's simply too massive to post all 100 in one article.
I hope you will enjoy reading them as much as I enjoyed writing, this truly was a journey and apologies if some of your personal favorites didn't make the cut.
100. Tommy Kramer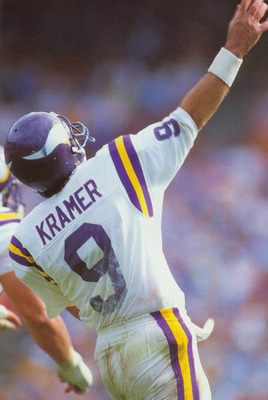 Tommy Kramer
In the time after Fran Tarkenton, the Vikings organization searched for the next franchise QB. Wade Wilson was one of the first contemporaries. He was able to have some productive seasons including a Pro Bowl year and the Vikings' three playoff games, including a run in 1987 that saw him help the Vikings overthrown the juggernaut 13-1 49ers.
Like Wade Wilson, Kramer was one of the possible successors to Fran Tarkenton. He came in before Wilson but at times lost his job to him. Kramer also made a Pro Bowl ( in '86, Wilson was '88 ) and had a playoff win. The difference between Kramer and Wilson was Kramer had a stronger arm and was more productive statistically, for longer ( over 40 more career starts ). Ironically, he and Wilson ended up on the Saints after their Vikings tenure.
99. Jeff George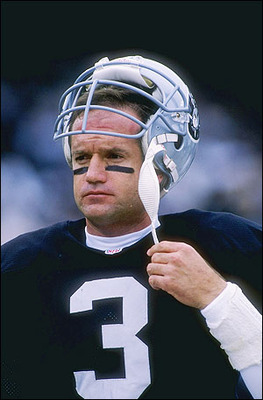 Jeff George
Jeff George on an all-time list besides busts and over-hyped college players? Afraid so, for you see not that many quarterbacks are allowed to start over 50 games, let alone 124. In truth, George did have some production. Lack of leadership skills galore George was still able to use his God given gift throw over 4,000 yards in '95 and leading the league in '97.
George was able to go over 20 TDs four separate times, including his best season where he hit 23 in 10 starts. In 1999 he was able to go 8-2 for Minnesota and win a game in a solid performance (three TDs with no INTs but below 50% passing ). He followed his first and only playoff win with one of the best performances by a QB in a playoff loss. Throwing for 423 yards and four TDs in a 49-37 loss to the Super Bowl-bound Rams. After five teams and 12 seasons, George was unable to find work in numerous attempted comebacks.
98. Greg Landry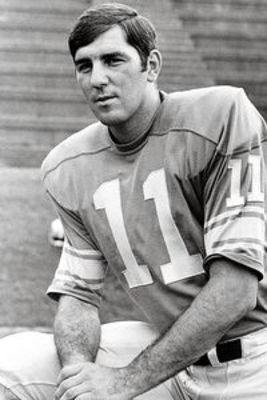 Greg Landry
Although he only made one Pro Bowl in a career that spanned 15 seasons and three decades, Landry was one of those QBs that was productive with bad teams. Serving the Lions for over a decade, Landry lost an infamous playoff game against the Cowboys 5-0, infamous for his counterpart Craig Morton having one of the worst games for a winning QB in a playoff game.
It's relatively hard to judge Landry fully but what is known is his continued employment and relative persistence in giving his all. He did make one Pro Bowl and outproduced that year the following season. For the Lions he remains third in career passing yards, slightly behind Scotty Mitchell (who played in a more pass-friendly era and had Herman Moore ).
97. Ed Brown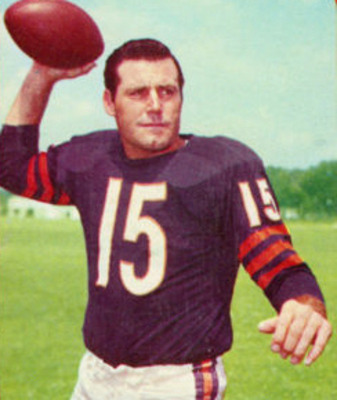 Ed Brown
The first pre-Super Bowl era QB on the list, Ed Brown made two Pro Bowls and had an overall winning record, mostly with the Bears. He was unable to get the Bears to a Championship and fizzled in his one Championship game appearance. He was on the Steelers in the poor 60s before they drafted Bradshaw. Overall, Brown is one of those QBs that found himself on a good, but not great team, and managed the game for what it was worth. Could not find any tape on him, only a few briefs, maybe he wasn't all that bad.
96. Doug Williams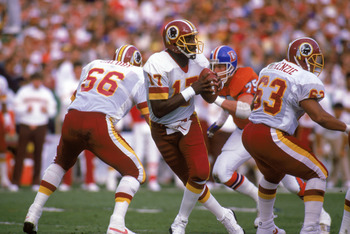 Doug Williams
Rick Stewart/Getty Images
Remembered well for his Super Bowl MVP performance after the '87 season. Williams was the franchise quarterback for the Tampa Bay Bucs and helped them get to the NFC Championship in '79, where he was unable to overcome the miracle Rams defense in a 9-0 loss. For those two runs, '79 and '87, I place him here. In reality Williams was a pretty fine physical specimen who had a harder time than he should have due to off-field discrimination.
95. Jake Plummer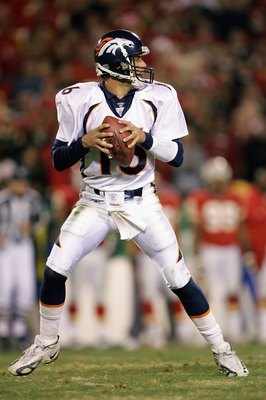 Jake Plummer
Brian Bahr/Getty Images
Let's get this straight, Plummer wasn't a stat princess. Many of his seasons did not show pretty numbers, but the guy won and of all the playoff chokers, he was not one. It's hard to look at any of his six playoff games and say he failed the team. In two of his losses for the Broncos against the Colts he completed more than 70% of his passes, not his fault Manning torched his defense. As for his time with the Cardinals, he was able to pull a mini miracle in 1998 by beating the Cowboys and getting a Cards win for the first time in two decades, only to lose to the powerhouse '98 Vikings.
He was unable to win a championship in his only season with a team capable of doing so, in '05 when he was unable to beat the Steelers defense and against his defense wasn't able to hold back the other team's offense.
94. Steve DeBerg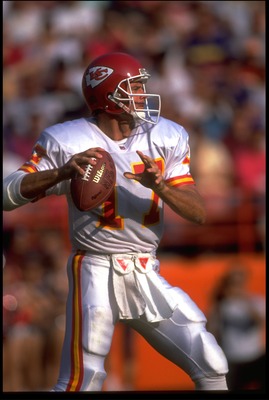 Steve DeBerg with Chiefs
Mike Powell/Getty Images
One word to describe DeBerg would be a traveling warrior. Like Kurt Warner, DeBerg never complained, unlike Kurt Warner he was never quite able to find a consistent home with a good team, with one exception. From 1990-91 DeBerg was the leader of the Chiefs guiding them to 11 and 10-win seasons.
He was able to get a win in the '92 playoffs, but lost in the Divisional to the powerhouse Bills. Statistically speaking, his 1990 season was one of the all-time best. He threw for 3,444 yards with 23 TDs and only four INTs (three of which came in one game ). He did not make the Pro Bowl in 1990, however, in one of the biggest all-time snubs. In 1998 after five seasons in retirement, DeBerg found himself the oldest ever player on a Super Bowl roster, for the '98 Falcons who were unable to win under Chris Chandler.
93. Charley Johnson
Charley Johnson as a Cardinal
Charley Johnson was a one-time Pro Bowler who could have been so much more with the right team. Spending much of his career with the St. Louis Cardinals, he lead the league in passing yards the year after making the Pro Bowl. Though he was unable to ever make the playoffs with the Cards, Oilers and Broncos, he compiled five winning seasons and ended his career one of the most productive QBs of his era. Johnson also possessed one of the strongest mid-range arms in history.
92. Norm Snead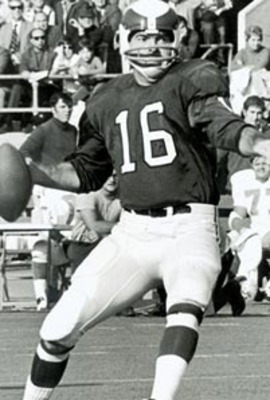 Norm Snead as an Eagle
Snead is an interesting case, statistically he wasn't a very good QB, even for his day leading the league in INTs four times. And he didn't have many winning seasons either. Yet he made four Pro Bowls and far be it for me to say all those were meaningless. Although one of those Pro Bowls came with a 3-11 team in a season he threw 13 TDs and 27 INTs, his passing game was sufficiently better than some of the other contenders.
Most controversially, Snead was traded for by the Eagles in place of Sonny Jurgensen, he did not prove to be a better suitor. His best season came in 72 on the Giants where he went 8-5 leading the league in completion percentage and throwing 17 TDs to 12 INTs. Seeing some limited tape on the guy it seems to me he was the Jeff George of his day, but received more recognition for whatever reason.
91. Steve Grogan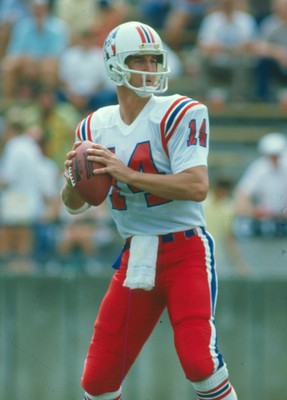 Grogan with the Patriots
Grogan has a fairly long and some would say frustrating career. Undisputed starter for the Patriots in the late 1970s, he did a pretty good job in racking up winning seasons and some good statistical production. In 1979 he lead the league in TDs, with 28. Unfortunately that would be the last time Grogan would put up those kind of numbers. Only in 1979 was he able to throw for over 3,000 yards and 20 TDs. In many ways, from 76-80, Grogan was a poor man's Aikman.
Grogan did not have many good rushing threats to fall back on and he had to move the chains himself many a time. For his time Grogan was one of the elite scramblers of his day, especially in his earlier season. Collectively he scored 35 rushing TDs, including a whopping 12 in 1976. It was hard for Grogan to maintain a starting job past 1980, but in the games he did start he did quite well in nabbing the wins. In '84, '85 and '87 he managed to win more games than he lost. In 1985, the Patriots made the Super Bowl, though it was with Tony Eason taking the majority of the snaps, Grogan did take the spotlight away from Eason in the Super Bowl after he went 0 for 6. Though the Patriots got mauled, it was against the '85 Bears. He went 0-4 in the playoffs.
90. Doug Flutie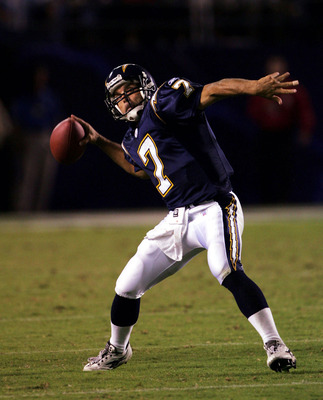 Flutie as a Charger
Stephen Dunn/Getty Images
If we're counting CFL, he's Top 10 without question. Sticking to his NFL days, Flutie was a winner. He's listed 5'10", but I don't buy it. He often had to jump to complete the big throws, but he got the job done. In 10 seasons seeing starter action, Flutie only had a losing record three times. He won his first start in 1986 for Chicago and went 1-0 again for the Patriots in '87. He would go 6-3 for New England in '88, but after a 1-2 record in '89, he apparently couldn't find any more work. Due to his small stature NFL teams were too ignorant to give him a legitimate shot.
He would get his shot with Buffalo in '98, going 7-3 throwing for 20 TDs and 11 INTs and making the Pro Bowl. In 1999 he almost single-handedly got the Bills to the playoffs going 10-5, but Rob Johnson got the playoff start after doing good in a meaningless season finale game. The Bills would lose the game, the Flutie curse came into fold and the Bills have not made the playoffs since. Flutie saw action for three more seasons with the Chargers (Drew Brees started in 2002 ).
His complete NFL career records 38 wins and 28 losses. He threw for 86 TDs and 68 INTs. What made Flutie special was his ability to scramble when he had to, will to win and a very rare breed of pure leadership skill that was impeccable. If only Flutie was able to get the franchise label from any team his career would probably have ended in Canton.
89. Chad Pennington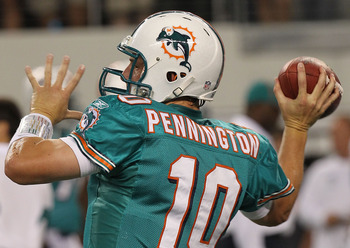 Pennington as a Dolphin
Ronald Martinez/Getty Images
Pennington still leads the NFL all-time in career completion percentage at 66.1 percent. This was a great asset, but his inability to pull consistency into fold has been a black mark against him. He had solid years in '02, '04, '06 and '08 in wins and stats, but clearly obvious in his followup performances in '03, '05, '07 and '09. Injuries accepted, but that is still some significant downplay. In his four playoff outings he recorded two wins. His greatest moment would have to be a 41-0 win against Manning and the Colts in where he completed 76 percent of his passes for three TDs. His lowest point might be his four-interception performance in his last playoff game. Career-wise it was anything but solid, and this guy might be done, but at least he can take solace in offering some winning seasons for teams that needed it.
88. Charlie Conerly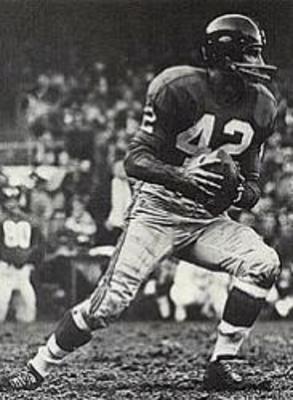 Conerly as a Giant
It was Conerly who played against Unitas in the so-called Greatest Game Ever played, the 1958 Championship. His career had ups and downs, but overall was very respectable. He only made two Pro Bowls, but was a Hall of Fame finalist seven times; the last being 1980. His career starter record counts 58-31-1, he made the playoffs, or rather the NFL Championship (in all but one year with that playoff format ) going 2-4. He lead the Giants to the 1956 NFL Championship. Aside from the '58 Championship the majority of his career can be found on radio plays, which is hard to gauge but there you have it.
87. Ken O'Brien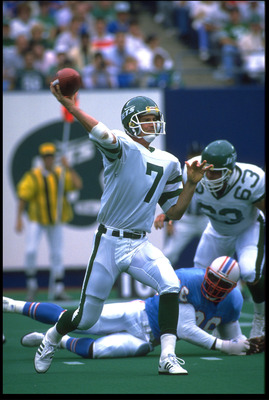 Ken OBrien as a Jet
Rick Stewart/Getty Images

People make a lot about the 1983 draft and what it meant for QBs. Certainly Elway, Kelly and Marino are always going to find their names talked about in top lists for quarterbacks, but for at least a few seasons Ken O'Brien was a formidable fourth contender in that lineup. His '85 and '86 seasons were of the top echelon in the league. He made the Pro Bowl twice in '85 and '91. He lead the league in lowest INT percentage three seasons, unfortunately he also went 0-3 in playoff games.
86. Tony Romo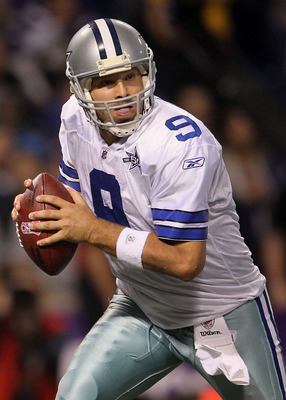 Romo on the Cowboys.
Jeff Gross/Getty Images
Hard to talk about a guy who's only been a starter for four seasons and entering his fifth. But his production in that short time shows has not only already put him on pace for some statistical greatness but shown his pure passing ability. He has made three Pro Bowls, getting his team two division titles and three playoff appearances. Though he choked in the 2006 wild card, he finally got his win this past playoffs. His other two playoff losses came against the powerhouse Vikings in '09 and the Super Bowl champion Giants in '07. Overall, his winning record also gets him points.
Fairly recently he was counted as the sixth greatest undrafted free agent by NFL Network. Whether or not you trust those guys I think it's not too much of a gift to put Romo here, above guys like George and Grogan. Oh and yes, that Monday Night game against Buffalo in '07 is one of the greatest game-winning finishes I have ever witnessed.
85. Jim Harbaugh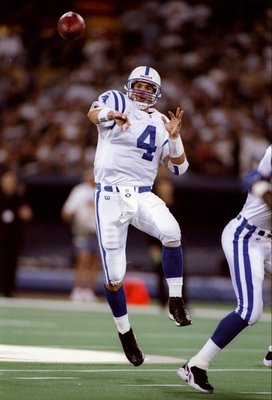 Harbaugh as a Colt
Robert Laberge/Getty Images
As far as quarterback go, Harbaugh wasn't half bad. He certainly wasn't the franchise guy a team could fall back on, but he was a productive game manger. In his three playoff runs, two were cut short with a one and done. In 1995, however, he was able to help the Colts get to the AFC Championship game where Harbaugh attempted a last ditch TD pass which Aaron Bailey nearly caught and could have got to the Super Bowl in that split-second difference. Collectively, Harbaugh finished his career with positive TD ratio, fairly good accuracy among his peers and a Pro Bowl appearance.
84. Cris Chandler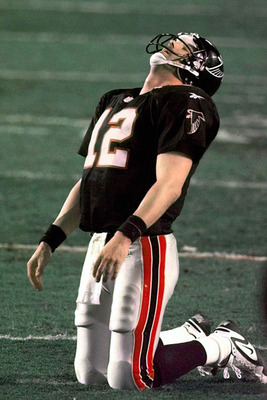 Chandler as a Falcon in the uper Bowl
Chandler's career outside the 1997 and '98 seasons with the Falcons, his Pro Bowl years, is a bit choppy. He was somewhat productive with the Oilers, though unable to get them to the playoffs and sputtered along with the Falcons after '98 to help mentor Vick in '01. He was also able to put up a respectable season with the Phoenix Cardinals in '92. His 1998 miracle run with the Falcons collapsed under the powerhouse '98 Broncos. The question of whether or not the Falcons should have even been there has been thrown about.
Certainly Gary Anderson's miss was what gave the Falcons their chance in the '98 NFC Championship, but Chris Chandler was able to guide his team down field to get the tying TD. Overall, the best way to describe Chandler is hitting, or almost hitting the ceiling and licking the pavement, because he remains the only QB in NFL history record both a perfect 158.3 and an imperfect 0.0 QB Rating in a complete game.
83. Billy Kilmer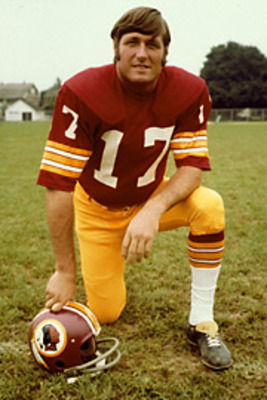 Kilmer on the Skins.
Billy Kilmer does not completely fit the label of a one-year wonder, though outside of 1972 it's hard to give him too many pats on the back, even though he had a very good statistical year in '69. In 1972 he was able to lead the league in TDs and get the Redskins to the Super Bowl where they would lose to the undefeated Miami Dolphins. It was the only year Kilmer was named to the Pro Bowl and more importantly, won a playoff game. He would go one and done in the playoffs four times.
82. Mark Rypien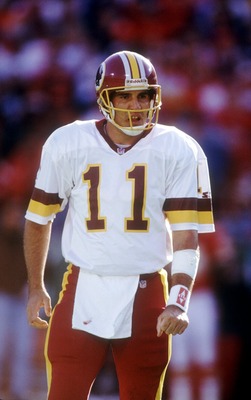 Rypien on the Skins
Earl Richardson/Getty Images
A one-year wonder, Mark Rypien was not. He made two Pro Bowls and was one of three different QBs to win the Super Bowl under Gibbs, but he won the Super Bowl MVP in Super Bowl XXVI and was able to come into his own with his arm strength and leadership for his time on the stage as a starting quarterback. His 1991 season on one of the greatest teams in NFL history will forever have him in NFL historians minds.
81. Stan Humphries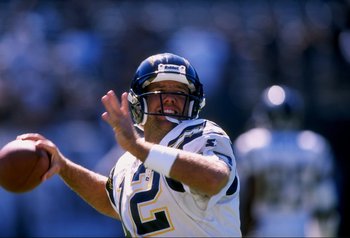 Humphries on the Chargers
Otto Greule Jr/Getty Images
Part of me wants to leave this guy off this list completely, but another part of me is intrigued by some of his career accomplishments. In eight NFL seasons, five with majority activity, he went 50-31 in the regular season and 3-3 in the postseason. He remains the only QB to rally an 0-4 team into the playoffs by going 11-0 for the remainder of that '92 season with the Chargers. Finishing with a positive TD-INT ratio and an overall five productive seasons. He had a fairly weak arm, but some pretty good leadership skills, at least from what I saw. He did, however, accumulate a whopping 14 INTs in his six playoff games.
80. Jim McMahon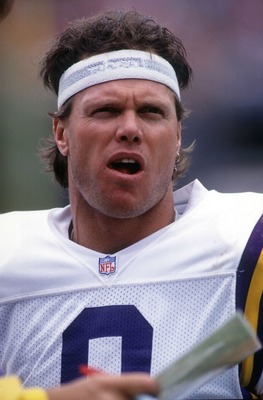 Jim McMahon on the Vikings
Otto Greule Jr/Getty Images
You can't have McMahon too far up on Mark Rypien. The big difference is that although McMahon didn't put up any all-pro seasons, he had a longer starter career and give the guy his due; he won games. His 67-30 regular season record is one of the top-tier winning percentages. Call it luck for playing on those stacked Bears defenses, McMahon showed his own leadership ability with the Eagles in 1991 and Vikings in '93, where he went 8-3 and 8-4 completing more than 60 percent of his passes and threw more TDs than INTs.
Though he may be remembered as one of the worst QBs to win a Super Bowl with the vaunted '85 Bears and as a backup with Favre leading the '96 Packers, McMahon was one of the best game managers and at times showed flashes of brilliance. In his earlier days he was also quite mobile and offered a bit of a third dimension to his team's offense.
79. Neil ODonnell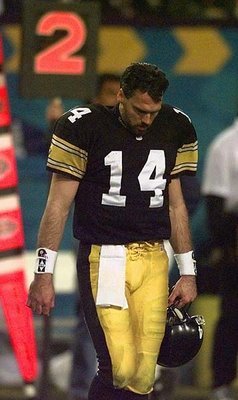 ODonnell on the Steelers in Super Bowl XXX
The guy who once held the record for lowest INT percentage and great TD-INT ratio sure didn't show it in the biggest game of his life. It is just impossible to excuse Neil O'Donnell's performance in Super Bowl XXX that effectively gave the game to the Cowboys. Not surprisingly, he was not re-signed by the Steelers. His time with the Jet in 1997 was the last time he had a good season and the only one outside of Pittsburgh.
Though he was statistically solid for the Bengals in '98 throwing 14 TDs to only five INTs, he went 2-9 and picked up a lot of those TDs playing two scores down. If one is to look at the positives they should be looking at Neil's first five seasons with the Steelers and look away from Super Bowl XXX. He went 3-4 with the Steelers and threw nine TDs with eight INTs and recorded a 74.9 QB rating. He was a pretty sound game manager, limiting his mistakes through most of his games, indeed for two straight playoff seasons (three games combined ) he threw six TDs and no picks.
Physically, O'Donnell was a roughly average QB, though he knew how to take a sack. He finished with a positive winning percentage.
78. Milt Plum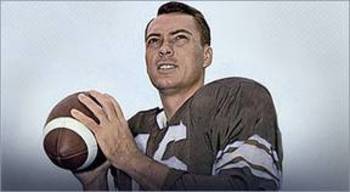 Plum on the Browns
Very hard to find any video of this guy, in large part because he only played in two playoff games. The 1957 championship game is probably your best bet and that was his rookie year. His best record in a season was when he lead the Lions to 11-3 in 1962. Sadly, that year 11-3 was not enough to get a spot in the championship game. In his two playoff games, he was sub-par at best but his statistical accomplishments from 59-61, even on the Jim Brown-led Cleveland Browns are enough to land him in this spot. You see, from 59-61 he lead the league in completion percentage and was second in QB rating twice and lead in 1960.
In that golden year of '60, Plum set the all-time single season record with 110.4 QB Rating; he got it by throwing 21 TDs and only five INTs. That rating stood until Steve Young broke it more than three decades later. Plus, he also had four other respectable seasons statistically but was never quite able to do enough to get a championship.
77. Eli Manning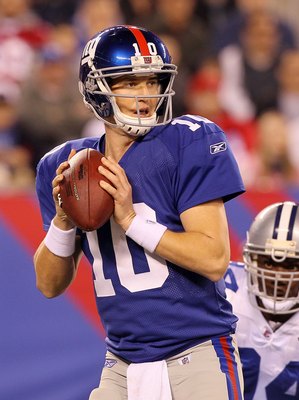 Eli on the Giants
Jim McIsaac/Getty Images
I could say Eli has failed to live up to his hype coming from the name Manning, and that outside of one miracle playoff he has choked in the biggest games (gone one and done three times of four playoff seasons). However, Eli has produced Top 10 numbers for the last five seasons and of course has won a Super Bowl in one of the greatest upsets in sports history with a Super Bowl MVP to boot.
All-in-all he is poised to have a pretty solid career, perhaps even Hall of Fame worthy, yet it's just too soon to give him too much credit after five full seasons of being a starter. Indeed, he as any quarterback has shown the good and the bad, and right now the good greatly outweighs any bad. He's the third active quarterback on this list, and he has a lot of time to move up.
76. Bert Jones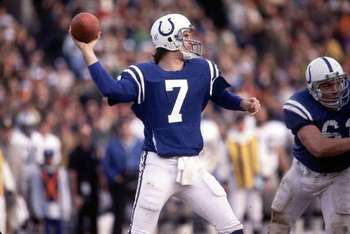 Jones on the Colts
This was one of the easiest old-time QBs to judge, for me. There was a lot of stock footage and highlights of his three great seasons from 75-77 on youtube.com, which made it far easier as I didn't have to download anything from the ESPN Classics. On the whole, Jones was not the successor to Unitas the Colts had hoped, he stood his own and was a top-tier quarterback.
He won the AP MVP in 1976, along with the AP OPY and a few other MVPs from other associations. It was a standout year in which he lead the league in passing and had a then astounding 24 TDs to only nine INTs with a 60.3 percent and was only behind Staubach in that category and in QB rating. The problem with Jones is outside of his three stellar seasons, that were all Pro Bowl worthy (he only made Pro Bowl in '76) his career seems to tail off badly.
Injuries are largely to blame, though he did make a statistical comeback in '80 and '81, he was unable to help win games. In his nine seasons with the Colts (and one late with the Rams ) he managed to get to the playoffs three times. He lost all three games throwing for one TD and two INTs, having only one game where he completed above half his passes and one game where his team didn't get blown out (two blowout losses and a six-point loss ).
If I was to go by pure ability, he'd be up higher, though for his three great seasons he had a solid RB, I'm not going to say Bert Jones had it easy with a good team around him, he did his end right, it's quite sad he wasn't able to have a long career, could have been one of the greats.
75. Archie Manning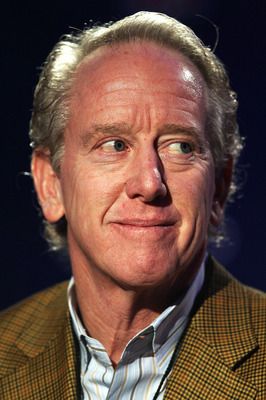 Elsa/Getty Images
Few quarterbacks with such great qualities have found themselves in such putrid conditions. Any other QB would have busted and been driven out within four seasons on those New Orleans Saints, but not Archie Manning. Manning would make not one but two Pro Bowls wasting his talent with the Saints.
He never played a single playoff game and finished his career with a 35-101-3 starter record. He also threw 125 TDs to 173 INTs. Anyone can look at those numbers and cringe, but to just do that would be a great slap in the face to one of the most respectable personalities in the game. Archie was also a fairly mobile QB, though he never racked up those mind-blowing rush numbers as other that played on better teams.
Like Walter Payton and James Lofton, Manning persevered and stuck with his team, unlike Payton and Lofton, he was never able to see the shining light of the playoffs and the Super Bowl, and of course Sweetness was finally able to call himself a champion in '85. You could compare Manning's career with Sayers perhaps best of all, as Sayers also played for absolutely pitiful teams and never made the playoffs either. Archie Manning, we salute you, and of course, all Saints fans give him praise.
74. Michael Vick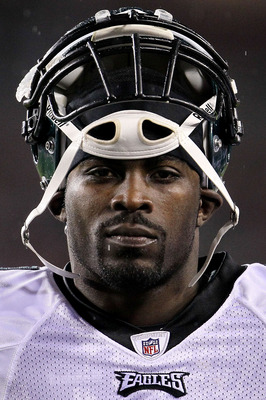 Vick on the Eagles
Chris McGrath/Getty Images
Hard to make an argument for a guy who's only had four full seasons, but I digress. Michael Vick is the most versatile QB in NFL history, in terms of his arm strength and speed his physically monstrous biological frame is without measure. In only 68 starts he is just over 100 yards away from holding the career rushing yards record by a QB. Already a three-time Pro Bowler, Vick could control the game like no other and breakout like few can imagine.
His playoff career reads two wins and two losses, yet to go one and done, and his two playoff wins saw him showcase a brilliant performance. Losing twice to the NFC powerhouse Philadelphia Eagles, it's hard to really blame him not leading the Falcons to the promise land. Despite what some may say about his passing ability, the fact is Vick has a career 78 TDs to 52 INTs, outside of his rookie year never throwing more picks than scores. He became only the second quarterback to lead the Falcons to the NFC Championship and has shown new leadership qualities and maturity since his return to the NFL. His accomplishments are still on the short side, but physically he is one of the greats.
73. Jeff Hostetler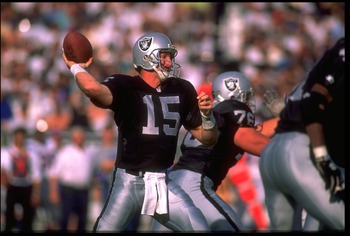 Hoss on the Raiders
Mike Powell/Getty Images
Hostetler's career has a Warner-like feel to it. He threw his first pass in the NFL at age 27 and through his short career, Hostetler showed signs of greatness. In his 10 seasons as a starter, he never had a losing record, in fact going 4-0 his first three seasons with starter action from 1988-90. He actually won his first eight official starts, carrying his 2-0 regular season record in 1990 all the way to a Super Bowl Championship. In his five playoff games he went 4-1 throwing for seven TDs and no INTs, the only QB with three-plus starts to never throw an Interception in the playoffs.
He also holds a career playoff 62.6 percent and 112.0 QB rating. Though of course, it's easy to look at the great averages of a QB who's played so few games. In his five relative full seasons, he went 40-27, earning a Pro Bowl appearance in 1994 with the Raiders. He could also move out of the pocket when he had to as an added bonus. One can only imagine how he would have fared with a long career, perhaps he would have lost his job or become one of the all-time greats.
72. Joe Ferguson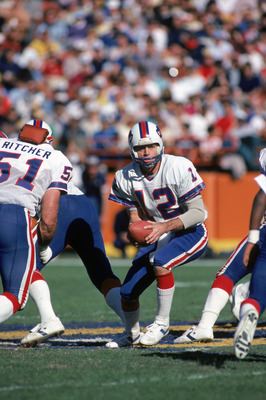 Ferguson on the Bills.
George Rose/Getty Images
Due to the teams he played for and his limited playoff success, Ferguson is one of many forgotten but very commendable quarterbacks in NFL history. Ferguson, statistically, had some good years in leading the league in TDs once and in yards, separate seasons, overall five good seasons of productive play. The majority of his career was spent on the Bills and he remains that franchise's second-greatest quarterback. Racking up 79 wins in his career with 92 losses, he's one of the more long lived QBs on this list with 171 starts. He would go 1-3 in playoff games.
Though not the strongest arm, he was able to carry his own on teams that largely relied on the run. With O.J. Simpson, Ferguson was able to move the chains when he needed to through the air. It's difficult to peg how good Ferguson was considering the rushing threat Simpson put up, but his two winning seasons of 1980 and '81 had him with Joe Cribbs as the running back, who although a three-time Pro Bowler wasn't what Simpson was. It's interesting to note the only Pro Bowlers on the '80 and '81 teams were RB Joe Cribbs and WR Jerry Butler (in 1980). Ferguson has to be given some credit for those years. Though obviously head coach, Chuck Knox, is also to be given a lot of credit for those years as well.
71. Trent Green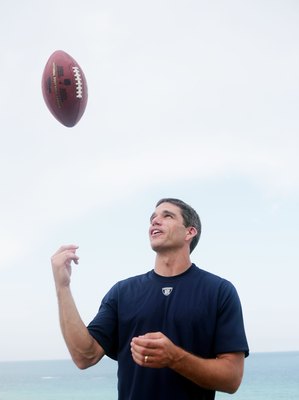 Green having some fun.
Nick Laham/Getty Images
I just had to fit in that smile, one of the most likable personalities in the NFL in my lifetime. Green was also, at least for a time, a lethal force at the quarterback position. He was only the third QB ever to have three consecutive 4,000 yard seasons, when he did so with the Chiefs during a stretch that saw him make two Pro Bowls and get the Chiefs a division title and another playoff berth. Not the strongest arm, Green put up several strong passing seasons, something he probably learned with the Rams joining them in 1999.
In 2000 he filled in for Kurt Warner for five starts and a few other partial games helping the team set the all time passing yards record with over 5,000 yards combined. His 0-2 playoff record is the big smudge on his resume but he had the tools to be a franchise QB and may have well won Championships on better built teams.
70. Kerry Collins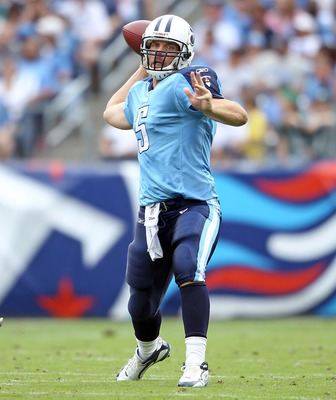 Collins as a Titan.
Andy Lyons/Getty Images
Collins is a two-time Pro Bowler and although his second Pro Bowl was largely a technicality on account of a couple QBs passing up their spots, he deserved the spot of Grbac in 2000. Collins' career is not about stats, though he does sit 12th in all-time yards, and he stands as one of only a handful of quarterbacks to lead two different teams to a Conference Championship and three different teams to a division title.
His role as a game manager has not always been as so, he has been called upon to use his arm more than a few times and has more or less delivered. After seven playoff games his 12 TDs to 11 INTs is above average. The biggest knock on Collins would be his fumbles going over 10 on six occasions he holds a career mark of 132 fumbles, fifth all-time. I can say about Collins that he showed promise of being a franchise quarterback in the right system, ultimately never having a great cast of receiving options, or really all that good unless you count Amani Toomer.
He played on teams with a solid defense (second best in 1996 with Carolina) or a very strong rushing attack. Just with all his career accumulations and having the success he's had in terms of winning on three different teams I thought he deserved a place, at this point I doubt his career pushes any further so he'll stay at this spot.
69. Daunte Culpepper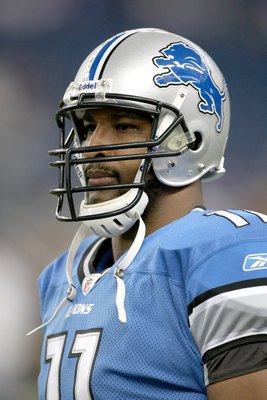 Culpepper as a Lion
Stephen Dunn/Getty Images
Culpepper's career is the poor man's Kurt Warner. He put up all-pro seasons but was unable to have significant playoff success and a career resurgence or a prolonged campaign. For five seasons between 2000-04, Culpepper was not only a perennial passing threat leading the league in yards and TDs in separate seasons, but was also the second-greatest scrambler in Vikings history after Fran Tarkenton, allotting over 2,600 rushing yards and 34 TDs for his career (most with the Vikings). He could have won the MVP in 2004, were it not for Manning's 49 TD campaign.
Although he never got the Vikings to the promise land in his two playoff appearances, he won his first playoff games in three and four TD performances (with no picks) while subsequently following those wins with a valiant loss against the Eagles in 2004 and one of the worst playoff games ever in a 41-0 drubbing by the Giants in the 2000 NFC Championship.
Some noted proponents of Culpepper's success have been Randy Moss and Cris Carter for wideouts (Carter in his early success of 2000 and 2001). However, Culpepper's performance in absence of Moss, particularly in '04, his most illustrious passing season, with the likes of Nate Burleson seem to counteract those arguments. The true weaknesses of Culpepper's game were his fumbling problems, leading the league in 2002 and 2003.
Furthermore, his time in Miami, Oakland and Detroit was hampered due to the fact of being unable to carry rather inferior teams and bottom tier offensive weapons.
68. Dan Pastorini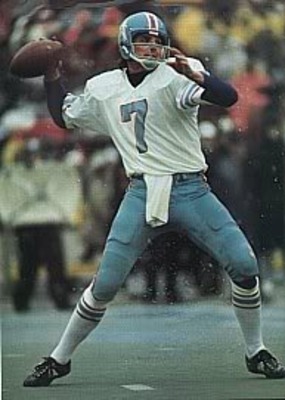 Pastorini as an Oiler.
Yes the interception machine finds himself inside the Top 70 in large part due to his limited, though noted, playoff success. Putting up a 3-2 playoff record, Pastorini made the Conference Championship in his two playoff outings, losing both times to the powerhouse Steelers in 1978 and 1979.
Though putting up a stinker with five interceptions in the 78 NFC title game, Pastorini came back the following year and put up a valiant performance completing nearly 68 percent of his passes throwing over 200 yards in the controversial game where a Mike Renfro TD catch was denied due in complete part to not instant replay available at the time (it was a definite TD from two seperate angles).
The Oilers were unable to tie the game at 17 going into the fourth quarter and the Steelers took advantage adding to their lead. Had the call gone different, Pastorini could have been a champion. One of the more admirable qualities of Pastorini was his ability to play through pain and sheer toughness, it was because of Pastorini the flak jacket was introduced to the NFL when he decided to play in spite of broken ribs.
Up until 1977, Pastorini had a suspect offensive line and the talent of his early teams was at the bottom end going with only one win in back to back seasons of 1972 and 1973. Indeed, later in Pastorini's successful years he still did not have the offensive weapons needed to put up big numbers, which he had the mechanics to do so. The late 70s Oilers teams saw offensive success through Earl Campbell and Pastorini benefited from Campbell as much as the rest of the team, but this is not to say Pastorini was a lesser QB because of a powerful rushing threat.
In retrospect, had Pastorini had a better receiving corp, even one star-studded receiver, the Oilers could have won some Super Bowls. Pastorini did make a Pro Bowl in 1975 and did get his Super Bowl ring in 1980 as a backup on the Oakland Raiders.
67. Jack Kemp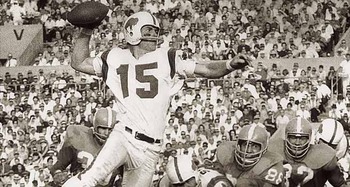 Jack Kemp as a Bill
Kemp was a two-time first team all-pro and the only quarterback to bring a championship to Buffalo, doing it twice in 1964 and 1965 in the AFL. Kemp's numbers may give the average fan confusion, as he did pile up 183 INTs in 105 starts to 114 TDs, but the guy was a winner.
His regular season record stands at 65-37-3 and his playoff record at 2-4. He would lose his first two AFL Championships with the Chargers in poor fashion and lose a Divisional in his first playoff game as a Bill. However back-to-back championships in convincing fashion had the Bills on top in the AFL, 1965 being the last time any Buffalo based sports franchise won (in the major leagues).
Kemp was also named to seven Pro Bowls in addition to his four All-Pros. Critics of Kemp argue he was only a game manager, and a turnover prone one at that, who road the back of his great teams to victories. I would argue this that despite his many interceptions and three times leading the league in fumbles, he won an AFL MVP and rushed for a career 40 TDs. Perhaps he wouldn't have won championships on lesser teams, but Kemp was no slouch.
66. Vinny Testaverde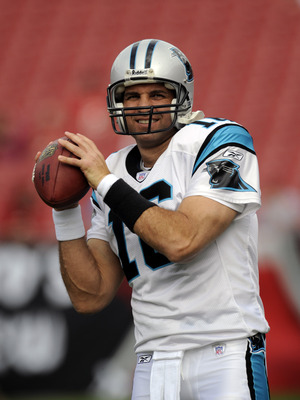 Testaverde as a Panther
Al Messerschmidt/Getty Images
For those who have been playing Madden since at least the 2003 version, you'll know that whenever Testaverde retires in the game, which is usually after the first season, he is immediately inducted into the Pro Football Hall of Fame. In reality that may be unrealistic, but Testaverde did have an extraordinarily long career that saw several noteworthy seasons, despite his post-season lacking.
Testaverde was drafted by the horrendous Tampa Bay Bucs, though they were past their worst days. Testaverde produced six largely poor seasons including twice leading the league in interceptions (35 in one year). He rebounded with limited success with the Browns under coach Belichick winning his first playoff game and losing with inferior play the following week. He then spent a two year period with the Ravens, which saw him put up a career year in 96 with 33 TDs and over 4,100 yards, but go 4-12 (with four-three point losses).
In 1998, Testaverde joined the Jets where he would spend the next six seasons and have, in terms of winning, his greatest success, having in total three winning seasons and two playoff appearances. Making the Pro Bowl for the second time in '98, Testaverde led the division champion Jets to the 1998 AFC Championship game where they lead for much of the game before the Broncos got a lucky bounce in a kickoff and ended up winning by a gap. The following season when the Jets were expected to contend again with some improvements, Testaverde fell to injury in his first game. He would lose his fifth and final playoff game as a Jet in a 24-38 loss which saw him throw three TDs with no picks and almost 270 yards.
In 2007, signing with the QB desperate Panthers, Testaverde would become the oldest QB to win a game as a starter, he would end up 2-4 that year. Testaverde retired sixth in career yards and eighth in TDs, but his most notable career accomplishments is 21 consecutive seasons with a TD pass and throwing a TD pass to 71 different players.
65. Brad Johnson
Johnson as a Cowboy
Ronald Martinez/Getty Images
I know what you're thinking, but the man did not always have a broken throwing arm. He was never able to make a cannon throw, but the guy was actually quite efficient. In terms of winning he once had a streak of seven-consecutive seasons with a winning starter record (eight in all). His TD to INT ratio, at least until his 2006 season, was one of the best with a mere 2.8 INT percentage on his career.
He was also the more accurate QBs completing 60.8 percent, or better for 13 straight seasons and yes, his game managing duties that lead to playoff wins is also why he's on the list. On top of his 2002 Super Bowl run with the Bucs he registered a playoff win with Washington in 1999. Though his playoff statistics are not the best, they are roughly skewed due to the fact he had a four INT game in one of his bad losses (31-9 to Philadelphia).
That said, he still finished with a 4-3 playoff record. Though some can just throw Dilfer at me and say he was 5-1 in the playoffs and a successful game manager, in none of his six playoff games did he completed more than 13 passes, while Johnson completed more than that in all seven of his playoff games.
Johnson also registered a 72-53 regular season record. Call him lucky all you want he saw success on three different teams getting all of them as a starter to the playoffs, He was named to two Pro Bowls and in 2002 and 2005 putting up one of the most proficient statistics in history; 2002 throwing 22 TDs to six INTs and going 10-3 and 05 throwing 12 TDs to four INTs going 7-2 (replacing Culpepper for the Vikings).
64. Tobin Rote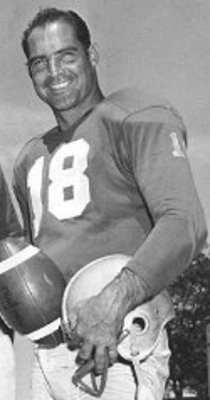 Rote as a Packer
What there is to see is impressive and the numbers even more so. The sad truth is the teams Rote played for were often pitiful and he was one of the pioneer do-it-all QBs. To start on the stats, Rote was both a tremendous passer and scrambler. He lead the Packers, his first team, in rushing for three seasons. On the Packers he also lead the league in passing TDs twice and once in passing yards. His career numbers for his time were quite good despite completing only 45.7 percent of his career passes. He finished with a then record 37 rushing TDs for a QB, no QB would hit 30 until 10 years after Rote retired, and he still holds second place for most rush TDs by a quarterback.
Now onto the wins. Rote saw success on two different teams, he lead the Lions to the NFL Championship in 1957 taking over for Bobby Layne and had one of the more impressive championship game performances, beating the Otto Graham-lead Browns 59-14 in a game he threw for 280 yards with four TDs and no picks.
He also won the 1963 AFL Championship with the Chargers, if counting the AFL with the NFL, he's only one of two quarterbacks to lead two different teams to a championship. He was named a first team all-pro in 1963 with the Chargers and named AFL MVP. Overall, it seems Rote is one of the greats, but what's hard to judge is that his greatest statistical seasons came with the Packers where he never had a winning season. He was able to win the 1957 Championship on a very good team by sheer circumstance when Layne broke his leg in the regular season. Then in his one year where he was the starter from game one and lead his team to the championship, it was in the AFL. Perhaps I am being unfair but with all that in mind I place him here and perhaps I'm shortchanging him.
63. Jeff Garcia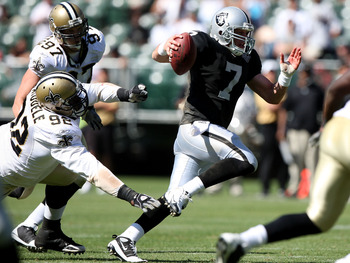 Garcia as a Raider
Jed Jacobsohn/Getty Images
Well here it comes, perhaps one of the more controversial rankings on the list Jeff Garcia is in my opinion one of the physically greatest QBs ever. He had scrambling ability, rifle arm, leadership and toughness. Like with Flutie, I do not count his CFL stats as this is an NFL QBs list, but his time in the CFL under Flutie (widely regarded greatest CFL QB) sets a precedent on his leadership skills.
Taking over for a retired Steve Young, Garcia put up hard numbers from 2000-02 earning a Pro Bowl each year (his 32 TDs in 2001 tied him second with Favre and behind Warner who had 36). He won his first playoff game pulling off one of the greatest comebacks in NFL history against the Giants in the 2002 NFC Wild Card.
In 2006 he proceeded to take over for an injured McNabb and salvage the Philadelphia Eagles season going 5-1 down the stretch winning them an improbable division title and getting them a playoff win and narrowly losing to the Saints 27-24 in the NFC Divisional round.
He would land a starting job with the Tampa Bay Bucs and win them a division title in a fourth Pro Bowl year, making him one of few quarterbacks to lead three different teams to a division title. Statistically for his career the most impressive note is his astounding almost 2:1 TD to INT ratio, better than most and equal to the likes of Peyton Manning (in 2009 when Garcia had left).
In the end, it's subjective but, Garcia also showcased tough grit, in one game continuing play after splitting his nose. His inability to put the Bucs over the hump in their last three games of the 2008 season where one more win would have given them a playoff spot is sadly the last of what we saw from Garcia. Not to forget, he entered the NFL at age 29 and was given the full starter duties the next year at 30, in his younger days he could have rivaled the greats in career accomplishments.
62. Steve Bartkowski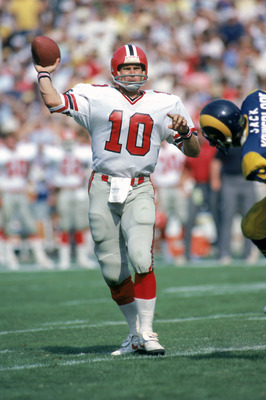 Bartkowski on the Falcons.
George Rose/Getty Images
Perhaps controversially, I put Bartkowski as the greatest Falcons QB ever, in terms of career spent and numbers put up Bartkowski is still the franchise leader in every meaningful passing mark. He put up two monster seasons where he made Pro Bowl, in 1980 and 81. To give you an idea, he passed for 30+ TDs in both seasons, still the only Falcons QB to do so, and lead with 31 in 1980 ( he was 2nd the next year to Fouts 32-30 ). What gives him even more prestige is in what environment he did it in. The Gritz Blitz ( though at this point past this state of dominance ) served to finish out games, Bartkowski put up the points they so dearly needed early on when with the best defense in the league could not get a winning record. Though in the 80s Bartkowski had the services of a very underrated back by the name of Williams Andrews he effectively had a weak supporting cast in receiving. No WR in 1980 caught more than 58 passes, and although Alfred Jenkins put up over 1,000 yards and was named first team all-pro in 1981, watching the tape I would have to say Bartkowski made him more than Jenkins being an all-pro WR ( though he was no slouch ). Bartkowski's only downfall came with a 1-3 playoff record. He had two poor playoff outings where he completed less than 40% of his throws, but his other playoff loss coming in 1980 is the most heartbreaking. In his best playoff performance where hew threw for over 300 yards with 2 TDs and an INT, the 12-4 Falcons saw the Cowboys ( who had been the 3rd seed ar 12-4 and beat the Rams in Wild Card ) come back from a 24-10 deficit in the 4th quarter to win 30-27. In one of the greatest games in NFL history ( nfl films said it first ) the Duel in Dixie put the arrow through the heart for the 1980 Falcons who had one of those magical seasons and could have won it all. Bartkowski did land a playoff in his first ever playoff game, a 14-13 win over the Eagles in the 1978 season. A few things to add, he was one of the more accurate passers of his day, having four straight seasons of 62+ completion percentage including a league lead late in his career in 84.
61. Craig Morton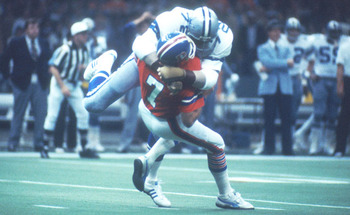 Morton getting sacked in the Super Bowl as a Bronco
Nowadays I hear many fans screaming how a certain QB is lucky because of such and such and how they are lucky to be in the system they're in or because their defense carries them to victories. These people, most of which I'm sure carelessly throw out these accusations should seriously give a little study time to the great Craig Morton, perhaps one of the luckiest players in NFL history. Craig played the majority of 10 playoff games and put up some of the worst performances in history, yet managed to come out with wins. To be chronologically correct I'll start with his days in Dallas. He lost his first playoff game in 1968 by a score of 31-20 where he completed 9 of 23 passes for 163 TDs and a TD and INT a piece, this was to be one of his best playoff performances. He would lose his next playoff game 14-38 completing 8 of 24 passes for 92 yards and 2 picks, his rating was 11.1, he would follow this up with his first successful playoff run in 1970 which saw the Cowboys make the Super Bowl for the first time. It is by almost a miracle and a showcase of how truly talented that Cowboys squad was that they carried Craig Morton in that playoff run. In the Divisional game Morton completed 4 of 18 passes for 38 yards and an interception, he "won" that game by the score of 5-0, it remains one of the worst performances by a Quarterback in a playoff victory. He would follow that stinker up with a slightly better 7 for 22 with a TD against the constantly choking in the Championship game 49ers. Poor old Landry must have though Craig going 2-0 meant he did good, sadly his crapulence would not be overcome by his team in Super Bowl V, still counted as one of the worst Super Bowls ever due to the amount of turnovers and sheer impotence of both teams. Morton completed 12 of his 26 passes for 127 yards and threw one measly TD to 3 interceptions that didn't bury his team due to the Colts not being much better with the tandem of Morrall and Unitas. Landry, with Staubach in waiting, kept Craig in and watched his team lose on a last second field goal by the Colts 16-13.

Just to let you know why Morton was given his opportunities, he was actually statistically sound in the regular season, in fact throwing 21 TDs to 15 INTs and going 10-2-1 in 1969, he outplayed Staubach, but come playoff time in the modern era he would have been crucified. He stuck around in Dallas up until 1974, in 1972 the Cowboys were saved a sure loss after Morton started with less than 50% completion, again and 2 picks and Roger The Dodger became a legend as he brought the Cowboys back down 15 in the 4th quarter to win the game and go on to win the Super Bowl against the Dolphins. That's right, Craig Morton has a Super Bowl ring, I'm sure he's showed it to Marino at least once. Morton's career did not end there though, the Giants gave him 2 more seasons as a starter in 75 and 76, both saw him not do so good in the regular season and even sniff having to choke in the playoffs. In 1977 the Broncos, on the verge of a miracle season, picked up Morton and saw him have a comeback year. In the 77 playoffs Morton shed his playoff choker image and produced back to back 100 Rated performances, though the 77 AFC Championship saw controversy with the Broncos getting a TD to go up 14-3 despite fumbling the ball the previous play. The 77 run was certainly magical, though Morton's days of choking like a dying dog in the post-season came back in one of the most laughable ways possible, by posting the first and only 0.0 QB Rating in the post-season. In, THE SUPER BOWL, Morton completed 4 of 15 passes for 4 Interceptions. Norris Weese was brought in and although he didn't fair that much better the Broncos were able to score 10 points behind him. Raiders fan must take some solace in the fact Gannon's performance in Super Bowl XXXVII was magnificent in comparison to Morton's Super Bowl XII. Alas the Broncos stuck with Morton and he managed to throw in two more playoff losses ( though one he barely played in ). He put up his best statistical season in 1981, where he managed to screw it up again, by, with his team 10-5 and on the verge of a playoff spot, threw a stinker against the 5-10 Bears in the last game of the season. In that game Morton completed 8 of 23 passes for 1 TD and 3 INTs and dropped the Broncos into a 3-21 hole. That came is notable for showcasing Steve DeBerg's will of a great Quarterback as he almost brought the Broncos back to salvage the season.

So why do I have Craig Morton placed comfortable at #60? The sad fact is that he was the first and until 2008 only Quarterback to get two different teams to the Super Bowl, and although his playoff career as a whole is nothing short of pitiful statistically, he got to two Super Bowls and in 1977 did indeed help the Broncos instead of riding the defense like he did in Dallas, and although he performed, well downright vomit inducing in the Super Bowl, that was the first Super Bowl berth for a franchise few though would reach that high. Furthermore Craig had some good statistical regular seasons, and his regular season record as a starter is 81-62. For the fact he played for so long and got two different teams to the Super Bowl he gets bonus points. Personally I would put him somewhere behind Jeff George because George did better in his limited playoff appearances. But such is life, and Craig Morton received the AP Comeback Player of the Year award in 1977 and currently finds his name on the Broncos ring of fame. Although I think his greatest achievement is setting the bar relatively low for John Elway to surpass what the number 7 would mean for the Broncos organization.
60. Philip Rivers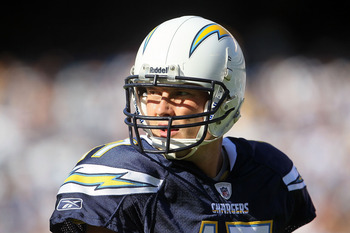 Rivers as a Charger
Jeff Gross/Getty Images
After 4 seasons for a player to get this high on the list he must have shown some notable brilliance, I think Rivers has. His first 4 years in the league statistically is only comparable to the legends of the game. His regular season win percentage and TD:INT ratio is beyond tremendous and he has shown poise and leadership in the playoffs appearing all 4 seasons as a starter. Two of his playoff runs, the ones where he entered with a Top 2 seeded team ended in one and dones, both could have well seen him victorious. In his first playoff game his Chargers team was the #1 seed in the NFL and would have won their opening Divisional Round game were it not for a defensive player after intercepting the opposing Quarterback to seal the win proceeded to fumble the ball. More recently in last year's playoffs lead the Chargers to a 13-3 record and 2nd seed in the AFC, losing in the Divisional Round. Despite completing nearly 68% of his throws and getting nearly 300 yards his team lost 17-14 due in large part to his kicker pulling one of the worst chokejobs by a kicker in the post-season I have personally ever seen ( yes worse than Gary Anderson ).

In his two successful playoff runs Rivers brought him team from rough early season starts and late division titles where he would beat the Colts and Manning twice, including in an upset with his team at 8-8 winning the division by going 4-0 down the stretch, against the 12-4 Colts in 2008. Rivers has shown some great late game heroics and the will to win, as well as being one of the most productive and efficient Quarterbacks in the game. Throwing for over 4,000 yards and leading the league with 34 TDs ( and only 11 INTs ) and a league high QB Rating Rivers was snubbed for the 2008 Pro Bowl, considering that year a Pro Bowl season Rivers has been a top level Quarterback at least 3 of his first 4 seasons as a starter, the sky is the limit for the guy. He also has a career eleven 4th quarterback comeback victories. Just to add another piece of notable information, he opted to play in the 2007 AFC Championship despite suffering an ACL injury and came back for training camp before the 2008 season.
59. Ron Jaworski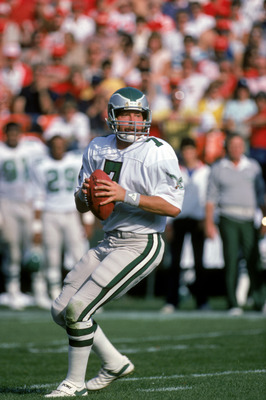 Jaworski as an Eagle
George Rose/Getty Images
Known better as his nickname "Jaws ", Ron Jaworski was the first and to date only one of two Quarterbacks to lead the Philadelphia Eagles to the Super Bowl. He would lose that Super Bowl in an ugly way but had several productive seasons and stands as one of few Quarterbacks to lead two different teams to a Conference Championship game as he did so with the Rams in his 3rd year in the league. He had one Pro Bowl year, in 1980, when he also won the Bert Bell Award. He racked up 73 wins in his 143 starts. His greatest years with the Eagles came under - Vermeil, where he had a league top defense ( in 1980 and 81 lowest points allowed ) and was able to guide one of the best offenses, despite limited weapons ( unless you count Harold Carmichael ). Hard to peg ho good Jaworski was, in his best years he had a tremendously good defense but a lacking run game and limited receiver options. In retrospect you could say he helped his team win by providing the offense on a mediocre at best offensive team, with him elevating their play. On the other you can look at his 1980 Super Bowl run and say he wasn't good at all and the defense did all the work by causing turnovers giving Jaworski a short field to get the scores. He was a fan favorite and that's part of the reason I put him so high, the other is the stats are above average with a Bert Bell. He's still outside the top 50 but he's good enough to be in the top 60. Still a hard case to judge.
58. Danny White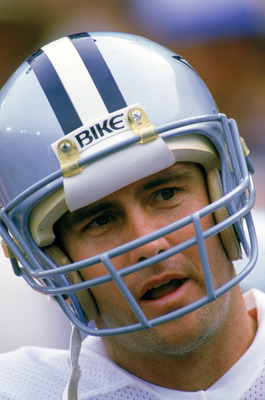 White as a Cowboy
Mike Powell/Getty Images
Yes, the guy who wasn't quite able to supplant Roger Staubach as the Cowboys great Quarterback. Danny White actually helped the Cowboys in the 78 playoffs to make the Super Bowl when he took over a Divisional game against the Falcons in place of struggling Staubach. In 1980 he was handed over the reigns to the franchise and overall collectively didn't do quite so bad. He was able to make three Conference Championships where he played somewhat poorly in two of them but in his best shot was overshadowed by Montana and The Catch. In the 81 NFC Championship game the Cowboys were leading 27-20 late in the 4th quarter, White actually made a good throw to Jeff Donally but he was unable to catch it for the first down which would have drained more time off the clock and could have generated a field goal for the Cowboy which probably would have won them the game. White's overall playoff career wasn't half bad, consider he went 5-5 and his statistics were average at worst and two of the teams he lost to the 81 49ers and 82 Skins ended up winning the Super Bowl.

He had a 62-30 regular season starting record and several productive seasons, though he only made one Pro Bowl it is quite arguable he should have made more, like in 83. I'd like to give him props for his punting ability as he was one of the last Quarterbacks to be an effective punter, a position he first became prominent with when he was behind Staubach on the depth chart in the 70s. He managed to win two Championships in the Arena League though of course that has no bearing on this list. I'd like to think White may have accomplished more if the Dallas fans didn't dog him so badly for not getting them Super Bowl titles, it's comparable to what happened to the QBs that were set to replace Elway and Aikman, in the end I think White did pretty well, he did have solid teams around him but he was also a fairly good Quarterback to lead those teams. Some of his highlights include the Duel in Dixie and 1982 NFC Wildcard against Tampa Bay.
57. Matt Hasselbeck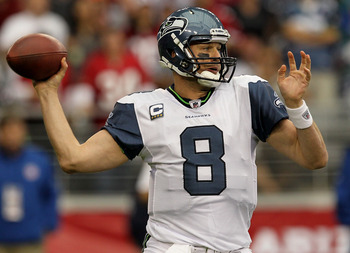 Hasselbeck as a Seahawk
Stephen Dunn/Getty Images
Alright I know what's coming, I know I'll get a lot of guff on this but hear me out. Haselbeck
Is a 3 time Pro Bowler who for six consecutive seasons did not have a losing season and was consistently a statistically top tier Quarterback. Were it not for Brett Favre, who always seems to do best when matched up against one of his former backups, Hasselbeck may have a more flashy career. In the playoffs he is one of the more consistent QBs of his generation, and this may shock some. His first two playoff games he threw over 300 yards with 1 INT in his first playoff game and 2 TDs to 1 INT in his second. These losses came to the Favre lead Packers in OT with the famous " we want the ball and we're gonna score " and the last minute loss to the Rams in the 2004 NFC Wild Card. After the 2005 season Hasselbeck got the top seeded Seahawks to their first ever Super Bowl, a Super Bowl still considered to be one of the worse officiated games in NFL history ( let alone playoffs ). Super Bowl XL was marred by horrid calls, mainly against the Seahawks, where Hasselbeck outplayed his counterpart in a 21-10 loss.

The following season Hasselbeck would get the Seahawks a win in the wildcard before losing in the Divisional Round, again in OT to the eventual NFC Champion Bears. In 2007 once against Hasselbeck went 1-1 in the post-season losing to Favre's Packers in the Divisional Round. His career playoff resume reads 58.2% with 11 TDs, 8 INTs and 79.9 QB Rating, with 120 rushing yards and a 4-5 record. Perhaps it's because I've personally seen a hell of a lot of video on the guy, but he is vastly underrated. Yes he had Shaun Alexander in his prime but never did he have a great receiver to go to, unless you say Jerry Rice in 2004 at the very tail end of his career. In his three Pro Bowl seasons Hasselbeck had a 1,000 yard receiver in Darrell Jackson in 2003 and Bobby Engram in 2007, hardly top level receivers, yet he made it work. I would also peg that had he a better defense and just one elite receiving target he's have at least one ring, he never pulled a chokejob in a playoff game and lost two in OT ( even though one was by a pick six ).
56. Jim Everett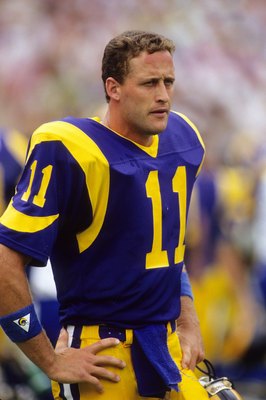 Everett as a Ram
George Rose/Getty Images
Yes, Chris Everett makes the list for some tremendous passing seasons that are by all account forgotten. Jim Everett actually lead the league in passing TDs in 88 and 89, having 10 and 11 win seasons and hitting 4,300 yards in one and 3,964 yards in another. He did not make the Pro Bowl in either season due to lack of coverage and with Montana and Cunningham putting up big numbers and fluke years with guys like Don Majkowski. I would also like to take the time to mention now that Jim Everett didn't pull these great statistical seasons with the Greatest Show On Turf or a with a genius coach, though John Robinson is also underrated. Jim Everett and the Rams would have probably won at least one title in the 80s were it not for playing in the same division as the powerhouse 49ers and the NFC having some monster seasons with the 85 Bears also ( the Rams lost to them in the 85 NFC Championship ).

Everett's greatest accomplishment wins wise was leading the Rams to the 89 NFC Championship, where he proceeded to get pounded by the eventual Super Bowl Champion 49ers. Let's be realistic and understand that no team would have been able to beat those 49ers as they literally killed the opposing teams in the playoffs ( 89 49ers still hold biggest blowout record with the 55-10 pounding of Broncos in Super Bowl XXIV ). Everett was famously shell shocked in that NFC Championship game and never again had a winning season, though he put up statistically good ones four seasons after. Moving to the Saints 1994, Everett put up franchise record numbers for the Saints in 1995 in passing TDs and yards. Both years saw him go 7-9, though there is some commendable effort in those seasons as the 94 campaign saw some close losses ( including a one point loss ) and the 95 Saints started off 0-5. Everett finished his career with over 200 passing touchdowns, one of 19 Quarterbacks at the time and retired 11th in career passing yards. Everett had Henry Ellard but also had a pretty good arm.
55. Frank Ryan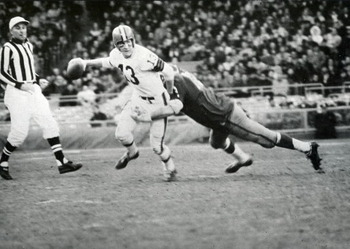 Ryan as a Brown
In the time of the great Jim Brown, Fran Ryan was the Quarterback of the Cleveland Browns. He holds the distinction of being the last Quarterback to lead the Browns to an NFL Championship, which he did in 1964. Compiling a starter record of 57-27-3 ( not counting Championship games ) he remains with one of the highest winning percentages for a QB. A 3 time Pro Bowler from 63-66 Ryan lead the league in passing TDs in 64 and 66 and had another monster year in 63, where he didn't make the Pro Bowl, by attaining a 9.8 TD percentage at the time 6th best in a season ( tied with Tittle same year ). He finished his career with 149 TDs to 111 INTs, a very good ratio at the time. His weakness was losing 3 of 4 playoffs games. However three of those games were made without Jim Brown on the team, who retired in 64 when Ryan won his first. The 64 and 65 seasons had the Browns play in the Championship game, subsequently the Super Bowl era began where playoffs were introduced. In the loss to Green Bay after the 65 season, the Browns were losing only 13-12 at the half but allowed 10 unanswered points in the 2nd half. The following seasons the Browns would lose in the Divisional Round to the Dallas Cowboys and the Baltimore Colts in the 68 NFL Championship, where Ryan returned from injury after Bill Nelsen lead the Browns past the Cowboys in the Divisional. I'm not so sure the Browns organization would have done so well post-Jim Brown with Frank Ryan at the helm, despite Bill Nelsen's success in the 68 Divisional Round in place of Ryan. Ryan's statistics may be helped due to playing on a very good team, but you could argue had he played on a better team like the Packers he would have done a better job, in those days the difference between the top team and the 3rd team was at times pretty grand.
54. Jim Hart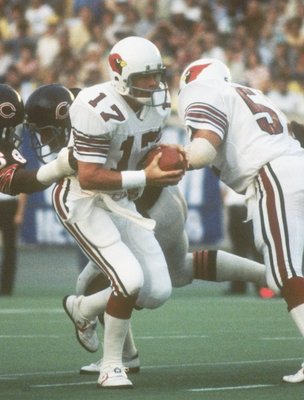 Hart as a Cardinal
Jonathan Daniel/Getty Images
The first Cardinals QB on the list, well, after Jake Plummer, is Jim Hart who spent near his entire career with the Cardinals ( he never started a game in Washington and participated in only 2 his last year ). Under Don Coryell, Hart put up tremendous Pro Bowl campaigns, making 4 in a row. After the 77 season when Coryell moved on to San Diego, the Cardinals and Jim Hart didn't do as well. On paper it seems Hart was a complete product of Coryell's offense, but I'm not going to bounce him that low because of it. Under Charley Winner, Hart showed some physical brilliance with limited weapons. He had a strong arm that was only fully utilized when Coryell came in and Hart was 30. Some accolades on Harts' part was being named NFC Players of the Year in 74 by the UPI and getting the Cardinals back to back division titles ( something that wouldn't happen again for over 30 years ).

He lost his two playoff games, one to the NFC Champion Vikings of 73, despite modest performances. To reiterate the lack of offensive talent Hart had to work with, Hall of Fame TE Jackie Smith was his primary target before Coryell, when the Coryell offense came in Smith as already in the twilight of his career. Mel Gray was the top receiver for the team in Coryell's tenure, not a bad WR but not an elite one either. Primarily a return specialist, Tery Metcalf acted as the 2nd receiver. In 1975 when the Cardinals won the division, only Mel Gray went over 400 yards receiving. In 76, Hart's 3rd best passing yardage season almost 3,000 yards, no receiver went over 800. When Hart put up the most yards of his career in 78, the year after Coryell left, Pat Tilley lead the team with 900 receiving yards. Hart's saving grace was a pretty solid line which included Hall of Famer Dan Dierdorf. Still his teams were never good enough to truly contend for the Championship and as what would become common place for Coryell's teams, the 76 and 77 Cardinal squads had barely any defense.
53. Mark Brunell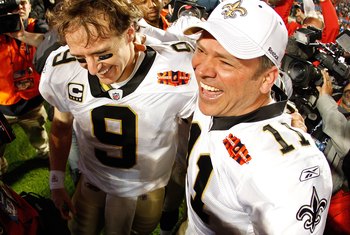 Brunell right, Brees left after Super Bowl XLIV
Chris Graythen/Getty Images
The warrior as I'll call him, was the best Quarterback to emerge from being Favre's backup ( though Aaron Rodgers has made a great intro ). Taking over the expansion Jaguars in 95 he would lead them to the 96 and 99 AFC Championship games. Though both those AFC Championships came up as slight disasters for Brunell ( although his stats weren't horrendous he underperformed ) he was a great leader and a special player. Brunell's scrambling ability helped out his teams in Jacksonville very similar to Elway, he wasn't a particularly fast runner but knew when to get out of the pocket to pick up those yards. Furthermore he proved to be a winner, for at least a great portion of his career. Statistically even with a mediocre arm, he was one of the best, in his time and for all time finishing with 182 TDs to only 107 INTs. In his 5-5 playoff career, I can't recall him ever choking and costing his team the game, though he failed more than once to help them win. His renaissance season with the Redskins in 2005 where he went 9-6 and won them a playoff game ( and lost a very hard fought Divisional game ) elevates him on the list. He didn't make the Pro Bowl that year but he certainly deserved it and showed those leadership qualities that made him such a valuable asset to his teams in Jacksonville. Career wise, he lead the league in yards in 96 and stands 28th in career passing yards. He has yet to retire, still at 40 years of age, the backup to Mark Sanchez in New York. He finally got his ring with the 2009 Saints backing up Drew Brees.
52. Bernie Kosar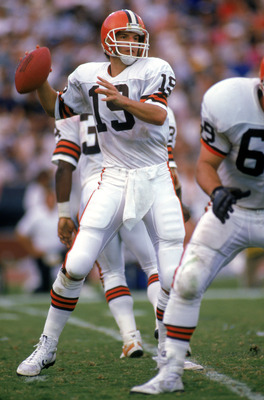 Kosar as a Brown
George Rose/Getty Images
Just on the cusp of the Top 50, Bernie Kosar lands himself in the middle of this list for his playoff accomplishments and as one of the greatest Cleveland Browns QBs. Now I didn't see to much of Kosar myself when growing up so I had to watch a lot of old videos and I must say he was one of those QBs that didn't put up the flashy stats but knew how to win. He got the Browns to the AFC Championship three times, a stage Cleveland hasn't been to since, losing each time to the Elway lead Broncos. In two of those losses, it was fate, and Elway that kept Kosar from the NFL's grandest stage, the Super Bowl. Everyone knows The Drive by Elway in the 86 AFC Championship, but the 87 AFC Championship was arguably even better. It was the game where Earnest Byner fumbled the ball at the 3 yard line with 65 seconds on the clock. The sure TD would have tied the game and the Browns could have won in OT. In that game Kosar outperformed Elway, both QBs threw for 3 TDs and an INT, but Kosar completed 26 of 41 passes for 356 yards, as oppose to Elway completing 14 of 26 for 281. In hindsight it seems to not matter the way the Broncos got decapitated in both Super Bowls, but Kosar would have etched his name higher in the books.

For individual achievement, Kosar made the 87 Pro Bowl and lead the league in lowest INT percentage in 86. He finished his career with 124 TDs and 81 INTs, probably would have had a longer career were it not for that shoulder injury against Kansas City. His name will and should be held synonymous with playoff performance, as he never had a bad playoff game. In 7 starts he went 3-4, in his 4 playoff losses he threw for over 200 yards and 2 TDs all except his first playoff game ( where he wasn't good but wasn't exactly horrendous ). His complete playoff career reads 83.5 QB Rating with 16 TDs to 10 INTs and nearly 2,000 yards. Some of his greatest playoff performances would be the 86 Divisional against the Jets where he passed for 489 yards, still a playoff record. He would have a Hollywood ending as he helped the Cowboys in the 93 season when Aikman was injured, in the regular season throwing 3 TDs to 0 INTs and in the NFC Championship game where against the 49ers up 28-14 taking over for an injured Troy Aikman, Kosar lead the team on an 83 yard TD drive that put the game out of reach, he would get his ring as the Cowboys won their 2nd Super Bowl of the 90s.
51. Rich Gannon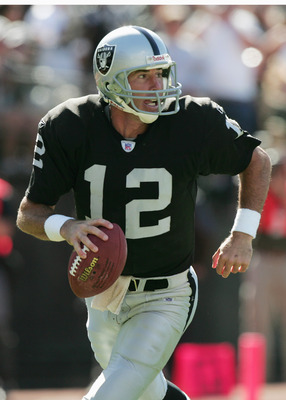 Gannon as a Raider
Jed Jacobsohn/Getty Images
His scrambling ability and accuracy for his time for the Raiders was pretty good, and the accolades don't lie. Four Pro Bowls, two first team all-pros, which brought about 1 Associated Press MVP and two Bert Bells. But let's not get ahead of ourselves and take a step back to analyze. Gannon never had the cannon arm, at least not on the Raiders, he racked up the yards with short, almost unbelievably low spirals, on a team with aging, but reliable, veterans. His playoff resume is scattered, he played one playoff game for the Vikings in which he completed 13 of 18 passes in a 41-13 route by the powerhouse 49ers where he relieved both Tommy Kramer and Wade Wilson ( if you note the 100 and 99th ranked QBs on this list ). He took over the starting job in Minnesota but was unable to produce a playoff berth. Gannon's only playoff game for the Chiefs in 95 also came in relief, the Chiefs had the best record at 13-3 and Steve Bone wasn't playing his best, but as everyone should know the 10-7 loss to the Colts was all on Lin Elliot who missed all 4 of his field goals, none that were in the 50+ range, including two in the 4th quarter, just one would have tied the game. With the Raiders Gannon made the Conference Championship, Divisional and finally the Super Bowl. Gannon's two horrid playoff performances came against legendary defense, the 2000 Ravens and 2002 Bucs. In the end his playoff statistics are actually one of the best for QBs who've started 6+ games. I would put him higher, in fact he was #40 at the beginning, but ultimately he wasn't the best passer physically, and although his 4 years with the Raiders was top tier, it was a fairly good system to be in and his limited stardom is just that, limited.
Keep Reading