NFL Power Rankings: Michael Vick and the Top Surprises in Football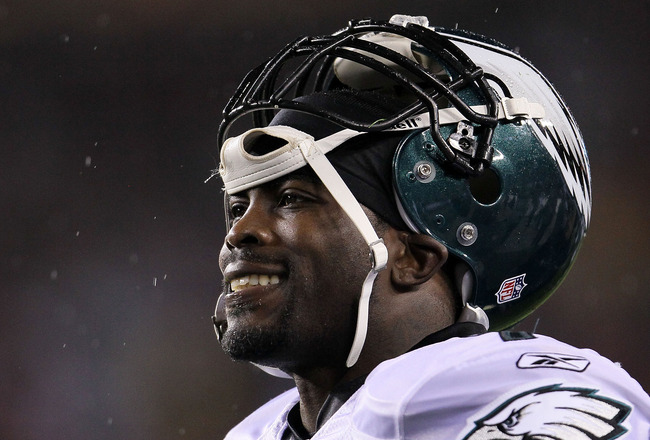 Chris McGrath/Getty Images
Week 10 of the 2010 NFL season was marked by several mind-boggling blowouts. Teams and players featured in those match-ups highlight the weekly rankings of the top surprises in football.
As the season progresses, every game becomes more important and every play is one closer to dooming or enhancing a team's playoff hopes. Some rose to the challenge last week, while others succumbed to the pressure.
The outcomes of Week 10 certainly provide no finalities about the NFL season. However, many of these scores and performances are indicative of the nature of the NFL—no player is the same from week to week, and no team is ensured victory before the coin toss.
Following are power rankings of the NFL's 10 biggest Week 10 surprises, five positive and five negative.
Negative No. 5: Tennessee Titans QBs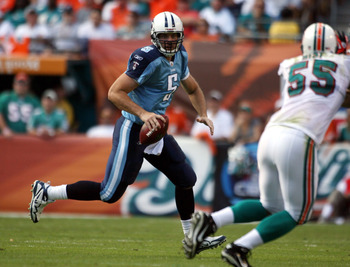 Marc Serota/Getty Images
Starter Kerry Collins and backup Vince Young were dismal in Tennessee's 29-17 loss to the Dolphins on Sunday.
Collins, supposedly a superior passer to Young, fared worse than his backup before getting injured. Of his 20 throws, Collins connected on nine for a paltry completion percentage of 52.1. He also threw an interception, and accumulated just 51 yards through the air.
In relief, Young completed just half of his passes for only 92 yards, threw an interception and lost a fumble. Under little pressure, he missed receivers at the short, long and intermediate levels, and looked uncomfortable all game.
On a day that RB Chris Johnson had room to run, neither Titans' QB's were able to play sound football.
Tennessee is currently on the outside looking in the AFC playoff picture.
Negative No. 4: Indianapolis Colts QB Peyton Manning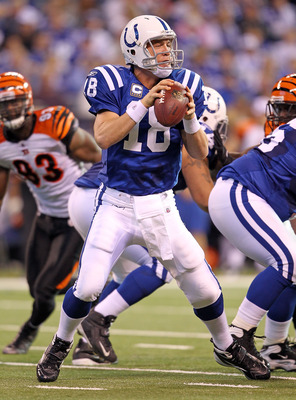 Andy Lyons/Getty Images
Though the Colts got a narrow 24-17 victory over the Bengals on Sunday, QB Peyton Manning played his worst game of the season.
Against a middling Cincinnati defense, Manning completed only 20 of 36 throws for just 185 yards. While he didn't commit a turnover, he also didn't pass for a score for the second time this season.
Due to the passing game's ineffectiveness, the Colts managed only 256 yards of offense.Thankfully, CB Kelvin Hayden bailed Manning and company out with an interception return for a TD.
While this was by no means a terrible performance by Manning, it also shows that even he is prone to a difficult game every now and then.
The Colts got the win, but they need to correct some things before their showdown with New England this Sunday.
Negative No. 3: New York Giants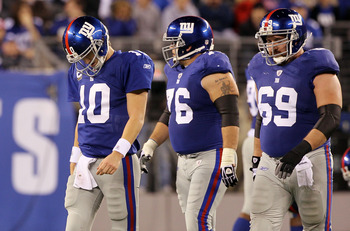 Jim McIsaac/Getty Images
This match-up was considered a "laugher" for the Giants. Instead, they were humiliated by a one-win Cowboys team
New York struggled in all facets. Though they out-gained Dallas by 53 yards, the Giants lost the turnover battle three to one and allowed a defensive TD.
Neither QB Eli Manning or RB Ahmad Bradshaw played up to their usual standards.
Defensively, the Giants' stellar unit allowed 324 passing yards to journeyman QB Jon Kitna and the Cowboys passing attack. Additionally, they only forced one turnover and managed just a single sack.
Whether or not this loss is indicative of bigger problems for the Giants remains to be seen.
Dallas played with a lot of energy for new coach Jason Garrett, and New York just didn't match it.
They'll need to make adjustments if they want to stop Michael Vick and the Eagles in Week 11.
Negative No. 2: Kansas CIty Chiefs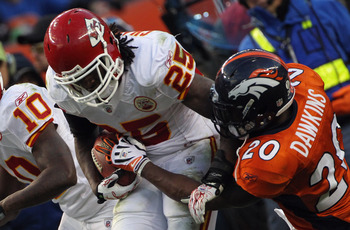 Doug Pensinger/Getty Images
In a game vital in their quest for the AFC West crown, the Chiefs were dominated by the Broncos, losing 49-29.
Defensively, it appeared that Kansas City never got off the plane. By the time the first quarter was over, the Chiefs defense had allowed three long TD drives and looked disinterested on the field.
There was no pass rush, no run defense and little resistance from the secondary. This was easily the defense's worst performance of the year.
The Chiefs offense didn't do their defensive counterparts any favors. The Broncos were up 35-0 at one point in the first half, as QB Matt Cassel couldn't get KC's offense going. While he ended up accumulating stellar numbers, most all of Cassel's production took place after the game was decided.
The Chiefs vaunted running attack was non-existent in Denver, as KC rushed for a pathetic 51 yards on 22 carries.
The Chiefs lost their second game in a row on Sunday, losing their division lead in the process.
If they have any shot at delivering on their early season promise, they must get a win at home against the Cardinals in Week 11.
Negative No. 1: Washington Redskins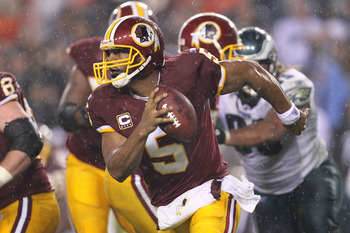 Chris McGrath/Getty Images
In front of a sellout home crowd on Monday Night Football, the Redskins were embarrassed by Michael Vick and the Eagles.
In a 59-28 beat-down, Washington was hapless against Vick and the Philly offense from the very beginning. The game's first play was an 88 yard TD pass from Vick to Desean Jackson.
It only got worse from there, as the Eagles took a 35-0 lead and almost set a new NFL record for points in a half.
Thankfully for the Redskins' defense, coach Andy Reid called off the dogs after Jason Avant's TD catch made the score 52-21.
The Redskins offense wasn't nearly as bad the defense, though that certainly isn't saying much. QB Donovan McNabb threw three interceptions, was hit eight times and wasn't helped by his receivers, who dropped many catchable passes. The lone bright spot for Washington last night was the play of rookie RB Keiland Williams.
This loss essentially ended any chance Washington had at winning the NFC East.
Perhaps even worse than Monday's performance for the organization was re-signing McNabb to a five year, $78 million contract.
Its going to be a long week in the nation's capitol.
Positive No. 5: Buffalo Bills Get First Win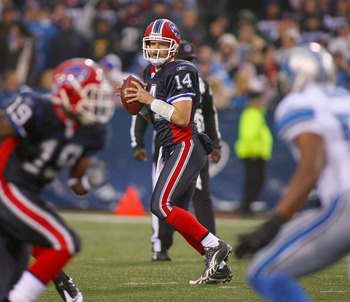 Rick Stewart/Getty Images
The NFL's lone win-less team going into Week 10, the Bills, finally got off the snide Sunday with a home victory over the Lions.
In the 13-10 win, the Buffalo defense deserves a lot of credit. Though there was a lot of bend, Paul Posluszny and company never broke, as they allowed just a single TD and held Detroit to only 76 yards rushing.
The Bills' running game was the other driving force behind the victory. RB Fred Jackson rushed 25 times for 133 yards and a score, moving the chains all game long. QB Ryan Fitzpatrick completed just half of his passes, but didn't throw an interception and had one TD throw.
Buffalo has been competitive in games all season long. Finally, coach Chan Gailey and company got their first win.
Don't be surprised if they win a couple more by the end of the season.
Positive No. 4: QBs Matt Ryan and Joe Flacco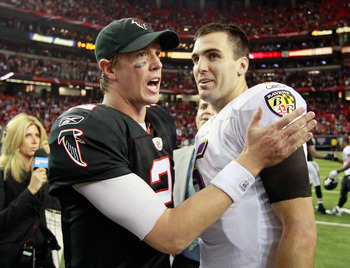 Kevin C. Cox/Getty Images
In Thursday's match-up between two of the league's best, 2008 first round picks Matt Ryan and Joe Flacco turned in awesome performances during Atlanta's heart-stopping 26-21 victory.
Ryan completed 32 of 50 passes for 316 yards and two TDs, including a 33 yard game-winning strike to Roddy White with 20 seconds remaining.
Flacco was nearly as good, connecting on 22 of 34 throws for three scores of his own against just a single interception.
Ryan and Flacco are the game's two brightest young signal-callers.
Hopefully, this incredible match-up was the first edition of what will become an epic rivalry between the two third-year QBs.
Positive No. 3: Jets QB Mark Sanchez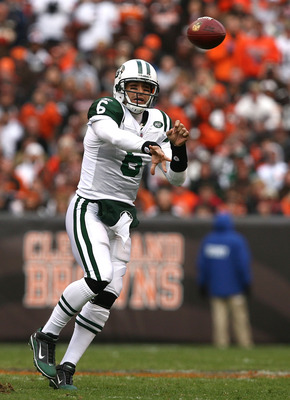 Matt Sullivan/Getty Images
QB Mark Sanchez led the Jets to a 26-20 road victory against the Browns, maintaining his team's pace for the top seed in the AFC playoffs.
Sanchez, ridiculed by fans and media alike for his recent performances, appeared to be playing backyard football in this one. He frequently evaded pass rush, stayed on his feet and completed throws, and took multiple deep shots down the field as well.
It was an entertaining performance.
Along the way, he completed 27 of his 44 passes for 299 yards and two scores, including a game-winning 37 yard TD to Santonio Holmes.
The second-year pro has been inconsistent this season.
If he can replicate his Sunday performance, New York should be considered the clear-cut AFC Super Bowl favorite.
Positive No. 2: Denver Broncos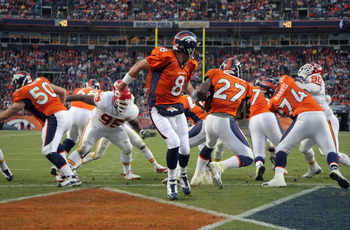 Doug Pensinger/Getty Images
Denver jumped out to a 35-0 lead in dominating the Chiefs at home on Sunday.
QB Kyle Orton carved up KC's defense, throwing for 296 yards, four TDs and compiling a stellar QB rating of 131.5. He and WR Brandon Lloyd controlled this football game.
The most positive thing to come out of this victory for the Broncos was the emergence of a run game.
Knowshon Moreno ran for more than 60 yards for the first time this year, and finished with 106 yards on the ground. Overall, Denver's offensive line paved the way for 153 rushing yards and a very good 4.9 yards an attempt.
In what has been a disappointing season for Denver, they now find themselves with an outside chance at winning the division.
It will take flawless football the rest of the way, but at least now the Broncos have something to play for; much more than they could say two weeks ago.
Positive No. 1: Eagles QB Michael Vick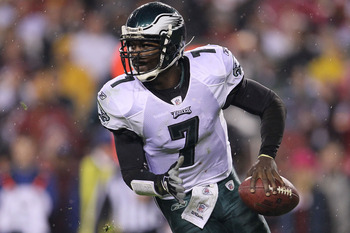 Chris McGrath/Getty Images
Vick put on a record setting performance in his team's 59-28 romp over the Redskins.
He accounted for six total TDs, compiled a near-perfect QB rating and accumulated 331 total yards on just 23 touches.
If Andy Reid hadn't called off the dogs (no pun intended) in the middle of the third quarter, there is no telling what Vick would have done to the Redskins defense.
This was a legendary performance from one of the league's most controversial and talented players.
Not even the amazing statistics do Vick's play justice. If he plays half as well the rest of the season as he did last night, he'll be a shoe-in for the NFL's MVP, and perhaps lead his team to a Super Bowl in the process.
Keep Reading