New York Mets Have Some Work To Do To Improve Public Image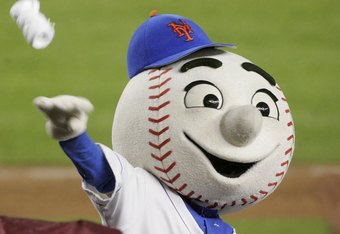 Jim McIsaac/Getty Images
The following clip from Family Guy last Sunday pretty much sums up the last few seasons for the Mets.
While I don't mind my favorite show poking fun at my favorite team, it makes me wonder what non-Mets fans think about our team.
Here is another example of a a Family Guy Mets bashing.
Even besides Family Guy, the Mets are constantly ridiculed as being second-class citizens in New York, and other fans question why we put ourselves through such misery.
This wasn't always the case, naturally, as Gil Hodges brought relevance to the team in the late '60s, and the Mets teams of the late '80s were tops in the league.
Even during my lifetime, the late-'90s Mets weren't too shabby.
I think the trouble started in 2006. The Mets were riding high all season. They were the talk of the town all the way up until the NLCS.
Endy Chavez made that unthinkable catch to save the game. But later, Carlos Beltran took a called strike three from Adam Wainwright, and the Cardinals went on to win the World Series.
I don't want to dwell on that moment too much, because that happens to any ballplayer. It was just the magnitude of the situation that began a downward spiral for the team.
Andrew Burton/Getty Images
In 2007, the Mets were hot throughout the entire season, but the famed "collapse" has still clouded their image in the public eye.
It didn't help either when the Mets also collapsed in 2008, but that wasn't as bad as 2007.
The Mets had high expectations heading into 2009, but a rash of injuries and lackluster play (missing bases, dropped pop-ups) led to only 70 wins. The downward spiral continued.
But time heals all wounds, so the Mets were poised for a breakout season in 2010. Sports Illustrated even picked them to represent the NL in the World Series. Then news of Beltran's surgery broke, Johan Santana couldn't stop giving up grand slams, Jason Bay forgot how to hit, the team fell apart on their post All-Star game west-coast road trip and K-Rod assaulted his girlfriend's father. Another year down the drain.
Over the past few years, it's hard to pinpoint just one thing that has gone wrong with this team. Injuries, lack of hustle, lack of consistency. You name it, we've probably seen it.
So with all this talk about a new GM and a new manager, it is important that they cast a new image for the boys in Flushing.
Sandy Alderson seems to be a well-respected individual who won't tolerate nonsense. Terry Collins, Bob Melvin or whoever is the manager must prove early on that they have gained the respect of the players in the clubhouse. It is imperative that this team gets off to a fast start if they have aspirations of being successful.
It can happen, and hopefully it will happen. It's about time the Mets regained their rightful position as a feared entity in NY.
So no more Family Guy jokes geared towards the Mets and no more phrases like "New York Mess" or "My Entire Team Stinks."
Let's see our team go out and play solid fundamental baseball en route to establishing itself as an organization that commands respect.
This article is
What is the duplicate article?
Why is this article offensive?
Where is this article plagiarized from?
Why is this article poorly edited?

New York Mets: Like this team?