Fantasy Football: Jahvid Best And 10 Players Who Are Primed For a Big Day Sunday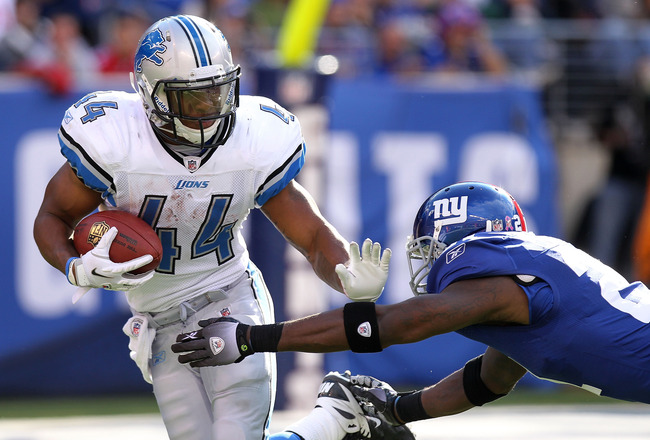 Nick Laham/Getty Images
There is nothing more exciting to a fantasy manager who wakes up on any given Sunday and realizes a player on his team has the dream matchup of the week; like Jahvid Best of the Detroit Lions who faces the leagues worst run defense in the Buffalo Bills.
So rather than just do the normal—bountiful in numbers mind you—start/sit articles, I want to focus on some players that are sure to have a huge week based on their matchups.
So sit back, and give this slide a look over. You may even be a bit surprised over who you'll find on this list
RB - Chris Johnson – Titans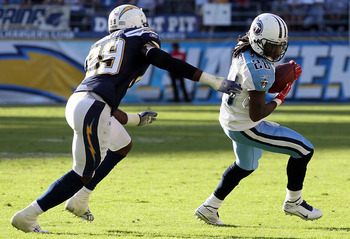 Jeff Gross/Getty Images
The last two weeks for Chris Johnson have been abysmal to say the least, and a lot of that has to do with a depleted receiver corp. In fact, Johnson amassed just 125 yards and a single touchdown in his last two games—he did better than that in Week five against Dallas.
This week, he faces the Dolphins with a new teammate in Randy Moss, and Miami Dolphins defensive coordinator Mike Nolan has already admitted to "thinking twice" about using eight man fronts with Moss running around out there, which bodes well for Chris Johnson.
Johnson is due for a monster games, more catches out of the backfield, and this will be the week.
RB - Jamaal Charles – Chiefs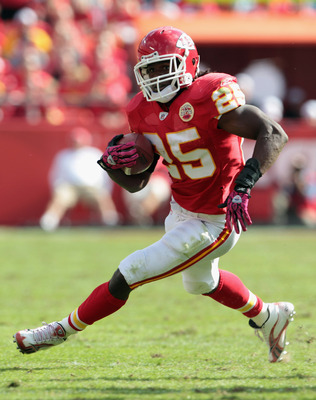 Jamie Squire/Getty Images
What do you get when you take one of the better running backs in the league and play him against the 30th ranked run defense in the league?
A lot of happy fantasy owners, that's what.
Denver is downright horrible against the run and Jamaal Charles is fully healthy just waiting for Sunday's date with the Broncos which is sure to please anyone who owns Charles.
Remember, the last time Jamaal Charles faced the Broncos he torched them for 259 yards.
D/ST - New York Giants Defense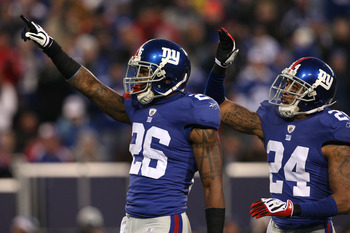 Jim McIsaac/Getty Images
The Dallas Cowboys are unraveling at an alarming rate. Their offense is shotty at best, their defense is hard on the eyes, and interim coach Jason Garrett has the daunting job of trying to put the pieces back together against the New York Giants who are the number one ranked defense and second ranked offense in the league.
If that's not enough, the Giants are fifth in interceptions and should make quick work of Cowboys' QB Jon Kitna who already has 6 interceptions after three games—four of them came against Jacksonville, so imagine what New York is going to do to him.
WR – Mike Wallace – Steelers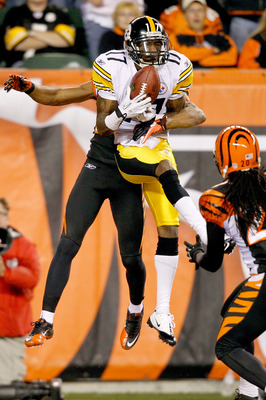 Matthew Stockman/Getty Images
Pittsburgh faces a New England team that ranks 29th against the pass, not to mention they have already given up 13 airborne touchdowns.
Why is this important?
Mike Wallace has emerged as Big Ben's primary deep ball threat, and scoring threat through the air, and you can bet that Wallace will have quite the game against those young Patriots corners this weekend.
WR – Mario Manningham – Giants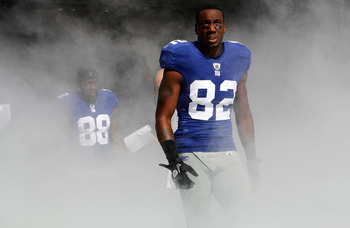 Nick Laham/Getty Images
The Giants will face the Cowboys without WR Steve Smith who is out with torn pecs that he suffered earlier this week.
This means one thing: more of Mario Manningham.
The Giants do have another receiver in the mix as a WR3, but who cares about him, because this is going to be the Nicks and Manningham show all night.
Has a nice ring to it, doesn't it?
RB – Mike Goodson – Panthers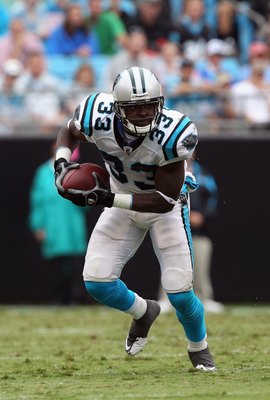 Streeter Lecka/Getty Images
Who?
That's right Mike Goodson may have his first—albeit probably his last—big day when the Panthers face the Buccaneers on Sunday who rank 30th against the run.
For fantasy owners, though, there is an added incentive in the respect that Goodson also returns kicks making this game extra tasty.
Goodson should find a lot of running room up front, a good amount of passes out of the flats, and a lot of work as a return man, making him fantasy gold this weekend.
Then you can get rid of him.
WR – Mike Sims-Walker – Jaguars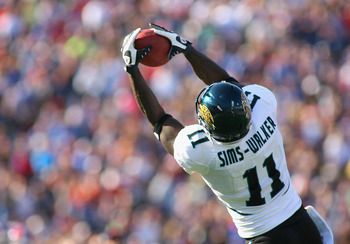 Rick Stewart/Getty Images
It may be a bit odd to read about a guy who was a sensation in 2009, and a bust this year, but Sims-Walker faces the worst pass defense in the league when they host the Houston Texans this weekend.
Last week he found his groove against another poor pass defense team in Dallas, lighting them up for 153 yards and a TD—his second in as many games—and Dallas is actually better against the pass than Houston.
If you sit Sims-Walker this week, you'll be kicking yourself come time Monday morning.
WR – DeSean Jackson – Eagles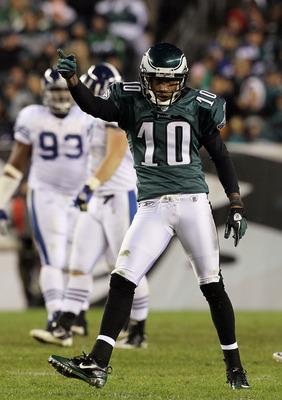 Jim McIsaac/Getty Images
Jackson has become one of the most explosive receivers in the league, and after having his belfry cleaned he returned last week to light up Indianapolis for 109 yards and a TD.
The Redskins are not as good against the pass as they seemed to be earlier this year, and Michael Vick has begun to really settle in making this time around the May pole a lot more opportunistic for Jackson owners.
A bit of incentive: the Redskins could be without safety LaRon Landry this weekend.
WR – Larry Fitzgerald – Cardinals
Harry How/Getty Images
He's not dead yet folks!
This week the Cardinals face a Seattle Seahawks team that is pretty bad against the pass, and if there is any doubt regarding what Fitz can still do, just look at his last game against a stout Minnesota defense where he caught seven balls for 109 yards—he was targeted 10 times.
Clearly, this isn't the type of year that Fitz owners envisioned as Fitz is on pace for just under 1,100 yards and eight TDs, but all hope is not lost yet.
He should make fast work with the Seahawks secondary with ease, giving his owners plenty to be happy about.
RB – Jahvid Best – Detroit Lions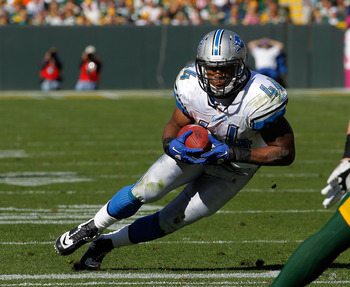 Jonathan Daniel/Getty Images
From a fantasy perspective, week's one and two were by far the best weeks for owners of Jahvid Best.
Trust me, I own him.
But since then, a battle with turf toe and a decline in touches has certainly rubbed the luster off of the Cal standout.
The good news is, his speed looked much better against the Jest last week, and oh yeah, he faces the league's worst run defense in the Buffalo Bills.
Jahvid Best is a two prong attack player in that, he is good for roughly five or six catches a game as well as the damage he does on the ground, and he protects the ball very well.
I'll predict Best will finish this game with 16 carries for 98 yards and 1 TD, along with 6 catches for 65 yard and a single TD.
If you guys have any additional questions or start sit concerns, check out my WK 10 WR Start Sit column.
Keep Reading