Pittsburgh Steelers: Injuries Starting To Pile Up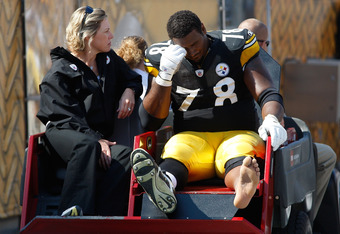 Jared Wickerham/Getty Images
On paper the Pittsburgh Steelers look as good as any team in the entire NFL. They have pro-bowlers all over the place on defense, a few good skill players and a two-time Super Bowl winning quarterback. That being said, the Steelers are starting to get beat up and are losing players left and right.
Before the 2010 season even started, the Steelers lost Willie Colon for the year to a torn Achilles tendon. Colon was considered the Steelers' best offensive linemen by most at the time and was a major loss. The Steelers then went out and signed free-agent tackle Flozell Adams. Adams has gotten adjusted to right tackle and has done a good job filling in.
Against the Miami Dolphins the Pittsburgh Steelers then lost defensive end Aaron Smith to a torn tricep. The Steelers didn't rule out a possible late season return for Smith, but he would miss most of the regular season. This was the third time in the last four seasons that Smith suffered an injury of these proportions.
The Steelers' other starting defensive end, Brett Keisel, also continues to battle nagging hamstring injuries. Keisel looks like he's going to try and tough out the injury, but the Steelers can't afford to lose any more linemen.

Must Read: 50 Greatest Pittsburgh Steelers of All Time
After a close victory over the Cincinnati Bengals, the Steelers seem to have what head coach Mike Tomlin describe as "a laundry list of injuries."
Here's a list of players that are either questionable or probable for the Steelers' next game against the Patriots:
Heath Miller (probable): Miller has fluid in his knees reports the Pittsburgh Post-Gazette.
Isaac Redman (questionable): Redman suffered a concussion in Monday's game against the Bengals, the Pittsburgh Post-Gazette reports.
Mewelde Moore (questionable): Moore suffered a concussion in the Monday night win over the Bengals, the Pittsburgh Post-Gazette reports.
Will Allen (questionable): Allen suffered a concussion in the Monday night game against Cincinnati, the Pittsburgh Post-Gazette reports.
Brett Keisel (questionable): Keisel suffered a hamstring during the Monday night game.
To top that list off, the Steelers lost their starting left tackle Max Starks to a neck injury Monday night. On Wednesday, the Steelers officially placed Max Starks on injured reserve, ending his 2010 season.
Now the Steelers have their starting right and left tackles out with season-ending injuries. The Steelers don't have a lot of other options in terms of replacements. They can move Flozell Adams from right tackle to the left tackle position, which he played for over 10 seasons, or they can have young tackle Jonathan Scott fill in at left tackle for the time being. Neither option seems that great, but the Steelers have to try and overcome this.
The Steelers are 6-2 and gearing up for a big showdown with the New England Patriots (6-2) Sunday night at Heinz Field. If the Steelers are going to overcome these injuries and beat the Patriots, they're going to need their star players to step up.
I'm talking about two individuals in particular: safety Troy Polamalu and quarterback Ben Roethlisberger.
The Steelers played without Roethlisberger for the first four games of the season this year. They banded together and went 3-1 without him. They played a team game and made some big plays to overcome not having their star quarterback.
Roethlisberger has played well since being back, but now they need him to play even better. They need Roethlisberger to play some of the best football of his career to overcome all of the deficiencies of this team. He's certainly capable of it. They need him to "take over" games and make everyone around him better.
The same thing can be said for the Steelers' star safety Troy Polamalu. Polamalu missed 11 games last year in which the Steelers looked lost without him. The secondary gave up big plays in the passing game almost weekly, and nearly everyone blamed it on Troy's absence.
Now that Troy is healthy, he needs to be the hero of this defense. Polamalu needs to play the best football he is capable of playing. Ed Reed, who is often Troy's counterpart for being considered the best safety in football, already has three interceptions in the four games he's been back.
Polamalu hasn't had an interception since Week 2 and hasn't been playing anywhere near the level that he's capable of playing. That has to change immediately.
Despite the list of injuries, if these two players step their games up and play at their highest level of football from here on out, the Steelers will still very much be contenders. If that happens the rest of the team will band together, and this season can still be a great one. The Steelers just need to go back to 2008 when they thought of themselves as a "band of brothers."
This article also appears for the Pittsburgh dedicated blog www.412sportstalk.net
This article is
What is the duplicate article?
Why is this article offensive?
Where is this article plagiarized from?
Why is this article poorly edited?

Pittsburgh Steelers: Like this team?