NFL Power Rankings Week 10: The Top 32 Running Backs of 2010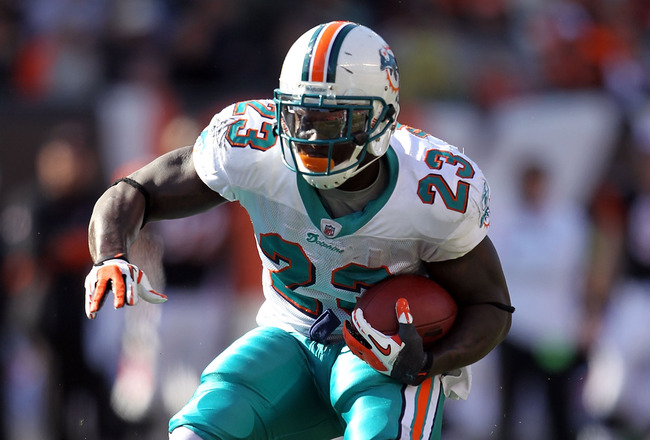 Andy Lyons/Getty Images
I realize I made one big mistake last week: I left Ronnie Brown off the list.
Ronnie called me himself. He wasn't happy at all.
Okay, so I'm just kidding, but I did leave him off the list.
Everything else?
Well, it's really all opinion. Take it how you want to.
With that, let's get to the rankings...
32. Danny Woodhead, NE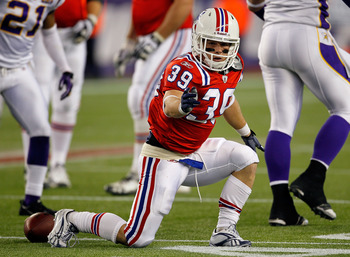 Jim Rogash/Getty Images
Outside the top 20 backs this week, there weren't a lot of great performances.
In fact, our #32 from last week, BenJarvis Green-Ellis (also known as the "Law Firm," thanks to Will Danielson for reminding me) did not have a good game against a mediocre (most of the time) Cleveland defense.
Woodhead, on the other hand, had 54 yards rushing and 38 yards receiving on an off-day for the entire Pats offense. So he sits inside our rankings this week.
31. Mike Tolbert, SD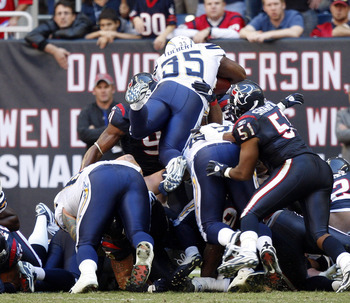 Bob Levey/Getty Images
Not the best performance from Tolbert this week, but this list is very thin at the top, and Tolbert has performed admirably this season.
So he'll stay in the top 32...for now.
30. Donald Brown, IND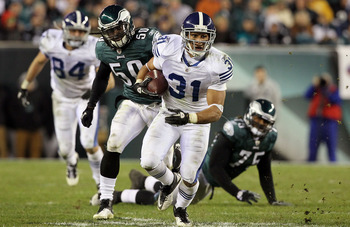 Jim McIsaac/Getty Images
Again, this was a really bad week for running backs.
And in fact, if this were based on touchdowns, Javarris James would be here...
But I thought better of it.
29. Ryan Matthews, SD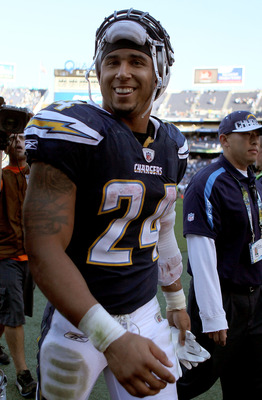 Jeff Gross/Getty Images
I realized that last week's ranking of Matthews was a bit high.
I just know what he is capable of, especially once he gets injury-free.
He has not done much this season yet, but did have a decent showing on Sunday. He led the Bolts in rushing and also caught a couple of passes out of the backfield, despite having a fumble.
I think he's going to get the majority of carries from here on out.
It's progress right?
28. Felix Jones, DAL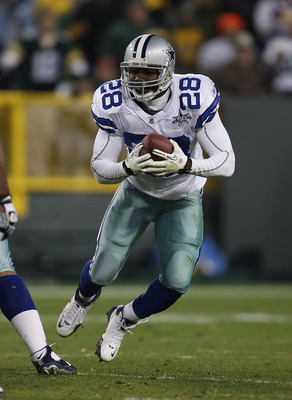 Jonathan Daniel/Getty Images
Jones' stock is heading the same place that Dallas' has been heading for a long time now.
Down.
Maybe Jason Garrett will change things up?
27. Brandon Jacobs, NYG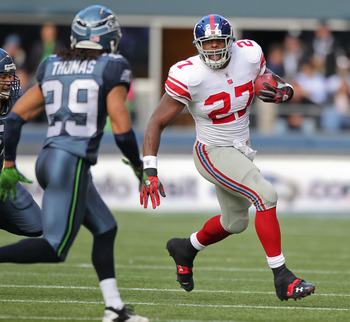 Otto Greule Jr/Getty Images
Sure, the Giants started giving it to him because they were up big.
But it seems to be the consensus around the league that Jacobs has shaken off his early season cobwebs.
So while he won't stay in the top 32 for too long, he had a great performance this week, so here he is.
26. Willis McGahee, BAL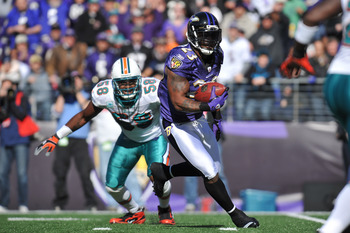 Larry French/Getty Images
I'm looking at the games this past week, and thinking, "Can you give me something to work with? Really??"
It spit out Willis McGahee.
Man...
25. Fred Jackson, BUF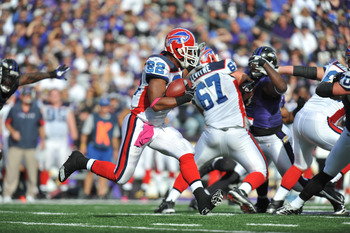 Larry French/Getty Images
The only reason Jackson is still here?
Because he is still the most talented back (as of right now, it won't be long before C.J. Spiller takes his job) on Buffalo. He got a touchdown Sunday, and caught five passes.
Sigh...can we get to the top 20 yet?
24. Matt Forte, CHI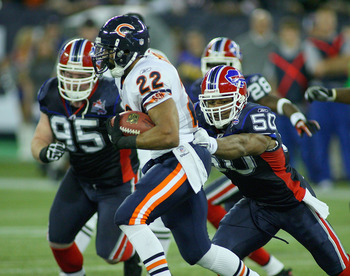 Rick Stewart/Getty Images
Really Matt?
49 yards against Buffalo's swiss-cheese defense?
You don't even have the frozen field as an excuse. It was in Toronto for crying out loud.
23. Marshawn Lynch, SEA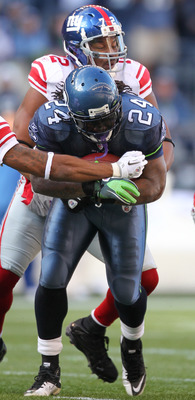 Otto Greule Jr/Getty Images
Not the best of games for Lynch Sunday, but we'll give him a pass for a couple of reasons.
For one, he was playing a sneaky good defense in the Giants.
And he didn't have Matt Hasselbeck to take some pressure off him.
Instead, he had Charlie Whitehurst throwing balls to the other team.
It's hard to do much on the ground when you're down 35-0 at the half.
22. Ryan Torain, WAS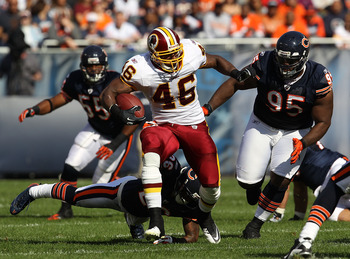 Jonathan Daniel/Getty Images
Torain had a bye week, so that's why he dropped out of the top 20.
We'll see what he can do this week against the Eagles at home.
21. Jahvid Best, DET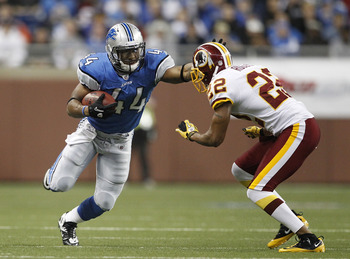 Leon Halip/Getty Images
Best keeps his spot with a decent performance against a tough run defense in the Jets.
He should have an easier time this week against the Bills.
20. Brandon Jackson, GB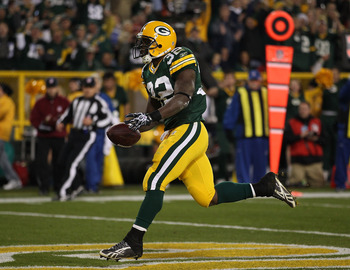 Jonathan Daniel/Getty Images
42 yards and a touchdown to go along with a couple of receptions in less than a whole game of work?
Not bad for Jackson, who lost some late carries to John Kuhn.
But that's because they were playing the Cowboys.
Who thought I'd say that this season?
19. LeGarrette Blount, TB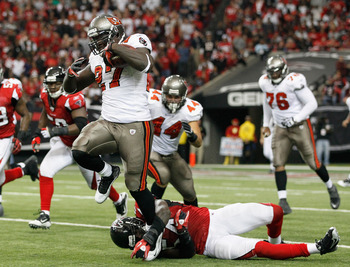 Kevin C. Cox/Getty Images
Disappointing effort from Blount this week, but it was a difficult environment for him to play in.
Still, you would've liked to see him punch it into the end zone at the end.
18. Cedric Benson, CIN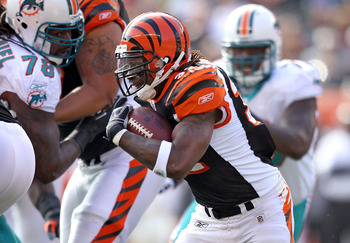 Andy Lyons/Getty Images
Benson had a better showing this week for Cincinnati, despite the fact that the offense was inconsistent until the fourth quarter.
And the good news for Benson is that he got all the carries. Zero went to Bernard Scott.
17. Ronnie Brown, MIA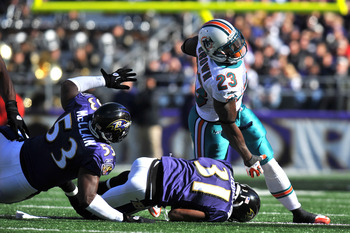 Larry French/Getty Images
Solid game for Brown, considering it was a stout Ravens' defense.
He just didn't get enough carries to get into a groove, especially since Henne was throwing to the Ravens more than Brandon Marshall.
We'll see how Brown does now that Chad Pennington is under center.
16. Thomas Jones, KC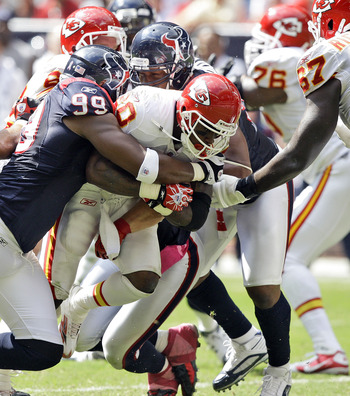 Bob Levey/Getty Images
Not a good statistical effort from Jones this week.
And it's not like he was playing the Steelers or the Jets. He was playing the Raiders.
Either way, the Chiefs need more from Jones than 32 yards on 19 carries.
15. Peyton Hillis, CLE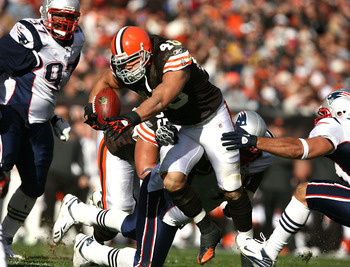 Matt Sullivan/Getty Images
Before you Cleveland fans chew me up for only putting Hillis this high, let me say I'd like to see Hillis do this type of thing again.
I'll make a deal with you: If Hillis gets 100 yards again this week (and he plays the Jets), I'll put him in the top 10.
Still, impressive performance from the new Mike Alstott.
14. Jamaal Charles, KC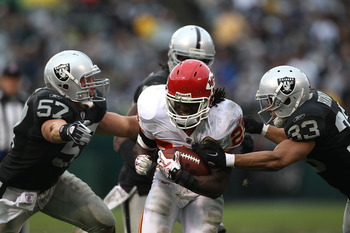 Jed Jacobsohn/Getty Images
I kept Charles outside of the top 10 for a reason last week, and this past week confirmed it.
For one, the Chiefs are still committed to giving the rock to Thomas Jones, despite the fact that Charles is far more dangerous.
And another, like Jones, he should've done better against the Raiders.
Still, you can't argue against 5.3 yards a carry. He'll bounce back.
13. LaDainian Tomlinson, NYJ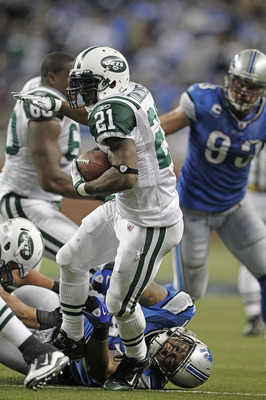 Leon Halip/Getty Images
Tomlinson didn't have a terrible game, but it was the Lions.
I was, along with Jets fans, thinking better than 55 yards for the rejuvenated LT.
12. Steven Jackson, St. Louis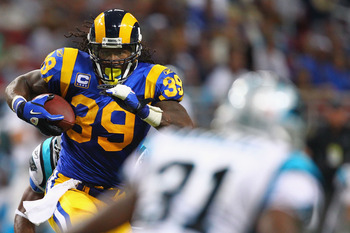 Dilip Vishwanat/Getty Images
He's only here because everyone else in the top 10 did well and Jackson was on a bye.
Sometimes life sucks.
11. LeSean McCoy, PHI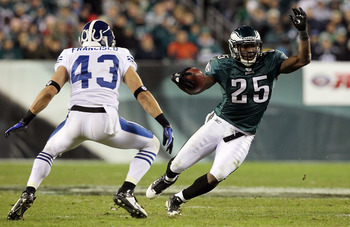 Jim McIsaac/Getty Images
Great game from LeSean this past week.
But, it was against Indianapolis, who is known for its swiss-cheese run defense.
Still, McCoy has made people forget Brian Westbrook.
10. Ray Rice, BAL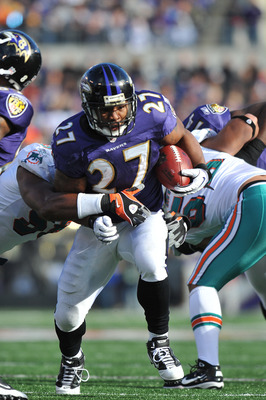 Larry French/Getty Images
Good effort from Ray Rice this past week, especially on the receiving end of things.
It's too bad that Willis McGahee always seems to get the touchdowns.
9. Maurice Jones-Drew, JAC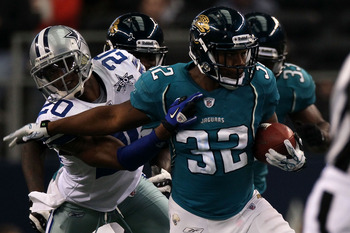 Stephen Dunn/Getty Images
The curse of the bye week.
By the way, to respond to a comment I saw last week, if this were ranking the running backs based on talent, Jones-Drew might be in the top five.
But as I've said before, this isn't a slideshow based solely on talent.
So here is MJD at number nine.
8. Rashard Mendenhall, PIT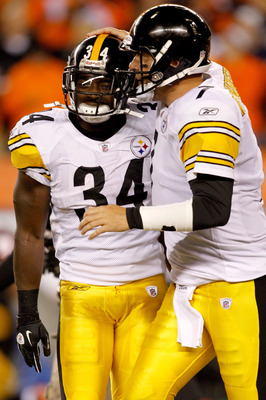 Matthew Stockman/Getty Images
Great game from Rashard, who was a yard away from the century mark on Monday night.
He would've moved up even more if all the top guys hadn't shined.
7. Frank Gore, SF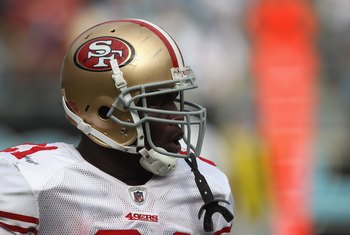 Streeter Lecka/Getty Images
Sigh.
Too many byes.
Gore should have a nice game this week against the Rams though.
6. Darren McFadden, OAK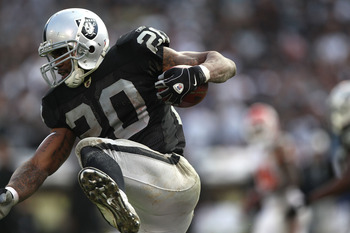 Jed Jacobsohn/Getty Images
Saw an article today that claims that Oakland is America's New Team.
Hmm.
So does that make Darren America's running back?
5. Chris Johnson, TEN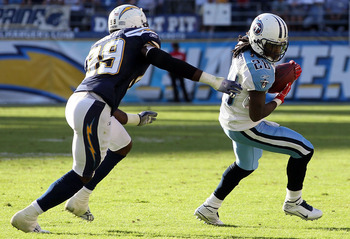 Jeff Gross/Getty Images
I am, however, keeping Johnson up in the top five based on talent, and because he's still among the league leaders in rushing yards despite what seems to be an off season so far.
He's not going to get 2,500 yards to say the least.
4. Ahmad Bradshaw, NYG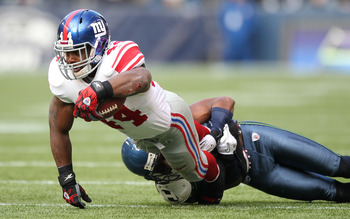 Otto Greule Jr/Getty Images
The Giants absolutely obliterated the Seahawks Sunday, and Bradshaw had two scores to show for it.
And that was only in the first half.
3. Michael Turner, ATL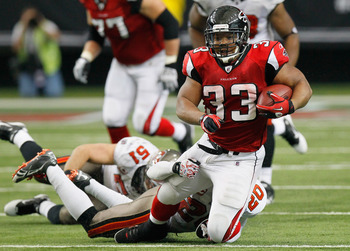 Kevin C. Cox/Getty Images
Another solid performance from Turner, who may be the most consistent back in the NFL.
Well other than maybe Adrian Peterson.
Forgot about him.
2. Arian Foster, HOU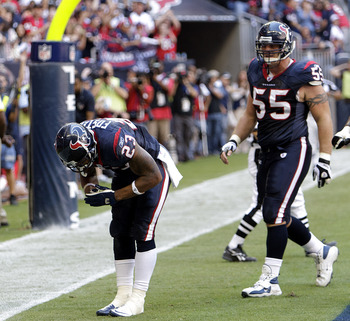 Bob Levey/Getty Images
Foster regains his number two spot with a tremendous performance versus the league's top defense in San Diego.
And despite the loss, Foster ran for 127 yards and 2 touchdowns.
Wow.
Speaking of Adrian Peterson, his top spot is in jeopardy. We'll see what he does in Jacksonville this week.
1. Adrian Peterson, MIN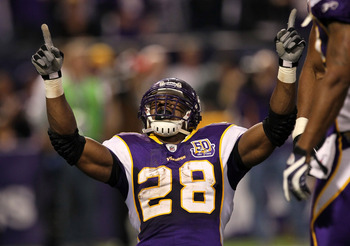 Stephen Dunn/Getty Images
Not the best performance from AP, but I'm not going to drop him from the top spot after averaging 5.4 yards a carry, scoring a key touchdown to help the Vikings comeback, plus a huge run in overtime.
I mean, he can't help that Brett Favre stole the show for once.
Keep Reading