Miami Dolphins Sign OLB Eric Bakhtiari To Practice Squad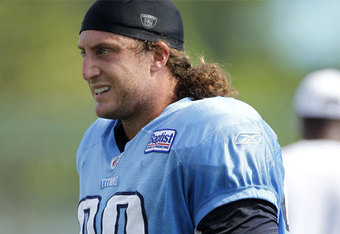 Eric Bakhtiari joins the Dolphins four days before they face his former team, the Tennessee Titans.

Rookie linebacker Chris McCoy's stint on the practice squad lasted just one week, as the Miami Dolphins released their 2010 seventh-rounder and Miami-Dolphins-sign-Al-Harris.html">signed linebacker Eric Bakhtiari from the practice squad.

Selected by the Dolphins in the final round of April's draft, McCoy was waived by the Dolphins during final cuts and had a brief stint on the Seattle Seahawks' practice squad in October. He was re-signed to the Dolphins' practice squad on Nov. 3.

Bakhtiari joins the Dolphins' practice squad having been a free agent since Sept. 4, when he was waived by the Tennessee Titans following the preseason.


Background

A standout defensive end at Division I-FCS San Diego, Bakhtiari was a three-time All-Pioneer League selection and was named the conference's defensive player of the year as well as an AP All-American each of his final two seasons.

After going unselected in the 2008 NFL Draft, Bakhtiari didn't stray far from home, signing with the San Diego Chargers as an undrafted free agent. He failed to make the team following the preseason and spent a brief period on the practice squad in September.

Despite having spent most of the 2008 season on the practice squad of the San Francisco 49ers, Bakhtiari re-signed with the Chargers the following offseason. He recorded six tackles in the preseason, but was once again waived during final cuts.

Bakhtiari was signed to the practice squad of the Tennessee Titans that November, and earned a promotion to the active roster on Dec. 12. He appeared in three games that season, recording two tackles each in game against the Rams and Chargers.

The Titans waived him following an impressive 2010 preseason that saw Bakhtiari total five tackles, 1.5 sacks, and a pass deflection. He remained a free agent until joining the Dolphins' practice squad on Nov. 10.

Bakhtiari will work at outside linebacker in the Dolphins' 3-4 scheme and will wear No. 44. He will make roughly $5,200 per week on the practice squad, and can be signed to another team's active roster at any time.


Analysis

As I said when the Dolphins' re-signed McCoy to the practice squad last week:
"I consider his re-signing a brief audition to see if he's made any progress in his development since the Dolphins last saw him, but I don't think they'd hesitate to cut him loose again if he doesn't impress."
It seems the Dolphins have already seen all they wanted to see, and have now sent McCoy back to the unemployment line. After struggling to find a job in September and having such brief stints on the practice squads of the Seahawks' and Dolphins', McCoy's professional career is certainly off to a bad start.

Bakhtiari hasn't done much in two pro seasons, but did see a little bit of game action during the regular season with the Titans last year.

He did have an extremely impressive collegiate career and does have some pass-rushing ability, although the competition he faced was far from top-notch.

More likely, Bakhtiari is auditioning for a role on special teams similar to the one he had in Tennessee in 2009.

While it won't provide any huge advantage, it can't hurt that Bakhtiari spent most of last season and all of the preseason with the Dolphins' upcoming opponent on Sunday. The Titans made a similar move yesterday, signing defensive lineman Marques Douglas, who spent the 2010 preseason in Miami.

As always, check out the updated projected depth chart reflecting these transactions here.


Discuss this article on the forum here!
---
Chris J. Nelson majored in journalism at Georgia State University and is currently a programming coordinator for Turner Sports in Atlanta. He operates his own Miami Dolphins website, The Miami Dolphins Spotlight, and he can be followed on Twitter here.
This article is
What is the duplicate article?
Why is this article offensive?
Where is this article plagiarized from?
Why is this article poorly edited?

Miami Dolphins: Like this team?