Fantasy Football Week 10: 10 Waiver Wire Players To Look At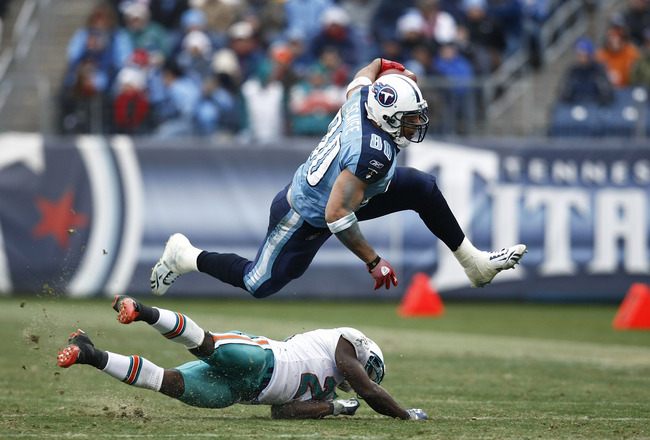 Joe Robbins/Getty Images
Playing the waiver wire in your fantasy football league is one of the most exhilarating aspects of being a fantasy owner.
You can either add a stud like Peyton Hillis and look like a genius, or add a guy like Kareem Huggins and look like a zero.
Sometimes your waiver wire pickups will take you to fantasy football glory and contribute to a championship.
Unfortunately, as the talent on the wire thins, the magnitude of late season pickups is exponentially greater than earlier in the season.
In this final week of byes, these players should be able to fill in admirably for your team. They might help you get a win this week, a win that puts your team in the playoffs. Or maybe they'll get hot down the stretch and power your team to a championship.
It's the 10 best waiver wire players to look at.
No. 10: Mike Hart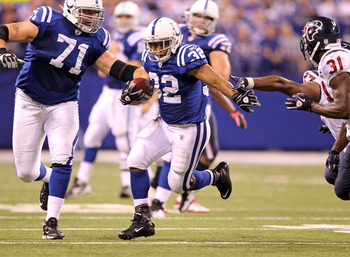 Andy Lyons/Getty Images
The pride of New York's Onondaga County, those who either live in Central New York or have spent any significant time there will tell you just how good Mike Hart is.
The diminutive Wolverine alumnus missed Indianapolis' Week 9 game against the Philadelphia Eagles with an ankle injury and is not a sure-thing for this Sunday either.
That's why he is only No. 10 on this list.
But if Hart is good to go for Week 10 you want to add him, even if Joseph Addai is healthy.
Hart is more productive than first round pick Donald Brown, rushing 34 times in his last three games for 177 yards and a touchdown.
If healthy, Hart can be a solid contributor to your team in Week 10 against the Bengals' 23rd ranked run defense as well as down the stretch.
No. 9: Nate Burleson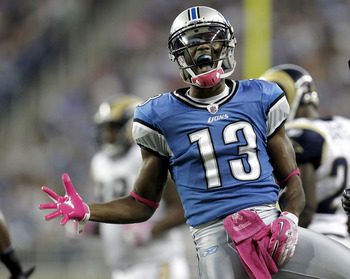 Gregory Shamus/Getty Images
From Week 1 to Week 8, Burleson totaled 176 yards on 19 catches and just two touchdowns.
This past week against the New York Jets, Burleson caught seven passes for 113 yards and a touchdown. Detroit's top wideout Calvin Johnson was stranded on Revis Island, which explains Burleson's outburst.
Moving forward, Burleson still looks to be the fourth option in the Lions pass attack at best.
However, if you are in need of a wide receiver this week, taking a flier on Burleson against the Buffalo Bills is a shot worth taking.
No. 8: Mike Goodson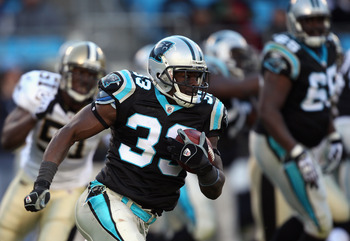 Streeter Lecka/Getty Images
In a season where the Carolina Panthers were already abysmal on offense, injuries have put Matt Moore on IR and may leave Mike Goodson as the starter at running back this weekend.
DeAngelo Williams has missed the last two games with a sprained foot, Jonathan Stewart is sidelined with a concussion and Tyrell Sutton has a sprained ankle.
All three may be out Week 10 against the Tampa Bay Buccaneers 30th ranked rush defense.
Keep an eye on the status of all three and add Goodson if he is made the starter. In fact, Goodson might be worth an add even if one or two of the above running backs do play, simply because he is the healthiest option the woebegone Panthers have.
No. 7: Brandon Tate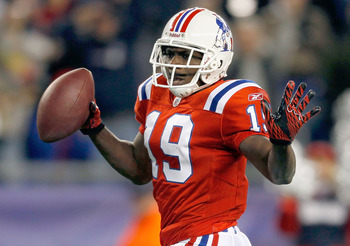 Jim Rogash/Getty Images
When Randy Moss was traded to the Minnesota Vikings, most thought Brandon Tate would take over as the Patriots deep threat.
That hasn't happened, as Tate has just five catches since Moss' departure.
The Patriots really need Tate to be that deep threat if they have any chance of fielding a Super Bowl caliber offense.
Tate's chances against the Pittsburgh Steelers' 24th ranked pass defense are, at the very least, decent. If you're desperate for a receiver, take a chance on Tate. Tom Brady will be throwing the ball, and all Tate needs to have a good week is one long bomb.
No. 6: Matt Hasselbeck
Ezra Shaw/Getty Images
Yet another player on this list who needs to be monitored leading up to this weekend's slate of games, if Matt Hasselbeck is cleared to play he will be a good fantasy start for those in need of a replacement for Aaron Rodgers, Drew Brees or Philip Rivers.
The Arizona Cardinals have the 30th ranked overall defense in all of the NFL and the 27th ranked pass defense. If Hasselbeck is healthy enough to start for the Seahawks, he will be good enough to start for your fantasy team.
No. 5: Joel Dreessen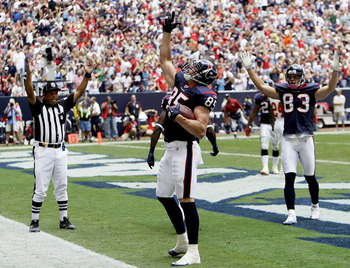 Bob Levey/Getty Images
Owen Daniels has not been healthy at all this year.
His replacement, Joel Dreessen, has been a serviceable tight end.
If Owens is out again this week, add Dreessen and start him with confidence. He is coming off a five catch, 67-yard game against a tough San Diego Charger defense and heads into a Week 10 matchup against a Jacksonville Jaguars team with the 28th ranked pass defense.
No. 4: Troy Smith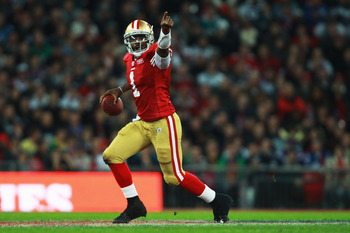 Warren Little/Getty Images
Troy Smith is 1-0 as the San Francisco 49ers starter and Mike Singletary seems to look favorably upon the former Heisman winner.
All signs point to the beleaguered coach giving Smith another chance to start in Week 10 over Alex Smith, who is returning from a separated shoulder.
A home game against an over-performing St. Louis Rams defense should present Troy Smith a chance to put up decent fantasy numbers. If you need a bye week replacement, and possibly a backup quarterback down the stretch, you could do worse than Troy Smith.
No. 3: Bo Scaife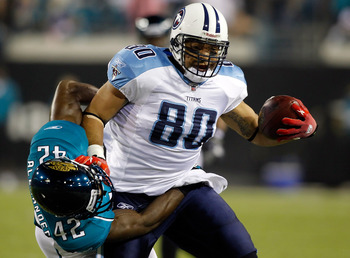 J. Meric/Getty Images
When Bo Scaife was asked about Randy Moss' arrival in Tennessee he was quoted as saying, "Thank you, Jesus."
Scaife probably stands to benefit more than anybody on the Titans not named Chris Johnson from the arrival of Moss. The constant deep threat will draw double teams and open the middle of the field where Scaife operates.
A tight end who has just 19 receptions for 179 yards so far this season, Scaife will definitely start to put up better numbers now that Moss is on the Titans.
If you lost Dallas Clark or Jermichael Finley and missed out on the Jacob Tamme sweepstakes, Scaife might be a solid addition to your roster down the stretch, especially in Week 10 against a Miami Dolphins team that was burned by Visanthe Schiancoe and Dustin Keller at the start of the season.
No. 2: Shaun Hill
Andrew Burton/Getty Images
Most fantasy football owners probably dropped Shaun Hill after the backup quarterback was injured and starter Matthew Stafford returned the very next week.
However, now Stafford is out for the season and Hill, who may or may not return in Week 10, should be a hot add in all fantasy leagues.
If he is cleared to start in Week 10, then Hill, like Hasselbeck, will be a great bye week replacement for Rodgers, Brees and Rivers. And even if he doesn't return in Week 10, his early season performance will make him an intriguing player down the stretch.
No. 1: Dexter McCluster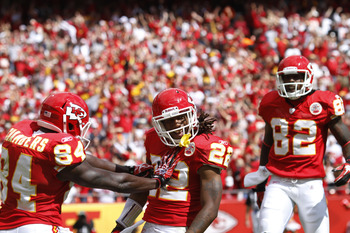 Joe Robbins/Getty Images
Dexter McCluster has missed the past two weeks with a high ankle sprain. Hopefully he will return in Week 10. If he does, the Chiefs rookie will do so against a weak Denver Broncos defense, making him a great Week 10 replacement at running back or wide receiver.
Down the stretch, McCluster will be a decent flex option, as it is likely the Chiefs will try and integrate their explosive rookie into the offense more.
If you are in a dynasty league, chances are McCluster is sitting on somebody's bench. But he should be available in all seasonal leagues and should have a better second half than first half of the season.
Keep Reading