NFL Week 10: Jason Garrett's Debut, Patriots vs. Steelers and Top 25 Questions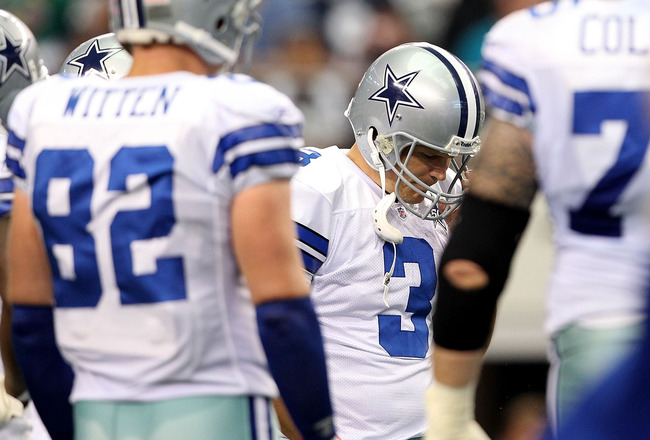 Chris Chambers/Getty Images
The words "firing" and "questioning" are thrown around often in the NFL, but if you've been looking for some new words to add to your vocabulary recently, look no further than America's No. 1 sport.
Yes, the NFL has been able to create controversy this week. Wade Phillips is now gone from Dallas, and in steps former offensive coordinator Jason Garrett to attempt to repair the framework that has been damaged in the Cowboys' 1-7 storm.
Away from Big D, other news has also been unfolding. Quarterback Matt Stafford is reportedly injured in Detroit, while Randy Moss gears up to make his ill-awaited debut in Tennessee ahead of the Titans' clash with the Miami Dolphins.
Once again, what are we waiting for?
Let's kick it off with the usual Top 25 Questions before Week 10, and focus on the main storylines of a very turbulent and testing week in the NFL.
25. Is Clay Matthews the Best Linebacker in Football?
Jonathan Daniel/Getty Images
If you're a Green Bay Packer fan, you know him as the "Claymaker." If you're a fan of any of the other 31 teams, chances are you know him as "Your worst nightmare."
So what has been so impressive about Clay Matthews in 2010?
Nothing out of the norm. That is if you think 10.5 sacks in the span of 10 weeks isn't very impressive.
No, Clay Matthews has been something else on defense. During his USC Trojan days, people knew exactly the kind of player No. 52 would develop into when he entered the NFL. However, not everybody expected Matthews to be thrown into the "best linebacker in football" conversation so early in his career.
To answer the question at hand, Clay Matthews is one of the best linebackers in football. Of course, numerous other candidates pop up in the picture—such as Ray Lewis and DeMarcus Ware—but even these two players haven't been able to out-muscle the born-and-bred playmaker this season.
Looking at the Packers' 6-3 record, it's reasonably fair to say that Green Bay's turn for the good has been due to Clay Matthews' efforts. Against the New York Jets two weeks ago, Matthews managed to record a game-saving sack against Mark Sanchez, and more importantly secure a win for Green Bay.
These are the kind of plays we have come to expect from Matthews, and after an interception against the Dallas Cowboys last weekend, the Defensive Player of the Year chatter around Matthews is also growing louder.
24. What Can We Expect from Randy Moss in Tennessee?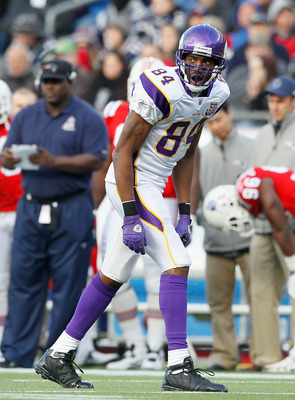 Jim Rogash/Getty Images
Most folks probably expected this slide to be a little higher in the list, but considering we've already been through this scenario once this season, Randy Moss' move isn't quite as exciting.
Still, we get to witness Moss take his talents down south to the Tennessee Titans and try to boost his new team over the Indianapolis Colts in their division.
What Randy Moss brings to the table is simple. Not only are his surefire sticky hands a benefit for any quarterback, Moss will provide quarterback Vince Young with another target when he needs one most, as former Rutgers star receiver Kenny Britt is looking likely to miss the remainder of the year.
Moss has already accumulated 313 yards and five touchdowns, although it's obvious that these figures would be higher if Moss had just stayed put.
This time around in Tennessee, we can all expect some highlights from Moss. As for his debut in Week 10 against the Miami Dolphins, perhaps Moss won't be the vibrant character we all expect him to be.
And why is that?
Purely due to Moss' lack of time. Unlike many other relocating players, Randy Moss hasn't had the benefit of an entire offseason to familiarize himself with the team's offensive game plan and overall chemistry.
Therefore, Randy Moss' debut may feature a touchdown or two, but don't expect anything overly dramatic. With that in mind though, there are still seven weeks left in the year, right?
23. Will the Chicago Bears Prove to Be Contenders Against Minnesota?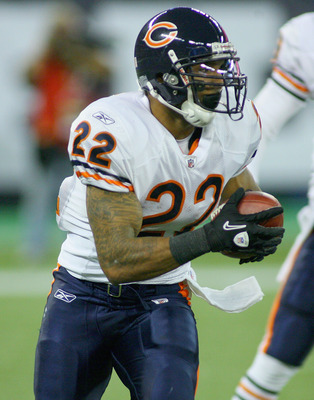 Rick Stewart/Getty Images
The beginning of the season looked reasonably bright for the Chicago Bears, who started the year 4-0. Following this surprising storyline, however, the Bears have slipped both mentally and physically in the past six weeks and now find themselves in a spot of bother.
In Week 10, the Bears are set to do battle with the Minnesota Vikings. While most of us recognize how tormenting Brad Childress' team is to watch on the football field, after Brett Favre's impressive display last weekend, predicting which Vikings team will show up this Sunday is tougher than picking winning lottery numbers.
I guess we will truly know whether the Chicago Bears are contenders or pretenders in the NFC this season after this weekend's showdown in the Windy City. With a 5-3 record on the year, the Bears are far from the danger zone just yet, but with Jay Cutler wobbling from side to side, this scenario may just be a matter of time.
It is important to remember the Bears' statistics as of late. Currently, Chicago ranks 27th in points scored and 29th in overall offensive yards, stats that are of some concern ahead of a divisional rivalry game against a defense featuring Jared Allen.
Unfortunately, I am no fortune teller, and even if I was, chances are I couldn't predict how Brett Favre will play on Sunday afternoon. By this time next week, though, we should finally have the Chicago Bears figured out, one way or another.
22. No QB Controversy in San Francisco: Is Mike Singletary Right?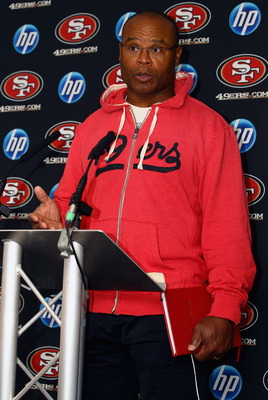 Julian Finney/Getty Images
In case you missed it, San Francisco 49ers head coach Mike Singletary recently stated that his team is not enduring any form of quarterback controversy, even though most of us are thinking differently.
On the back end of a Week 9 bye, the 49ers are now set to face the St. Louis Rams in a pivotal NFC West clash. In terms of storylines, this game couldn't pack more of a punch.
While San Francisco's season is over, the 49ers are now looking to answer some serious questions in relation to their offense.
Prior to the bye week, back up quarterback Troy Smith started the 49ers' fixture against the Denver Broncos in London, and managed to boost San Francisco to a second win on the season.
As for Smith's stats, they present a question that is left open-ended. During his first start, No. 1 threw for 196 yards and a touchdown in the 49ers' 24-16 win, although Mike Singletary's team still looked flat in the first half.
Moving forward, the question remains the same as it has all season: Does Mike Singletary have a quarterback controversy on his hands?
It may not be on the level of Andy Reid's situation in Philadelphia, but Mike Singletary does have a dilemma to deal with for the remaining weeks.
21. Which Team Will Struggle More With a Shortened Week: Baltimore or Atlanta?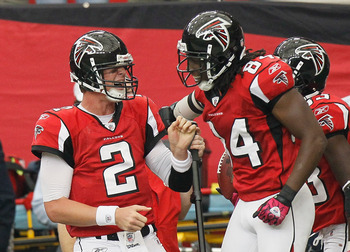 Kevin C. Cox/Getty Images
You guessed it, Thursday Night Football is back, and with it comes a cross-conference game between two elite top dogs in the league this year: the Baltimore Ravens and Atlanta Falcons.
For both Mike Smith and John Harbaugh, this game has the potential to act as a real confidence-booster. On one hand, the Ravens are fresh off a Week 9 victory over the Miami Dolphins, while on the other, the Falcons find themselves atop the NFC South after a win over division rivals Tampa Bay.
But as we all know, a shortened week can do funny things to a team.
To offer one example, the Pittsburgh Steelers managed to look extremely flat this time last year against AFC North foes Cleveland, in a game that saw Steel City fall to a rather weak Dawg Pound in embarrassing fashion.
Luckily for the Falcons and Ravens, though, both sides have been stellar this year. A battle between two of the league's 6-2 teams is set to get underway in Atlanta, and even if you are unfortunate enough to witness the game, make sure you take note of the winner (chances are you'll be seeing them again in the postseason).
And what is my prediction?
It's a tough one to call. However, minor things normally mean the difference between wins and losses in these big-time games, so seeing as the Falcons do have the luxury of home-field advantage, I'll toss the Dirty Birds a bone.
If this scenario does play out, though, don't get down on the Baltimore Ravens. Already this year, John Harbaugh's crew has toppled some of the league's major competition, and as crucial as a loss would be for the Ravens, a shortened week could be to blame.
Baltimore's trip to Atlanta could arguably be labeled as the game of the week, so even if you have to DVR it, make sure you catch some of the action.
20. Without Austin Collie, Do the Colts Stand a Chance Against Cincinnati?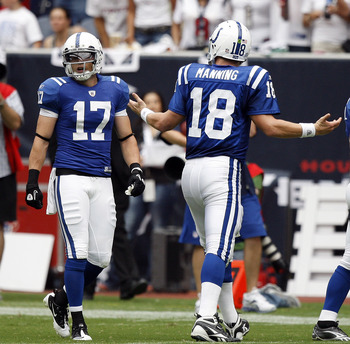 Bob Levey/Getty Images
The world stood still on Sunday when Indianapolis Colts wide receiver Austin Collie was rocked against the Philadelphia Eagles, and as every one of us expected, a severe concussion was diagnosed later on.
So it is no major surprise to find out that Collie will miss this weekend's game against the Cincinnati Bengals at Lucas Oil Stadium.
To stray from this issue for a moment, perhaps if you've just woken up from a three-month long sleep, this news wouldn't be concerning at all. However, for those of us who do know the Colts' dire situation on offense, the loss of No. 17 now leaves quarterback Peyton Manning searching for suitable options.
But as much a problem as this is for The Sheriff, head coach Jim Caldwell also has some work cut out for him. One, Dallas Clark is injured. Two, Joseph Addai is out. Three, Anthony Gonzalez is sidelined. And four, Austin Collie is now down and out.
So who does this leave for the former Super Bowl runner-ups?
Quite frankly, no one. Yes, the Colts will make do with Reggie Wayne and Pierre Garcon in the passing game, and young receivers such as Blair White will need to step up in more ways than one this weekend.
On the positive side of things, at least the Colts aren't taking on an impressive Bengals side. Maybe earlier in the year this game could have been labeled as a test, but now that Cincinnati has the 18th-ranked defense in the league, this Sunday's game isn't quite as demanding.
Still, the Colts are shorthanded and no team in the league is a cakewalk. The Bengals nearly had the Steelers on Monday Night, so we could be in for consecutive Colts losses.
19. How Will Braylon Edwards Be Received in Cleveland?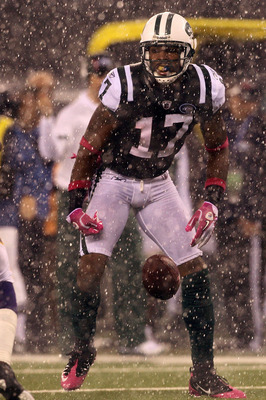 Jim McIsaac/Getty Images
New York Jets wide receiver Braylon Edwards was no more a hero than a villain during his time with the Cleveland Browns.
Like many of the Dawg Pound's faithful members, No. 17's tendency to drop game-altering passes often caused some heartache for Browns fans, even though Edwards hasn't been any more successful in his time in the Big Apple.
Now Edwards returns to Cleveland. Comebacks for former players have been a constant storyline this season, and even though this event isn't quite as big as Donovan McNabb's return to Philadelphia, nonetheless, we can expect a chorus of boos.
For any Browns fans watching on TV or even making the trip to Cleveland for the game, the atmosphere is bound to be hostile for Edwards, after five solid years in a Browns uniform.
However, what makes this visit special for Braylon Edwards is the fact that he actually has managed to have a solid year in New York, considering the massive odds stacked against him in terms of player competition.
Edwards' stats through Week 9 include 453 yards and five touchdowns. Now Edwards has the chance to play a pivotal role for the struggling Mark Sanchez, who needs to get the Jets offense back on track.
Cleveland fans may not be as notorious for booing as Eagle fans are, but don't doubt that Braylon Edwards can expect a cold reception in his former home. As for his performance, that remains to be seen.
18. Can the Bills Take Advantage of Battered and Bruised Detroit Lions?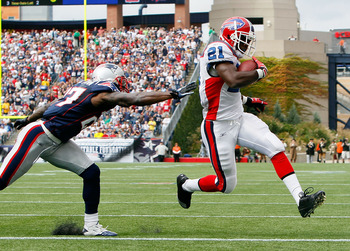 Jim Rogash/Getty Images
Close, oh so close.
Poor old Buffalo—they just can't get the job done. Whether it was in the Super Bowl over a decade ago, or nowadays during the Chan Gailey era, the Bills have possessed an enormous amount of talent...yet show nothing for it.
In Week 9 against the Chicago Bears, everybody expected an upset in the making. The Bills had home-field advantage, and with a close overtime loss against the Chiefs the previous week, most folks felt that Buffalo were set to get their first win on the year.
Wrong.
Instead of the Bills bumping it up to 1-7, unfortunately Gailey's crew of persistent players couldn't get the job done against the Bears, losing yet again, 22-19.
Where to now for the Bills?
It's no secret that Buffalo's season is finished. As disheartening as this may sound for such a promising team, though, there is no legitimate reason for the Bills to tank the rest of the year, as Buffalo does still have a lot to play for in terms of confidence, motivation and all-around team chemistry.
So in Week 10, the Bills take a trip to Canada, where they will take on the also-struggling Detroit Lions.
Fortunately for Buffalo though, they for once have the upper hand. Now that it appears quarterback Matt Stafford is out for the remainder of the season, and backup quarterback Shaun Hill is also injured, the Bills can take advantage of the Lions' bruised and battered situation.
If the Bills are to win this game, it will come down to Ryan Fitzpatrick's arm, but God knows he's been brilliant in recent weeks.
Perhaps a trip away from the United States will do Buffalo some good, and even though supporters may be hard to come by up North, the red and blue stand a real shot at placing a win on the board this Sunday.
17. What Is Wrong With the Houston Texans?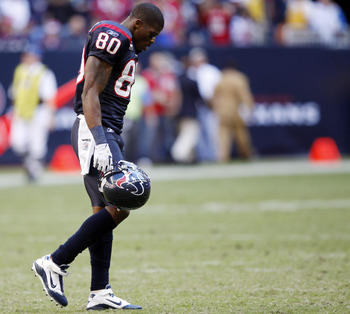 Bob Levey/Getty Images
Solving a problem like Maria was easy. Solving a problem like the Houston Texans—well, that's a totally different ball game.
They say a picture paints a thousand words. If this theory is true, Andre Johnson's expression sums up the Houston Texans' past four weeks, indicating that not all is right for a team that was poised for playoff success in 2010.
Delving into this question, one must first open up the long list of problems that surround the Texans.
First, Houston's defense is deplorable. Ranked 32nd in passing yards allowed, Gary Kubiak's secondary has been getting burned on just about every occasion, especially by some of the AFC South's top-tier wide receivers.
Second, the Texans offense isn't quite as mechanical as it used to be. By saying this, I mean that Houston isn't showing the same chemistry it did six weeks ago, seeing as Matt Schaub threw for 267 yards last week against San Diego, but scored no points on the day.
Last but not least, the Texans have become predictable. Throw it to Andre Johnson or hand it to Arian Foster. What else have you got? That's the question most opposing teams are asking.
With these three points all in one's mind, the Texans problems are quite large. To make matters worse, Houston's horrid month now sees Texas' second favorite team slump to the bottom of the AFC South, ahead of the team's clash with third-place Jacksonville this Sunday afternoon.
We all knew that tests were in store for Houston this year, and lets face it, catching the Indianapolis Colts is no easy task. Still, the entire state of Texas has been struggling in sports, and Houston's recent woes only add more salt to an already open wound.
16. Who Will Emerge Atop the AFC South After Week 10?
Stephen Dunn/Getty Images
The AFC South used to be completely deadlocked. These days, though, the true battle has come down to the Indianapolis Colts and the division leaders, the Tennessee Titans.
With 5-3 records on the year, just about all of us expected the Colts to excel in the month of November. The 11th month of the year is always laced with Peyton Manning's brilliance, and since No. 18 stepped into the picture, the weeks leading up to Christmas have always featured the Sheriff about town.
Like experts had expected, though, the Tennessee Titans have come from left field. Led by Vince Young and the always-electric Chris Johnson, Jeff Fisher's team has stayed alight during 2010, even though many hiccups have appeared in recent weeks.
Now heading into Week 10, the scenario is simple. The Colts will play the Cincinnati Bengals while the Tennessee Titans will do battle with the Miami Dolphins. Therefore, I think you'll agree that both of these games are quite meaningful.
Who will emerge on top?
You'd have to be a gutsy man to put money against Peyton Manning. The chips are down on the injury front, but it would be highly unlike the four-time MVP to slip up twice in two weeks.
That being said, the Titans are also capable of toppling the Miami Dolphins, especially considering that Tunatown lost last week in unconvincing fashion against the Baltimore Ravens—and a small factor named Randy Moss does come into play also.
Two big games from one big division. Make sure you check it out; answers should be a lot clearer come Monday morning.
15. With Wade Phillips Gone, Is Jon Kitna Next in Line to Feel the Pressure?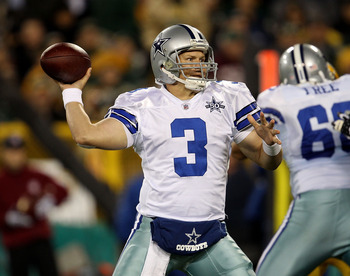 Jonathan Daniel/Getty Images
Wade Phillips is gone in Dallas, that much we know. What stands unanswered though is the current players on the Cowboys roster, who have notably lost the will to win and the passion for the game that America's Team had become so well known for.
Since Tony Romo's collarbone injury three weeks ago, Jon Kitna has felt the warm water in the deep end. Thrown into an absolute mess of an offense, Kitna was never expected to perform miracles, although some felt he would perform a little better than he has in recent weeks.
So far on the season, Kitna has thrown for 746 yards, four touchdowns and six interceptions. Are these stats good enough? They may get the job done on the odd occasion, but for a team in the midst of the NFC East, Kitna's turnover ratio certainly isn't favorable.
If you're playing the odds on the Dallas Cowboys this year, chances are that Kitna will remain the team's starter for the rest of the season. Jerry Jones doesn't have many other options, and although none of us are aware of newly appointed head coach Jason Garrett's feelings toward Kitna, No. 3 should remain under center for the time being.
Keep in mind, though, if things go from bad to worse this weekend against the New York Giants, don't be too surprised to see Stephen McGee step in. A second-year player isn't very promising, but hey, it beats more interceptions, right?
14. Are the San Diego Chargers' Woes Now Firmly Behind Them?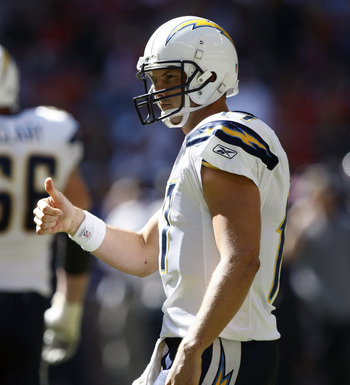 Bob Levey/Getty Images
The Chargers' slow start is something any NFL fan needs to get used to. Ten weeks into the year, though? Maybe Norv Turner has left it a little late to pile the odds on against his team.
On paper, the AFC West is a wacky division. The Kansas City Chiefs sit on top by the narrowest of margins, while the Oakland Raiders' return to form leaves them in second place above no one other than Philip Rivers and his team.
Keeping the wacky theme going, the Chargers are actually looking threatening midway through the year. With a 4-5 record, San Diego now has a chance to bring its standings back to level par, although this will have to wait until Week 11.
You guessed it: The Chargers have a bye in Week 10, the perfect opportunity to regroup, re-strategize and, most importantly, plan for a complete revamp of the AFC West division.
When San Diego get back from their week off, they will take on the Denver Broncos in yet another AFC West duel.
Who is up after that?
More division foes. Oakland and Kansas City follow in Week's 13 and 14, so if the Chargers are serious about taking over, all they have to do is beat their prime-time rivals.
It's no easy task, and I know Norv Turner may not be looking forward to it. Still, the Chargers are notorious for gaining momentum toward December, and if you're Kansas City, you'd better make the most of the Chargers' bye week while you can.
13. Is Jared Allen Back to His Best in Minnesota?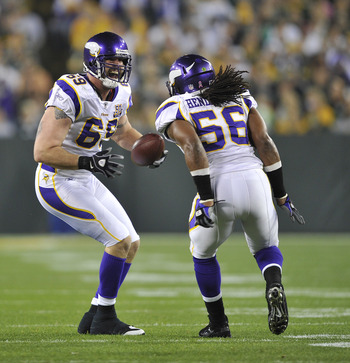 Jim Prisching/Getty Images
Minnesota Vikings defensive end Jared Allen has always been known as a dominating player, but for some reason in 2010, it has taken Allen a little longer than usual to heat up.
In comparison to some of the league's major sack leaders this year, perhaps Jared Allen's age has gotten the better of him. That being said, Allen is now back on the right track to his usual success, after posting two big-time sacks against the Arizona Cardinals in Week 9.
For all of the criticism the Vikings have faced, this is the type of play that Brad Childress has been missing. Sure, it has been easy to pin the blame on Brett Favre; however, key players like Jared Allen simply haven't stepped up this year, more or less resulting in the team's 3-5 record.
Just 3.5 sacks on the year sees Jared Allen's stats take a shot after his near career-high posting of 14.5 a season ago. There is still time, though, and if things continue along this right track, Jared Allen can easily bring his sack count up to a very respectable number.
12. Will Al Harris Find a New Home Anytime Soon?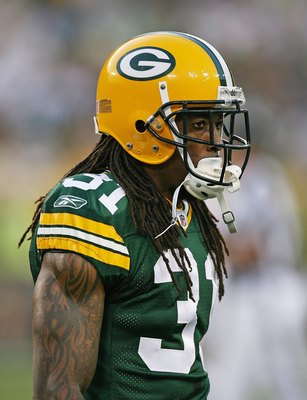 Jonathan Daniel/Getty Images
Former Green Bay Packers cornerback Al Harris may not be remembered by every NFL fan, but if you're a true green-and-gold supporter, chances are you will never forget No. 31's efforts over the years.
During this week, the Packers announced the sad news that they have decided to release Al Harris due to a long layoff plagued by injuries, and the fact that the Packers now look to move forward in new directions on defense.
As a big-time fan of Al Harris, this news was tough to swallow. When I was growing up, Harris was one of my all-time favorite cornerbacks, and to see such a talent tossed aside like a used napkin truly shows how "hot and cold" the NFL can be.
Like many people have told me though, it is important not to lose hope. Therefore, maybe someone out there could do with a big-time cornerback who has the sharp skills of a young player, but the experience of a veteran talent.
Where will Harris land?
Your guess is as good as mine. While we're speculating, though, teams such as the Denver Broncos, Detroit Lions and Houston Texans all come into play.
We'll wait and see where this story leads, but if this scenario is left too long, sadly, Al Harris may drift away in the free agency pool.
11. Can We Now Welcome Ahmad Bradshaw Back for Good?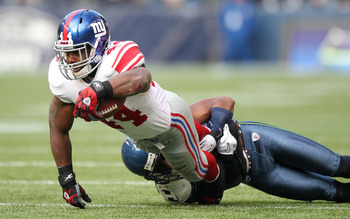 Otto Greule Jr/Getty Images
If you were like me and thought that the New York Giants had no run game whatsoever heading into September, think again, because Ahmad Bradshaw is still sticking around like it's nobody's business.
Last weekend against the Seattle Seahawks, Ahmad Bradshaw took off. Unfortunately, Bradshaw's yardage numbers weren't altogether high, but at the same time, his two touchdowns on the day added to the Giants' 41-7 victory over an embarrassing Seahawks defense.
But looking ahead to the upcoming weeks, can we welcome back Ahmad Bradshaw for good?
There's no doubt that Bradshaw may be little tested this weekend against the Dallas Cowboys. However, Bradshaw has proven that he is the best option in the Big Apple, since Brandon Jacobs is quickly becoming a lost cause in the second-string spot.
He has 765 yards and five touchdowns. Where to next?
It could realistically go either way. I, for one, am pleased with the Giants run game, though, and it's fair to say that is heading back into the right direction.
10. Which Team Benefits the Most From a Week Off?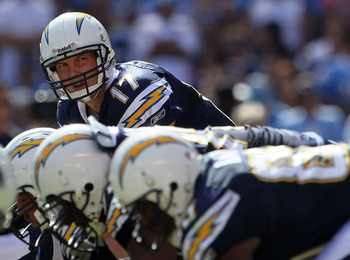 Jeff Gross/Getty Images
Four scheduled teams are set to take the week off this Sunday, all of whom are very impressive teams looking toward the end of the regular season.
As it stands, the four sides lucky enough are as follows:
Green Bay Packers (6-3)
New Orleans Saints (6-3)
Oakland Raiders (5-4)
San Diego Chargers (4-5)
So who benefits the most from some time off?
This one isn't quite as easy as past weeks have been, but the San Diego Chargers are clear winners.
With a 4-5 record and several key divisional games approaching, as mentioned earlier, Norv Turner has a big-time chance to sit down with his players and discuss the direction of this season.
Better than that, San Diego also gets to rest their key starters and give Philip Rivers the best chance to maintain his possible MVP-caliber season in 2010.
9. Is Charlie Whitehurst the Best Option for the Seattle Seahawks?
Otto Greule Jr/Getty Images
Seattle's tormenting season continued in Week 9, as they were downed by the New York Giants in a complete blowout that saw Pete Carroll's team post a measly seven points on the board.
Prior to Week 9, Matt Hasselbeck was always the preferred starter. Since sustaining a head injury, though, the Seahawks have chosen to go in the opposite direction by starting Charlie Whitehurst, a fifth-year former San Diego Charger.
For those of you who don't know how Whitehurst fared, here's quick look: As if a 41-7 blowout doesn't state it clear enough, Whitehurst threw for 113 yards, one touchdown and two interceptions against New York, in a rough display.
So is Whitehurst the best option in Seattle?
Perhaps not. However, he is the only realistic option the Seahawks have.
Until Matt Hasselbeck returns from a head injury, Charlie Whitehurst appears to be the main man in Seattle. Call it what you want, but Pete Carroll's job is to rebuild the Seahawks, and even if that includes enduring a few losses, I'm sure he'll do it.
A 4-4 record on the season is far from panic time, so let's all give Whitehurst a second chance. Who knows how he may turn out against a struggling Arizona Cardinals team on Sunday?
8. Will the Browns Topple Yet Another Top Dog at Home in Cleveland?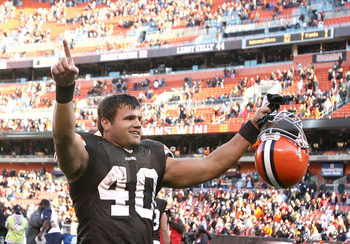 Matt Sullivan/Getty Images
New Orleans—check. New England—check.
Yes, the Cleveland Browns have played the part of David this season. Slaying the Goliaths of the league, Eric Mangini's team have been successful in maintaining a solid mixture of run and pass, against some of the NFL's biggest and baddest opponents.
Now that Week 10 is around the corner, the Browns get ready to take on the New York Jets, at home in Cleveland.
The irony here is simple: Cleveland has beaten two teams whose name starts with "New." Coincidence? Maybe, but we'll soon find out when the Browns take on New York on their home turf.
Unfortunately for Cleveland, this game isn't quite as meaningful as they could hope. A 3-5 record does see the Browns ranked third in the AFC North, but this fixture should at least give rookie quarterback Colt McCoy even more exposure against a top-tier defense.
If you're a betting man, this is a game to perhaps favor an upset. The Browns have been so unpredictable this season it has become almost humorous, and after the Jets' near-loss against the Detroit Lions last week, suddenly Cleveland isn't the cakewalk they used to be.
7. Are The New York Giants the Best Team in Football?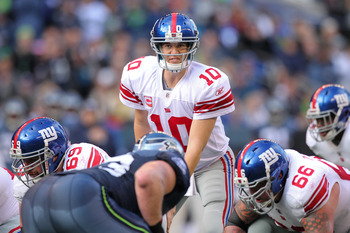 Otto Greule Jr/Getty Images
It's weird to think how close the NFC East was heading into the year, only to see the New York Giants blow it wide open with a 6-2 record 10 weeks into the season.
So now the debate begins: Are the Giants the best team in football?
For some folks, the answer is easy: yes. For others though, the Pittsburgh Steelers, New England Patriots, Atlanta Falcons, Green Bay Packers and Baltimore Ravens all have a thing or two to say about this very argument.
I guess what Tony Kornheiser recently said on Pardon the Interruption is more than just correct. The Giants are a team fresh out of left field, with a strong balance of offense and defense that many of the teams just mentioned strangely lack.
New York faces the Dallas Cowboys this weekend, and have a strong chance to boost their record to 7-2 and secure a playoff spot.
In August, this game would have been labeled as a blockbuster, now it is simply meaningless. A big chance for Tom Coughlin presents itself, and along with a win, some serious league bragging rights are on the line as well.
6. Is Jason Campbell the Sole Reason for Oakland's Success?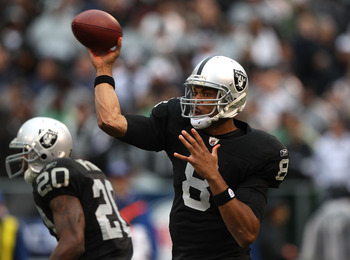 Jed Jacobsohn/Getty Images
Heading into the week, there were some questions surrounding Jason Campbell's starting status, and whether head coach Tom Cable would indeed start No. 8 in Week 11.
But why mess with a red-hot player who has provided numerous wins for a very underrated team and continues to push the Raiders toward the top spot in the AFC West?
It doesn't make sense to me.
Luckily for all of us, Tom Cable seems to have come to his senses, and will indeed start Jason Campbell while the going is good. Until Campbell does fail, it is necessary to point out that the Raiders will continue to use the former Oakland Raider in every situation, as long as his throwing arm is red hot.
On the season, Campbell has accumulated 1,252 yards and seven touchdowns. These stats are great for a player who has missed a handful of games, and now that Oakland heads into the bye week with a 5-4 record, Campbell simply needs to perform well to maintain the top job.
Like always, this is no easy task in Oakland, but with Bruce Gradkowski proving no real threat just now, Jason Campbell has the starting role for as long as he wants.
5. Can Donovan McNabb Overcome the Eagles Once Again in Week 10?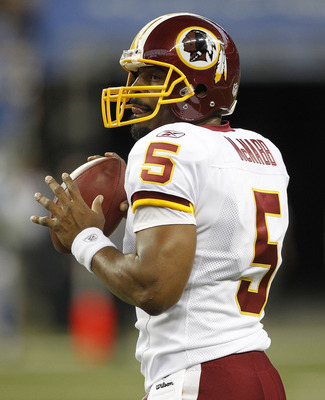 Leon Halip/Getty Images
Mike Shanahan and the Washington Redskins have managed to dodge some questioning during their Week 10 bye, and now look toward this weekend, with a familiar feeling in store.
Football fans, it's that time again: Washington vs. Philadelphia. This time around though, it is Michael Vick's turn to bring his team to the nation's capital, and experience the wonder that is FedEx Field, ahead of the sure-to-be-classic NFC East rivalry clash.
Since McNabb's win over the Eagles in Philadelphia, a lot has changed in Washington. During the week, allegations came forward that McNabb was unfamiliar with the Redskins offense, and to top that off, struggles when the going gets tough in big-time games.
Make of this what you will, but Donovan McNabb is facing immense pressure heading back home. For some odd reason this week, trade talk has flared up ahead of the 2011 season, and now McNabb must put all of his off-field distractions behind him for 60 straight minutes of football.
Prediction?
I'm not one to call it, but I'm willing to split this series dead even. The Eagles are a force to be reckoned with right now, and seeing as Michael Vick won Offensive Player of the Week last Sunday, Philadelphia should steal one away in Washington.
4. Why Are the Browns Considering Benching Colt McCoy?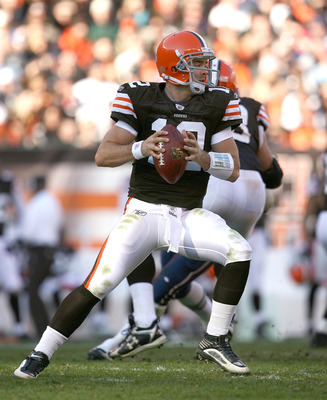 Matt Sullivan/Getty Images
Just like Jason Campbell in Oakland, more weird and wacky news came from within the Cleveland Browns organization, as it has been rumored that Eric Mangini and Mike Holmgren have considered benching impressive rookie quarterback Colt McCoy.
If this news got any more concerning, I'm afraid I may have to call out the Browns myself. Why would Cleveland even think of messing with this strategy for success after a massive win over New England in Week 10?
It's beyond me.
Similar to Tom Cable, though, Eric Mangini has also come to his senses. Colt McCoy is the likely starter against the New York Jets this weekend, and with a tough defensive test ahead, McCoy could be in for a great game, or a rough game at the same time.
All in all, Colt McCoy will gain experience from this matchup, and as we all know, that counts for a lot in today's age.
3. How Does Matt Stafford's Injury Affect the Lions' Year?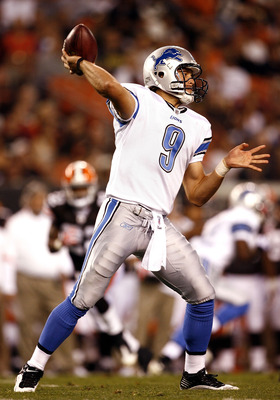 Matt Sullivan/Getty Images
Injuries are a major part of the NFL, but poor old Matt Stafford simply can't catch a break in Detroit this season.
Since Stafford's first injury that occurred in Week 1, No. 9 made a successful comeback two weeks ago, only to have it all spoiled by a right shoulder injury yet again, sustained against the New York Jets on Sunday.
The bad news doesn't stop there, either. Quarterback Shaun Hill is also injured, and now the Lions must dig deep for a replacement, who will most likely be fourth-year player Drew Stanton this weekend against the Buffalo Bills.
It's a hard-knock life for Matt Stafford, and hopefully this injury isn't too serious. Unfortunately, the Lions' season is one-and-done this year; however, next season we should see Stafford and his team in full burst, with even more talented draft picks in hand.
2. Can the Patriots Outmuscle the Steelers at Heinz Field?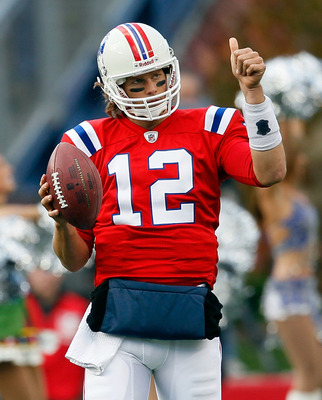 Jim Rogash/Getty Images
A big-game atmosphere awaits Sunday Night Football this week, when the 6-2 New England Patriots visit the 6-2 Pittsburgh Steelers, in a massive AFC showdown you don't want to miss.
So let's cut to the chase: Who is going to take home the win?
As much as I like to take in the home-field advantage factor, the Patriots have been stellar against top opponents this year. Currently, New England has the second-ranked scoring offense in all of football, a key statistic going into such a prime-time game.
On the other hand, though, the Steelers also have a lot to brag about. A slip-up against the Saints two weeks ago was a little worrisome, but since then Pittsburgh has managed to shut down the Cincinnati Bengals on Monday Night Football.
The final key worth remembering here is that the Steelers are a lot weaker when their run game is taken out of the picture. What does this mean for the Patriots? Well, considering New England has the 21st-ranked rush defense, probably not a lot.
New England at Pittsburgh is always a big-time affair, and it will be great for a high-scoring contest. Several key storylines await, so like the song goes, "I've been waiting all day for Sunday Night!"
1. Will Jason Garrett's Debut Go Smoothly?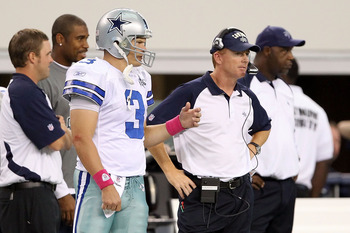 Chris Chambers/Getty Images
It's the question we're all dying to see answered, and until the Cowboys square off against New York on Sunday, we will all be left in the dark.
Ah, Cowboys, what would we do without you?
Wade Phillips is in the unemployment line, and now former offensive coordinator Jason Garrett steps into the limelight, looking to at least display the promising signs from a 1-7 team that continues to cause heartache for its fan base.
This weekend, we'll find out everything the Cowboys are about. If you are smart, you will realize that not much will be different about the Cowboys, purely due to the fact that Jason Garrett isn't new to the Cowboys coaching style.
With this being said, however, maybe Garrett will implement some new ideas into the Cowboys' game plan, and, most importantly, restore some form of faith and confidence into a team who has burned its bridges and been left for dead this season.
A 1-7 record is not easy to deal with, and lets face it, Dallas will endure more losses this year. Hopefully Garrett's debut goes smoothly, though, because I for one hate to think what the fans and press will say about America's Team in days following.
Keep Reading

Dallas Cowboys: Like this team?