2011 NFL Draft: Complete First Round Mock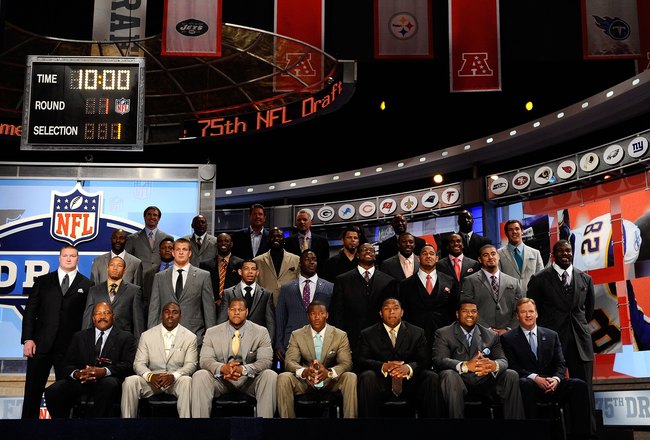 Jeff Zelevansky/Getty Images
While we're nowhere near the NFL combine or the other postseason workouts set up for pro scouts to get their final looks at the fresh meat market known as the draft-eligible college players, it's never too early to gander and size up the upcoming NFL Draft. The reasoning being, other than the Super Bowl, there is no bigger day for the NFL.
At the half-way point of the season many fans, who's teams are already out of the playoff hunt, have already turned their attention to the potential cornerstone player to turn around their team's fortunes while playoff contenders still have to keep a wondering eye towards the future.
In the spring when the stage is setup in a New York Hotel and Commissioner Roger Goodell is asking for cards from the 32 representatives of teams in connection with their franchise's war rooms, we'll be able to completely pick apart our team's selections. But for now we can get a good understanding of how the draft is panning out with breakout seasons from kids on college campuses and where our teams may be looking to upgrade.
With no further ado, here is an early look at the 2011 NFL Draft First Round.
1. Buffalo Bills: QB Andrew Luck, Stanford
Otto Greule Jr/Getty Images
Overview:
Despite insisting that he'll stay in school until he graduates, Luck still has to be listed as the anticipated number one overall pick. Not just because past quarterbacks such at Matt Leinart and Brian Brohm have seen their stock fall from their junior to senior seasons, but because the risk of injury is too great as well. No player has shot up the draft board as much as Luck since preseason predictions as he made improvements in all aspects of his game to justify this spot.
Why He Makes Sense:
The progression of quarterback Ryan Fitzgerald has been a lonely bright spot for the Bills this season, but with a franchise in disarray and a chance to nab a cornerstone player at the premium position on the field, Luck is too valuable to pass up.
Other Possibilities:
According to Scott Wright at DraftCountdown.com, the Bills are high on Luck and Christian Ponder based on their potential. It would be hard to justify taking Ponder number one overall at this moment so if he is their guy expect them to trade down or look at other positions such as the Defensive Line. Robert Quinn and Marcell Dareus are other possibilities.
2. Dallas Cowboys: DE Robert Quinn, North Carolina
Streeter Lecka/Getty Images
Overview:
Currently viewed as the best pass rusher in the draft despite the suspension, Quinn is very athletic for his size and physical enough to take on the best tackles in the NFL. He has a good burst and has developed good hand techniques to get into opponents backfields on a regular basis.
Why He Makes Sense:
The Cowboys are struggling in a lot of areas and Quinn might help their laboring defense the most.
Other Possibilities:
Looking to improve a slouching secondary, the Cowboys could upgrade their defensive backfield. Quarterbacks against Dallas have a 109.1 rating, good for last in league. They're also tied for second to last in interceptions. But corners are rarely taken this high.
3. Carolina Panthers: DL Marcell Dareus, Alabama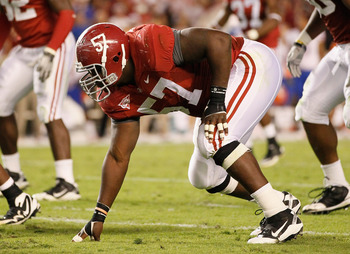 Kevin C. Cox/Getty Images
Overview:
The Defensive MVP of last year's National Championship Game, Dareus has good quickness and deceptive strength to out-power strong interior linemen. Good against the run and the pass he can play on the outside as well.
Why He Makes Sense:
The Panthers need impact players.
Other Possibilities:
There are a lot of directions the Panthers could go, but ever since the loss of Julius Peppers they have struggled to pick up their pass rush so expect them to go D-Line with WR AJ Green an outside possibility.
4. San Francisco 49ers: CB Patrick Peterson, LSU
Chris Graythen/Getty Images
Overview:
Seen as one of the safest picks, Peterson is tremendous cover corner. A "heady" player with tremendous athleticism is a good combination. At 6'1" he has good height for a corner that should let him match-up with taller receivers. There are no glaring concerns with Peterson's ability, just some minor tweaks that should come with experience.
Why He Makes Sense:
The 49ers need solid football players and help in their secondary.
Other Possibilities:
The 49ers need help on defense, but a surprise could come in the form of a quarterback signaling the official end to the Alex Smith era.
5. Detroit Lions: DE Da'Quan Bowers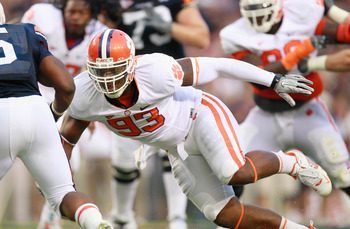 Kevin C. Cox/Getty Images
Overview:
His college career got off to slow start, but he's really come on as a strong edge pass-rusher.
Why He Makes Sense:
The Lions could use a tag-team partner to Ndamukong Suh to make an impact defensive front on par with the top defensive lines in the league.
Other Possibilities:
It would take another player separated themselves. Most players who justify being taken this high are defensive lineman and we know the Lions aren't looking for a quarterback or a corner.
6. Denver Broncos: CB Prince Amukamara, Nebraska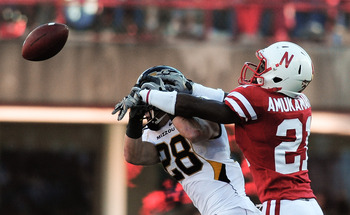 Eric Francis/Getty Images
Overview:
Nebraska's Prince of Thieves is lacking thefts because teams are unwilling to challenge him. Once a converted running back that burst on the scene in 2009 as a DB, he has a slight edge over Patrick Peterson right now as the top corner in the draft based on potential in some analysts view. Amukamara is everything you'd want in a shutdown-corner. He possesses good size, anticipation and plays physical. There is some concern about his ability to stick with receivers on deeper routes and fly patterns, but that is a small concern.
Why He Makes Sense:
Champ Bailey isn't getting any younger and the defense needs a youth injection.
Other Possibilities:
The Broncos could also upgrade their defensive line, but Amukamara is best player available where they are also in need.
7. Cincinnati Bengals: DE Adrian Clayborn, Iowa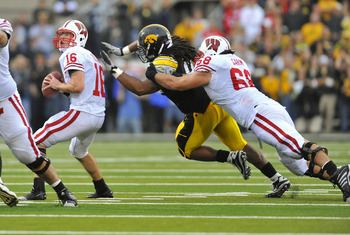 David Purdy/Getty Images
Overview:
Clayborn is a quick and athletic DE that has good technique to shed blockers. Known as a guy who doesn't give up on plays, he has the attitude and enthusiasm for the game that NFL coaches like. Concerns revolve around his strength and, despite being a good teammate and coach's player on the field, he has had a brush with the law.
Why He Makes Sense:
The Bengals will see Clayborn as a guy who can come around the edge and put pressure in the backfield. Even though he's not a bull-rusher, he can also help defend the run.
Other Possibilities:
Cincinnati could trade down, but I expect they'll go defense, specifically defensive front to give their linebackers more room to roam.
8. Arizona Cardinals: LB Akeem Ayers, UCLA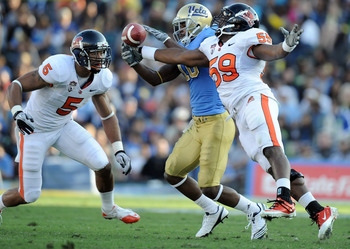 Harry How/Getty Images
Overview:
His biggest weapon is his speed that allows him to get into the backfield and chase down ball carriers. There are some concerns about his tackling and the fact that he overpursues plays, but better technique could fix those problems. Most scouts think he could get a lot better with additional work in the weight room.
Why He Makes Sense:
The Cardinals need help on the defensive side of the ball.
Other Possibilities:
The Cardinals' defense needs to be revamped which could lead them to take another defensive player such as DE Da'Quan Bowers or, if he falls, DE/DT Allen Bailey. It would be a reach here, at this point, to take a corner so don't look for that. There's many who insist the Cardinals won't take a quarterback here after Matt Leinart and citing apathy towards the QB's available, but I think as the season progresses they'll realize they are a lot further from contending than they think and look long and hard at it.
9. Minnesota Vikings: QB Ryan Mallet, Arkansas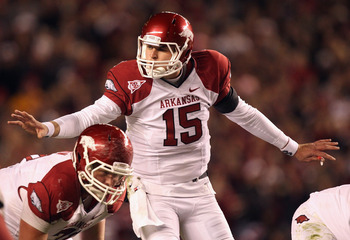 Streeter Lecka/Getty Images
Overview:
If there's one thing you can't deny about Mallet it is arm strength. An easy, quick release, passes more flow out of his hand. He has good pocket presence and, while not a runner, avoids the rush well. His accuracy needs to improve as does his decision-making and some fine revisions to his overall mechanics, but a lot of upside here.
Why He Makes Sense:
Brett Favre's career is likely over and if the Vikings had confidence in Tavarious Jackson they wouldn't have brought in Favre. Mallet has seperated himself from Locker as the second-best QB in this draft.
Other Possibilities:
The way the Vikings have underachieved this year, they could go after some other players, but I expect them to cut their losses and rebuild.
10. Cleveland Browns: WR AJ Green, Georgia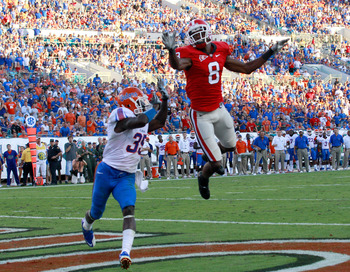 Sam Greenwood/Getty Images
Overview:
Despite the suspension for selling his bowl jersey, A.J. Green is still too talented to sit on the board too long on draft day. Dedication is an issue, but his speed and body control are very impressive. At 6'4" 205 lbs, he could add some bulk to make himself even more dangerous.
Why He Makes Sense:
If the Browns move ahead with Colt McCoy, he's going to need some help.
Other Possibilites:
The Browns are a team that could decide to take a QB if they feel McCoy isn't the guy.
11. San Diego Chargers: DL Allen Bailey, Miami (FL)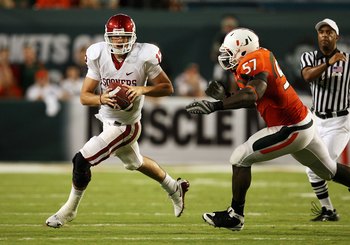 Doug Benc/Getty Images
Overview:
Although a bit undersized, Bailey is good at creating pressure. He can play inside and outside on the defensive front, but is likely to be best suited for the outside where he won't have to battle strong interior linemen and use his mobility on the edge.
Why He Makes Sense:
Bailey may be the best player the Chargers can get at this position.
Other Possibilites:
Any number of places. The Chargers could get hit hard with free agency, in turn leaving several holes.
12. Seattle Seahawks: DL Cameron Heyward, Ohio State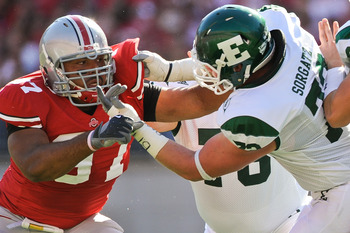 Jamie Sabau/Getty Images
Overview:
A good athlete for his size, he can play on the inside or on the edge. No one is doubting his ability, but he doesn't have many pass rush moves and doesn't play the run effectively right now. However, those are things that can be fixed.
Why He Makes Sense:
The Seahawks could stand to get stronger up front.
Other Possibilities:
This may be considered a reach at this position pending who you talk to and the Seahawks need help on the offensive line. Of course, the offensive linemen in the draft probably don't justify this high a billing either. Look for the Hawks to possibly trade down if they do, in fact, end up this high on the draft board.
13. Houston Texans: S Raheem Moore, UCLA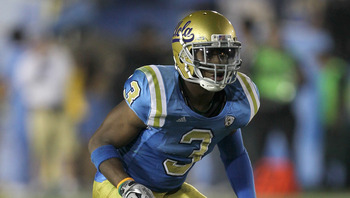 Stephen Dunn/Getty Images
Overview:
The Best Safety in the draft, Moore had a breakout season last year. He is a proven ball-hawk snatching 10 interceptions last year. He is also playing some corner as needed. Despite not being big, he has been durable in his college career.
Why He Makes Sense:
Texans need to upgrade their secondary. This could be a reach here in some minds, but he makes the most sense for Houston.
Other Possibilites:
Hard to see the Texans going someplace other than their secondary.
14. Jacksonville Jaguars: DE Ryan Kerrigan, Purdue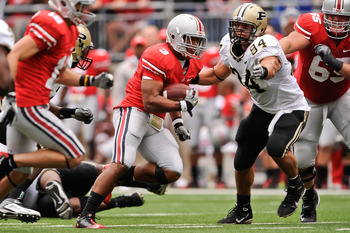 Jamie Sabau/Getty Images
Overview:
Known as a hard-working high-motor type player, no one questions his work ethic. He may be seen as a reach though because he isn't particularly athletic, fast or very strong. However, his well-rounded skills and ability make plays make him stand out.
Why He Makes Sense:
The Jags upgraded their interior defensive line last year, but still need some help off the edge.
Other Possibilites:
The Jaguars also need help in their secondary, but the two elite corners are gone at this point. The Jaguars are a team that could look at QB.
15. Miami Dolphins: RB Mark Ingram, Alabama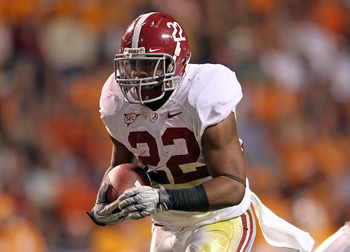 Andy Lyons/Getty Images
Overview:
A powerful runner that can shrug off and wiggle his way out of arm tackles, Ingram doesn't have blazing speed, but he maneuvers well in the open field and is an above-average receiver out of the backfield.
Why He Makes Sense:
Ricky Williams can still run, but is getting older and Ronnie Brown has had injury troubles.
Other Possibilities:
The Dolphins could go some different ways. Getting a playmaker on defense is always nice or they could upgrade the offensive line.
16. Washington Redskins: QB Jake Locker, Washington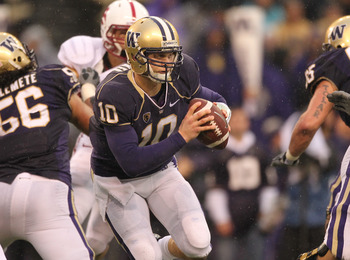 Otto Greule Jr/Getty Images
Overview:
Locker has been falling on draft boards and some are comparing him to JaMarcus Russell due to his lack of field vision and accuracy. The fact that he isn't winning games is also a concern, but he possesses enough arm strength the make the necessary throws at the next level and has good mechanics as well as size NFL teams are looking for. Many will call this a reach based on his recent play, but when it's all said and done he could go even higher.
Why He Makes Sense:
Donovan McNabb isn't a long-term solution for the Skins.
Other Possibilities:
Christian Ponder may be nipping on Locker's heels as the third-best QB in this draft.
17. New England Patriots (from Oakland Raiders): DT Stephen Paea, Oregon State
Harry How/Getty Images
Overview:
From Tonga, he has good quickness and fundamentals for a player still in need of experience. He can take on blockers, but sometimes goes dormant in games which is a concern. This pick is based mostly on potential.
Why He Makes Sense:
This pick comes in exchange for Richard Seymour and the Pats could look to fill Seymour's void with Mark Ingram off the board.
Other Possibilities:
Mark Ingram would be a nice match if he falls to the Pats. This may seem like an odd-match for the Patriots to take on what is viewed as an "advanced-project."
18. Chicago Bears: OT Anthony Castonzo, Boston College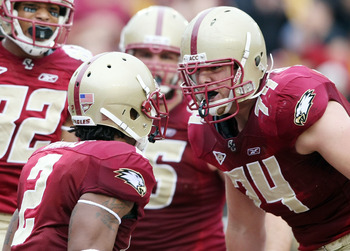 Elsa/Getty Images
Overview:
One of the hot players in the upcoming draft right now. Not particularly strong, but very athletic for an offensive lineman. He also has good knowledge of his position and is very advanced for a college player.
Why He Makes Sense:
The Bears need more protection for Jay Cutler.
Other Possibilities:
Hard to see the Bears not addressing the offensive line.
19. Tampa Bay Buccaneers: OT Derick Sherrod, Mississippi State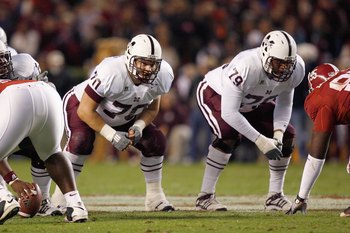 Kevin C. Cox/Getty Images
Overview:
Big, agile, and fast, Sherrod is challenging for the top tackle spot in this draft.
Why He Makes Sense:
Josh Freeman appears to be the QB of the future in Tampa Bay so securing some protection for him would be nice.
Other Possibilities:
The Bucs could use a defensive player. If Von Miller is still on the board that may be hard to pass up if he gets things going again.
Tennessee Titans: LB Von Miller, Texas A&M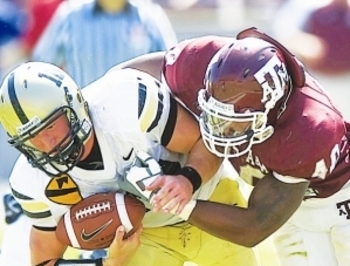 Overview:
A Monster season in 2009, Miller racked up 16.5 sacks and over 20 tackles for loss. He has great speed and can cover as well. Already experienced as a 3-4 linebacker Miller would be a much hotter commodity if not for injury issues this season.
Why He Makes Sense:
He may be the best defensive player to come out of this draft.
Other Possibilities:
The Titans could also use some help in the secondary.
21. St. Louis Rams: WR Julio Jones, Alabama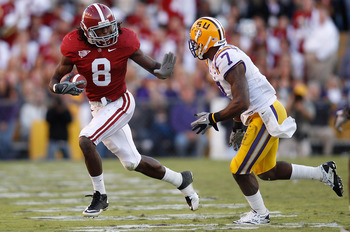 Chris Graythen/Getty Images
Overview:
Size and athletic ability set him apart, but he also has good speed that helps him blow by defensive backs and run after the catch. He's noted for his toughness and isn't afraid of contact. He has had some drops which hurts his value, but other than that he's been a consistent performer for the Tide since his freshman season.
Why He Makes Sense:
With Sam Bradford in the fold, the Rams need to look to build around him. Jones would be a steal at this position.
Other Possibilities:
If Jones is gone, look for Johnny Baldwin. Addressing the WR position is a must.
22. Kansas City Chiefs: OT Nate Solder, Colorado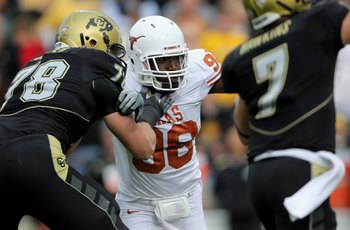 Doug Pensinger/Getty Images
Overview:
Solder needs to bulk up a little, but is still suprisingly strong and an impressive athlete. He's a converted blocking tight end, but the transition wasn't difficult for him.
Why He Makes Sense:
The Chiefs have ignored the offensive line for a long time. They finally took Branden Albert a couple years ago, but still need more players there.
Other Possibilities:
It seems as if the Chiefs have been searching for impact defensive linemen for years so they could go that direction. They also might look at a WR if a player like Johnny Baldwin falls to them. They also could use a young center so Rodney Hudson is a possibility.
Philadelphia Eagles: CB Janoris Jenkins, Florida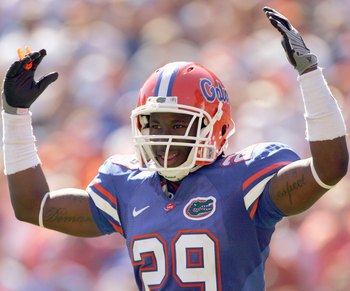 Sam Greenwood/Getty Images
Overview:
Can be a bit of risk-taker and has struggled with bigger, physical receivers, but is still a top-notch corner due to his awareness and quick cuts he can make on the field. Despite the risks he takes, he jump routes well and gets interceptions.
Why He Makes Sense:
The Eagles need another corner and Jenkins could be a steal if he fell to them here.
Other Possibilities:
If Jenkins gets snatched up, I would look at the other corners such as Ras-I Dowling from Virginia.
24. Indianapolis Colts: OT Gabe Carimi, Wisconsin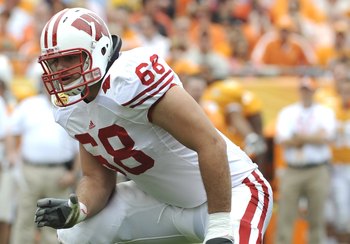 Al Messerschmidt/Getty Images
Overview:
At 6'8" 320 lbs., Carimi is big, powerful and physical. He is best known for his run-blocking as his athleticism is in question which may move him to right tackle, but he has fast feet and good footwork to compensate for it now.
Why He Makes Sense:
The Colts need some youth on the offensive line.
Other Possibilities:
The Colts could also go DT with Nick Fairley rising up the board.
25. New Orleans Saints: LB Bruce Carter, North Carolina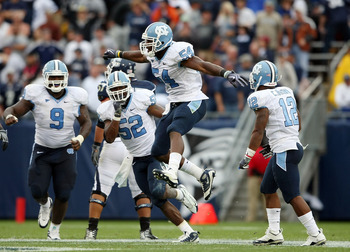 Elsa/Getty Images
Overview:
Carter is strong for his size and can really run. Great speed allows him to make plays in the secondary and get in the backfield. He can struggle with powerful linemen so he relies on his speed.
Why He Makes Sense:
The Saints linebackers have struggled this year.
Other Possibilities:
Linebacker is their biggest need so if Carter is gone look for Travis Lewis Oklahoma or Donta Hightower of Alabama as possibilities.
26. New York Jets: WR Jonathan Baldwin, Pittsburgh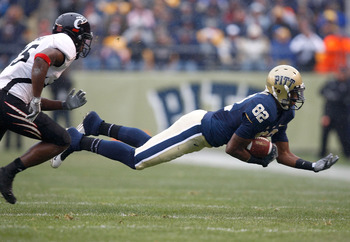 Jared Wickerham/Getty Images
Overview:
NFL teams like his size and strength that make him a dangerous weapon around the end zone. He has strong hands to reach up snag passes where shorter corners can't reach and is good at finding holes in the defense. His speed is an issue as he struggles to run away from defensive backs, but with work on route-running he should be able to compensate.
Why He Makes Sense:
The Jets need some receivers for Mark Sanchez.
Other Possibilities:
I expect them to get an offensive weapon in some form.
27. New England Patriots: C Rodney Hudson, Florida State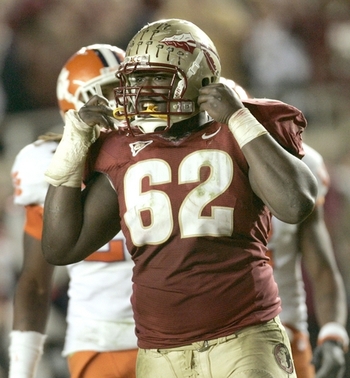 Overview:
Also a capable Guard if he adds strength and bulk, Hudson is a coach's player. Meaning, he is a leader and a has strong work ethic. He has good technique, footwork, balance and is an intelligent player.
Why He Makes Sense:
The Pats need some help on the O-Line. Hudson provides depth they sorely need.
Other Possiblities:
The Pats could also use a running back, but if they pass on an offensive lineman with their first pick, they really need to address it here.
28. Atlanta Falcons: DT Nick Fairley, Auburn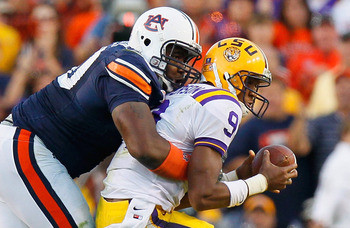 Kevin C. Cox/Getty Images
Overview:
Soaring up draft boards recently, Fairley is big, suprisingly athletic and fast. A former Juco transfer, Fairley could soar higher if he maintains his rapid progress this season.
Why He Makes Sense:
The Falcons could use some depth here. Fairley is quickly rising up the draft board.
Other Possibilities:
The Offensive Line could also use an upgrade. Some people think the Falcons will take young tight end like Kyle Randolph of Notre Dame, but I think that would be a mistake.
29. Baltimore Ravens: CB Aaron Williams, Texas
Ronald Martinez/Getty Images
Overview:
Williams has become a forgotten man due to injuries and Texas' poor season. His tackling isn't great, but he has good coverage skills and is very fast. A potential top ten talent, Williams could be a major coup if he falls.
Why He Makes Sense:
A lot of fingers have been pointed at the Ravens secondary.
Other Possibilities:
The Ravens could use a young receiver, but right now Michael Floyd hasn't done enough to justify this pick. They could also use a youth injection on the offensive line.
30. Green Bay Packers: CB Ras-I Dowling, Virginia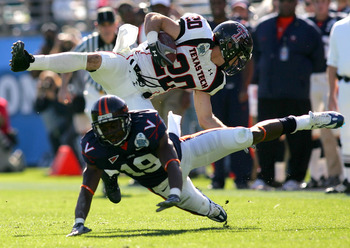 Sam Greenwood/Getty Images
Overview:
An injury has caused Dowling's stock to fall a little this year, but he's still a first-round talent. Scouts love his size at 6'2" to play with taller wide outs and his desire to get physical with receivers. He needs to learn more about playing his position properly, but he has a lot of upside.
Why He Makes Sense:
Al Harris and Charles Woodson aren't getting any younger.
Other Possibilities:
The Packers may gander at some defensive lineman if Dowling is gone.
31. New York Giants: OT DeMarcus Love, Arkansas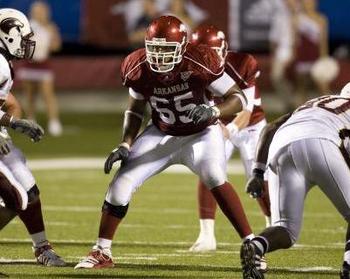 Overview:
Big and athletic, Love has the tools to be a solid NFL lineman. Better noted for pass-blocking due to his long arms, his run-blocking needs some work as does his awareness on the field.
Why He Makes Sense:
Creating competition on the offensive line could go a long way for Giants.
Other Possibilities:
The Giants don't have any glaring holes on defense, so I suspect they'll go somewhere on the offensive line.
32. Pittsburgh Steelers: OL Mike Pouncey, Florida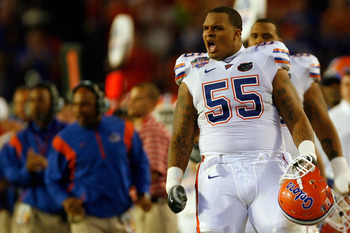 Eliot J. Schechter/Getty Images
Overview:
Big and Powerful enough to step in and contribute right away helps his stock. He isn't a great athlete and needs help on his run-blocking, but he's climbing the board right now.
Why He Makes Since:
Joining his twin brother would be a coincidence, but the Steelers need some depth on the Offensive line.
Other Possibilities:
Lots of good players still exist on the board so the Steelers may be inclined to take the best player available although O-Line is their biggest need.
Keep Reading