Friday Mailbag: NFL Fantasy Football Letters To Beanie Wells, Jacob Tamme & More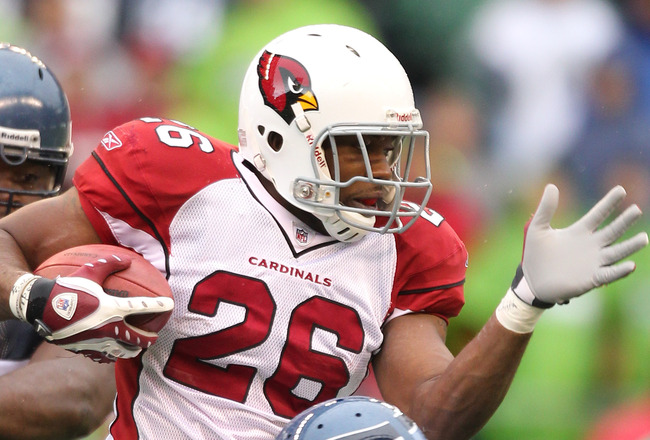 Otto Greule Jr/Getty Images
Each Friday, I choose a handful of players that I write "letters" to, discussing their upcoming games.
Sometimes it results in begging for fantasy points, sometimes it results in asking for a less-than-stellar week.
All should be taken with a grain of salt. The letters are not meant to sound selfish or greedy, rather, just expressing my fantasy sorrows. Someone out there should be able to relate.
Jacob Tamme, Indianapolis Colts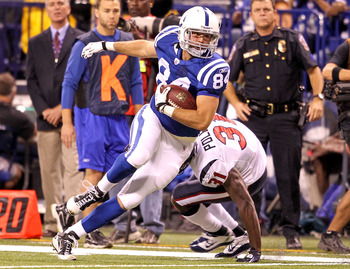 Andy Lyons/Getty Images
Dear Jacob Tamme,
A month ago, if someone mentioned your name, I would have asked, "who?" because in the shadow of Dallas Clark, you weren't on fantasy radars.
However, after Monday night, I started to pay attention. I put in a waiver claim for you and now you're on my roster. (Congrats, you beat out Heath Miller on one team and Zach Miller on another). You looked pretty good against Houston, I have to say.
Of course, you have Peyton Manning to throw to you, and he makes every receiver look good. And you were playing Houston, who can't defend against the pass better than… well… 31 other teams. I'm starting you against Philly this week. I'm not going to be greedy, but I'll take an encore performance of last week (six receptions for 64 yards and a touchdown).
Thanks,
Sarah
Darren Sproles, San Diego Chargers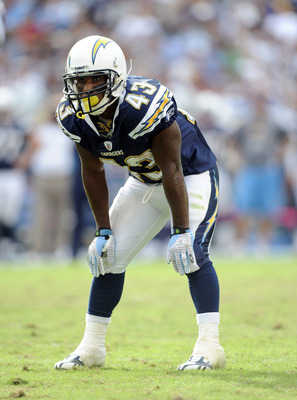 Harry How/Getty Images
Dear Darren Sproles,
This year, overall, you have been pretty much a fantasy disappointment. You're trapped on a team that has a running back by committee approach, and you're left out of it.
Half of the receivers are injured, and you're still not catching balls. Your past two weeks were decent, with 147 total yards, 13 catches and a touchdown, but let's not forget the disaster that was week 4. Oh you forgot? Let me remind you: -0.3 points. That's a negative sign out there. That does NOT help a fantasy team. What that does is take away from what other people who are actually moving the ball forward have done.
Yet, I picked you up and am contemplating starting you. Why? Because Philip Rivers needs to do something with the ball. He sure as heck isn't going to run it himself. Ryan Matthews is hit or miss. Patrick Crayton certainly hasn't been spectacular, and his other receiver is a guy that would earn more points in Scrabble with his last name than he's earned in fantasy. Darren Sproles, welcome to my line-up.
Good luck to us both,
Sarah
Ray Rice, Baltimore Ravens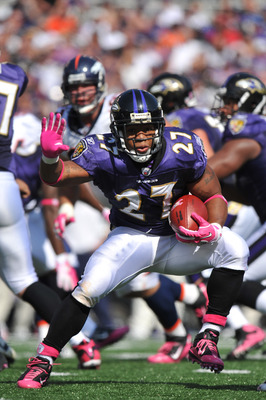 Larry French/Getty Images
Dear Ray Rice,
I just traded for you. As much as Jahvid Best was a great RB at the beginning of the season, he's slowed down (this is a sure sign that he will double his fantasy production in the next few weeks). So I traded him for you, with the hope that you will keep my flailing team in first place.
I looked at your upcoming schedule – Miami, @ Atlanta, @ Carolina, Tampa Bay, and then Pitt in the last week of our fantasy season. While I'm not crazy about the Atlanta and Pitt games, I was willing to gamble it on the rest. I know you said you've faced a lot of coverages, but I trust that you're a strong enough player to push through 'em. (And let's forget the fact that I could have drafted you and chose not to. Thanks.)
Hoping for a strong November,
Sarah
Calvin Johnson, Detroit Lions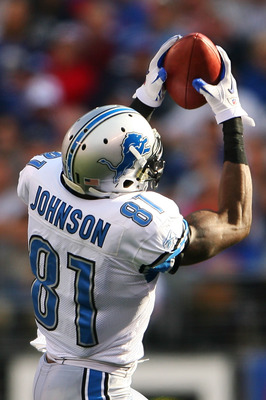 Andrew Burton/Getty Images
Dear Calvin Johnson,
It's been well-documented that I root for the underdog, and while I'm not a Lions fan, I have been glad you've won some games this year. And I know you are an excellent WR, but I really hope you don't have a repeat performance of last week.
I'm playing against you, and an immediate 18 points might just sink my already floundering team. I hear that Darrelle Revis is saying that his hamstring is fully healed, and that you have a date with Revis Island this Sunday. He's tough, but beatable (see Randy Moss, as a Patriot, making a one-handed touchdown catch when he actually cared about playing).
Maybe just tone it down a little this week. Throwing didn't work so well for Green Bay last week, so try the running game. Please?
Thanks,
Sarah
Drew Brees, New Orleans Saints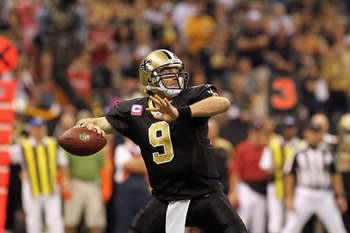 Matthew Sharpe/Getty Images
Dear Drew Brees,
I benched you last week in both of my leagues. Yes, I regret that decision. Although watching you in the first half of that game vs. Pittsburgh, I thought I made the right call.
Here is my request to you: please play the full game like you played the second half Monday night. Lots of throwing to your receivers, lots of passing touchdowns. You only earned me 17 points last time you played Carolina… I'm hoping for a little higher than that this time.
Your running situation is a mess. Who are you going to hand off to? Chris Ivory? C'mon. Until Reggie Bush comes back, focus on the throwing game (who else? Oh, Pierre Thomas? Yeah, Brees, I hate to be the one to break this to you, but he should be joining Antonio Gates driving around on a scooter instead of coming up with a new excuse why he is on back on crutches after five weeks!). Moral of the story: please throw the ball on Sunday.
Thanks,
Sarah
Beanie Wells, Arizona Cardinals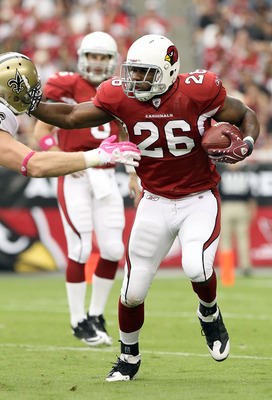 Christian Petersen/Getty Images
Dear Beanie Wells,
I started you over Michael Bush last week, and Bush outscored you. I acquired you in a trade, and honestly, I'm not sure it was such a good idea. I'm on the fence about starting you this week (and in my other league, I'm playing against you).
I know you blamed a lubricant or something with an injection for why your surgically repaired knee swelled up, but I'm not sure I completely trust you this week. For the past two weeks, you've managed 54 yards on 14 carries and 50 yards on 16 carries, with a touchdown each week. If not for those touchdowns, your fantasy value would be way down.
Minnesota doesn't have the best run defense either, but I'm not sure your touchdown streak will keep up. I think it's time you get reacquainted with the bench.
Sorry,
Sarah
Oakland Raiders Offense
Ezra Shaw/Getty Images
Dear entire Oakland Offense,
For the love of anything, can you please score a touchdown? No, not a field goal. I'm playing against Sebastian Janikowski this week (and I was last week, in a different league).
How many times did you get down to near the goal line and not be able to score six points??? Time and time again, I watched as five field goals were attempted (four made, the longest for 49 yards).
While some coaching decisions were to blame for my loss last week, I have to say, if the guy I was playing against didn't have those 13 points, I would have won. Please don't let me lose to a kicker again this week.
Thanks,
Sarah
DeSean Jackson, Philadelphia Eagles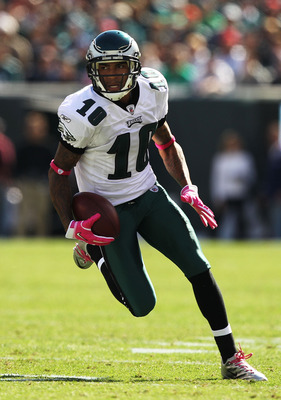 Al Bello/Getty Images
Dear DeSean Jackson,
You're giving me a tough choice this weekend. If you were completely healthy, this would be a no-brainer. I'd start you over Patrick Crayton in a heartbeat. However, you aren't 100%. I know you passed all of those pesky mandated concussion tests, but you missed two weeks of practice.
You're likely a little gun-shy about jumping up for that high pass. I know they gave you that extra protective concussion-preventing helmet, but I still don't know. Okay yes, that whole Kevin Kolb at quarterback experiment is over (thankfully!) and you and Michael Vick do well together, but is that reason to start you?
Looking for an answer,
Sarah
Keep Reading