Jayson Werth vs. Domonic Brown: Who's Better for the Philadelphia Phillies?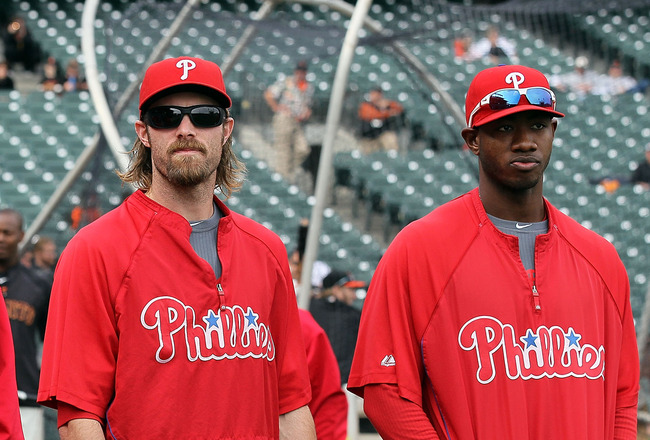 Justin Sullivan/Getty Images
Jayson Werth is going to be a free agent at the end of the year. If the Phillies don't re-sign Werth, rookie Domonic Brown will probably become their starting right fielder.
There is some debate about whether Domonic Brown will do as well as Werth did, and whether it would be a good decision to re-sign Werth. Here, I am going to explain the reasons why each player would be good or bad for the Phillies.
1. Brown's Hitting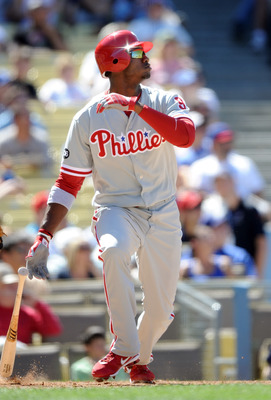 Harry How/Getty Images
Even though Brown did not do that well last year in the Majors, he has shown his skill in the Minor Leagues. He is probably a better overall hitter than Werth.
2. Werth's Experience and Brown's Inexperience
Ezra Shaw/Getty Images
Jason Werth has played a lot longer that Brown, so he has a lot more experience. He has a lot of experience under pressure and in the postseason.
Although Domonic Brown's youth can be an advantage, it can also be a disadvantage. Brown is young and inexperienced and may not be ready for the Major Leagues. Last year, he came up from the minors, but wasn't as good as expected.
3. Werth's Age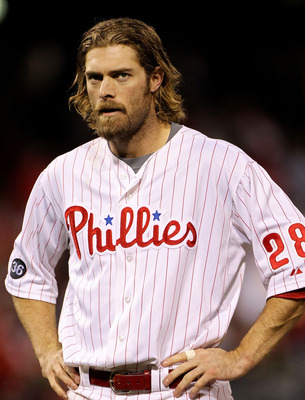 Doug Pensinger/Getty Images
Although being older can give you experience, it also has some downsides. Werth is getting older and will probably have a lot more injuries than someone young like Domonic Brown.
4. Werth's Cost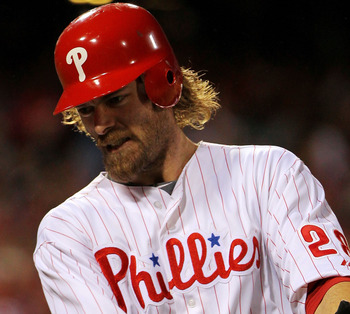 Doug Pensinger/Getty Images
One of the main problems with re-signing Werth is that he is one of the top free agents on the market.
Therefore, he will want a lot of money from who ever he signs with.
Domonic Brown is young and will cost a lot less than Werth. Because Brown would cost so little, the Phillies could use some of their money for something like bullpen help.
5. Werth's Fielding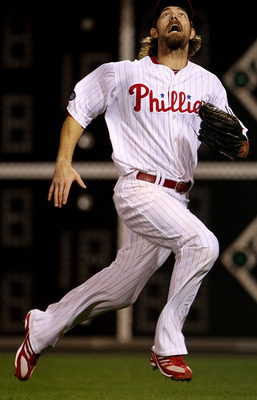 Doug Pensinger/Getty Images
Another reason that Werth is a better player than Domonic Brown is his fielding. He is a great fielder and throws out many runners. Brown is young and has made some mistakes, like misjudged fly balls and wild throws.
6. Werth's Clutch Hitting in the Postseason
Doug Pensinger/Getty Images
Although Werth was very bad this year with runners on base, he showed lots of skill at hitting in the clutch in the postseason.
The Phillies have won their division for four straight years, so it is likely that they will make it again. Because of this, they especially want players who can hit well under pressure in the postseason.
7. Werth Is Right-Handed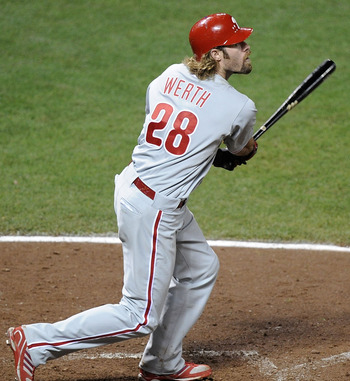 Harry How/Getty Images
One of the main problems in the Phillies' lineup is that they have too few right-handed batters. Werth is one of their right-handed batters, and Brown is left-handed. This could strongly weaken the Phillies' lineup.
Who's Better For The Philadelphia Phillies?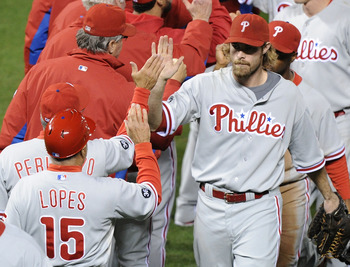 Harry How/Getty Images
Those are the facts. Now I want to know your opinion.
Who do you think is a better player?
Is Werth worth it?
Will Dynamic Domonic dominate?
Which one deserves the spot more?
Who do you think would be better for the Phillies?
And anything else you have to say.
Keep Reading

Philadelphia Phillies: Like this team?