NFL Week 9: What The Rest Of The Washington Redskins Season Looks Like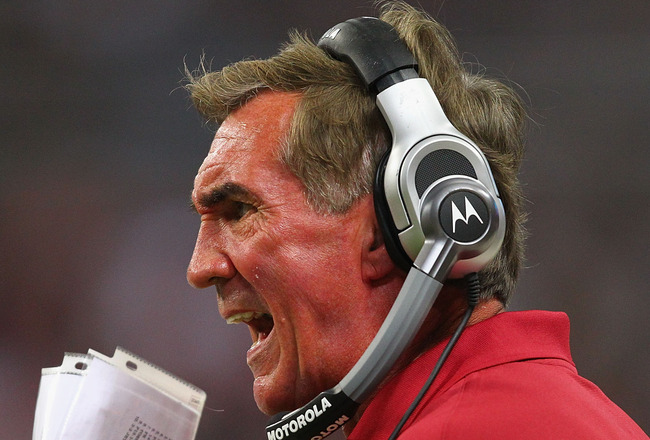 Dilip Vishwanat/Getty Images
The Redskins have a much needed bye week to get healthy, physically and mentally. They're swirling in controversy at the moment, but the team has been through much worse. Much will be written about the swirling McNabb/Shanahan controversy, and some will say that the season will be ruined from here on out regardless.
That said, Donovan McNabb and Mike Shanahan are consummate professionals, and they're going to be trying their hardest to finish this season strong. 4-4 is about the best I thought the Redskins could be at this point, and the season is not at all lost. There's still a lot of football to be played, and with some time to get rested, the team will be back to 100% in no time.
So let's take a gander at the rest of the season, if only to take a break from the insanity that will be week 10.
Philadelphia Eagles--WIN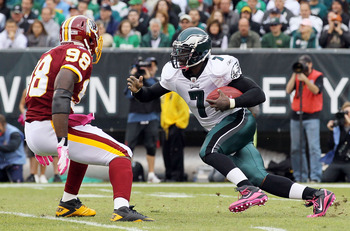 Jim McIsaac/Getty Images
All signs point to the Michael Vick still be the starter by week 10, which means that the Eagles will be looking for revenge against the team that put him on the shelf in the first place. (They should be thanking us for showing they have two quarterbacks than can go.)
Philadelphia looked good with Kolb on the field, but their defense continued to show signs of leakiness; their past three games, teams have been able to rally a little bit in the second hand and come back. The 49ers and Falcons lost, but the Titans came up with a big win. Their run stopping ability is still suspect, and the defense can't seem to close out games. (Basically, their defense is like our offense).
The story is kind of the same; the Redskins, coming off a loss to a team they should've beaten, facing their franchise quarterback's former team. The Redskins always step it up in division rival games, and they will be playing as physical as ever.
It'll also be interesting to see if Michael Vick is as ready to run on the team that smashed him up. For the time he was in the game, the Redskins did a good job of not only containing Vick, but keeping him off the field, while DeAngelo Hall and Carlos Rodgers did a good job of containing Jeremy Maclin and DeSean Jackson.
Yet again the Redskins will face a situation where they have to show up and put up a fight, otherwise more talk will ensue. Ryan Torain had a big game against the Eagles in week 4, and Clinton Portis may be back in the game sooner rather than later, provided he's healthy enough to go. That adds Portis' blocking ability back into the fold, which is greatly needed.
The Redskins will take this game at home in a heart fought game. McNabb will want to show up versus his former team and in the wake of his benching, the team around him will want to show he still trust him, and the atmosphere in FedEx will be electric in the wake of all the controversy. It'll all be a bit too much for the Eagles to handle.
@ Tennessee Titans--LOSS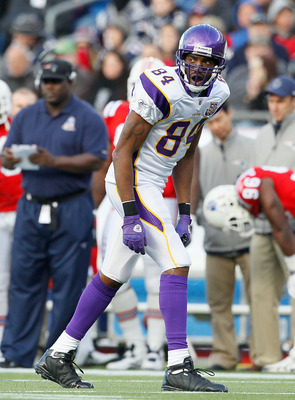 Jim Rogash/Getty Images
To be honest, I wasn't sure about this game when the season first started. As the season wore on, I generally thought the Redskins had a chance of pulling it out. Then the Titans defense started showing up regularly, and I thought not so much. Then Kenny Britt comes out of nowhere, and I thought so even less. Then I remembered they still have Chris Johnson and our defense has a tackling problem and I started to dread the game.
And then they acquired Randy Moss, and I got about as afraid as you can get.
I don't know if DeAngelo Hall or Carlos Rodgers can hold Moss down. If you give either one of them safety top over the top, that allows Chris Johnson to run. If you somehow contain both Moss and Johnson, Nate Washington is another weapon you have to account for.
It's like a trifecta of suck.
For one, the Redskins haven't been stellar in their away games this season. Then you take the fact that the Titans are leading the league in sacks. Their run and pass defense is suspect, but that won't much matter if we can't keep McNabb upright long enough to get anything done.
After the emotional Eagles win and the quelling of some fears, the Redskins will put up a hard fight, but ultimately lose to the Titans. There are holes in their game than can be exploited, and likely will be. But the Titans are looking like a real contender right now, and it's going to be hard for the Redskins to be the one NFC East team Jeff Fisher's team doesn't beat.
Minnesota Vikings--WIN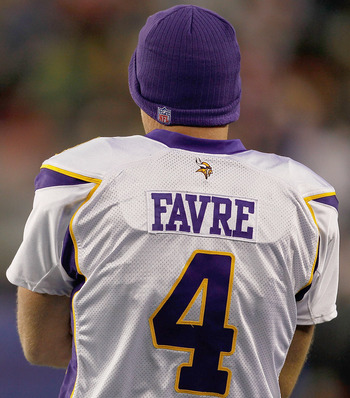 Jim Rogash/Getty Images
The Vikings are just a strange team to figure out. The stout team of 2009 hasn't showed up yet in 2010, and with all the crap surrounding their team (thank you, Brad Childress, for making Mike Shanahan look like a genius by comparison), it's hard to gauge what kind of threat they are.
On paper they have the weapons. But the only completely healthy weapon (as of now) is Adrian Peterson. Percy Harvin now has to deal with an ankle injury. Sidney Rice is coming off hip surgery. And Brett Favre is all sorts of banged up--he's got broken bones in his foot, tendonitis in his elbow, a hurt chin, and a damaged psyche.
It's all compounded by their head coach Brad Childress, who can't seem to hold his team together. Their offensive line is performing poorly and letting Favre get hit in the mouth. (Literally). They, like the Redskins, are missing their former third down back Chester Taylor, and while Adrian Peterson might be the best running back in the league right now, he hasn't shown an ability to block.
Meanwhile, their defense is underperforming; they haven't recorded a sack in three straight games as of now. Jared Allen is supposed to be a dominant player, but he's getting beat one on one by left tackles.
The Vikings are a team in disarray, far more so than the Redskins could ever be. Their players are banged up, their coach is disliked, and they already had their bye week.
Is it possible the Vikings win this game? Maybe. They'd have a better chance at home. Unless the Vikings step up in the next couple weeks, I see the Redskins winning this game. Not easily, but at the end of the day, we should have the healtheir, less disorganized team.
Hopefully.
@New York Giants--LOSS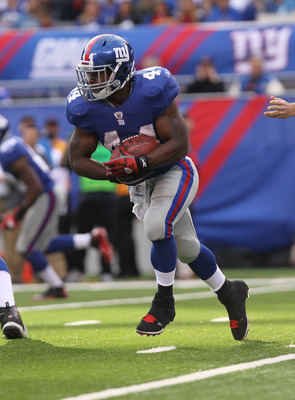 Nick Laham/Getty Images
This game scares me.
Why?
Because the Giants are quarterback killers. On top of having a potent offense, their defense has woken up and played physical as all get out. People rarely leave a Giants game healthy, with quarterbacks usually being the casualty of war.
Not that people escape Redskins games healthy. Combined these two teams have dinged up and put a lot of people on the shelves.
This game is ultimately going to come down to which defense wants it more. The Redskins defense, or the Giants defense.
The other ex-factor? Special teams. The Giants special teams is HORRIBLE, and have given teams good field position on several occasions, along with fumbling the ball. With Brandon Banks emerging, his touchdown could be an ex-factor.
That being said, as hard fought as this game will be, I think this will be a low scoring, defensive affair. And as great as the Redskins D has been over the pass couple weeks, the Giants offense is a bit more consistent, thanks to Ahmad Bradshaw being a beast.
This will be a great rivalry game, but the New York Football Giants will squeak by in this game. But not without one hell of a fight.
Tampa Bay Buccaneers--WIN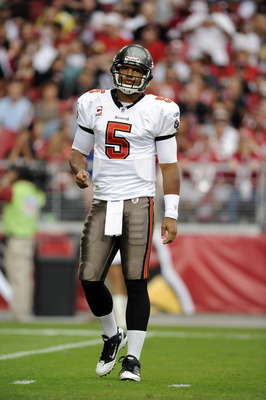 Harry How/Getty Images
It's like the people that made this schedule filled it with trap games on purpose.
At least this one is at home.
It's becoming painfully apparent that you can't sleep on the Bucs. In a lot of was, their quarterback Josh Freeman reminds me of Donovan McNabb. Only, you know, without the bad parts. Legarrette Blount is starting to look like a featured back, and is a tough guy to take down on first contact. Mike Williams is leading the league in receptions and yards amongs rookie wide receivers. Saqib Ali is an interception machine. Their defense is starting to wake up a bit in the back half of this season.
The things about the Bucs is that they're two losses (at this point in the season) have come against really good teams. So this is a proving game; the Bucs will get more wins against bad teams, and they'll get more losses against really good teams.
Are the Redskins a bad team, or a really good team? Welp, the Redskins are about as dead middle as you can get--competitive with every team that can bring the fight to them, doormats to anyone who they should beat.
Honestly, the only reason I have the Redskins beating the Bucs is because they're at home. There's holes in the Bucs defense, but they are playing a lot hungrier than the Redskins right now. Hopefully, the Redskins play with that same hunger.
@Dallas Cowboys--WIN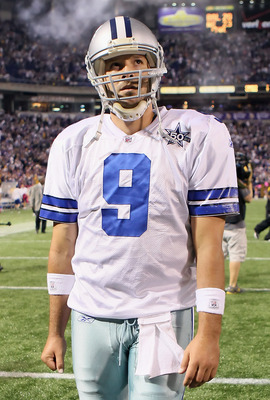 Jeff Gross/Getty Images
Estimates put this about the time that Tony Romo will come back from injury. I don't really think that matters.
If the Cowboys have done anything this season, it's not play with passion, fury, or energy. The formerly projected Super Bowl champs are dogging it now. There was lots of talk of the team rallying around John Kitna, but that went out of the window the second they stepped on the field against Jacksonville Jaguars. The defense is playing wimpy. The offense is non-existent. I don't think that changes if they put a less-than-healthy and less than sure Dallas Cowboys on the field.
This will be the start of a playoff push for the Washington Redskins, while it's pretty much mathematically impossible that the Cowboys will come back to win the division, much less clinch a playoff berth. The Washington Redskins fans and the team will be frothing out the mouth to go into Big D and drive the final nail in the coffin of Dallas' season by sweeping the team.
Romo or not, I don't see the Redskins leaving Dallas Stadium with a loss. Not against this Dallas team.
@Jacksonville Jaguars--WIN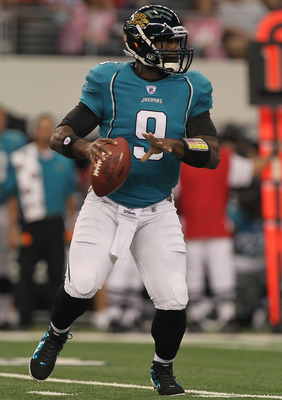 Stephen Dunn/Getty Images
Which Jacksonville Jaguars are going to show up in this game? The seemingly impressive Jaguars who find ways to win, or the Jaguars that show up and totally crap the bed?
The best thing about the Jaguars is that they have no pass rush to speak of--they're tied for 19th in sacks. Their defense is ranked 28th against the pass and 22nd against the run. Quarterback David Garrard will play every bit like the Pro Bowl quarterback he was last year one week, then not show up the next week. Maurice Jones-Drew can't seem to get going the way he wants to in every game. Mercedes Lewis and Mike Sims-Walker show flashes of greatness, then disappear for weeks at a time.
They're kind of like the Redskins that way.
Still, the Redskins will be deep in a push for a playoff run, and it'll be a game that'll matter if we want to stay on pace with the Giants in the division. This will be lock-it-down and get serious time for the Redskins, and they'll need a win against an AFC team to help with the tie breakers.
I think the Redskins win their third straight game here and head into a battle for the NFC East Division Championship.
New York Giants--WIN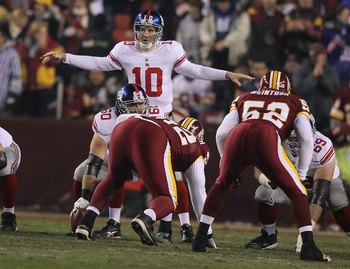 Al Bello/Getty Images
This will be a big one. I believe that at this point in the season, the 'Skins and the Giants will have identical records. The Giants will have an AFC tiebreaker on their side--the Redskins will have an NFC tiebreaker on theirs.
This might as well be the friggin' Super Bowl, because this will be the game that determines who wins the NFC East Divisional Championship and who moves to the playoffs. Will it be the Giants, widely thought to be the best team in the NFC? Or will it be the Redskins, a team said to be in turmoil, rising back from the ashes.
No one, players or fans, will forget what happened last season when the Giants came to FedEx Field. Swinging Gate is alive and well in our memories, and it'll be bought up endlessly if this game ends up being as important as I think it'll be. FedEx will never be louder than it'll be that day (or night, the way flex scheduling works out), and two defenses and two offenses will duke it out in a back and forth fight.
The Redskins haven't played in many important games, but they'll know that this one is absolutely important. It's the one where everything is on the line. It's the measure of how great their coach has been all season. It determines whether or not McNabb will be back season. It'll be about whether all the hard work, drama and bullcrap are worth it.
And I think the Redskins pull it out. In front of their home crowd no less. Wouldn't that be something?
And Beyond That?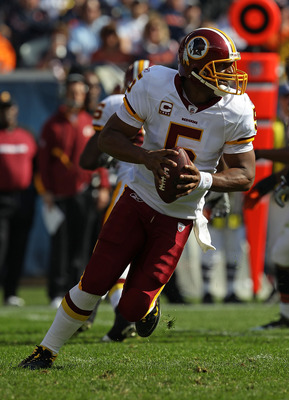 Jonathan Daniel/Getty Images
The Redskins win their first playoff game, before losing their second playoff game in a hard fought, down to the wire loss by a field goal.
Seriously. I'm that clairvoyant.
In Conclusion
That gives the Washington Redskins a win-loss record of 10-6, a far cry away from the 4-12. This guess is probably optimistic...okay, it's completely optimistic. But when did it become a bad thing to be optimistic? The Redskins have a chance to win almost every game they're in. Inevitably they'll loss some here and there. But they have everything it takes to be that team.
Here's to a good rest of the season.
HTTR.
Keep Reading

Washington Redskins: Like this team?