MLB Rumors: What Are The 10 Most Burning Questions of the Offseason?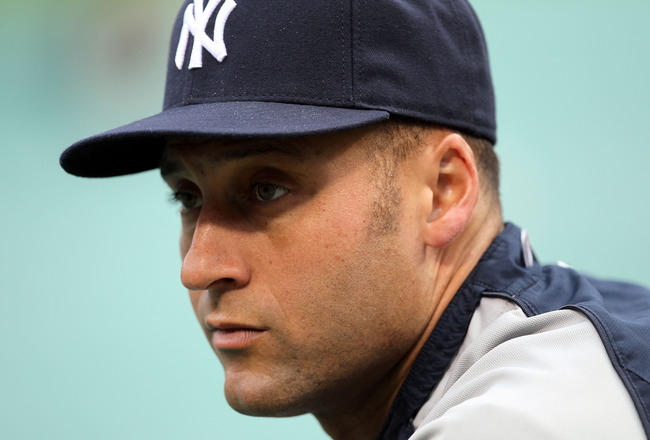 Stephen Dunn/Getty Images
MLB Rumors: The most burning question of the offseason is...?
Well there are plenty. And they affect plenty of teams in both leagues, and at just about every position.
There's a lot of uncertainty heading into the next MLB season, and the "Final Four" of the 2010 season—San Francisco, Texas, Philadelphia and the New York Yankees—are the most at risk.
Inside we rank the top 10 questions heading into the 2011 season.
No. 10: Where Does Vlad Guerrero Go?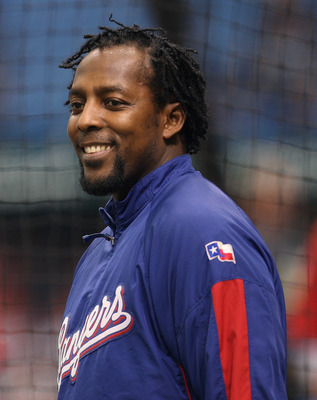 Mike Ehrmann/Getty Images
During the 2010 regular season, it seemed like the Angels not offering Guerrero the long-term deal he wanted was a foolish move.
He had a great regular season, hitting .300 with 29 home runs and 115 RBI to earn an All Star appearance with his third different team.
But he went 1-for-14 in the World Series, and made two costly errors in right field during Game 1.
A week later, the Rangers declined their $9 million option. That doesn't rule out a return to the team in 2011, and the team has expressed an interest in resigning him to a different deal.
But the 35-year-old might find a better deal elsewhere.
No. 9: Who Takes A Chance on Brandon Webb?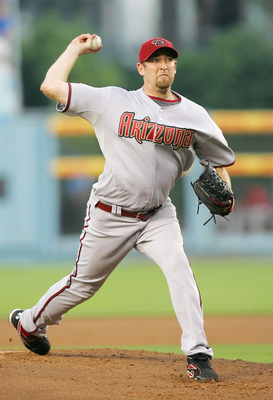 Lisa Blumenfeld/Getty Images
From 2006-2008 there might not have been a better pitcher in baseball then the Arizona Diamondbacks' Brandon Webb.
He won the 2006 Cy Young Award, was runner-up the next two seasons and was 56-25 with seven shutouts during that stretch.
But he sat out virtually all of the past two seasons with a throwing-shoulder injury and surgery.
He's only 31 years old. And although he has said he'd like to return to Arizona, they may not want to pay him a free agent of his stature's value.
Someone will.
No. 8: Do The Padres Make A Move For A Bat?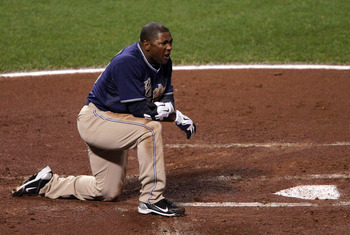 Justin Sullivan/Getty Images
With the heroics of Tim Lincecum, Cody Ross, Buster Posey and the other Giants who we saw so much of this October, it's easy to forget that the Padres led the NL West most of the year and only lost the division title on the last day of the regular season.
Bud Black's pitching staff is outstanding, and the main reason they won 90 games. And they have a great first baseman in Adrian Gonzalez.
But if they hope to overtake the Giants next season (or the Rockies, who are also a major threat), they must improve the rest of the lineup.
Miguel Tejada is a free agent, and even if they do re-sign him, he's probably not be the answer at 36.
There are several big bats out there via free agency: Paul Konerko could be a good option. Or maybe trading for 2012 free agents Prince Fielder or Jose Bautista.
No matter, what they have to improve the run support, or they risk squandering more excellent starts from their staff.
No. 7: Who Risks Bringing In Manny Ramirez?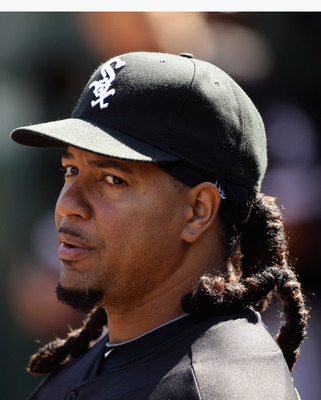 Ezra Shaw/Getty Images
Manny's antics were a whole lot easier to swallow for a MLB front office when he was an MVP candidate, like he was every year from 1996-2008.
But since he had that great run for half a season with the Dodgers in the summer of 2008, he hasn't done very much. There was the 50-game suspension for PEDs, although he still had a pretty good 2009.
But 2010 was probably the worst year of his career. He only played in 90 games and was shipped to the White Sox.
With the younger—and far more productive in recent season—Paul Konerko a bigger priority, Chicago might not be interested in paying him $10 million or so a season.
Manny is a big draw, however, and would be a nice signing for a team in need of a right-handed bat and a little bit of publicity.
No. 6: A New Direction For The Braves?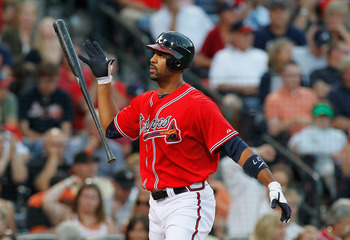 Kevin C. Cox/Getty Images
Upon the retirement of manager Bobby Cox, the Braves moved quickly in naming Fredi Gonzalez as his replacement.
Presumably, Frank Wren and John Schuerholz brought Gonzalez in to keep some level of consistency: he was Cox's bench coach from 2003-2006.
But that doesn't mean the 2011 version of the Braves will look exactly the same. There are four relatively big pieces of the puzzle that have to be placed somewhere.
Derrek Lee, Eric Hinske and Troy Glaus are all free agents, and could all command more dollars than the Braves want to spend.
Glaus had a great start to the season only to be sidelined with injuries. Hinkse had a decent season, and Derrek Lee is a Gold Glover and a former MVP candidate.
Still, the biggest question might be the future of Braves icon Chipper Jones. He was considering retirement a few weeks ago. Now he isn't. What are the Braves considering regarding the future Hall of Famer?
No. 5: Are The Rays Headed For An Overhaul?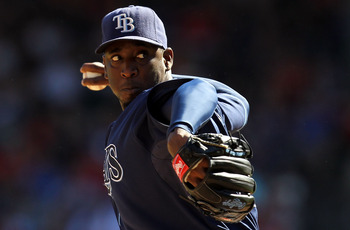 Ronald Martinez/Getty Images
Tampa Bay won more games than any other team in the AL last season, managing to win the division ahead of the Yankees and Red Sox.
And they were one of the most balanced teams in the league as well: good lineup, good fielding, good staff, great closer.
That balance is in tremendous jeopardy this offseason, however.
Their lights out closer, Rafael Soriano, is a free agent, and should command huge dollars from someone.
If the Rays choose to pay him, then they probably won't be able to afford to pay the other main free agent, Carl Crawford,
And even if they retain Crawford, shortstop Jason Bartlett (who hit .320 a year ago) is going to hit the market.
That doesn't even include two other noteworthy free agents: injury-prone Rocco Baldelli and powerful, yet strikeout-prone Carlos Pena.
No. 4: Who Do The Red Sox Choose To Keep?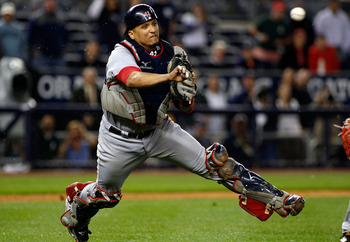 Mike Stobe/Getty Images
All-Star catcher Victor Martinez is a free agent this winter. He didn't want to leave Cleveland via trade in 2009, so he might consider a return there.
Either way, a 31-year-old switch-hitting catcher should collect big on the open market if the Red Sox. Boston will have to pay a lot of money to retain him.
If they don't their backup plan isn't all that solid: Jason Varitek is also a free agent and he turns 39 next April.
The younger, cheaper option is probably Jarrod Saltalamacchia, but that's a huge burden to put on a 25-year-old with less than 200 games behind the plate.
And then there is the case of Big Papi. He was "not comfortable" with Boston's most recent offer of a one-year deal. The fate of one of the few remaining starters from the fabled 2004 team is anyone's guess.
No. 3: What Will Happen To The Champs' Surprisingly Potent Lineup?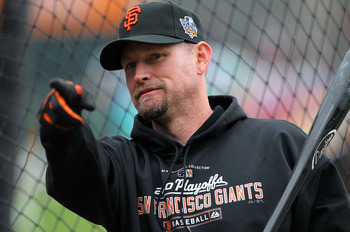 Doug Pensinger/Getty Images
Cody Ross was the Roy Hobbs of the 2010 season, coming out of literally nowhere (well, the waiver wire) to become a baseball icon. For at least one Fall.
But he wasn't the only fairly surprising postseason bat for the Giants.
Both Aubrey Huff and Juan Uribe are free agents this winter.
Huff had a good regular season (26 homers, 86 RBI, .290 average), but the numbers have dipped noticeably since 2008. He was a major contributor in the playoffs, especially in the World Series, when he had three extra-base hits and four RBI.
But is that enough to warrant a huge, long-term deal, at age 33?
The Giants' pair of clutch shortstops, Edgar Renteria and Juan Uribe are also not guaranteed a spot back in 2011. Renteria may end up retiring like he says. But what about Uribe?
He didn't have a great postseason, hitting less than .150 in 47 at-bats. But he had two huge home runs, one in the NLCS and one in the World Series. The Giants might not win the title without those two dingers.
That should entice suitors outside of San Fran.
No. 2: Will Legends Derek Jeter, Andy Pettitte And Mariano Rivera Stay Yankees?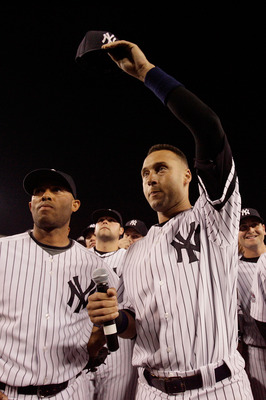 Jim McIsaac/Getty Images
It's almost impossible to imagine Derek Jeter and/or Mariano Rivera wearing anything but pinstripes. They've both been with the Yankees since 1995. And they've both been integral parts of seven pennant winning clubs.
Andy Pettitte had his three-year sabbatical in Houston, but he too began his career with the Yankees in 1995, and pitched on those same seven pennant winners.
All three also can become free agents this winter.
It may seem like a no-brainer to resign them, but Jeter just turned 36, Pettitte 38 and Rivera turns 41 in a few weeks.
Pettitte might be headed for retirement, but Jeter certainly would be an unbelievable addition for any team, and Rivera's cumulative ERA over the past three seasons is 1.64 to go along with 116 saves.
A Yankees youth movement has always been on the horizon, but does it begin this winter?
No. 1: Who Lands Postseason King Cliff Lee?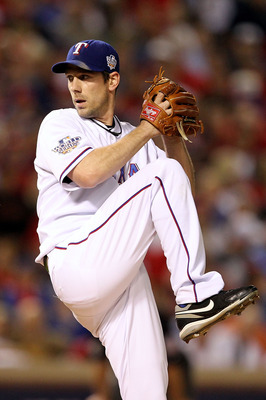 Ronald Martinez/Getty Images
The Rangers seem to be contenders to resign the lefty.
But the Yankees are out there, as is any team that wants a top-line starter who has proven to be unbelievably dominant in the postseason.
It's too early to tell who the favorite is, or who else will throw their hat into the Lee sweepstakes. Those major uncertainties makes this the most burning question for the 2010-11 Hot Stove.
Keep Reading