Shawne Merriman: 10 Teams That Can Use His Services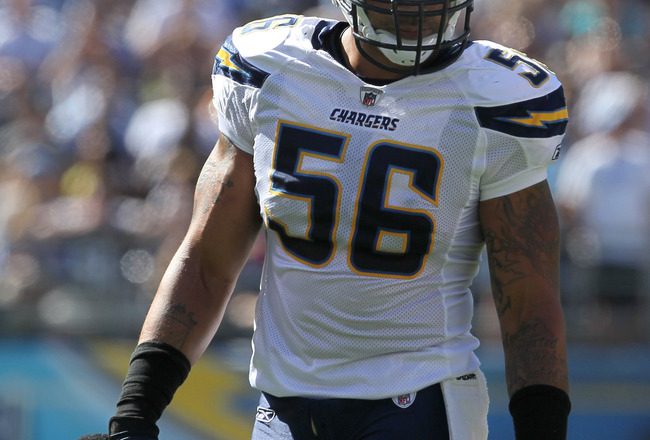 Stephen Dunn/Getty Images
On October 13, the San Diego Chargers put Shawne Merriman on the reserved-injury list with a "minor injury designation."
That move meant that the linebacker would eventually be put on waivers, allowing teams to pick up Merriman's contract.
It is very possible that Merriman will clear waivers, especially since he has dealt with injuries throughout his career.
In three games this season, Merriman only managed to record three tackles. If a team claims Merriman, they will have to take on his $3.269 million salary.
It comes down to whether or not a team, most likely contending for a playoff spot, wants to take a chance on Merriman and have him on the roster for the second half of the season.
It may be more likely that a team waits for Merriman to clear waivers and signs him to a less expensive contract.
Here are 10 teams that may acquire Shawne Merriman.
10. Arizona Cardinals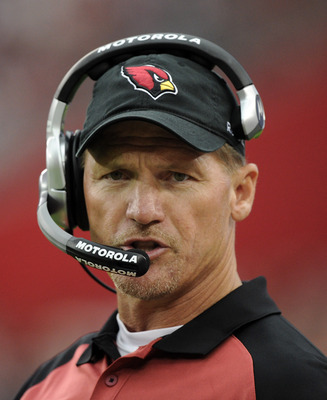 Harry How/Getty Images
The Arizona Cardinals could simply use some help on defense. Even though they are currently under .500 at 3-4, the Cardinals are still in the thick of things in the weak NFC West.
Arizona is currently ranked 29th in rushing defense, so the addition of Merriman could not really disrupt any previous success.
More importantly, the move may just provide the spark that a team needs to win the division.
In two weeks, Arizona plays in a critical game against the Seattle Seahawks and the addition of Merriman could provide some momentum.
They also have a pretty good chance of acquiring Merriman since they have maybe the worst record of teams that are still in the playoff hunt.
9. New England Patriots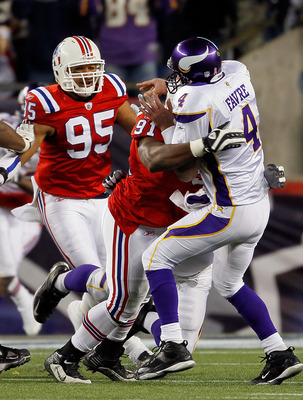 Jim Rogash/Getty Images
If Shawne Merriman clears waivers, the New England Patriots could possibly sign the linebacker for a very cheap price.
Bill Belichick has acquired veteran defensive players in the past and would most likely not pass up on Merriman if he is available for the right price.
The Patriots currently have the best record in the NFL, but they rank 31st in passing defense.
Merriman should be happy to join a winning team, as it gives him a better opportunity to showcase his talent and hopefully earn a new contract next season.
8. Oakland Raiders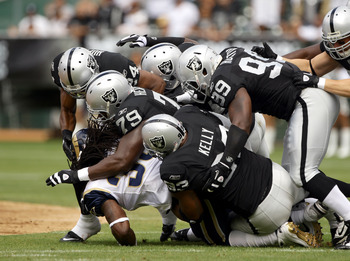 Ezra Shaw/Getty Images
In the beginning of the season, the Oakland Raiders were terrible when it came to stopping the run.
The team has improved, but only slightly. Currently they are ranked 26th in rushing defense.
Al Davis has been known to experiment with veteran players and this season seems like the perfect time to do it again.
At 4-4, the Raiders are no longer the joke of the NFL. They are second in the AFC West and teams are not excited to play Oakland.
The addition of Shawne Merriman will add some excitement in Oakland, as Raiders fans have witnessed the linebacker's talent.
Merriman may also be helpful in a future game against the San Diego Chargers.
7. Tennessee Titans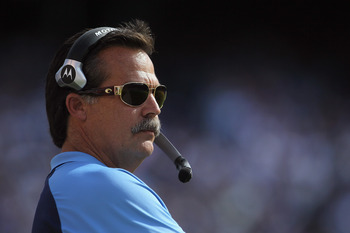 Jeff Gross/Getty Images
Jeff Fisher is a defensive minded coach and knows talent when he sees it.
If Fisher still believes that Shawne Merriman can play, Tennessee could be a great fit for the former Charger.
The Titans defense has played well this season, but they are still struggling especially when it comes to defending the pass.
Merriman could help the defense, which ranks 24th in passing, get some pressure on the quarterback.
The Titans are currently in a very tight race in the AFC South and could certainly add some veteran talent to help them get over the hump.
6. Green Bay Packers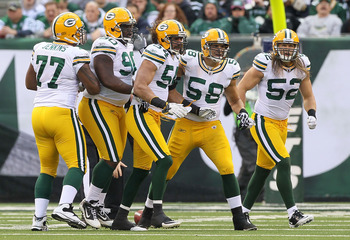 Jim McIsaac/Getty Images
The Green Bay Packers shut out the New York Jets last weekend, despite being decimated by injuries on both sides of the ball.
The Packers already have a strong linebacker unit, but the addition of Merriman could add insurance in case another player suffers an injury.
Clay Matthews has already dealt with an injury this season and since Shawne Merriman has played well in a 3-4 defense, he could provide some necessary rest throughout the game for some of the linebackers.
The Packers are still giving up too many rushing yards and rank 25th in NFL by giving up more than 120 rushing yards a game.
Green Bay has experienced many injuries this season, so it would be nice to finally add a piece instead of detracting one.
5. Denver Broncos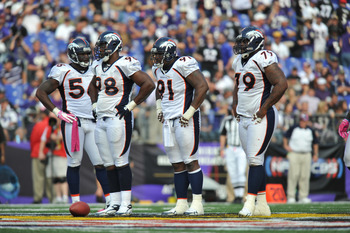 Larry French/Getty Images
The Denver Broncos have experienced two key injuries to their defense this season.
First they lost LB/DE Elvis Dumervil and then LB Robert Ayers was forced to miss time with a broken foot.
Their rushing defense is currently ranked 31st in the NFL and the team needs to make a move in order to appease their fan base.
Merriman would fit in well with the 3-4 scheme and possibly give the coaches some tips on how to defeat the San Diego Chargers, who they will meet twice later in the season.
The only reason that may stop the Broncos from acquiring Merriman is because Denver is out of the playoff hunt.
4. Washington Redskins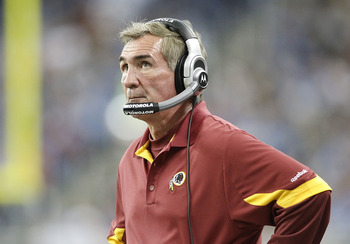 Leon Halip/Getty Images
The Washington Redskins defense has played pretty awful this season. Last weekend, they gave up 37 points to the Detroit Lions.
Their defense currently ranked 30th in passing yards and 20th in rushing yards.
By claiming Shawne Merriman, the Redskins would do several things such as take focus off of the Donovan McNabb controversy, add talent to their defense, and provide some excitement to the team before playing the Philadelphia Eagles.
The Redskins are usually not hesitant to spend some money so do not be surprised if Washington makes a move for Merriman. It cannot really hurt.
3. Houston Texans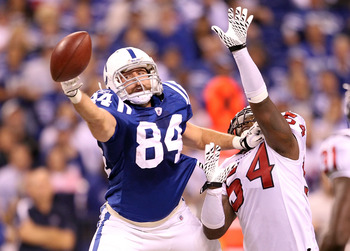 Andy Lyons/Getty Images
The Houston Texans suffered a bad loss to the Indianapolis Colts on Monday night as Peyton Manning hurt Houston's defense.
The Texans currently have the worst passing defense in the league and need to make some moves.
The addition on Shawne Merriman may help Houston cover tight ends as well as get pressure to the quarterback.
Houston started off the season well, but their play has steadily been declining. The move may give the Texans some much needed momentum and help the defense refocus for the second half of the season.
If Houston claims Merriman, it is clear that they are looking for a quick fix for their problems.
2. Miami Dolphins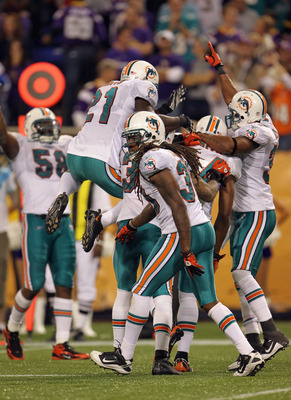 Jamie Squire/Getty Images
1. Baltimore Ravens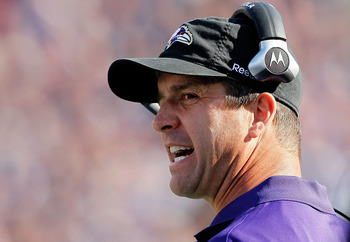 Jim Rogash/Getty Images
The Baltimore Sun is reporting that the Baltimore Ravens are looking to add Shawne Merriman to their already talented defense.
In an interview, John Harbaugh mentioned the possibility to signing the former Charger if he clears waivers.
"[Merriman] is a guy we talked about," Harbaugh said. "Ozzie [Newsome] and I had a long discussion today. We'll see if he gets through waivers."
Like many teams, the Ravens will most likely not claim Merriman in order to stay away from picking up an expensive contract.
However, if he does clear waivers, there is a good possibility he could land in Baltimore.
Currently, the Ravens rank 17th in rushing defense and Merriman could certainly provide some depth to the linebacker position.
Keep Reading

San Diego Chargers: Like this team?