2011 MLB Draft: Rendon, Starling and 50 Other Names You Need To Know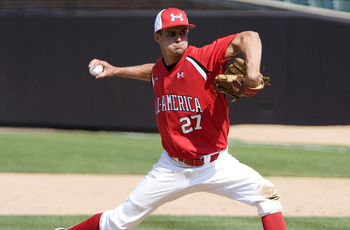 High-School Superstar Bubba Starling Should Find His Name Among One Of The First Called In Next Year's Draft
The 2011 MLB Draft is going to be huge.
Last year's event was by far the biggest and most-publicized in Major League history, and as more fans become more familiar with it and how it works, it's only going to get bigger and better.
It will start with more coverage. Baseball America already does a fantastic job and as of right now has a pretty good monopoly on the market. ESPN will eventually hop on that bandwagon, fully understanding the attention they garnered for events like Stephen Strasburg's big-league debut. And the newly-formed MLB Network will become the baseball draftnik's heaven with their around-the-clock coverage of the three-day event (More Jim Callis please!).
There will be bottom-line tickers, and in a matter of years, you'll find yourself arguing with your fellow baseball friends about who got a better supplemental pick.
Okay, maybe that's going a bit overboard.
But, whatever this case you're obviously going to need a primer for this year right? Especially about the top players who are eligible. You know why? So, if you're a Cubs fan for example, you won't be shocked to high heaven when they tab some kid named Hayden Simpson with their first-round pick.
You'll know, like the super-geeks at Baseball America, that Simpson went 13-1 with a 1.81 ERA and 131 strikeouts in 99.1 innings for Division II Southern Arkansas. Simpson also pitched six complete games and features a 97-mph fastball, and a knee-buckling slider.
2011's big names are easy. Guys like Anthony Rendon, Matt Purke, Gerrit Cole and George Springer are the top bets to go in the top five.
But beyond those players, this draft has as much depth as any in recent memory.
So, in order to stave off "Hayden Simpson" confusion, and to fully embrace the new big thing to hit Major League Baseball, here are the top 52 names you should be paying attention to come next July.
A special thanks in advance to Baseball America.com, MiLB.com, Perfect Game.com, and ESPN.com for their advanced scouting reports on some of these players, as well as YouTube.com for all of the videos.
1) Anthony Rendon, 3B, Rice University
Rendon, simply put, is the best position player available in the 2011 draft.
In two years at Rice, he has swatted 46 home runs, driven in 157 runs, and notched a .391 batting average. He's been named the Baseball America Freshman of the Year and B.A. Player of the Year in consecutive seasons, becoming the first player to do that since Robin Ventura.
Rendon is more than just a big bat who can hit for a high average though.
He also offers borderline Gold Glove caliber defense, although he suffered an ankle injury this summer that required surgery. It is the second time in as many summers that Rendon has required some sort of surgery on his ankle.
The good news is that after his last surgery, he bounced back to hit .394 with 26 homers and 85 RBI as a sophomore for the Owls. So any lasting injury concerns should be minimal.
Coaches and players alike can't praise Rendon enough for how hard of a worker he is on and off the field. Rice coach Wayne Graham even went so far as to offer Rendon the compliment that he may in fact be better than Rice's best hitter ever, Lance Berkman.
Baseball America projects Rendon as a player similar to Evan Longoria, a franchise cornerstone at the hot corner. The kind of guy who you, as an owner, would want to represent your franchise. Think Longoria, David Wright and Derek Jeter all rolled into one.
That's Rendon, who as of right now, looks like he's a lock to go number one overall to the Pirates.
2) Matt Purke, LHP, Texas Christian University
These are exciting times for Horned Frogs everywhere. The TCU baseball squad made it to the College World Series semifinals for the first time ever, and the football squad is in the midst of a second consecutive undefeated regular season.
The best is yet to come for the Horned Frogs however, as Matt Purke is getting ready to take the team on another ride in 2011, hopefully one that culminates in TCU making their first-ever CSW Championship game appearance.
And after he does that, Purke will ride off into the sunset as a top-three talent in the July draft, capable of bringing home a bonus in the range of $6-8 million.
Purke had one heck of a season this year, easily winning B.A.'s Freshman of the Year honors. Purke posted a 16-0 record in 18 starts, and struck out an insane 142 batters in only 116 innings. His ERA of 3.02 was considered abnormal considering all of his other stats.
To make matters even better, Purke is a lefty who throws a low-to-mid-90s fastball and features two breaking pitches (a curveball and a slider) that both have the potential to be above-average offerings.
Purke was already a first-round pick once before, earning the title in 2009, when the Rangers took him 14th overall. Originally Purke and the Rangers agreed to a contract, but it was then voided by MLB who was in the midst of helping the Rangers get out of bankruptcy and deemed a $5 million bonus not in the best interest of the club.
Can you imagine a rotation consisting of Cliff Lee, C.J. Wilson, Tommy Hunter, and Matt Purke. It would be almost unfair, and I guarantee you the World Series would have gone longer than five games.
3) Gerrit Cole, RHP, UCLA
Gerrit Cole and Matt Purke are pretty much 1A and 1B going into the 2011 draft season.
Whereas Purke is a power lefty, Cole is a true power righty.
Cole features nasty heat that sits in the mid- to high 90s and sometimes touches 99 and even 100. He complements his high-heat with one of the drafts best sliders, a truly devastating pitch that Cole used superbly for 153 strikeouts in only 123 innings this past year.
Cole also offers true inning-eating capability. He's a horse on the mound, and when he's on his game there's nobody better in all of college ball.
Cole had a decent freshman year, certainly nothing like Purke's 16-0 campaign, going 4-8 with a 3.49 ERA, but bounced back in a big way as a sophomore, leading the Bruins to the CWS Championship for the first time ever. Cole posted an 11-4 record and a 3.37 ERA. He only allowed four home runs all season long.
Anyone who watched Cole's performance against TCU in the semis of the CWS knows what kind of serious game he brings. Looking like a man possessed, Cole struck out 13 Horned Frogs in eight magnificent innings. Just when it looked like he was going to crack in a TCU three-run seventh-inning, Cole settled back down and retired the Frogs, ending the threat and securing a UCLA victory.
Cole would be an awesome find for any team in the top five, but he won't come cheap.
Like Purke, Cole too was a former draftee, the 28th overall pick back in 2008 by the Yankees. The two sides couldn't come to an agreement and Cole headed off to UCLA where he has put himself in position as a top three pick.
4) Sonny Gray, RHP, Vanderbilt University
One of my personal favorites, and one of the top college pitchers available, is Vanderbilt's Sonny Gray.
Very Tim Lincecum-like in stature (6-0, 185 lbs) Gray is a beast on the mound. He throws a low 90s fastball, but is capable of cranking it up into the mid-90s. He complements his fastball with an above-average slider and a decent, improving change-up.
Gray has put up huge numbers at Vandy, especially this past season, when he went 10-5 with a 3.48 ERA and 113 strikeouts in 108 innings. Gray pitched poorly in Vandy's first few games of the CWS but improved as the tournament went on.
Gray didn't get much rest in over the summer either. He went right to work for Team USA, leading the squad with impressive pitching. In three games, he posted a 3-0 record and struck out 37 batters in only 24 innings. Against Sri Lanka, he was particularly hard to hit, allowing only one base knock, while striking out 14 batters in five innings. Only one out came via something other than a strikeout.
For his troubles, or lack thereof, Gray was named Baseball America's Summer Player of the Year for 2010, further enhancing his draft stock for 2011.
Gray returns to Vanderbilt this year for what should be an encore to a stellar college career.
5) Taylor Jungmann, RHP, University of Texas
Jungmann is the forgotten man when discussing the top college pitchers, and that simply shouldn't be the case.
In fact, the fact that Jungmann is flying under the radar when he's put together a 19-6 record in two years at Texas is only a tribute to how much depth this year's draft is going to have.
Jungmann has put together back to back dominating seasons. In 2009 he went 11-3 as a freshman with a 2.00 ERA and 101 strikeouts in 94 innings. And in 2010, he one-upped himself, going 8-3 with a 2.02 ERA and 129 strikeouts in 123 innings.
Jungmann was crucial during Texas' 2009 run to the CWS championship series, where the Longhorns eventually lost to LSU.
And he was big this past season, too, combining with Brandon Workman and Chance Ruffin to form one of the more intimidating pitching units in all of college baseball.
Workman ended up going 57th overall to the Boston Red Sox and Chance Ruffin went 48th overall to the Reds in this past year's draft. Jungmann could end up as a top ten pick.
On the mound, the 6-foot-6 Jungmann tops out at 96-97-mph and compliments his fastball with a decent slider and an ever-improving changeup.
6) George Springer, OF, University of Connecticut
George Springer is another player who saw his stock improve drastically this summer.
As if hitting .358 with 16 home runs and 57 RBI with 12 stolen bases wasn't enough to draw some serious attention last year, Springer took his game to new heights in 2010. To the tune of a .337 average with 18 home runs, 62 RBI, 84 runs scored and 33 stolen bases.
After the season ended Springer looked downright dazzling for Team USA, hitting a grand-slam that provided the Americans with all the runs they would need in a 4-2 semifinal victory.
Then Springer took his five-tool talent to the Cape Cod League where, for the second consecutive summer, he flashed good talent against some of college baseball's best.
Springer offers decent power already and has the chance to develop even more as his body fills out. He has a mean, lean look to him as you can see from the video, which also allows him to play excellent in center-field and swipe plenty of bases.
Everyone believes that Springer's power will be the tool that gets him to the big-leagues, as his speed will likely diminish as he fills out, and his fielding skills are more typical of a corner outfielder.
No doubt about it though, Springer is one of the more exciting players to watch, and will be one I'll personally be keeping an eye on, as he tries to help the Huskies along to a College World Series bid.
7) Daniel Norris, LHP, Science Hill HS, Tennessee
Daniel Norris is one of the most highly-touted high school arms in the 2011 draft, and for good reason.
All you have to do is check out a start of his near the middle of his junior season at Science Hill High School. Norris tossed a no-hitter, working his way around nine walks. Of course, it's pretty easy when you strike out 18 batters.
Norris posted an 8-0 record for the 2010 season, and a ridiculous 140 strikeouts in a mere 64.1 innings. And interestingly enough, he was just as dangerous at the plate, where several scouts are on him as a second-to-third round talent. He hit .483 with seven home runs and 55 RBI. He notched 16 doubles, 10 triples, and stole 14 bases.
Of course, most of those offensive statistics are probably going to be moot points, considering the lefty Norris throws low to mid-90s heat. He also has the potential for two above-average pitches, a curveball and a change-up.
And to add to his already impressive resume, Norris is a two-time winner of the Northeast-Tennessee Player of the Year, which presumably means something if you're from Tennessee.
At 6-foot-2 and 180 pounds, Norris could stand to put on some more weight during his final year of high school, which of course would inevitably add some more pop to his bat, making the decision on his future (mound or field) even tougher.
8) Matt Barnes, RHP, University of Connecticut
Few pitchers had as good a summer showcase as Barnes.
Rumored as a mid-rounder before the college season began, the 6-foot-4 righty put together a solid season, going 8-3 with a 3.92 ERA and 75 strikeouts in 82.2 innings.
The he was the star of the show at the U.S. National Collegiate Team Trials, showing four solid pitches: a low to mid-90s fastball with plenty of sink, a great slider, a low 80s changeup, and a mid-70s curveball. He showed great command of them all.
As proof of how far he has come, Barnes went toe-to-toe with the best and sent both Jackie Bradley Jr. and Anthony Rendon packing on strikeouts in Team USA's first exhibition.
However, Barnes has proven to be a very divisive player, with some expecting him to regress this year at UConn, while some expect him to rise up and seize the title as the best college pitcher in this draft, a lofty goal.
Either way, Barnes should have a pretty good year. UConn doesn't play too many really good teams, and they should be considered a dark horse to make it to the College World Series, riding the arm of Barnes all the way there.
9) Henry Owens, LHP, Edison HS, California
If the video above is to be believed, Henry Owens is well on his way to becoming the next Randy Johnson.
And while he doesn't stand quite as tall as the L.A. Times would have you believe (he's actually closer to 6-foot-5 than 6-foot-7), he does share many of the Big Units qualities.
Intimidating lefty? Check. Serious heat? Check. Long-flowing hair? Check. Mustache? Well, he's working on that one.
Owens, who yesterday committed to the University of Miami, already throws in the low 90s and is expected to add a few more ticks to his velocity as he fills out. He's also got a decent curveball and a change-up that should develop into an above-average pitch.
Over the summer, Owens pitched for the U-18 Team USA squad and in one outing struck out seven batters and picked off two base-runners.
His junior season at Edison, where he plays with fellow top prospect Christian Lopes, saw him finish the year with nine wins and 115 strikeouts. He also posted a 1.67 ERA and was named pitcher of the year.
10) Jackie Bradley Jr., OF, University of South Carolina
Bradley Jr. had one heck of a season. Not only did he lead the South Carolina Gamecocks to their first CWS title since 1950, and win the tournament's Most Valuable Player award, but he also boosted his draft stock into the top ten.
Bradley had one heck of a season at the plate, hitting .368 with 13 homers and 60 RBI. He also scored 56 runs, rapped 12 doubles and posted a 41:37 walk-to-strikeout ratio. He also missed some time with a broken hand, which sapped much of his power, and kept him from getting in a rhythm at the plate.
Like Springer, Bradley Jr. is considered a legit five-tool talent. He has the range and speed to play center-field, and has a genuine cannon for an arm. At the plate he shows uncommon plate discipline and when he gets a hold of a pitch he can drive it anywhere to any part of the park.
He is growing into his power, and this season should be a better gauge of what kind of power he might develop, now that his hand is fully healed.
More importantly, Bradley Jr. has showed he'll be able to make the transition to wood bats, just as he did in the Cape Cod League last summer, where he hit .275 with a 17:20 walk-to-strikeout ratio and ten steals.
Bradley should be an easy top-ten pick.
11) Dylan Bundy, RHP, Owasso HS, Oklahoma
Success follows the Bundy family wherever it goes.
The eldest male, Robert, was an eighth-round draft choice of the Baltimore Orioles in 2008, and he could have gone even higher had it not been for a bum knee that kept him off the mound for a good chunk of his senior season.
Three years later, his little brother Dylan has a chance to break the family draft slot record.
Twice named Oklahoma's Gatorade Pitcher of the Year, Dylan has a very bright future ahead of him, and his name is already swirling as one of the top prep pitchers available in 2011.
Dylan is built similarly to his brother, about 6-2 and 205 pounds, and tosses in the low 90s. He features two average secondary pitches in a change-up and a curveball, both of which have a chance to develop into above-average pitches.
Bundy made national news back in May, when he threw a ridiculous 293 pitches in three games over the course of four days.
Bundy's team finished as the state-runner ups, but it wasn't his fault. He didn't pitch the championship game. He finished the season with an 11-1 record.
12) Bubba Starling, OF/RHP, Gardner Edgerton HS, Kansas
Starling is coming up on a pretty tough decision.
Quite possibly the most talented two-sport athlete to come along in quite some time, Starling, who was recently named to the Army All-American team, will get to choose his future.
He'll either develop into the next great running quarterback for the Nebraska Cornhuskers or he'll be a top 15 draft pick in the 2011 MLB draft, and be on the fast track to a Major League career.
Starling is wicked talented. As a junior he ran for 1381 yards and 19 touchdowns and threw for 1433 more yards and 18 more scores. This season he's accounted for 14 TDs so far, and his team is 7-0 and primed for a run at the state playoffs.
And on the baseball diamond, he throws in the low 90s on the mound, while in the field he is one of the most talented fielders and base-runners in the draft. He also offers a solid bat that should transition well to wood bats.
And he run's a 4.36 40-yard dash!
Starling faces a "Joe Mauer" decision—baseball or football. Mauer clearly made the right choice. Let's hope Starling does too.
13) Jack Armstrong, RHP, Vanderbilt University
For being 6-foot-7 and 220 pounds, Jack Armstrong Jr. sure is one heck of an athlete (see video).
It doesn't hurt that he's got good genes. As in his father, Jack Sr., who pitched in the big leagues for seven seasons.
Armstrong is one of the players in this draft who would really benefit from having a strong junior season. He opened some eyes during his freshman season at Vandy, even though he rarely got into any games due to the Commodores' brilliant depth. During the off-season, he ventured up to the Cape Cod League, where his father managed to turn in a few good performances into a first-round draft status.
"Junior" did the same, pitching well for Wareham, well enough to make the Cape Cod All-Star team.
His sophomore season wasn't as successful. He didn't strike out that many batters, and was bombed during his final few starts, especially in the College World Series. He didn't even make it out of the second-inning in the Super Regional.
For all of his success, or lack thereof, he still offers huge upside. He's a big guy, which means he throws hard, in the mid 90s. He's even been known to crank it up to 99 on occasion. He also features a pretty good curveball and he's working on a change-up.
Aside from his high-heat, the best thing Armstrong has going for him is the fact that he is an amazing athlete. He was the star of his high-school basketball team, and warranted several scholarships before deciding on Vandy and baseball.
And he's also pretty good with the stick. He was a high-school home run derby champion, and was drafted by the Rangers out of high school, but turned down their $1 million offer.
14) Archie Bradley, RHP, Broken Arrow HS, Oklahoma
Bradley is another personal favorite of mine, and if I had to pick a sleeper to be a top ten pick it would be Bradley all the way.
Another incredible athlete, the 6-foot-4 right-hander has committed to play both baseball and football at the University of Oklahoma and presuming he chooses football, should follow Landry Jones as the next great OU quarterback.
Unfortunately for teams with an eye on Bradley, he's very good at football. He was one of eleven QBs invited to Nike's Elite 11 QB camp this summer, and he blew everyone else out of the water with his accuracy and big-time arm.
On the diamond, he's a top-flight pitching prospect.
He throws in the low to mid-90s, and has some projection left in that department. He's got broad shoulders and a killer instinct, so he would most likely develop into a mid-rotation innings eater.
He compliments his fastball with a above-average curveball that is one of the best of any prep stars in the 2011 class. His change-up has been described as "so-so."
I think Bradley will be the most likely of any of the high-schoolers to have a "Jameson Taillion-like" rise between now and the draft, and he'll end up a top-ten pick easy.
15) Travis Harrison, 3B/OF, Tustin HS, California
Harrison is one of the crown jewels of another amazingly talented USC recruiting class.
Unfortunately, it looks like his upside as a pro will prevent him from setting foot on campus.
Harrison offers HUGE power. Like, upper-deck at any park in the country power. He was named the MVP at the Perfect Game National Championship, and has been a regular participant in home run derbys.
Aside from the big bat, Harrison is also a pretty good runner.
The knocks on the 6-foot-2 outfielder are pretty big concerns. He hasn't showed the ability to make consistent contact, and his defense isn't that special. He also has a lot going on in his swing, which many believe hinders his ability to make regular contact.
That said, you never sleep on right-handed power, and Harrison should be an easy first round pick.
16) Danny Hultzen, LHP, University of Virginia
The first thing you notice about Danny Hultzen is how comfortable he looks on the mound.
But once you get past that it's not like there's nothing to like.
Hultzen is a finesse lefty, who throws in the upper 80s to low 90s. He's one of the more polished pitchers in the 2011 draft, despite having only two years of experience under his belt.
Granted, they've been really good years. As a freshman Hultzen was named the ACC Freshman of the Year, the first time a Cavalier has ever been bestowed with the honor. He led the conference in ERA (2.17), and finished third in strikeouts (107) and wins (9).
For an encore, Hultzen was named conference player of the year for 2010, after pacing the circuit with an 11-1 record, a 2.78 ERA, and 123 strikeouts (with only 24 walks) in 106.2 innings.
Hultzen does a good job keeping hitters off-balance with his excellent curveball, which has very deceptive motion. And he also mixes in a changeup, and occasionally a splitter.
Hultzen should be the kind of pick that Deck McGuire was. Very safe, and very early.
17) Christian Lopes, SS, Edison HS, California
Lopes is the second member of the Edison HS team on this list (Henry Owens is the other).
Lopes has been on the radar for the upcoming draft for a couple of years now.
Once thought of as a bat-only guy, Lopes has quietly developed into a solid all-around player. At the plate he's a great hitter. A patient spray hitter, who has gap power, that should develop into decent home run numbers.
He's easily the best high-school bat in this class, and some liken his overall game to 2009 first round pick Christian Colon.
Unlike Colon, there have been doubts about whether Lopes can remain at shortstop. He once looked too sluggish and unathletic, but over the past few seasons he has really improved his game. He now looks athletic and nimble enough to remain at short, at least for the time.
Lopes is another USC commit, but the chance of him being a talented pro player is even more probable than that of Travis Harrison, so it looks like the Trojans are going to have two huge holes to fill.
18) Preston Tucker, 1B, University of Florida
It's hard to believe nobody was on Tucker coming out of high-school. I mean NOBODY. No pro teams, no scouts, not even any colleges. Which is hard to believe considering he won his county's triple crown.
Tucker twice made trips to FSU for tryouts, but was told by the coaches that they didn't think he had enough talent.
Boy, isn't he making everyone look stupid. As a standout at UF, Tucker is poised to get the ultimate revenge, in the form of a first-round bonus.
At Florida, Tucker has developed into a patient, powerful hitter. He has above-average power, as evidenced in his three-homer, 11-RBI game as a freshman against UCF, in which he bashed two grand-slams.
And he's also as patient as they come. He struck out only 22 times his first year at UF.
Fielding is really the only drawback on Tucker. Once a catcher, he now shares first base duties for the Gators and his skills around the bag are less than impressive.
But with that bat, and those eyes, he won't make it out of the first round.
19) Francisco Lindor, SS, Montverde Academy, Florida
The first thing that most people notice about Francisco Lindor, is how easy he makes playing shortstop, easily the most difficult position on the field, look.
That, right there, would be enough to get Lindor a look in the early rounds. But on top of his stellar defensive play, he's also a switch-hitter who offers some serious power prospects.
He's easily one of the more polished defenders from the high school crop, and is excellent at throwing on the run, and often shows some serious flair.
He does offer some power already. He won the AFLAC home run contest, and he features even better power from the right side.
Lindor is an FSU commit, so he should command a pretty hefty bonus to sway him away from becoming the next great Seminole infielder.
20) Alex Meyer, RHP, University of Kentucky
Lovingly nicknamed "Bubba," Kentucky's Alex Meyer is much more talented than his 6-7 career record and 6.34 ERA.
The nickname clearly comes from the fact that Meyer is a towering six-foot-nine and weighs 220 pounds.
Meyer was originally a 20th round pick by Boston in 2008, but reportedly passed on a $2 million bonus to go to Kentucky. Go figure, he's a Scott Boras client.
Meyer struggled his freshman season, going 1-4 with a 5.73 ERA, although he showed promise striking out 80 batters in only 59.2 innings.
He appeared set for a breakout season last year, but battled through a bad case of mono, which limited him to only 11 games, in which he didn't perform that well. He notched five wins, which was good enough for a team-high, but his ERA ballooned to 7.06. Again, he showed considerable promise in the strikeout department, with 63 in 51 innings.
You could tell he struggled with his command, however, as he also issued 36 walks.
Struggling with control is nothing new for a big-guy like Meyer. He has a very exciting fastball, which can reach into the mid-90s, and his slider should one day be an above-average pitch. His development will hinge on two things: whether he can stay healthy (always a big-man's concern) and whether or not he can develop his change-up.
He hasn't really needed a third pitch, but that should be a major priority for him during his junior season with the Wildcats.
21) Kolten Wong, 2B, University of Hawaii
Wong's name is in the discussion when it comes to trying to put a finger on the best pure hitter in this draft class.
Words like "amazing," "excellent," and "lightning-quick" have been used to describe him at the plate. He features an impressive attacking swing, and is athletic enough to play either the outfield or infield.
Originally a catcher, Wong has developed into one of the best prospects to ever come off the island of Hawaii. And Wong had the makings of a pretty good catcher too. His pop times and arm was certainly good enough, but for some reason he's been playing a lot of other positions the past two years.
Wong was the star (at the plate) of the 2010 Cape Cod League season, taking home League MVP honors after finishing third in batting average (.341), second in on-base % (.426), and second in steals (22). He was widely regarded for his enthusiasm, and like Tampa Bay's Desmond Jennings, his "excitement" factor.
Wong should find a home at second-base as a pro, and could develop into one of the top infielders in the minors in just a few years.
His game translates to pro ball very well.
22) Zach Cone, OF, University of Georgia
Zach Cone excelled all season long in 2010, despite playing for one of the worst teams in the SEC, the Georgia Bulldogs.
And he didn't just excel at the plate, where he hit .363 with 10 homers and 53 RBI.
Or on the basepaths, where he swiped 13 bases.
Or in the field, where he notched a conference-best seven outfield assists.
All of these helped Cone boost his draft stock, and primed him for a serious run at the first-round if he can put together another all-around solid season in 2011.
Cone is noted for his tremendous leg power, which help him turn potential fly-outs into home runs, and aid him in the field.
He's also worth mentioning for his power, which is easily as good as anyone's in the college crop.
And he was a third round pick out of high school, so you know teams won't be sleeping on him.
23) Dillon Maples, RHP, Pinecrest HS, North Carolina
You know that Dillon Maples is talented based on the fact that he's headed to UNC to play college ball.
That is, if the inevitable millions that await him are not enough for his liking.
Maples is one of the top high-school arms in the country, and has been on scouts radars for a few years now.
A 6-foot-3 right-hander, Maples can crank it up to the mid-90s, and has an excellent breaking ball. His curveball has been the talk of numerous Perfect Game events, and should have scouts drooling by next June.
His throwing motion doesn't have too many kinks and is one of the simplest of any of the top arms in the draft.
Right now he only weighs in at about 193-pounds, but he should add on some weight to get him in the 200-210 range, which will pay off in the long run, giving him more durability.
He could also stand to add a tick or two to his fastball, which has jumped from the mid-80s to the mid-90s in only a year and a half.
Maples is definitely a guy to keep an eye on.
24) Blake Swihart, C, Cleveland HS, New Mexico
Swihart is yet another talented backstop in what could be one of the most impressive group of catchers in at least a decade.
Behind the plate he looks very athletic. He posts good pop times and has a heck of an arm. And while he's looking lean and mean, he should pack on some more pounds to enable him to catch on a regular basis. He's also seen some time as an infielder, where he shows pretty good footwork.
At the plate, Swihart is a switch-hitter with a very quick bat. During all of the summer showcases, he consistently made contact against even the best pitchers. He has a little more power from the right side, but shows great bat speed from both.
Swihart is also a pretty good runner.
He has a commitment to Texas in his back pocket, so he'll probably command some serious coin.
25) Tyler Beede, RHP, Lawrence Academy, Massachusetts
Beede has found success everywhere he's gone, so it only makes sense that he would be one of the top high school prospects heading into 2011.
His father played professionally, so Beede grew up around the game, and soaked up several valuable lessons that have allowed him to excel at his own.
Beede is a 6-foot-4 right-hander who already has a commitment to Vanderbilt in his back pocket. But like I said, Beede rarely underachieves, and for him that would mean not earning his way into first-round consideration.
He throws a mid-90s fastball that sits most of the time around 93-94 mph. As a sophomore, he went 7-1 with 114 strikeouts in only 56.1 innings. That season necessitated a move to a more challenging school district. Hence Lawrence Academy, where Beede was just as impressive, if not more so, against more talented competition. He struck out 82 batters in 47 innings and posted an ERA under 1.00.
He features good off-speed stuff, has an easy delivery, and still has some projection left in his frame, so Beede could shoot up the draft boards even more if he has an impressive 2010-11 season
26) Jason Esposito, 3B, Vanderbilt University
Esposito is just another in a long line of Vanderbilt superstars.
Taking over the position made famous at the school by Pedro Alvarez, Esposito is primed for a great junior year, one which could possibly boost his draft stock and turn him into a day-one pick.
And while he isn't anywhere near the level of prospect that Alvarez was, Esposito does offer some serious potential. Enough potential to warrant a $1.5 million bonus from Kansas City out of high-school.
And it starts with his fielding ability. Much more athletic and graceful in the field than his predecessor, Esposito looks like a third baseman. He has a great arm, more than adequate for the position, and on the mound he can crank it up to the low 90s. He has great soft hands, and his footwork has improved to the point where he could be one of the top defensive third basemen in this class.
At the plate he's no slouch either.
He hit .287 as a freshman and drove in 42 RBI, in a season where he started all 64 games at the hot-corner. This past season, he upped his average to .359 and hit 12 homers and drove in a team-high 64 runs.
He ranks as an advanced hitter who focuses more on getting on base than driving the ball out of the park, but you can tell that the power is there, and he should develop into at least average power.
And did I mention he can run?
He led the Commodores with 20 steals his freshman season, and repeated last season, swiping 31 bags.
27) C.J. Cron, C, University of Utah
Utah's C.J. Cron earned his honor as Freshman of the Year in the Mountain West conference in 2009 based on his .337 average, 11 home runs and 58 RBI. But he really earned his stripes the day he went toe-to-toe with eventual number one overall pick Stephen Strasburg and did something nobody else could accomplish that season.
Notch three base hits.
From there, it's been up-and-away for Cron, who splits time between catcher and first base.
This past season Cron raised his average nearly 100 points, to .431. He also rapped 16 doubles, cranked 20 home-runs and drove in 81 runs.
So, clearly he's pretty good with the bat, but he's also improving behind the plate. Although injuries forced a move to first base last season, Cron should be back at catcher for the 2011 season, where he can hopefully prove his value defensively.
Either way, with a bat like his, he'll be a top pick.
28) Ricky Oropresa, 3B, University of Southern California
Oropesa is another big college bat that should hear his name called pretty early on draft day.
After spurning an offer from the Red Sox as a 24th-round pick, Oropesa headed off for USC and has been swinging a hot bat ever since.
His freshman year saw him lead the team in home runs (13) and RBI (48).
And his sophomore year saw him secure the Trojans triple-crown, leading the squad in batting average (.353), homers (20), and RBI (67). He became the first Trojan to do that since Jeff Clement, back in 2005.
For his efforts, he was named to the All-Pac 10 conference first-team, and the Baseball America All-American second-team.
And he also boasts a good amount of momentum heading into his junior season and the 2011 draft.
He's decent at the plate, and should never be a guy who hits for a terribly high average, but his power is well above average.
And to compliment his heavy hitting, he is also pretty handy at the hot-corner. He has soft hands and decent footwork, good enough for him to profile there long-term, at least right now.
He also has a really great arm.
29) Pratt Maynard, C, North Carolina State University
You wouldn't know it from his rather pedestrian stats, but N.C. State's Pratt Maynard is a pretty darn talented prospect in his own right.
His .273 average last season didn't blow anyone away, but he did set the N.C. State school record for walks (64).
He also bashed 11 home runs, good for third best on the Wolfpack, and his 49 RBIs ranked him fourth on the squad.
Maynard also got some extra time in on the Cape, playing for Harwich, and showed several of the skills that should make him a top-three-round pick.
Again he showed incredible patience, forcing 32 walks. And once again, it helped compensate for his low average (.241).
He should develop into above-average power, as anyone who's seen him take BP can attest to.
For now, though, his one task for his junior year, should be getting his average up to a more respectable level for a college hitter.
30) Phil Evans, SS, LaCosta Canyon HS, California
Evans is just another talented shortstop from this deep high school class.
Like most of the other top guys, he too profiles as the kind of player who should be able to stick at short.
He's got a compact build (5-foot-10 and 180 lbs), but really amazing strength. At short, he can make just about any throw and has excellent arm strength. He's got soft hands and his footwork is just about as good as you can get as a high schooler.
At the plate, he has a pretty long swing, but it's also pretty simple. Not too much movement. He already has decent power, that should definitely develop into above-average.
He's also the epitome of a baseball rat. He works hard at everything: hitting, fielding and running. He has excellent baseball smarts, and has a early commitment to San Diego State, where he could turn himself into of the best middle-infielders that program has ever seen.
Evans should be a day one pick.
31) Michael Kelly, RHP, West Boca HS, Florida
Kelly looks like he's headed to pitch for the Gators of UF, assuming he doesn't end up as a pretty high draft choice, which it looks like he will.
At 6-foot-3 and 185 pounds, Kelly could still stand to pack some meat onto his lean frame, but what he already has seems to be good enough. He posted a 10-4 record and a 2.06 ERA for West Boca H.S., and also hit .323 with 17 RBI.
Kelly already throws in the high 80s to low 90s and I expect him to add a few ticks during his senior year. That would give him a pretty impressive fastball to pair with his curveball, which could develop into an above-average pitch.
Both pitches served him well in 2010, as he led West Boca to a district championship, tossing a complete-game five-hitter, while striking out seven batters.
32) Peter O'Brien, C, Bethune-Cookman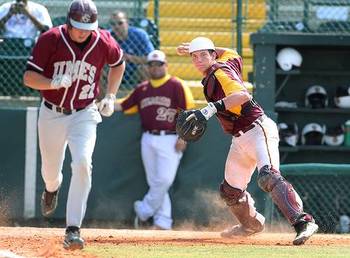 Playing for Bethune-Cookman, O'Brien has developed into one of the most talented players to emerge from the MEAC.
He led the Wildcats all the way to the regional round of the College World Series tournament, and led the squad in batting average (.386), homers (20) and RBI (56).
After tearing up the MEAC, he was then offered the chance to play in the Cape Cod League, usually reserved for the best college players.
O'Brien scuffled a bit (see his 11 strikeouts in 40 at-bats), but he still managed to eek out a .300 average in limited playing time.
He is definitely a small-school guy to keep an eye on this season, and he could work his way into second or third round consideration.
33) Jed Bradley, LHP, Georgia Institute Of Technology
Along with Anthony Ranuado, Georgia Tech's Jed Bradley was one of the biggest starts of the 2010 Cape Cod League season.
He made the Cape All-Star team, and was ranked as the circuit's fourth-best prospect. And Bradley, not Ranuado, led the league with 44 strikeouts.
Bradley, at six-foot-four, is a tall, lanky left-hander, who is widely regarded as a hard worker with a very high ceiling. He has excellent control, an impressive repertoire, and adds a pretty good pick-off move to boot.
His fastball doesn't blow batters away, but he features a pretty good slider. His change-up is decent, but his control over his pitches makes some draw comparisons to another talented college lefty, Jeremy Sowers. Now, Sowers flamed out at the big-league level, so hopefully Bradley has more going for him than that.
His college stats, especially last season, don't do justice to how talented Bradley is. He went 9-5 with a 4.83 ERA. He was, however, 6-2 in a very talented, deep ACC, and he was good enough to be named to the All-ACC second-team.
As Tech's ace this season, he should get every opportunity to improve his stock, and could catapult himself into first round consideration.
34) Javier Baez, SS, Arlington County Day HS, Florida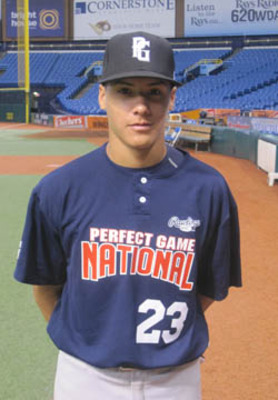 Hailing from my local Jacksonville area, Javier Baez is yet another intriguing shortstop prospect.
He's gotten a 10.0 rating from Perfect Game, which means they project him to be a very high draft pick and a top college prospect. Baez has yet to make a decision on college, but he still has plenty of time, and the fact that he could be a top-two rounds pick will make his decision harder anyway.
In the field Baez is a solid infielder on the right side. He's played some shortstop and he's showed fluid actions there. He's got a great arm, but as with many high school shortstops, the fear is that he'll eventually outgrow the position, and have to move to third base.
Which wouldn't be a terrible thing. Baez has incredibly soft hands, and has good footwork.
At the plate, he makes consistent contact with a very aggressive swing. He should hit for a decent average, and his power, which isn't too present right now, should eventually develop, with a chance for above-average skill.
This past season, Baez posted a .463 average with 42 RBI and 13 homers.
He's also a really good runner, although his running ability got him into some hot water at the World Wood Bat Championship in Jupiter, Fla. After stealing a base, he got into an altercation with a third baseman for the opposing squad, and the ensuing fracas resulted in Baez being ejected from the game.
35) Tony Zych, RHP, University of Cincinnati
Zych has come a long way since his high school days.
Back then he was a two-way star, throwing low 90s bullets on the mound, and utilizing an attacking swing at the plate.
Since deciding to focus on pitching full-time, Zych has really blossomed.
As a freshman at Cincy, he earned Freshman All-American honors after a season in which he went 6-2 with two saves and a 3.25 ERA. He finished with 31 strikeouts in 44.1 innings. He carried the momentum over from that to his stint with Team USA where he posted an impressive 2.93 ERA and 17 strikeouts in 15.1 innings.
Last season, Zych fluctuated between the bullpen and the rotation, and it had an impact on his game. He still posted a winning record (5-2), but his ERA ballooned to 5.13. He did, however, have 50 strikeouts in 59.2 innings.
And Zych iced his cake this summer in the Cape Cod League, where he collected a league-leading 12 saves, while notching a 0.89 ERA, with 29 strikeouts in 20.1 innings. For his efforts, he was named the league's relief pitcher of the year, and the top pro prospect of the year, both amazing honors.
Clearly, Zych's future is on the mound, and most likely coming out of the bullpen. He can crank his fastball into the mid-90s now, and compliments it with an above-average slider.
Zych could be one of the first college relievers off the board.
36) Mikie Mahtook, OF, Louisiana State University
LSU's Mikie Mahtook made headlines as a freshman, when he drove in the game-winning run in Game 1 of the Championship series of the College World Series against Texas, and he has now emerged as one of the top college outfielders in the 2011 draft class.
Mahtook played center-field last season for the Tigers, but is expected to settle into right field in 2011, where his plus power and amazing arm strength should play quite nicely.
Mahtook offers excellent bat speed, and really good power potential. And he's also a superb runner, who posted a 4.44 40-yard dash time out of high-school, where he was a two-sport athlete with his shot at numerous college scholarships to play QB or WR.
Instead, he chose baseball and he hasn't disappointed.
Last season, he hit .335 for the Tigers, with 19 doubles, four triples, 14 homers and 50 RBI. He also added 22 steals.
Mahtook should develop into a solid all-around right fielder, who offers good power, and excellent speed.
37) Kyle Winkler, RHP, Texas Christian University
Matt Purke isn't the only Horned Frog pitcher with the 2011 draft on his mind.
Kyle Winkler teamed with Purke and fellow TCU starter Steven Maxwell to compile a combined 39-5 record.
Of the trio, Winkler finished with the second-most wins (12), the most complete games (2), and the most innings (116.2). He had the worst ERA of the three, but at 3.39, there wasn't too much to complain about.
Well, there is one thing to complain about. Unlike Purke, who is a potential top three pick, Winkler is only 5-foot-11, and we all know how hard it is for the tinier guys to make it through the minor leagues.
Not that Winkler is ill-prepared to make the jump.
Back in 2007, the year before Winker was a 37th-round pick by the Brewers, Winkler was ranked as the 19th-best high school prospect. And he further enhanced his future prospects by tossing a no-hitter at the Perfect Game Wood Bat tournament.
Now three years removed from his high school days, Winkler has developed into one of the more polished college arms. He throws in the low 90s, and can touch 94 with his fastball. He has a great slider, which works as his out-pitch. He also features a change-up, which he doesn't get the opportunity to use as much.
He also has really good command, leading many to believe his future is in a rotation, rather than a bullpen.
38) Dante Bichette Jr., 3B, Orangewood Christian HS, Florida
You might think Dante Bichette Jr. is a wee bit too arrogant when he openly discusses how he's pretty sure he could hit .700 against opposing pitchers. But as soon as you take into account how much work he puts in (up to five or six hours a day in a hitter's paradise), and how good he is now (.597 with nine homers and 37 RBI in 102 plate appearances), it's clear that Bichette Jr. is going to a a first-day pick.
The "hitter's paradise" is a warehouse that Junior's father, Dante Bichette Sr., created batting cages complete with pitching machines and curveball machines. Junior and his teammates spend most nights at the warehouse, and it has helped improve everyone's game, especially Dante Jr.'s.
A one-time star of the Little League World Series, Bichette has grown up to be quite a power hitter in his own right. He is easily one of the best prospects in the draft when it comes to raw power. The kid hits moonshots, as the video above proves.
But in addition to his ridiculous power, he's also a very good hitter. He is incredibly patient for a high schooler, and shows a great eye, a very smooth swing, and an impressive hitting ability.
Bichette is committed to the University of Georgia, but I would have to say that there's probably a 10 percent chance of him actually setting foot on campus, not with the cash that will be floated in front of him and his proud papa.
39) Nicky Delmonico, C, Farragut HS, Tennessee
That video is just another piece of evidence that shows how great, and clutch, Tennessee's Nicky Delmonico is. After leading his high school team to a state championship in 2008, he took Farragut HS back there in 2009, and crushed a two-run walk-off homer to win the state title.
Along the way, Delmonico has garnered tons of helium as one of the best pure hitters in this draft.
His sweet lefty swing, and his advanced knowledge of the game are going to make him a Day one pick, without question. He's an amazingly disciplined hitter.
He also happens to be one heck of an athlete.
He profiles as a Wil Myers type backstop, where he's played for the past few years. But, he's also played some shortstop.
He also features some power, as his 447-foot homer at the Power Showcase showed.
Delmonico also has that "it" factor, which should make him even more appealing to teams next June.
40) Levi Michael, OF, University of North Carolina
Just like former Tar Heel Dustin Ackley, Levi Michael has done a little bit of everything for UNC, and like Ackley, Michael should end up as a top pick as well.
Michael has always been a Carolina guy, back to the days when he was ranked as the number one prospect in the entire state, and the 63rd-ranked prospect by Perfect Game.
He took his talents to UNC and played immediately as a freshman, hitting .290 with 13 homers and 57 RBI. He also played pretty good defense, sharing time between second base, shortstop, and third base.
2010 allowed him the opportunity to step out of Ackley's shadow, and did amazingly well, hitting .346 with nine home-runs and 54 RBI in five fewer contests than in 2009. He completely reversed his performance at the plate in terms of walks and strikeouts, going from 26 walks and 56 strikeouts to 44 walks and 20 punchouts.
He also showed some improved base-running skills, stealing 20 bases, one year after stealing only five in nine attempts.
Michael doesn't blow you away with any one tool. But, he is a switch-hitter and could have a Brian Roberts-like future ahead of him. He's good with the bat, has decent power, and good speed. And he plays solid defense at a few different positions.
41) Austin Wood, RHP, University Of Southern California
Austin Wood has been all over the place.
In less than three years he has pitched for the Florida State Seminoles (2009), the Cotuit Kettleers of the Cape Cod League (2010), and St. Petersburg College (2010). He's been drafted twice, once out of high school by the Astros in the 36th-round (2008), and once last year by the Rays in the fourth round.
And this year he's on to his fourth team, the USC Trojans, who scooped him up from SPC after a stellar year in which he went 3-4 with 42 strikeouts in 43 innings. Wood split time between the rotation and the bullpen.
More important than any statistics is the fact that he was often clocked at 97 mph.
Wood then tried to hone his craft in the Cape Cod League, where he hardly faced any challenges. In seven games (six starts) he went 3-0 with a 0.74 ERA and 25 strikeouts in 36.1 innings. His low ERA is even more impressive when you take into account that he walked 19 batters. He was so stingy with the base hits though, allowing only 18 in his time at the Cape.
Because he's a junior college transfer, Wood will be eligible for the 2011 draft as well, and he should figure to go higher, and certainly no lower than his fourth-round standing from last year.
42) Matt Skole, OF, Georgia Institute Of Technology
If you payed any attention to the 2010 MLB Draft, you should be familiar with the name Skole.
Matt's little brother Jake Skole was a first-round pick of the Texas Rangers, taken with the pick they secured for—not securing 2009 pick Matt Purke.
And whereas Jake might have been a bit of an overdraft, since the Rangers would have lost the rights to any compensation picks had they not signed their pick for the second year in a row, Matt will be anything but.
Featuring some of the best power that the Atlantic Coast Conference has to offer, Skole has been an excellent hitter for two seasons at Georgia Tech. This past season he hit .335 with 15 doubles, three triples, 20 home-runs and 63 RBI. He was also named to the All-ACC First-Team.
Skole has played third-base for the Yellow Jackets, and profiles there as a pro. He has a big-time arm, that easily makes up for the fact that he doesn't have the best footwork.
At the plate, aside from the big time power, he is also one of the most patient college hitters in the draft. He has a great eye, and knows how to work a count.
The one thing that concerns scouts about Skole is this weird head tuck thing he does at the plate. It's tough to see in the video, but one thing I noticed is how off-balance he looks at the plate. It is just a couple of at-bats though.
Skole is definitely a name to watch heading into this college season.
43) Shawon Dunston Jr., OF, Valley Christian HS, California
Speed, speed, speed.
And a little bit more speed. That's what Shawon Dunston Jr. has built his game around.
And you know he has a good head on his shoulders by listening to him talk about forgoing homers for in-the-gap shots that he can turn into doubles and triples with his legs.
Growing up inside a clubhouse certainly helped Dunston develop into the stellar prospect that he is today. He repeatedly thanks his dad and credits him for most of his success and he's pretty lucky to have such a great teacher.
Playing mostly as a center-fielder, Dunston shows great speed in the field, not just on the basepaths. He is aggressive getting to the ball, and shows great footwork.
He's more of a slap-hitter at the plate right now, but credit that to the fact that he's still putting on some pounds and hitting the weights more than he ever has.
As he continues to build strength, he could develop into a legitimate five-tool talent.
And even if he doesn't, he'll always have that speed.
44) Noe Ramirez, RHP, University Of California-Fullerton
Check out Ramirez's stats, and you'll wonder why his name isn't mentioned among the top college arms in this draft.
He went 9-2 as a starter his freshman season and struck out 100 batters in 110 innings of work. He also posted a 3.33 ERA for a very talented Cal State-Fullerton squad.
This past season he was even better, quietly having an amazing year, posting a 12-1 record, a 2.54 ERA and 119 strikeouts (with only 19 walks) in 106 innings.
And after the season was done with, he went to work in the bullpen for the Team USA collegiate squad, working often as the closer, a role that he seemed like a natural in.
The reason Ramirez doesn't get as much love as Purke, Cole, and Gray is because of his lesser velocity. He was mostly pitching in the high 80s the past few seasons, but has added a few ticks and can now reach into the low 90s. So far at Fullerton he's thrived on his excellent secondary pitches and his pinpoint command.
He does have an excellent slider, which leads many to think he may be cut out to be a reliever at the pro level. That would also make his ability to develop his change-up more of a moot point.
Despite his lesser velocity and not-so-promising future, Ramirez seems to rise to the occasion anytime he's challenged. Like when he went toe-to-toe with eventual 2011 top five pick Gerrit Cole in the Super Regionals. Ramirez outdueled Cole and led Fullerton to a 4-3 victory.
I wouldn't count him out.
45) Josh Tobias, SS/2B/3B, SE Guilford HS, North Carolina
Tobias is another talented infielder who looks like the complete package.
He's headed to Florida, but don't be surprised if teams are wowed by his tools, and his "lead-off guy" potential, and make him a day one pick.
Tobias is a switch-hitter, like so many of these high school infielders coming out. He has a very unorthodox swing that features some early movement that you have to think will affect his hitting at the pro-level. Fortunately it didn't hurt him much in high-school.
Like Dunston Jr., he has excellent speed, that should serve him well provided he doesn't ever grow into his average raw power.
He is a UF commit, though, so you know if he forgoes pro ball for a chance to play with the Gators, he'll most likely get some expert coaching, get his swing straightened out, and emerge as one of the top infielder prospects for the 2014 draft.
46) Ryan Carpenter, LHP, Gonzaga University
Carpenter was easily the most talented prospect to ever take a chance on the tiny Gonzaga program, and he looks poised to leave GU as the most highly drafted Zag ever.
While his results (10-8 career record and an ERA over 5.00) aren't too pretty, with Carpenter it's more about the intangibles.
Like the fact that he's 6-foot-5 and 225 pounds. Or that he throws in the low to mid-90s with a great slider. His fastball has some good sink on it, and right now he profiles as a mid-rotation starter.
With some better instruction, though, he could easily reach higher than that ceiling.
The problem with Carpenter is that he doesn't act or pitch nearly as intimidating or good as he should. He has great size and power stuff that should play, especially at a smaller school, but for some reason he hasn't had the results that everyone forecast for him.
He still has a year before the draft, and if he has a great year, posting a lower ERA and more strikeouts, he could drastically improve his stock.
47) Trevor Bauer, RHP, University of California-Los Angeles
Gerrit Cole certainly got all the attention last season, but it's quite possible that he wasn't even the best pitcher on his own team.
That's right, diminutive Trevor Bauer, all 6-foot-1 and 175 pounds of him, led the Bruins in most statistical categories.
He's 21-6 as a starter at UCLA and has posted a career 3.00 ERA. He also has a very impressive, very Tim Lincecum-like 257 strikeouts in only 236 career innings. Last season he led the nation with 165 punchouts.
Very Lincecum-like indeed.
It's fitting too, since Bauer admires the diminutive Lincecum, also a record-setter from the Pac-10. Like the long-haired San Francisco Giant, Bauer throws in the mid to high 90s, sometimes touching 97-mph.
He also has a plus secondary pitch, a great curveball that helped him rack up a school record number of strikeouts.
And whichever team gets Bauer, most likely one that feels bad they slept on Lincecum, is also getting a wicked-smart guy. Bauer skipped his senior-year of high school and is an engineering major at UCLA.
48) Brett Mooneyham, LHP, Stanford University
Mooneyham is another guy like Carpenter, a pitcher with all the tools, the size, and the stuff to be dominating college hitters.
And for some reason, he just hasn't.
In fact, Mooneyham has been even worse than Carpenter, compounding his issues with control problems. Something hard to believer from the guy who has one of the top prep pitchers coming out of high-school in 2008.
There is just as much hope for Mooneyham, though. He throws in the mid-90s and has a great breaking ball and a very good change-up.
Those who are high on him foresee a future in which he figures out his command and utilizes three above-average pitches.
If he does those things, a tall order for only one year, he could be a first-round talent.
49) Tyler Greene, SS, Roswell HS, Georgia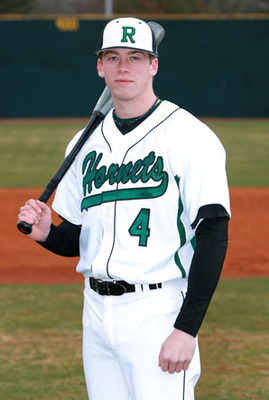 Green is the last of the really talented high-school shortstop class.
From Roswell, GA, Greene plays in one of the best states for high-school talent. Just ask the Braves, who have discovered Brian McCann, Jeff Francouer, and 2010 N.L. Rookie of the Year runner-up Jason Heyward, not to mention another talented crop from the 2010 MLB Draft.
The first thing you notice about Greene is his power. He's oozing with it. Unfortunately you don't get to see too much of it unless pitchers are feeding him a steady diet of fastballs. He has lots of trouble with off-speed stuff.
Luckily for Greene, he's got more going for him. He should develop into a pretty good hitter provided he can figure out the tricky breaking stuff, and he has a big time arm, and great speed.
Add it all up and you have a five-tool shortstop, assuming that he can develop as a hitter.
50) Alex Dickerson, OF, Indiana University
Few hitters had as stellar a season as Dickerson did in 2010.
He ran away with the Big 10 triple crown, leading the conference with a .419 average, 24 home runs and 75 RBI. Needless to say, he was unanimously crowned the Big 10 Player of the Year, one year after taking home Freshman of the Year honors.
That season he hit .370 with 14 homers and 57 runs-batted-in.
A 48th-round pick in the 2008 draft, Dickerson's game is power, power, power.
He offers just about as much raw power as anyone in this draft class. Unfortunately, despite having the reputation as a hitter who can drive pitches to all fields, most of Dickerson's dingers head out via right-field, making him a classic pull hitter.
Despite this "flaw," if you even want to call it that, most believe Dickerson will hit for a decent average as a big-leaguer. He also has a great eye at the plate.
The one drawback for Dickerson is his play in the outfield. He isn't the most graceful athlete in the field, but as long as he offers that plus power, he'll end up as a first day pick, no doubt.
51) B.A. Vollmuth, SS, University Of Southern Mississippi
Vollmuth is one of the most talented college shortstops available in 2011, primarily because of his bat.
In fact, his fielding has been so horrible (24 errors last season) that a switch to third-base for the 6-foot-4 Golden Eagle is almost inevitable.
At the plate, Vollmuth might not have a rival in this class. After struggling at the start as a freshman, Vollmuth put things together late, earning MVP honors in the Atlanta regional, and earning a nod on the Cape Cod League All-Star team after the college season ended.
This past season, there was little that Vollmuth did wrong. He hit .386 with 20 homers and 76 RBI. He posted a good walk-to-strikeout ratio and showed excellent hitting ability at the plate.
Given that he's 6-foot-4, he should have no problem hitting for at least average power, with most scouts predicting an above-average tool in that department.
Vollmuth would definitely have more helium as a shortstop, but as a third mbaseman he still profiles as a top three round talent.
His bat is that good.
52) Deven Marrero, SS, Arizona State University
Marrero knows a little something about success.
As a high schooler, Marrero played for one of the most talented high-school squads to come along in many years. His national title-winning American Heritage (of which he was the team captain) featured not only Marrero, but also Adrian Nieto (5th-round 2008), Joey Belviso (50th-round 2008), Juan Carlos Sulbaran (30th-round 2008) and Eric Hosmer (1st-round 2008).
Then, desiring grand tradition and excellence, Marrero chose to forgo pro-ball, at least for the time being, to head to Arizona State, where he had a dominant freshman season.
Marrero led the Sun Devils in batting average (.397), despite playing in only 42 games. He also rapped 12 doubles, three triples, and six homers. He also drove in 42 runs, an average of one per contest, which is impressive, because Marrero isn't that big of a run-producer. At least, he doesn't project to be.
What makes Marrero so special is his amazing defensive play. He is an athlete in the truest sense of the word, and he really shined in the College World Series, where he was named to the All-Regional team.
Marrero's bat is going to have to improve for him to be much more than a defensive shortstop though. Despite his impressive year at ASU, scouts would still like to see more of him at the plate, and if he continues to show improvement at the plate, his name could rocket up the draft board.
Keep Reading