Bud Selig and the MLB Playoffs: Breaking Down Future Wild Card Expansion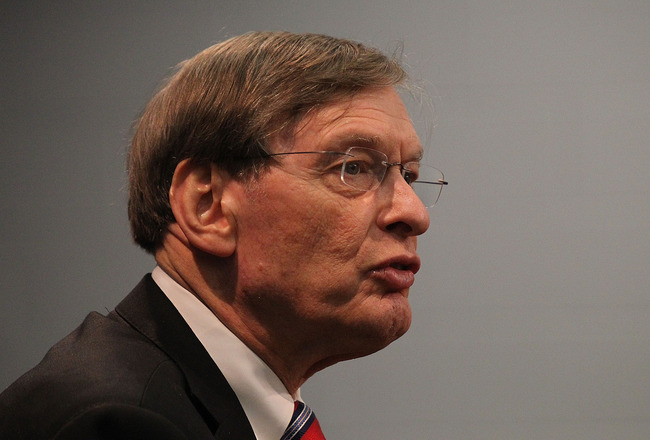 Ronald Martinez/Getty Images
On April 20, 1986, Michael Jordan nonchalantly scored 63 points against the Boston Celtics in Game 2 of the first round of the Eastern Conference playoffs.
Many NBA fans can tell you that, and I'm sure 100,000 people claim to have been at the Boston Garden that day.
What is little-known about Jordan's 1986 Bulls, however, is that they are statistically the worst playoff qualifier in NBA history, managing a 30-52 mark and .366 win percentage during a regular season in which Jordan played just 17 games.
In fact, the San Antonio Spurs, who finished last in the Midwest Division, qualified for the playoffs that same year.
How was this possible? Back then, eight teams still made the playoffs in each conference, but this was prior to the last wave of NBA expansion, so only seven of 23 NBA teams failed to make the playoffs in 1986.
MLB has never seen a sub-.500 team make the playoffs, let alone one that won fewer than 40 percent of its games, but the detractors that cried against the Wild Card expansion in 1994 may be up in arms again following Commissioner Bud Selig's declaration that he is open to the idea of expansion.
"The pragmatism is what's most difficult," Selig said. "The question is how do you do it and what form does it take? A lot of people have different opinions."
Luckily for Mr. Selig, he needs to go no further than this article to answer that question.
One-Game Playoff Vs. Three-Game Wild Card Series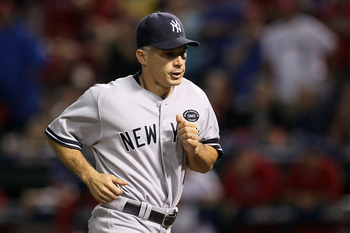 Stephen Dunn/Getty Images
The Yankees infamously decided to settle for a playoff spot this season instead of going all out for the division this year, but they probably would not have done so had they been forced to play a one-game playoff or three-game series just for the right to enter the ALDS.
Of course, had they finished in the Wild Card spot anyway, fans would have been treated to a Yankees-Red Sox playoff to determine the American League's fourth playoff participant. Bucky Dent would probably be a fan; Mike Torrez, not so much.
One component of the potential new playoff system seems to be settled, based on Bud Selig's comments: Each league will have five total playoff participants and two Wild Cards, most likely starting in 2012 if all parties agree on the logistics. Therefore, a decision needs to be made on the length of the Wild Card series.
Throw a one-game playoff out the door.
"I've had some managers tell me we can't play 162 games, wind up in a playoff for one game," Selig said. "So you're going to get both sides of the argument, and they're very strong in that opinion, by the way."
Also, would it be fair to see a 95-win team not make the ALDS because they lost to a 88-win team just once in a play-in game? Furthermore, more games, more money. Enough said.
Therefore, a three-game series between the two Wild Card teams would be the answer, since a five-game series is not being talked about publicly and would be too much of a break for the division winners.
The regular season next year ends on the last Wednesday in September. In 2012 MLB should have both of its best-of-three Wild Card series start on Friday and go straight through Sunday if necessary, with all games played at the better Wild Card team's home park.
On Monday, the two other ALDS series that do not include Wild Card teams begin, and on Tuesday, the Wild Card teams that won their play-in series go on to play the division winners that finished with the best record in their respective leagues.
Possible Problems with Three-Game Series Theory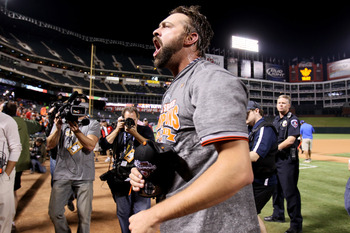 Elsa/Getty Images
There are a few snafus with that theory, though.
Why Not Give the "Fifth Seed" a Home Game in the Wild Card Round?
Time is clearly of the essence. No one wants to see baseball extend into November again, and Selig publicly noted that it snowed in Minnesota this week (though this bitter Yankees fan wonders how much of a chance the Twins had hosting the World Series with Carl Pavano as their No. 2 starter anyway).
The MLB can't give the fifth seed (the second Wild Card qualifier) a home game to start the series—since that gives the worse team an unfair competitive advantage to start the series—and then have the fourth seed (first Wild Card qualifier) host Games 2 and 3 if necessary.
The MLB also can't follow the NBA's lead in the late 1970s and early 1980s and have alternating home-and-away games. Players would hypothetically despise jumping on a plane three times in four days, and the day gaps would skew pitching staffs' rest.
Therefore, it only makes sense to have one team host three straight days. It makes the most sense logistically for the teams and fans.
Who Would the Winner Play?
This is much trickier. Current baseball rules stipulate that a Wild Card winner cannot play its division winner in the ALDS. This rule was put in place to safeguard against the possibility of having the two teams with the best win-loss records in a league also being in the same division. This happened in 2004. The Wild Card (98-64 Red Sox) played the AL West Champ (92-70 Anaheim Angels) in the ALDS instead of the AL East champ (101-61 New York Yankees).
However, given my scenario, this rule would probably have to go out the door. The Wild Card winner would have to play the team with the best win-loss record, regardless of division affiliation. It just makes things a lot cleaner and easier for a league that refuses to let the team with the best record host the World Series each year.
Can you imagine MLB trying to figure out the scenarios on a Sunday if the two Wild Card series are still going amongst teams in different divisions, with no one knowing who they will play in the next round yet? It'd be mindblowing.
This, however, could be somewhat rectified if you end up starting the playoffs on a Tuesday, where another 24-hour period can be used to hammer out hosting logistics and reset pitching staffs, but then you risk the possibility of having two days of absolutely no baseball in early October if both Wild Card series end in 2-0 sweeps. If MLB is fine with that, I'm in favor of keeping the current seeding format.
Why Would You Have the Two Wild Card Series Take Place During a Big Football Weekend?
Who cares? The MLB certainly doesn't. Next year the division series round will be starting on Friday, September 30 and Saturday, October 1.
How It Would Look This Season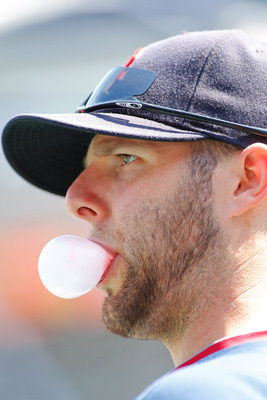 Mike Stobe/Getty Images
Theory One (Wild Card Automatically Plays No. 1 Seed)

AL Wild Card Round
Boston at Yankees, winner to play Tampa Bay. Texas plays Minnesota.
NL Wild Card Round
San Diego at Atlanta, winner to play Philadelphia. San Francisco plays Cincinnati.
Theory Two (Keeping Current Seeding Format)
AL Wild Card Round
Boston at Yankees, winner to play Minnesota. Tampa Bay plays Texas.
NL Wild Card Round
San Diego at Atlanta. If San Diego wins, it plays Philadelphia, and San Francisco plays Cincinnati. If Atlanta wins, it plays San Francisco, and Philadelphia plays Cincinnati.

Worried About Watering Down the Playoffs?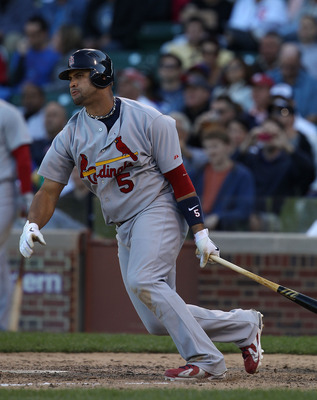 Jonathan Daniel/Getty Images
Here are some stats to consider dating back to the 1996 season, the first full ledger where the Wild Card was used (1994 and 1995 were both affected by the strike).
American League Fifth Seeds, 1996-2010

Average Wins: 88.73
Best Fifth Seed: 93-69, 2002 Red Sox, 2003 White Sox and 2005 Indians
Worst Fifth Seed: 84-78, Anaheim Angels
National League Fifth Seeds, 1996-2010
Average Wins: 88.93.
Best Fifth Seed: 96-66, 2000 Cincinnati Reds, who lost to New York Mets in one-game playoff to determine National League Wild Card.
Worst Fifth Seed: 85-77, 2006 Philadelphia Phillies
Notes
The only season where there would have been a tiebreaker for the hypothetical fifth seed was 2007, when Seattle and Detroit had 88-74 records.

I did not take into account wins in tiebreaking games and reverted to a team's 162-game record.
Do You Like the Idea?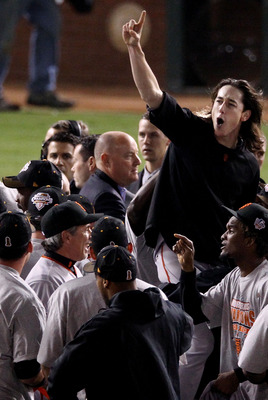 Christian Petersen/Getty Images
Do you like my idea? Tim "Big Time Timmy J" or "Freaky Franchise" Lincecum loves it, apparently.
What about the thought of a 10-team playoff? Does it water down the league? Would it give baseball a much-needed jolt in the arm?
Personally, I'd go with the latter. More playoff teams, and more playoff contenders into September, mean more fan interest throughout the season.
However, much more importantly, having a second Wild Card would safeguard against what the Yankees did this previous season, when they essentially coasted to a playoff spot and did not play to the best of their abilities. Quite frankly, if a team doesn't win a division, it should work a little harder to earn its right to be in the playoffs.
It seems as though 10 playoff teams in 2012 is an inevitability. It's just a matter of how it goes down.
Keep Reading