Kansas City Chiefs at Oakland Raiders: 10 Bold Predictions For AFC West Clash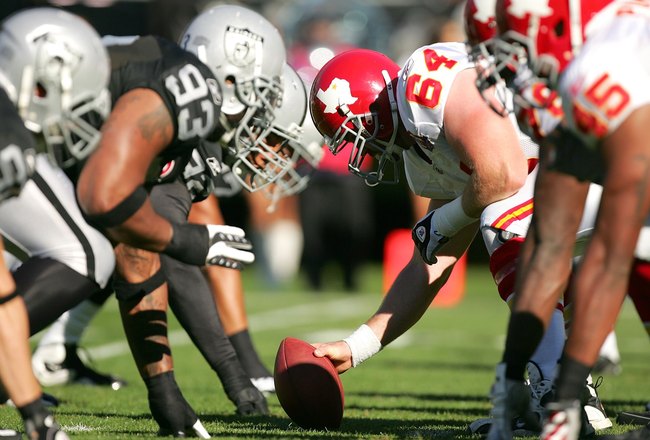 Ezra Shaw/Getty Images
This game wasn't supposed to mean this much.
Based on pre-season expectations, Week 9 of the 2010 NFL season was to be a matchup between Kansas City Chiefs and Oakland Raiders squads that were on the rise, but not in position to win the AFC West.
Perhaps next season, most thought, the Chiefs-Raiders rivalry would resume its place among the best, most spirited and most important in the NFL. But things have changed more quickly than all anticipated, and these teams are both positioned for a potential run to the playoffs as the season's second half begins.
Following are 10 bold predictions in a battle for AFC West supremacy, as the Kansas City Chiefs travel west to take on the Oakland Raiders in Week 9 of the NFL season.
No. 10: Chiefs TE Tony Moeaki Will Score a TD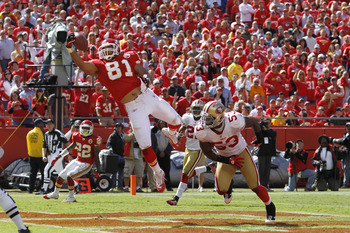 Joe Robbins/Getty Images
An unlikely favorite target of Kansas City QB Matt Cassel, rookie TE Tony Moeaki came up big in Week 8's overtime thriller against the Buffalo Bills, and is poised to do the same against the Raiders.
Oakland has one of the league's stingiest pass defenses, but Moeaki has proven Cassel's most reliable receiver, and will benefit from KC's potent rushing attack. In the red zone, the Chiefs will surely run play-action to get Oakland's back seven to cheat on the run. If so, Moeaki is Cassel's most likely target, and should score the third touchdown of his young career.
No. 9: Raiders WR Louis Murphy Will Get Behind KC's Secondary For a Long TD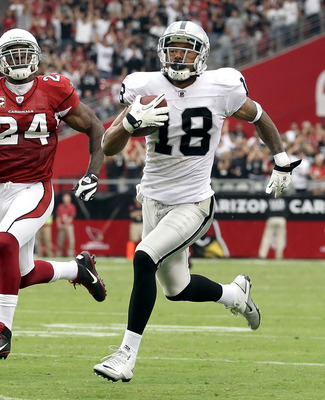 Christian Petersen/Getty Images
Despite Oakland's inconsistent passing attack, the Chiefs will undoubtedly commit seven or eight defenders to stop RB Darren McFadden and the Oakland run game on most plays.
KC's young secondary has been burned by fakes in the backfield this season, and must be cognizant of such trickery against the Raiders. Rookie SS Eric Berry has played well of late (interceptions in the last two games), but he's been the culprit of multiple passing TDs this season.
If Oakland is churning out yardage on the ground, QB Jason Campbell will capitalize and hit WR Louis Murphy behind KC's back line for a score.
No. 8: Chiefs OLB Tamba Hali Will Force a Turnover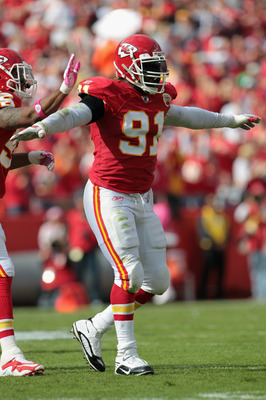 Jamie Squire/Getty Images
Chiefs OLB Tamba Hali has been a terror for OTs all season, racking up seven sacks and leading the league with a staggering 43 QB pressures.
Unfortunately for the Raiders, they are woeful in pass protection this season and have already given up 23 sacks this season. LT Mario Henderson and RT Langston Walker will certainly have their hands full with Hali.
Campbell has shown a tendency in the past to put the football on the ground, and Hali will have many opportunities to make a game-changing play by forcing a fumble this week.
No. 7: The Raiders Will Garner Several QB Sacks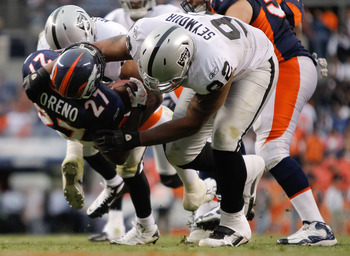 Justin Edmonds/Getty Images
Unlike Kansas City, Oakland puts pressure on the QB by relying on more than one player. Led by DE Matt Shaughnessy and OLB Kamerion Wimbley, the Raiders have have six players with at least two sacks this season.
The Chiefs offensive line has been good in pass protection in 2010, but yielded three sacks to Buffalo in Week 8. Wimbley, Shaughnessy, DT Richard Seymour and company should put tons of pressure on QB Matt Cassel, despite KC's propensity for running the football.
No. 6: Each QB Will Commit Multiple Turnovers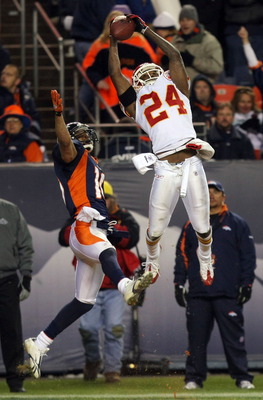 Doug Pensinger/Getty Images
KC QB Matt Cassel and Oakland QB Jason Campbell lead the NFL's 32nd and 20th passing games in terms of yards per contest. Obviously, neither club is among the league's elite aerial attacks.
Additionally, each defense has a star playmaker playing on each level of the field. CBs Brandon Flowers (Chiefs) and Nnamdi Asomugha (Raiders) are two of the league's best, and the exploits of Hali and Oakland's varied pass rush attack have already been merited.
Despite Cassel's incredible ability to take care of the football thus far, he is due for an interception and is more than capable of coughing up the ball while getting hit. Ditto for Campbell.
No. 5: There Will Be a Game-Changing Play Made On Special Teams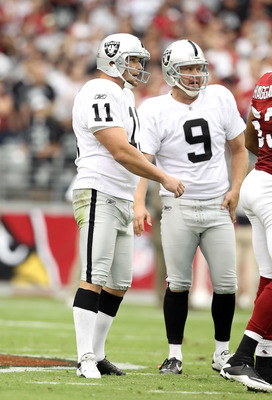 Christian Petersen/Getty Images
These teams feature two of the best K/P duos in the league in Oakland's Sebastian Janikowski and Shane Lechler and Kansas City's Ryan Succop and Dustin Colquitt. The former combination is the NFL's best, while the Chiefs' is also among the game's elite.
Janikowski and Succop have big legs and are each capable of nailing FGs of 50 yards or longer. Lechler and Colquitt, on the other hand, are adept in both length and positioning when it comes to punting the football.
In the return game, the Chiefs boast two of the league's premier young returners in Javier Arenas and Dexter McCluster (who missed Week 8 and is questionable for Sunday's game). They've been held in check of late, and seem poised to break a long one.
Meanwhile, Oakland has blocked multiple punts on the season, and the KC punt team has been vulnerable in recent weeks.
Whether it comes in the form of a kick, a return, or a block, there should be at least one vital play made by a special teams unit in this matchup.
No. 4: Jason Campbell Will Outplay Matt Cassel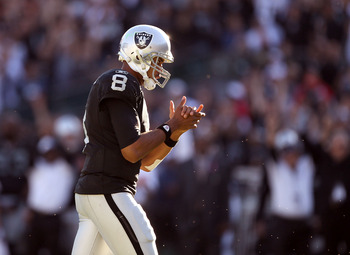 Ezra Shaw/Getty Images
Since re-taking the reigns as Oakland's starting QB, Jason Campbell has played stellar football. In two Raiders routs, he has thrown four touchdowns, no interceptions and accumulated a QB rating of 124.4.
Matt Cassel has played solid, mistake-free football for the Chiefs this season. He's garnered six scoring passes and thrown no interceptions in the last three games alone. However, he struggled against Buffalo, and doesn't possess the natural throwing skills of Campbell.
In a game where RBs will rule, Campbell will outdo Cassel in terms of completions, yardage and TD passes. Whether it will be enough to give his team the victory remains to be seen.
No. 3: RBs Darren McFadden and Jamaal Charles Will Run For 100+ Yards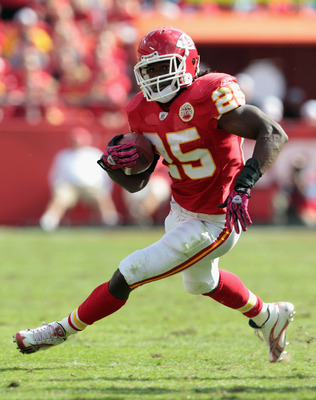 Jamie Squire/Getty Images
Both the Chiefs and Raiders have two runners with at least 80 attempts.
Though bruising veterans Thomas Jones (Kansas City) and Michael Bush (Oakland) have been effective this season, young speedsters Jamaal Charles and Darren McFadden have been arguably the NFL's two most exciting backs this season.
Charles leads the league in yards per carry, averaging a mind-boggling 6.5 yards an attempt. McFadden is no slouch himself in that area, as he gets a stellar 5.5 yards a tote and ranks sixth in the NFL is total rushing yards.
Expect both Charles and McFadden to get the majority of carries for their teams as the game goes on, and each of them have enough big play ability to put up huge numbers on the ground in this game.
No. 2: A Controversial Coaching Decision Will Impact The Game
Jamie Squire/Getty Images
Both Todd Haley and Tom Cable have been ridiculed by their respective fan bases since taking over as Head Coach of the Chiefs and Raiders. As early as the beginning of this season, many were calling for each of them to be fired.
While critics wishing them ousted have been silenced (for the most part) by recent team success, both coaches have come under fire for decisions made in individual games.
Haley has been aggressive in guiding KC's offense all season, routinely trying multiple fourth down conversions per game. Meanwhile, Cable has rotated his QBs all season long and is known as a poor clock manager.
In a game that is sure to come down to the wire, a decision made by a head coach - good or bad - will prove vital in ultimately determining a winner.
No. 1: Final Outcome

Ezra Shaw/Getty Images
This game has all the makings of a classic Chiefs-Raiders clash. Finally, what fans of these teams know is the fiercest rivalry in the NFL has meaning in the standings again.
These teams are evenly matched, and the scoreboard will certainly indicate such as the game enters the fourth quarter.
Check back later this week for a prediction of the matchup's final outcome, and which of these teams will stake their claim as the best in the AFC West.
Keep Reading

Kansas City Chiefs: Like this team?