Cleveland Browns Mid-Season Awards: Colt McCoy, Peyton Hillis, and 2010's Best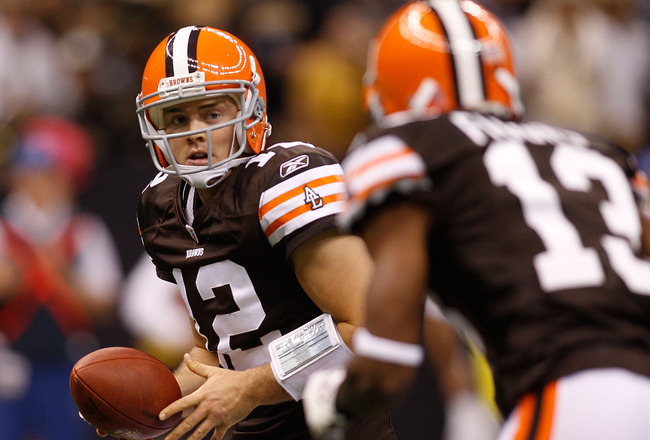 Chris Graythen/Getty Images
Now that the Browns' season is nearly halfway over, it is time to take a step back and look at the team's progress to date.
Cleveland entered 2010 with high hopes that the team was taking an upward turn. A 2-5 record is not what the fans had hoped for, but that does not necessarily mean that the Browns are having a bad year.
Here is the list of awards for the first half of the Browns' season and some observations for the last half of 2010.
Award Categories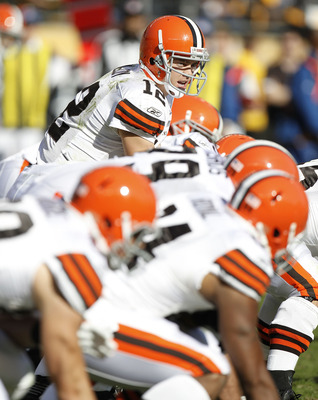 Gregory Shamus/Getty Images
For the first set of reports, I will be focusing on the players themselves. I will offer a description of each of my decisions as I go along. The categories are as follows:
1. Most Improved: Offense
2. Most Improved: Defense
3. Best New Addition
4. Best Surprise Player
5. Rookie MVP
6. Biggest Disappointment
7. Best Big Guy
8. Most Valuable Coach
9. Best Game
10. Team MVP
11. Thoughts For The Rest Of 2010
Most Improved Offensive Player: Chansi Stuckey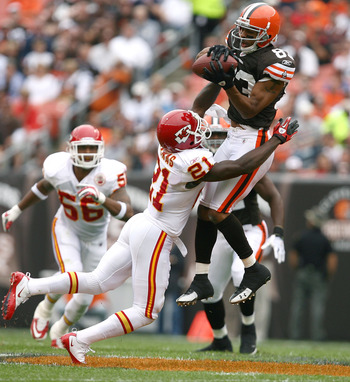 Matt Sullivan/Getty Images
This may come as a surprise to some people, but Chansi Stuckey has improved significantly off a 2009 season that was clearly dismal.
Stuckey has become a solid option in the slot position and has been effective in much of the same ways as similar role players, Wes Welker, and Davone Bess.
Even though Stuckey has a long way to go to match either one of the those players' production value, with improvement, he could become equally as valuable.
So far this season, Stuckey is third on the team with 21 receptions for 213 yards.
That means that he has already topped his numbers from the past two seasons and is on pace to have a career year.
The Browns' quarterbacks are beginning to become more comfortable with Stuckey, which might prove to have some implications down the stretch.
Most Improved Defensive Player: Matt Roth
Matt Sullivan/Getty Images
Matt Roth is finally turning into the player that the Cleveland Browns hoped he would be after they acquired him from Miami last season.
Roth has become a very valuable asset at outside linebacker and is beginning to become a standout in Eric Mangini's 3-4 defense.
In the Browns' first seven games this year, Roth has a total of 34 tackles, 2 sacks, and 2 pass deflections.
Roth is on pace to surpass his career-best 2008 season, when he recorded 53 tackles and 5 sacks with the Dolphins.
Best New Addition: Benjamin Watson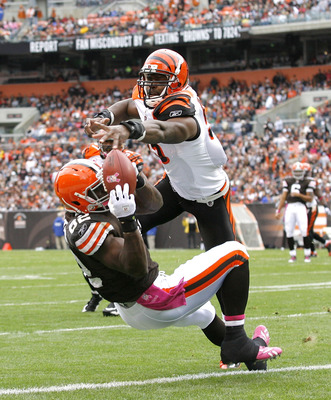 Matt Sullivan/Getty Images
This selection is probably the toughest one I will be forced to make throughout the course of this article.
Understandably there will be and should be a large calling for Peyton Hillis to be in this spot, but I will be touching on that subject later.
Watson leads all Browns receivers with 30 catches for 336 yards and two touchdowns.
In what was seemingly one of the worst offensive production years in franchise history last season, the Browns welcomed the big tight end with open arms and he has not disappointed.
Watson has become a piece of the puzzle that has been invaluable. Coming from a winning program in New England, he and former Super Bowl champion, Scott Fujita, have been key parts in bringing Cleveland back to winning.
Best Surprise Player: Reggie Hodges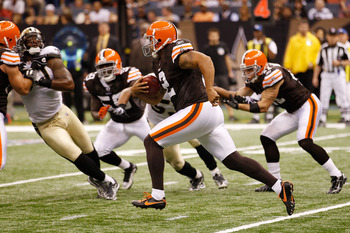 Chris Graythen/Getty Images
Reggie Hodges is not the player that many people would think about when it comes to a crucial part of a football team, but Hodges has shown throughout the first seven games that he may be as best as they come.
Field position is a key part of the game plan for any football team that lacks big play potential and Hodges has put the Browns in great positions time and time again.
Out of his 38 punts, Hodges has pinned opponents within their own 20 on 14 different occasions and an average of 44 yards a punt.
It is also impossible to forget his 69-yard rush against the New Orleans Saints that helped propel the Browns to a 30-17 Victory.
Rookie MVP: T.J. Ward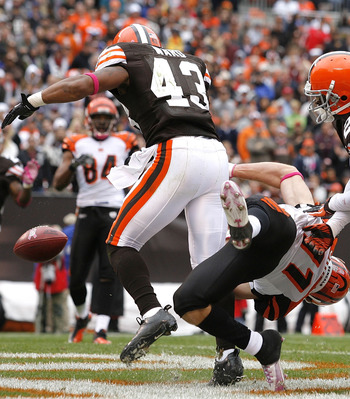 Matt Sullivan/Getty Images
T.J Ward was a surprise pick by the Browns in this year's draft but is now proving his worth in what has been the best rookie performance out of a Browns player since their return in 1999.
Ward leads the team in 60 total tackles (16 ahead of 2nd place, Scott Fujita) and also has three pass deflections and one forced fumble.
Ward is gaining the reputation of a hard hitter after decimating Cincinnati Bengals' wide receiver, Jordan Shipley, on a crossing route earlier this season.
If Ward continues his pace he will collect somewhere between 120-130 tackles this season.
Ward is still a work in progress when it comes to his pass-coverage abilities, but with his hard-hitting style of play and quickness, he is a lock to remain in the Browns' starting lineup for a long time.
Biggest Disappointment: Jake Delhomme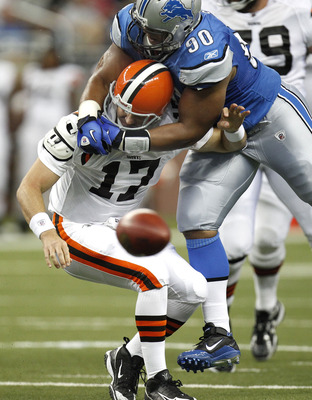 Gregory Shamus/Getty Images
Jake Delhomme was brought to the Browns to be a stable leader and mentor/mold rookie quarterback, Colt McCoy, until McCoy was ready to step into the starting role.
Now, Delhomme has barely seen the playing field as McCoy has led the Browns through one of the most unexpected victories in franchise history.
Jake signed with Cleveland quickly after being cut by Carolina in the previous off-season and is yet to seem comfortable in the Browns' offense.
Delhomme has connected on only 33-of-60 pass attempts this season for an overall quarterback rating of 48.2. Delhomme has also been responsible for four interceptions while Wallace and McCoy only have two each.
It is reasonable to think that Delhomme's tenure with the Browns may be coming to an end sooner than anyone expected.
Delhomme simply has not played well and with McCoy on the rise, and Wallace being impressive with his opportunities, Delhomme may have a tough time seeing the field again unless injury occurs.
Best Lineman: Ahtyba Rubin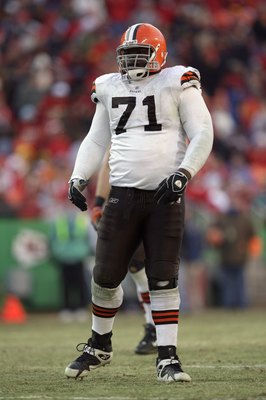 Jamie Squire/Getty Images
Ahtyba Rubin has been a great replacement for Shaun Rogers at the nose tackle position this season.
Only in his third year, Rubin has become a mainstay in the defensive line as Rogers has gone through a significant amount of injury time and off-the-field issues.
Rubin has a total of 33 tackles on the year and one interception against Kansas City in Week 2.
Most Valuable Coach: Rob Ryan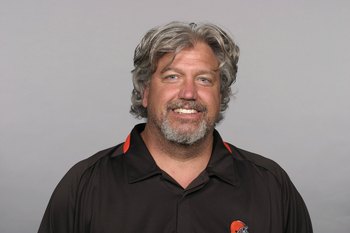 NFL Photos/Getty Images
Rob Ryan has done a great job at mixing up his coverages and keeping opponents guessing when it comes to the Browns' defensive game plans.
Ryan was given more pieces to work with this season and the progress is beginning to become evident as the Browns are ranked 19th in rush yards against and 22nd in overall defense.
Ryan is doing a good job at understanding the Browns' strengths and weaknesses on the defensive side of the ball and is beginning to form a good game plan around them.
The Browns intercepted Drew Brees four times en route to a 30-17 victory two weeks ago in New Orleans.
Best Game: Week 4, Browns 23, Bengals 20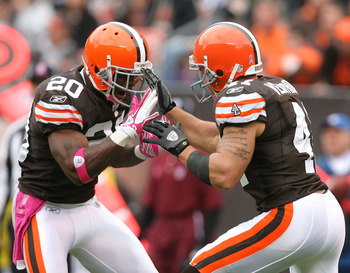 Matt Sullivan/Getty Images
The Browns snagged their first win of the season in Week 4 when they topped the Bengals 23-20.
Peyton Hillis rushed for 102 yards and one touchdown, Phil Dawson kicked three field goals and the Cleveland Browns finally held on to a fourth-quarter lead, surviving a big day by Terrell Owens and the "new look" Bengals offense.
The Browns hung close throughout their first three games, losing all by a combined 12 points, but they managed to grind out the run game en route to a big win.

*Information from NFL.com*
Team MVP: Peyton Hillis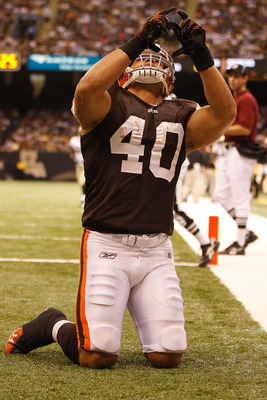 Chris Graythen/Getty Images
Peyton Hillis could have been considered the front runner in almost all offensive categories throughout this slide show but the MVP slot sums it up the best.
Hillis has been considered an unstoppable force at times and has gained the admiration of every Browns fan in the world.
So far this season, Hillis has a total of 104 carries for 460 yards and five touchdowns.
Hillis has also roped in 23 receptions for 193 yards and a score.
The Browns will more than likely turn to Hillis for the bulk of the offensive production until next season when Monterio Hardesty is set to return from injury and the Browns have a more solid offensive core.
Until then, the Browns' organization will watch Hillis run over the opposition and hopefully carry Cleveland to more wins in 2010.
Where Do They Go From Here?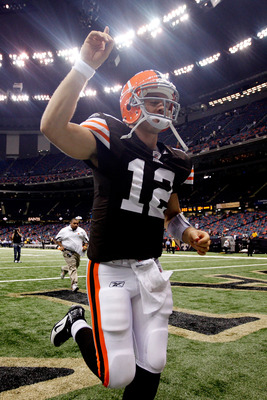 Chris Graythen/Getty Images
The bye week was exactly what the Cleveland Browns needed at this point in the season in order to right the ship.
The first order of business for Mangini and company will have to be the quarterback position and what will become of it. Wallace and Delhomme are both scheduled to make their return on Wednesday but should McCoy remain under center?
The Browns also need to use the bye week to get healthy. Cleveland injury report looked like the entire 53-man roster at points throughout the season and needs to improve in order for the team to stay on course.
The next set of games will go a long way in determining where the Browns will end up this season.
Cleveland is set to face New England and the New York Jets over the next two weeks in what will be the true tests of the teams' skill and potential.
Keep Reading

Cleveland Browns: Like this team?