NFL Picks Week 9: 10 Shockers You'll Never See Coming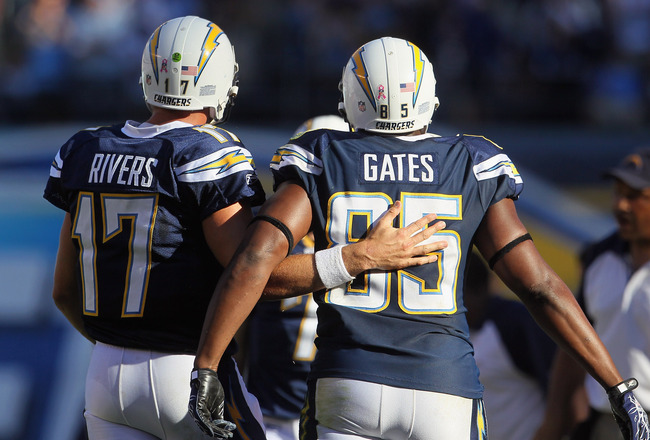 Jeff Gross/Getty Images
Week 9 in the NFL features a number of intriguing games between playoff contenders and some of the league's most disappointing teams.
Chicago heads to Buffalo to face a Bills team still looking for its first win of the season, while San Diego travels to Houston to face a Texans squad coming off a short week.
Elsewhere, Tampa Bay appears to have finally found a running back, just in time to roll into Atlanta with a spot atop the NFC South on the line.
Interestingly, the early lines in Vegas have only five home teams as the favorites this week.
Here's a look at ten underdogs poised to pull off an upset in Week 9.
No. 10: Tampa Bay at Atlanta (-8.5)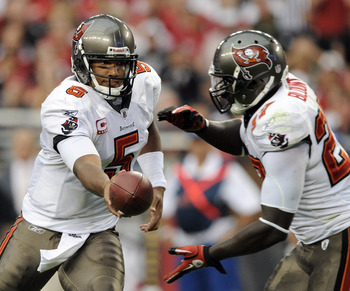 Harry How/Getty Images
Why Tampa Bay Could Win: LeGarrette Blount's strange journey has led him to a starting spot in the Bucs' backfield.
Even more unlikely, Tampa Bay sits at 5-2 with a chance to take the sole lead in the NFC South with a win.
If Tampa Bay runs the ball well and keeps Matt Ryan and Roddy White off the field, a road win isn't too difficult to imagine.
Why Atlanta Could Win: The Falcons haven't gotten much respect despite being one of the NFL's few consistent teams this season.
Matt Ryan has shown considerable improvement this season, and Michael Turner has started to find success on the ground in recent weeks after his struggles last year.
If Atlanta's defense can force the young Bucs to turn the ball over, the Falcons should have no problem putting down an uprising by the divisional foe.
Prediction: Since there are only 13 games in Week 9, it's almost impossible to come up with 10 likely upsets.
Look for the Falcons to win, but don't expect it to come as easily as the big spread suggests.
Atlanta 24, Tampa Bay 20
No. 9: New York Jets (-4) at Detroit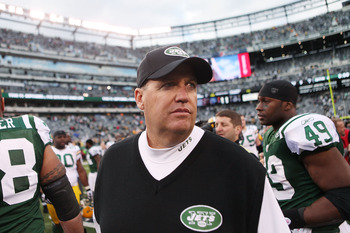 Andrew Burton/Getty Images
Why the New York Jets Could Win: Every great team has a few bad games, and Rex Ryan's Jets are certainly no exception.
Strange coaching decisions, careless play, and dropped balls plagued the Jets in their Week 8 loss to the Packers.
New York's running game should be able to rebound against the Lions, and the Jets' defense has a clear edge against them as well.
Why Detroit Could Win: The Lions are only 2-5, but they have played as well as several teams with better records in the NFL this season.
Coming off a four-touchdown effort against the Redskins, Matthew Stafford should have plenty of confidence to attack the Jets secondary.
Prediction: The Lions will ride last week's momentum to an early lead before the Jets settle down.
New York will get over 150 yards rushing combined from LaDainian Tomlinson and Shonn Greene to grab a win on the road.
New York Jets 20, Detroit 16
No. 8: New York Giants (-5.5) at Seattle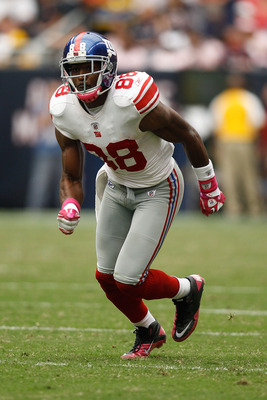 Chris Graythen/Getty Images
Why the New York Giants Could Win: Coming off a bye in Week 8, the Giants should be well rested heading into Seattle.
Ahmad Bradshaw has quietly emerged as one of the best running backs in the NFL, and the Giants' defense should be able to get the better of the Seahawks' offensive line.
Why Seattle Could Win: The Seahawks are coming off a horrible loss to the Raiders, but optimism won't be a problem for Pete Carroll's team.
Despite plenty of flaws on both sides of the ball, Seattle is a difficult team to beat at home and the Giants have a long trip west.
Prediction: The Giants start slow and fall behind before finding success through the air.
Seattle's pass defense is among the league's worst, so Hakeem Nicks, Mario Manningham, and Steve Smith should have a field day.
New York Giants 27, Seattle 23
No. 7: New England (-5.5) at Cleveland
Donald Miralle/Getty Images
Why New England Could Win: The Pats' defense has been brilliant in recent weeks after struggling earlier in the season.
Regardless of who is playing quarterback for the Browns, New England's young secondary shouldn't have much difficulty containing the mediocre receiving corps in Cleveland.
Why Cleveland Could Win: The Browns have been competitive all season long thanks in large part to Peyton Hillis.
Defensively, Cleveland should be able to contain a New England offense that has had a difficult time manufacturing big plays.
Prediction: New England will get challenged by the feisty Browns on Sunday, but should do just enough to escape with a road win.
New England 20, Cleveland 16
No. 6: Pittsburgh (-4) at Cincinnati
Andy Lyons/Getty Images
Why Pittsburgh Could Win: The Steelers looked horrible Halloween Night in the loss to the Saints, but Cincinnati should yield plenty of yards to Ben Roethlisberger and Pittsburgh's passing attack.
The Steelers defense figures to force a few turnovers against the mistake-prone Bengals.
Why Cincinnati Could Win: The talent is there, but the execution has been sorely lacking for Carson Palmer and the Bengals this season.
An appearance on Monday Night Football could be enough to help the star-crossed Bengals focus and pull off an upset.
Prediction: This game will not only be close, it will tilt in Cincinnati's favor as the night goes on. Look for Palmer to have a solid game and lead his desperate team to a victory.
Cincinnati 24, Pittsburgh 19
No. 5: Miami at Baltimore (-5.5)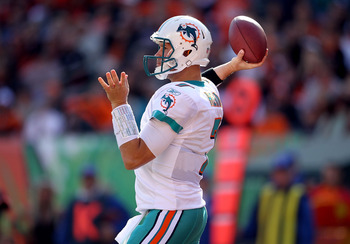 Andy Lyons/Getty Images
Why Miami Could Win: The Dolphins remained perfect on the road by winning in Cincinnati in Week 8.
Now, Miami's world tour continues in Baltimore with the Ravens coming off a bye week.
Chad Henne should be able to find considerable success against the Ravens with Davone Bess and Brandon Marshall creating match-up problems.
Why Baltimore Could Win: The Ravens have a balanced offense and one of the best front sevens in the NFL.
Miami's defense will give up yards, but Baltimore needs to finish drives with touchdowns to prevent the opportunistic Dolphins from stealing another game on the road.
Prediction: Can Miami do it again? Absolutely.
Look for the Dolphins to make a few big plays and pull off a big upset Sunday.
Miami 24, Baltimore 23
No. 4: San Diego (-1) at Houston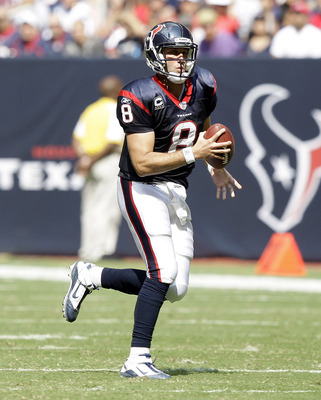 Bob Levey/Getty Images
Why San Diego Could Win: Philip Rivers in on track to pass for over 5,000 yards this season, and he could have another huge game against the woeful Texans' secondary.
San Diego can score with anybody in the NFL, including Houston.
Why Houston Could Win: Besides boasting the league's fifth-best running game, Houston still can sling it and Matt Schaub's receivers are getting healthy again.
Prediction: Houston comes out focused and lets the Chargers hang around before pulling away late. Look for Schaub to throw for at least 350 yards in the game.
Houston 40, San Diego 31
No. 3: Indianapolis (-1.5) at Philadelphia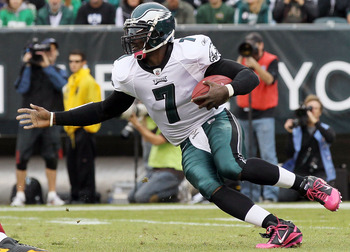 Jim McIsaac/Getty Images
Why Indianapolis Could Win: Depending on what happens tonight between the Texans and the Colts, Indy should be at least a little bit healthier in Week 9.
Injuries to Dallas Clark, Austin Collie, and Joesph Addai will place added pressure on Pierre Garcon and Donald Brown.
Why Philadelphia Could Win: No team needed a bye more than the Eagles.
Michael Vick should be back in the lineup, and his presence will provide a spark for Philly's offense.
Prediction: The Eagles get a sparkling performance from Vick and give the Colts' defense fits all afternoon.
Philadelphia 37, Indianapolis 27
No. 2: Chicago (-3) at Buffalo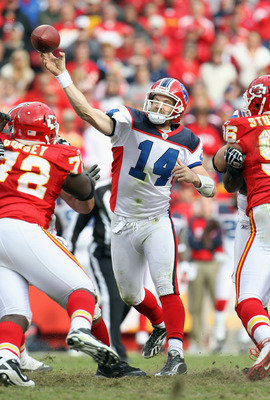 Jamie Squire/Getty Images
Why Chicago Could Win: The Bears have a huge edge in talent and should be able to find success through the air against the Bills.
Finding a way to run the ball would be a huge bonus.
Why Buffalo Could Win: The Bills haven't won, but they are improving.
Ryan Fitzpatrick led an offensive outburst against the Ravens in Week 7, and the Bills pushed the Chiefs to the brink in Week 8.
Prediction: Chicago's offensive line issues cannot be ignored.
Assuming Mike Martz sticks with his game plan of five and seven step drops, Buffalo should find a way to win Sunday.
Poor Jay Cutler.
Buffalo 20, Chicago 16
No. 1: Kansas City at Oakland (-2.5)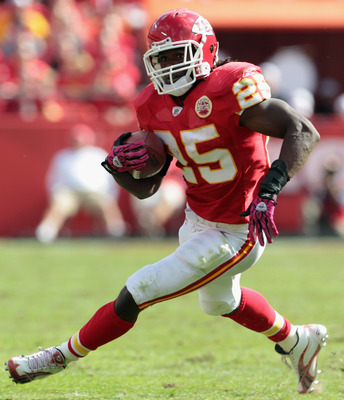 Jamie Squire/Getty Images
Why Kansas City Could Win: Jamaal Charles and Thomas Jones have helped the Chiefs surge to the top of the AFC West.
Now they could use a little more help from Matt Cassel, who had another ineffective game Sunday against the Bills in blustery conditions.
Why Oakland Could Win: Jason Campbell has put together two solid games after his stinker against the 49ers, and Darrius Heyward-Bey even got into the act with a touchdown catch Sunday.
Don't look now, but the Raiders might actually be playing in front of a full house against the Chiefs.
Prediction: Kansas City establishes the run, shuts down Darren McFadden and Michael Bush, and forces Campbell to beat them. The Chiefs take another huge step towards the AFC West title.
Kansas City 20, Oakland 13
Keep Reading