Cleveland Browns: Revisiting 20 Preseason Predictions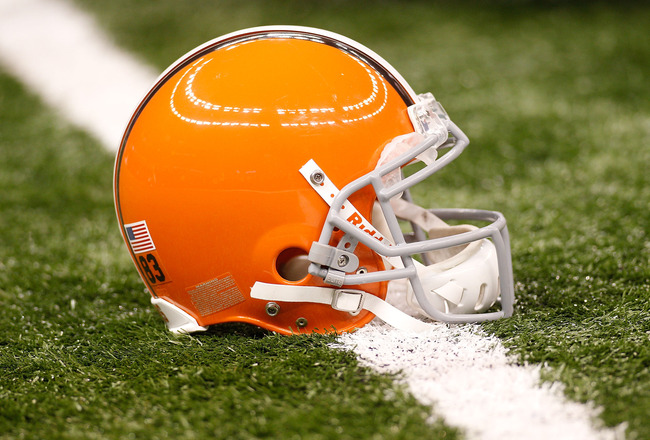 Chris Graythen/Getty Images
The Cleveland Browns enter their bye week with momentum after an impressive upset of the defending Super Bowl champion New Orleans Saints on the Saints' home turf.
They also enter the bye with a disappointing 2-5 record and a lot of unfulfilled expectations.
With no game day action for the Browns this week, it is a good opportunity to take a look back at some of the predictions, rumors, rants and comments that surrounded the Cleveland Browns prior to the start of the 2010 regular season.
Thus far, the season has been nothing like anyone could have expected and it should be a fun-filled trip back into the not-so-distant past.
The Browns Are Going To Start 2-0!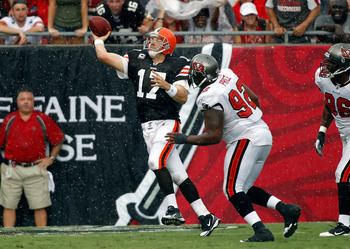 J. Meric/Getty Images
The Browns' first two games of the 2010 season came against the Tampa Bay Buccaneers and Kansas City Chiefs, two NFL bottom-feeders that the Browns should easily handle. Right?
Not so fast.
It turns out that the Buccaneers and Chiefs aren't quite who we thought they were.
Entering Week 8, the Chiefs sit atop of the AFC West with a 4-2 record, and Tampa Bay is currently battling for the top spot in the NFC South with their own 4-2 mark.
Both teams are surprisingly good this season, and the Browns were simply a stepping-stone on their path to success.
The Browns Will Drop Five Straight To Enter The Bye at 2-5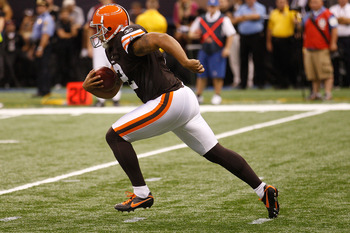 Chris Graythen/Getty Images
Many experts believed that the Browns would follow wins over the Chiefs and Buccaneers with five consecutive losses against tough opponents in the Ravens, Bengals, Falcons, Steelers and Saints.
Well, the Cleveland Browns have indeed entered the bye-week with a record of 2-5, just not in the way they were supposed to.
In reality, the Browns are better off. There is a lot more confidence to be gained by securing a division win over the Cincinnati Bengals and then pulling a massive upset over the defending Super Bowl champion Saints than starting out 2-0 and then slumping to 2-5.
The Browns have momentum to carry into the rest of the season, and the players know that if they play as a team, they can beat anybody.
QB Jake Delhomme Will Have a Comeback Season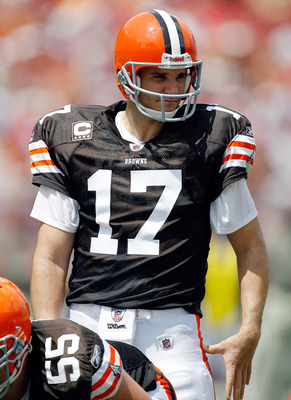 J. Meric/Getty Images
After he finished the preseason with an impressive passer rating of 110.5 and showed total command of the offense, many fans were certain that quarterback Jake Delhomme was ready to turn his career around.
It may not be fair to judge Delhomme to harshly, as he has been injured for all but 30 minutes of the season, but so far it would be safe to say that a Comeback Player of the Year award won't be waiting on Delhomme at the end of the season.
It almost seems that Delhomme is trying to prove that last year's terrible season wasn't a fluke. In just over a game and a half this season, Delhomme has thrown four interceptions to only one touchdown and sits with a lowly QB rating of 48.2.
There is still time for Delhomme to improve once he returns from his ankle injury, but at this point, the team may be ready to move in another direction.
Colt McCoy In Danger Of Being Cut?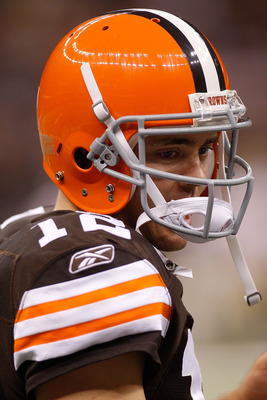 Chris Graythen/Getty Images
One interesting, if completely false rumor that went around during preseason was that rookie quarterback Colt McCoy was in serious danger of being cut.
According to Tony Grossi of The Plain Dealer, McCoy was on the roster bubble and in danger of being booted from the team in favor of Brett Ratliff before the season even began.
Hey Tony! Quit trying to stir the pot.
Apparently, there was almost no truth to the rumor and with the organization looking to McCoy as a potential long-term solution at quarterback, it surprised no one that it was Ratliff, not McCoy, who found himself a casualty of final roster cuts.
Colt McCoy Won't Play This Season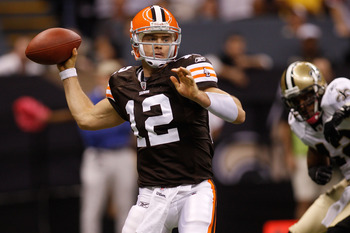 Chris Graythen/Getty Images
This prediction came straight from the mouth of team president Mike Holmgren. Sitting McCoy and allowing him to learn from the sideline during his rookie season was a good idea, but in Cleveland, things rarely go as planned.
Injuries to quarterbacks Jake Delhomme and Seneca Wallace forced McCoy into a starting role only six weeks into the season and against the Pittsburgh Steelers and their top-ranked defense.
The rookie signal caller has out-performed expectations in the past two games, and appears to have the poise, leadership, and confidence needed to lead the Browns into the future.
That leads to a difficult decision on what to do at the quarterback position following the bye-week if Delhomme or Wallace is healthy and ready to go.
Good luck, Mr. Mangini. Fans everywhere hope you make the right call, even if no one knows what that is.
Mohamed Massaquoi Is Ready To Be a True No. 1 Receiver
Jamie Squire/Getty Images
After a solid rookie season, in which he caught a team-high 34 passes for 624 yards and 3 touchdowns, Mohamed Massaquoi appeared ready to take a step forward and entrench himself as the Browns' go-to receiver in 2010.
Unfortunately for MoMass and for Browns fans, he seems to have taken a step back instead. In his defense, Massaquoi has essentially missed two games with a concussion, but he has still totalled a mere nine receptions for 115 yards and a score so far this season.
Not exactly the production you expect from your No. 1 receiver.
Massaquoi has all the physical talent in the world, and hopefully he can get out of whatever funk he is currently in and find a way to amp up his production.
Until then, Browns fans will be scratching their heads and wondering who the go-to guy is.
At least Massaquoi's name is fun to say.
Brian Robiskie Is Ready To Take a Step Forward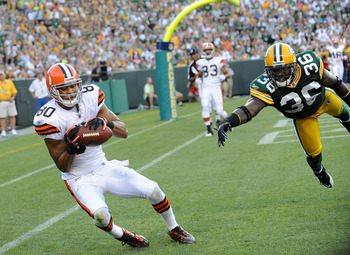 Tom Dahlin/Getty Images
After his disappointing rookie season, there were high hopes that wide receiver Brian Robiskie was ready for a breakout campaign in 2010.
We all heard about how much he had improved during the off-season and there was reason to believe that the Ohio State product was finally "getting it."
As if to confirm what was reported from training camp, Robiskie did look solid in preseason action and it appeared that he was indeed ready to improve on last year.
In a sense, he has, as in only five appearances this season, Robiskie has nabbed more receptions than during all of 2009.
For those keeping track, he only had seven receptions in 2009 and has quickly overshadowed that with an astounding eight catches so far this year.
Of course, three of those came last week in a Browns' win, so hopefully he is getting on the right track. If Robiskie can't find a way to shake defenders soon, he is going to have a very difficult time shaking the dreaded "bust" label.
The Browns Will Continue To Win By Running The Football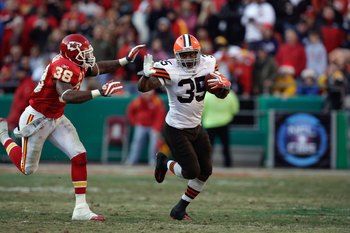 Jamie Squire/Getty Images
The Cleveland Browns finally found a formula for success and ended the 2009 season by winning four games in a row. The did it by running the football and finished the season with the NFL's eighth-best rushing attack.
Entering 2010 with promising running backs such as Jerome Harrison, Montario Hardesty, and James Davis on the roster and an entirely new depth chart at the quarterback position, there was no reason to believe that the Browns would deviate from that formula.
However, that is exactly what Cleveland did to start the season. During the first two games of the season, the offense of the Browns threw the ball an unreasonable 69 times, while only running it 49 times.
While the emergence of Peyton Hillis has breathed new life into the running game, the offensive playcalling looks nothing like what we saw during the final four games of 2009.
Peyton Hillis Will Be a Great Short-Yardage Back, Nothing More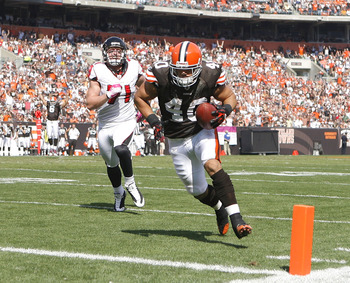 Matt Sullivan/Getty Images
Admit it. You didn't see Peyton Hillis coming.
It probably wouldn't have mattered, he would have just run you over anyway.
Considered little more than a depth player before the season began, Peyton Hillis quickly won the starting job at running back and hasn't looked back.
Hillis is currently tied for fourth in the NFL with five rushing touchdowns and is on pace to break the coveted 1,000-yard mark by year's end.
He is also second on the team with 27 receptions.
Hillis' bone-crunching running style, combined with his surprising athleticism makes him the Browns' biggest offensive weapon, and one of the best surprises of 2010.
Jerome Harrison Will Finally Establish Himself As a Workhorse Running Back
Gregory Shamus/Getty Images
Jerome Harrison certainly finished the 2009 season with a bang. Over the final three games, Harrison ran for an incredible 561 yards and five touchdowns.
While fantasy owners were quickly moving him up their draft boards, Harrison felt that he had rightfully earned the starting role in Cleveland.
Sorry Harrison, Peyton Hillis stole your job and our hearts.
While Harrison quickly regressed into a mediocre runner, Peyton Hillis exploded onto the scene to become the heart and soul of the offense.
Harrison's role in the offense quickly diminished and he was eventually shipped off to the Philadelphia Eagles in exchange for running back Mike Bell.
This season, Harrison has carried 31 times for 91 yards and was last seen on the Eagles' game-day inactive list.
Guess you should have shown up to OTAs, Jerome.
James Davis Could Be The Browns' Next Breakout Player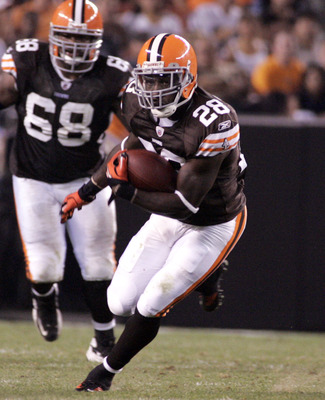 Justin K. Aller/Getty Images
James Davis could still be a breakout player in 2010, it just won't be with the Cleveland Browns.
Browns fans had been begging to see Davis on the field ever since he made a name for himself with a stellar 2009 preseason. The former Clemson star has talent aplenty, but has had virtually no impact for the Browns during his short NFL career.
Davis was lost to injury early last season, but was back and healthy for 2010. Browns fans finally got their wish when Jerome Harrison missed time with injury and Davis finally made the game-day roster.
Unfortunately, Davis never got much of an opportunity and he only had four carries for nine yards.
For whatever reason, Davis was never able to see significant playing time, and was cut earlier this week.
Fans may never know if Davis had trouble grasping the offense or if he and the coaching staff simply didn't see eye to eye, but he is another case of a promising young player failing to meet expectations in Cleveland.
Improved Competition Will Make CB Eric Wright a Better Player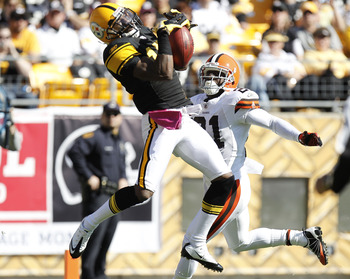 Gregory Shamus/Getty Images
The addition of cornerbacks Sheldon Brown and talented rookie Joe Haden was expected to drive Eric Wright to new heights of success.
I even proclaimed that Wright would finish the season as the Browns' most effective cover man.
So far, not so good.
Wright has been victimized time and time again this season and seems to be the weakest link in an improved Browns secondary.
Perhaps the ineptitude of Hank Poteat and Brandon McDonald simply made Wright look like a star last season, or maybe the play of Brown and Haden has forced opponents to find holes in Wright's game.
Whatever Wright's problem is this season, he had better find a way to tighten down in coverage soon, or he will continue to be targeted by opposing quarterbacks and he could soon find himself out of a starting job.
If The Patriots Gave Up On TE Ben Watson, He Must Be Washed Up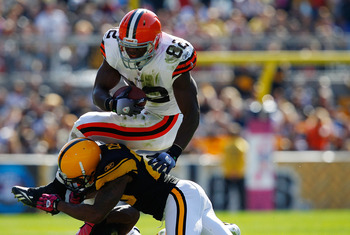 Jared Wickerham/Getty Images
We all know the pattern.
New England Patriots' coach Bill Belichick squeezes all the talent out of a player that he can and then dumps him before his production levels off.
Without a doubt, Benjamin Watson was the top tight end on the free-agent market this year, but many experts felt that the Browns overpaid for a player who never quite lived up to expectations in New England.
Watson is currently the eighth most productive tight end in the NFL and leads the Browns in receiving with 30 catches for 336 yards and two touchdowns.
Watson and rising talent Evan Moore are quickly becoming one of the NFL's most dangerous tight end duos, and Watson is looking like anything but a player who is washed up. At his current pace, Watson will finish the season with over 750 receiving yards, which would be a career-best for the six-year veteran.
Browns fans can finally forget all about what's-his-name in Tampa, because there's a new tight end in town.
Drafting T.J. Ward Was a Mistake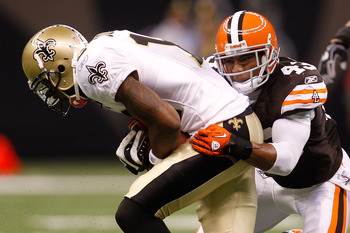 Chris Graythen/Getty Images
When the Cleveland Browns used the 38th overall pick in the 2010 draft to select Oregon safety T.J. Ward, it left many fans saying "who?"
It also left many draft "experts" saying that it was a reach, a bad decision, a risky pick and any other negative things that they could come up with in the seven minutes before the next pick was due.
Good thing for the Browns that Ward wasn't listening.
T.J. Ward has started every game this season and is playing more like a seasoned veteran than a risky draft pick. The 5'10" 211-pound hammer of a safety has quickly given the Browns the enforcer in the secondary that the team has sorely lacked for a long time.
Ward leads the Browns in tackles, and his 60 combined stops are tied for eighth-most in the NFL. If Ward keeps playing at this level, he should be a serious candidate for Defensive Rookie of the Year.
Keep cranking out the hits, T.J. Ward. It's music to our ears.
Weather Forecast: Cyclone Ahead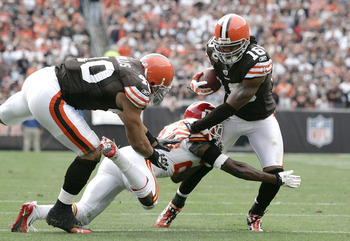 Matt Sullivan/Getty Images
Shortly after the Browns acquired quarterback Seneca Wallace from the Seattle Seahawks, rumors began to surface of a new formation known as the "cyclone" package.
A formation that featured multi-talented athletes Seneca Wallace and Joshua Cribbs in the backfield at the same time?
Sounds like a recipe for excitement.
Unfortunately, it was a recipe that never made it out of the cookbook and, to the disappointment of Browns fans, we have seen virtually no signs of this fabled formation to date.
Of course, the injury to Delhomme made it a poor decision to risk the health of Wallace by running the gadget formation since an injury would thrust rookie Colt McCoy under center.
Wallace suffered an injury anyway in Week 5, and McCoy was forced into the starting job and the cyclone package was tossed from the playbook.
Still, the cyclone would have been fun to watch and it's a shame that fans never got to see its potential.
WR Carlton Mitchell Could Be The Next Marques Colston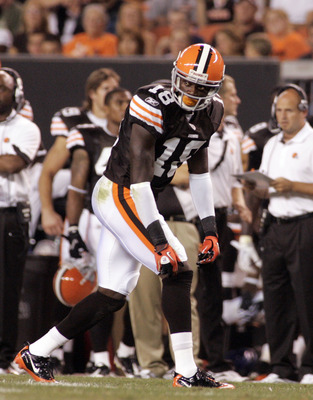 Justin K. Aller/Getty Images
It may have been a stretch to even suggest that Browns' rookie wideout Carlton Mitchell could come close to the production of Saints' star receiver Marques Colston, but some similarities were there.
Both players were late round draft-picks from small schools, and both possess top physical talents. Coming out of South Florida at 6'3", 215 pounds and with a 40-yard dash time of under 4.5 seconds, Mitchell certainly looked the part anyway.
The Browns have been lacking in talent at the wide receiver position since the departure of Braylon Edwards, and it was hoped that Mitchell could come in and provide an immediate spark to the offense.
So far this season, Mitchell has only appeared in one game, and has not recorded a single catch.
The Browns are still looking for a spark at receiver, and Mitchell still has time to do something this season, but so far it is starting to look like a repeat of last year and the Browns' inability to get Brian Robiskie on the field.
The Browns Need To Get Younger In The Defensive Front Seven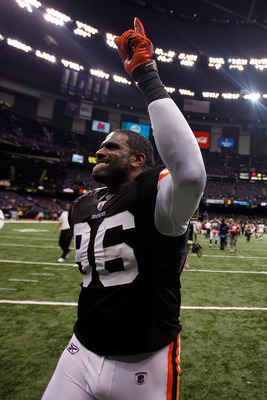 Chris Graythen/Getty Images
Thirty-one-year-old linebacker Scott Fujita recorded 11 tackles, one sack and one interception last week against the Saints.
Thirty-one-year old defensive tackle Shaun Rogers single-handedly pressured Saints' quarterback Drew Brees all game long.
Thirty-three-year old linebacker David Bowens returned two interceptions for touchdowns.
The 1-5 Browns issued a beat down to the defending Super Bowl champion Saints, winning 30-17.
The Browns may look to add youth for the future, but right now, these guys appear to be just hitting their prime.
Offensive Coordinator Brian Daboll Will Continue To Hinder The Offense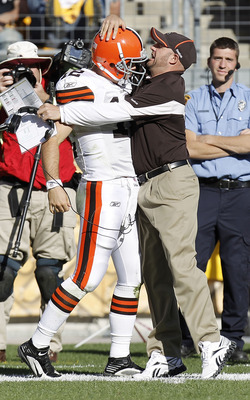 Gregory Shamus/Getty Images
The Cleveland Browns' offense is scoring touchdowns?
The Browns have been competitive in almost every game?
Analysts referred to the offensive playcalling as "creative" against the Saints?
Who is this man, and what in the world did he do with Brian Daboll?
Granted, the offensive production still leaves a lot to be desired, but with a number of injuries to offensive players already taking place this season, it comes as no surprise.
What comes as a surprise to Browns fans is that the offensive coordinator who seemed in over his head all of last season appears to finally be making strides.
The Browns' passing attack is only ranked 22nd in the league, but Cleveland has already started three different quarterbacks this season.
The running game is only ranked 18th, but with only one running back left from the opening day roster, what can you expect?
It could be the influence of offensive mind Gil Haskell, who was brought in by Holmgren to tutor Daboll in the finer points of offensive playcalling or it could be the fact that Daboll is finally learning to use the strengths of the players that he has at his disposal.
Whatever the reason, the offense is definitely a lot more productive than it was this time last year.
As hard as I have been on Daboll since he came to Cleveland, even I must admit that he is finally starting to look like he belongs.
Mike Holmgren Will Jump Into The Coach's Chair During The Bye Week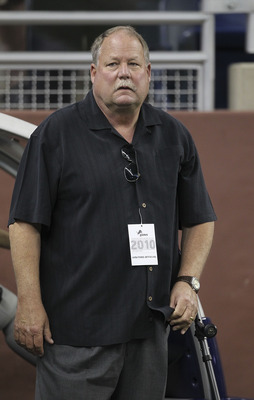 Leon Halip/Getty Images
In a surprising move, new team president Mike Holmgren decided to retain head coach Eric Mangini and his entire staff following the 2009 season.
Many felt that it was simply a ruse and that Holmgren would give Mangini enough rope to hang himself and would strut into the role of head coach himself in order to play the hero by saving the Cleveland Browns.
However, Holmgren has stayed true to his word, and has shown no signs of pulling the plug on Mangini and Co. Instead, he has backed Mangini and allowed him to coach the team as he sees fit.
With the Browns already winning a division game, and the upset of the year already in the books, it appears that keeping Mangini may have been the right call.
If the Browns can ride their current momentum into the second half of the season and pull off some more wins along the way, Mangini may find himself off the hot seat, and Holmgren may find himself getting comfortable in the president's chair.
The Browns Are a Lock For Last Place In The AFC North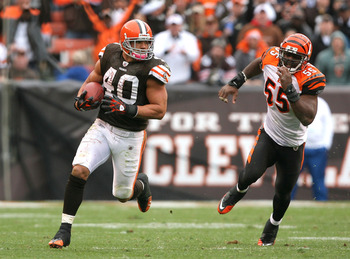 Matt Sullivan/Getty Images
Okay, so the Cleveland Browns are currently in last place in the AFC North and overtaking Pittsburgh or Baltimore seems impossible at this point.
However, the Browns have the same number of wins as the defending AFC North champions, the Cincinnati Bengals. One of the Browns' two wins is over Cincinnati, and the Bengals seem ready to fall apart at the seams.
Anything can happen in the tough, but up-and-down AFC North, and the Browns are looking like a team on the rise.
There is a lot of football left to be played, but saying that the Browns are destined to finish last doesn't seem to be as much of a sure thing as it did eight short weeks ago.
In Retrospect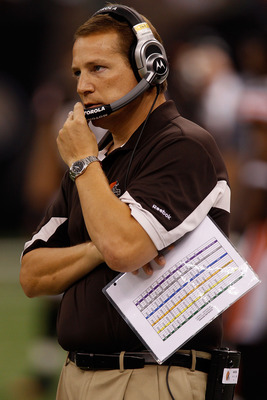 Chris Graythen/Getty Images
In the world of NFL football, the only guarantee is that there are no guarantees.
With several ups and downs and even more surprises, the first half of the Browns' 2010 season has played out in ways that no one could have predicted.
One thing is for sure: It has been a wild and fun ride.
The next nine games don't look to be any different.
Keep Reading

Cleveland Browns: Like this team?