Philadelphia Eagles Featured Columnists Forum: 15 Topics Worth Debating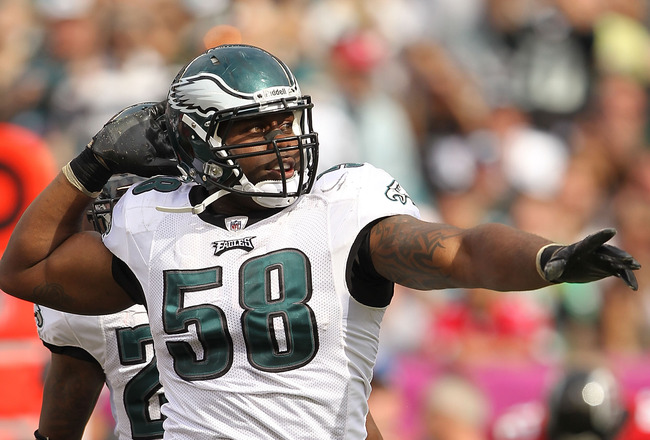 Al Bello/Getty Images
The Philadelphia Eagles have had a very turbulent season, in which we have seen some of the best of the Eagles, and some of the worst. We all experienced Donovan McNabb's return to Philadelphia and the cheers and booing. We have seen the Eagles defense go from being walked on, to locked down in a matter of minutes.
Then of course, we have seen the Eagles QB dilemma cause concern, anger and confusion among the team and the fans.
So, now that the Eagles have reached a bye week, it is time for the Eagles FC's to debate about the Eagles. I will admit, I received this idea from the Buffalo Bill's FC's. I did not come up with this idea, and I would like to give all credit for the idea to the Buffalo FC's.
Now, on to the Eagles. The FC's debating will be, Mike Burke, Darren Grossman, Bob Cunningham, Will Holt, Lou DiPietro and Troy Ballard.
Here are the 15 topics the Eagles FC's debated:
MVP of the Offense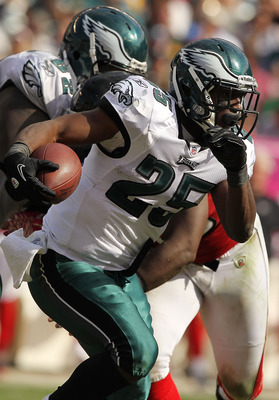 Al Bello/Getty Images
Bob's Take: Winston Justice
Had Michael Vick been playing these past two weeks, it would likely be him. But since he hasn't, I've got to go with Justice here. Mike McGlynn is another great candidate, but Justice hasn't been talked about all year, which means he's doing a great job.
Lou's Take: Mike McGlynn
I REALLY want to say Michael Vick here, especially given Kevin Kolb's inability to do more than the basics in the last two weeks. But McGlynn has stepped into possibly the toughest spot on offense and excelled—not an easy task considering he's already played with what, four different starting lineups beside him?
Will's Take: LeSean McCoy
He's done an unbelievable job catching the ball out of the backfield this year and is on pace to have 86 receptions. It seems like screen plays are running much smoother this season and a lot of that has to do with McCoy catching the ball and setting up blocks. McCoy is also on pace to rush for over 1,000 yards this season, which is an important number for Eagles backs considering it has only been done three times since 2000.
Mike's Take: LeSean McCoy
He worked hard over the offseason and it's paying off now. He's looked great both running the ball and catching it out of the backfield.
Darren's Take: LeSean McCoy
I am torn between LeSean McCoy and Michael Vick, but McCoy gets the nod simply because he has played well all season, even through a fractured rib and he has given the Eagles a credible running attack.

Troy's Take: LeSean McCoy
The entire QB dilemma in Philadelphia makes either Vick or Kolb to difficult to choose from. McCoy has looked great all season, picking up big chunks of yards and showing great field vision. Also, he is a dangerous target in the passing game, on screens, which have worked flawlessly all season.
MVP of the Defense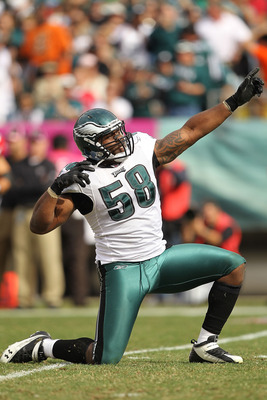 Al Bello/Getty Images
Bob's Take: Trent Cole
Not only is Cole asked to be the team's best pass-rushing presence and constantly take on double-teams, but he's also been dropped into coverage about 25 times this season. Of those 25 (or so) times, I can't recall a single time he's allowed a big play in his zone. The guy does it all, and he does it all very well. Without him, Juqua Parker and Brandon Graham would look very average this season.
Lou's Take: Trent Cole
The D as a whole has been pretty good, but Cole has six sacks in seven games, and that's with the other end spot (Parker/Graham) accounting for six of their own.
Will's Take: Juqua Parker
Parker was benched in favor of rookie Brandon Graham at the start of the season. It would have been easy for Parker to toss in the towel and accept his role as backup. Instead he has emerged as a consistent pass rusher and a physical presence against the run.
Mike's Take: Trent Cole
Year-in and year-out, this guy's is an absolute terror. No matter what the offense throws at him, he always finds a way to make an impact on the game.
Darren's Take: Trent Cole
Cole is just a great pass-rusher and he has had a couple really big games through the first seven, but even when he is contained, his mere presence allows guys like Juqua Parker to get sacks.

Troy's Take: Nate Allen
It seems like Allen is involved in every single play on defense, whether it be helping with a tackle or knocking the ball away from a receiver. Showing great potential as a rookie, and doing an excellent job as a starter. He also has a nice handful of interceptions this year.
Most Disappointing Player on Offense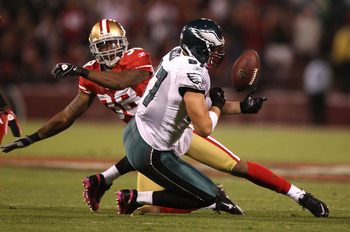 Jed Jacobsohn/Getty Images
Bob's Take: Brent Celek
Celek had too many drops this year, but where have these stone hands come from? He's been dreadful as a blocker and always seems to drop the ball at the absolute worst time. I thought having Kevin Kolb in the starting lineup these past two weeks might have changed his fortunes and allowed him to pad his stats, but even his buddy Kolb seemed to lose confidence in him.
Lou's Take: Brent Celek
Again, Kevin Kolb is the easy choice, but Celek has been damn near invisible at times. Coming off his breakout year, he has 21 catches in seven games.
Will's Take: DeSean Jackson
People will moan and groan that Jackson can't be a disappointment considering he is injured. The Jackson faithful will also point out that his breakout game was infolding when he suffered his concusion. Well, I'm not buying it. If Jackson played a 16-game schedule this year he would be on pace for 50 catches, 1,053 yards and eight touchdowns. Great numbers for a fraud No.1 receiver. I'm sick of this punk.
Mike's Take: Jason Peters
He commits penalties, seems to get injured very easily and just doesn't play at the Pro Bowl level he's been deemed when he's healthy.
Darren's Take: Jason Peters
I snubbed him on my overachievers/underachievers list, but Peters has just been a disappointment period. I actually think the line has been better with King Dunlap.

Troy's Take: Brent Celek
What happened to the Eagles Pro Bowl, play-making, aggressive, unstoppable tight end? He has been no where to be found this season, not getting open and when he does he just flat-out drops the ball. The Eagles need the old Celek back, and fast.
Most Dissapointing Player on Defense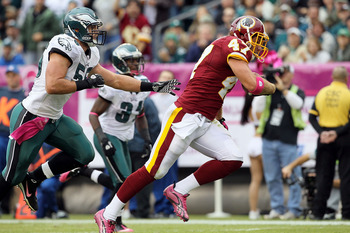 Jim McIsaac/Getty Images
Bob's Take: Stewart Bradley
This isn't even close. Bradley has looked very slow and very weak. He can't get off a block to save his life and doesn't even appear to be reading the opposing offense as well as he did two years ago. He is coming off ACL surgery so it's hard to get on him too much I suppose, but with all the hype surrounding him he's been extremely disappointing thus far.
Lou's Take: Ellis Hobbs
If I only had a general understanding of the game and you told me that he was a starting corner on a Super Bowl champion, I'd think you were nuts.
Will's Take: Stewart Bradley
He's soft and slow. Great combo Stewie. I'm done with you as well.
Mike's Take: Brandon Graham
I'm not calling him a rookie bust or anything, but I expected more out of him. He earned the starting spot in Training Camp and then lost it during the season. I still believe he'll come around, just not sure when.
Darren's Take: Mike Patterson
Has Patterson even played? He has been a non-factor with zero sacks and very few tackles. I wanted to give this to Stewart Bradley, but the category is disappointing, not overrated.

Troy's Take: Brandon Graham

I have seen nothing from Graham that would notion that he should be a first-round draft pick, and now he has lost his starting role to Parker. The only reason Graham was able to slide under the radar of criticism, Trent Cole was ripping up offensive lines and proving he is still a deadly threat on the Eagles line.
Eagles Rookie of the Year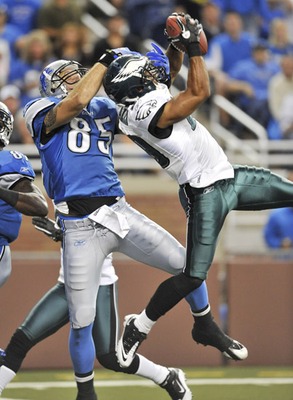 Bob's Take: Nate Allen
His awful Week 7 showing aside, Allen has been fantastic. He's been doing anything asked of him and it has translated on the stat sheet. As long as he doesn't let his first bad game get into his head, he's going to be in talks for Defensive Rookie of the Year when this season wraps up.
Lou's Take: Nate Allen
He's played a great center field, is tied for the team lead in INT and in seven games has already quieted down both the "replacing B-Dawk" and "picked with the McNabb trade choice" conversations.
Will's Take: Nate Allen
Who else is there? I can't really say go with Brandon Graham, Riley Cooper or Chad Hall, can I? The sad part is that I don't even think Allen is playing that well on a consistent basis.
Mike's Take: Nate Allen
Minus the Titans game, Allen has played very well. He has provided the stability at free safety the Eagles have lacked since Brian Dawkins left.
Darren's Take: Nate Allen
This is an obvious choice as no one else has done nearly as much as Allen.

Troy's Take: Nate Allen
I just can't seem to get enough of this guy. His athleticism and movement make it dangerous for any QB to throw in his direction. When he isn't using his hands of glue, he has the ability to land big hits on RBs running out of the backfield. Great all around player.
Rookie That Has Surpirsed the Most (Good or Bad)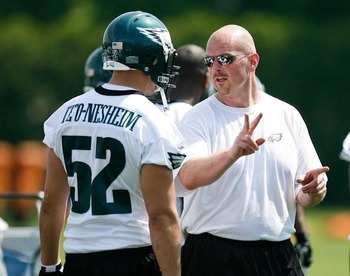 Bob's Take: Clay Harbor
Daniel Te'o-Nesheim is an easy choice here, but defensive end was a crowded position so it's not too surprising to see him on the sideline. Harbor, on the other hand, was a fourth-round pick coming into camp with almost no competition to be Celek's backup. He won the spot by default, but Garrett Mills quickly outperformed him and Harbor seems destined to spend his rookie year as a healthy scratch.
Lou's Take: Daniel Te'o-Nesheim
Hard to make this pick on a team with more than a dozen rookies, but most thought he'd be a part of the DE rotation and he wasn't even active until last week.
Will's Take: Brandon Graham
Everyone built this guy up and I hated. He was given the starting position and I still hated. Now he's doing next to nothing, everyone has forgotten about him and I continue to hate. I will say that Sean McDermott has messed this kid up.
Mike's Take: Daniel Te'o Neshiem
I thought he would have had more of an impact this season, but has basically had none.
Darren's Take: Brandon Graham
He was talked about like he was going to be a sack machine, and he hasn't done much so far. I still think the kid can play, but through 7 games, he has started slower than I would have liked

Troy's Take: Daniel Te'o Nesheim
It's a shame to see him on the sideline and not even getting any playing time. But the DE position on the Eagles is just overkill, way too many players. Not surprising, but I would still like to see him get some in game time.
The Once-Coach You Want to See Get Fired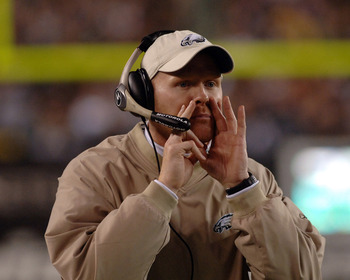 A. Messerschmidt/Getty Images
Bob's Take: Sean McDermott
His scared style of play-calling is enough to put me in the loony bin. The way he relaxes in the second half has come close to killing the team at least twice before it actually bit them in Week 7 against the Titans. He doesn't seem to be improving at all and, for such a young defense, an older guy like Dick Jauron might be the better choice to unlock their potential and help this team make an unlikely playoff push.
Lou's Take: Bobby April
Not sure this is a relevant question on a 4-3 team, but if I have to choose, then Bobby April gets the nod because special teams coverage has been awful.
Will's Take: Sean McDermott
Speaking of the devil.
Mike's Take: Sean McDermott
This is mostly fueled on what happened against the Titans, but he failed to make a HUGE adjustment in-game.
Darren's Take: Sean McDermott
This should be a unanimous choice, McDermott is awful, he can't make adjustments and his game plans are lousy.
Troy's Take: Rick Burkholder
This guy is the Eagles head athletic trainer. He deserves to be fired because of his numerous mistakes of putting players back into games with concussions. For instance, Stewart Bradley in the season opener.
One Player to Be Released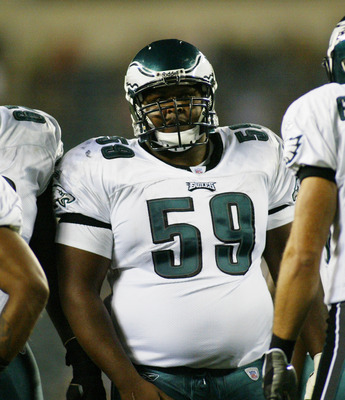 Len Redkoles/Getty Images
Bob's Take: Nick Cole
What good is the ability to play several different positions if you can't play any of them well? That's Nick Cole. He is lazy when he's on the field and is basically a revolving door. He got Donovan McNabb killed at the end of the 2009 season at center, and was getting Michael Vick and Kevin Kolb killed at guard early in the season before being pulled.
Lou's Take: Kevin Kolb
Hobbs? Honestly, though, I'd say Kolb. Turn the keys over to Vick, end the controversy once and for all and sign a guy like Patrick Ramsey to be a caretaker if he gets hurt.
Will's Take: Jason Peters
No, really. I can't stand this guy. He's a false-start machine. And why does he have so many false-start penalties? Because he blows when it comes to pass-blocking. And considering the Eagles pass a lot you can understand why he jumps so often.
Mike's Take: Omar Gaither
He's mediocre on special teams and awful on defense. Gaither has had plenty of chances to prove himself and has failed every time.
Darren's Take: Omar Gaither
Gaither is absolutely useless, when you can't beat out Stewart Bradley for a job, then there is no point to your existence.
Troy's Take: Nick Cole
One of the worst offensive linemen ever to play for the Eagles, not only can he not block, but he gets flagged for holding like crazy. I'm surprised there were not more sacks given up by that side of the offensive line. There is no reason he should still be on this team.
One Player to Be Activated from Practice Squad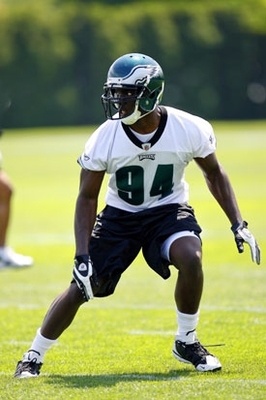 Bob's Take: Pannel Egboh
Practice squads aren't usually crawling with talent, but Egboh is a guy who really catches my eye. At 6'6", 287 pounds he's the size of Mario Williams and showed against the Jets in the preseason that he's got some football smarts and quickness off the edge. Egboh could be a real diamond in the rough.
Lou's Take: Jeff Owens
Brodrick Bunkley's elbow isn't 100 percent, and we could use the depth just in case. Really, there's no reason Joique Bell needs to be on the active roster, so space could be cleared.
Will's Take: No One
If I'm dying for a practice squad stiff to make the team then I might as well mail it in for the season.
Mike's Take: Jeff Owens
This may happen if Brodrick Bunkley can't overcome his injury. Owens impressed in Training Camp but it was a numbers game and couldn't make the final roster.
Darren's Take: No One
None, there is a reason they are on the practice squad.

Troy's Take: Jeff Owens
With Bunkley's hurt elbow, and Dixon, Patterson and Laws holding down defensive tackle spots, there is no reason not to add some extra insurance. All three of these players are very capable and can get the job done. But, better safe than sorry.
Most Likely to Be Released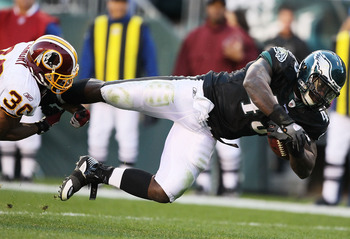 Al Bello/Getty Images
Bob's Take: Joique Bell
If we're talking about midseason, it has to be Bell. He's been playing fairly well on special teams, but can the Birds really continue to carry four running backs? He will probably get slashed and stashed on the practice squad at some point in favor of a defensive player.
Lou's Take: Joique Bell
Jerome Harrison is a talented RB, and with him, Shady and coach favorite Eldra Buckley aboard, Bell's taking up space.
Will's Take: Leonard Weaver
It's not just the inury that hurts him, it's the fact that Owen Schmitt has played very well in his absence.
Mike's Take: Reggie Wells
I thought he would do more after being traded to the Eagles. However, he hasn't seen a lot of time and I don't see him getting much action any time soon.
Darren's Take: Sean McDermott
Not until the end of the season unfortunately, well, he won't be released, he will be reassigned most likely.
Troy's Take: Joique Bell
Bell has had little play this season to begin with, and now that the Eagles traded to get highly-skilled RB Jerome Harrison, it's looking like Bell is done. There really is no reason to have four RBs on the same team, especially when Bell has taken no snaps this year. I do love the guy, and he was a steal from the BIlls, but there is just no room on the Eagles for him.
Most Likely to Get a Contract Extension
Jim McIsaac/Getty Images
Bob's Take: Michael Vick
We can only hope it's Vick. Kolb has shown he can get the job done as a backup, but when he's relied upon as the starter he seems to crumble. Vick has done outstanding things in limited time this year before getting injured. If he can pick up where he left off for the rest of the season, an extension is not out of the question.
Lou's Take: Michael Vick
He needs to be running this offense.
Will's Take: Michael Vick
So the Eagles traded up to get Kevin Kolb, gave him more money this season and yet they are starting Vick? That tells me everything I need to know.
Mike's Take: Michael Vick
It's a little early to predict this, but if Vick can perform the rest of the season like he did earlier this year, how can you let him walk?
Darren's Take: DeSean Jackson
I really hope Vick is back next year, and I think he will be, but most likely to get an extension has got to be Jackson. The question says most likely, not who I would like them to extend and I don't think there is any chance the Eagles don't work out a long term deal with Jackson.
Troy's Take: Michael Vick
Vick is the man for the job in Philadelphia, and Reid needs to stop this QB limbo situation. Kolb can stay the backup, and at the end of this season he will be great trade bait for the Eagles. Vick is the franchise man, and the best bet for a Super Bowl win.
One Free Agent You Want the Eagles to Sign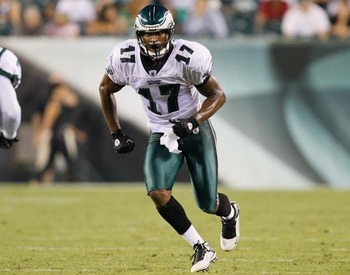 Bob's Take: Kelly Washington
Cutting him was a huge mistake. It's reflected poorly on the special teams and the lack of a veteran receiver has shown up with all the injuries to that particular group. Washington helps the team out in two areas, so why not cut and stash a young guy like Bell on the practice squad and give that spot on the roster to Washington?
Lou's Take: Darius Reynaud
Seems like everybody loves Shawne Merriman, but I think Darius Reynaud would fill in nicely as a kick returner (and possibly fifth receiver in a pinch).
Will's Take: Jared Gaither
You can never have enough linemen and I have no problem with Peters getting the boot. I know there is a salary cap hit here, but I'm not worried about money since it's not mine.
Mike's Take: Logan Mankins
The Eagles need a lot of help getting their offensive line situated and Makins would be a very nice addition.
Darren's Take: OL CB MLB
Well, the Eagles needs are OL and defense, and I think if there is a marquee CB on the market, you have to go get them. Same goes for a MLB.

Troy's Take: Domenik Hixon
Most would say I'm crazy, but Hixon has proved that he can be a reliable player on punt returns and kick returns. Not to mention a decent receiving target at fifth string. The Giants are insane for letting this guy go, and some team needs to capitalize on it. Plus, Merriman has other places on his mind, and Philadelphia is not one of them.
One Player You Want to See the Eagles Draft in 2011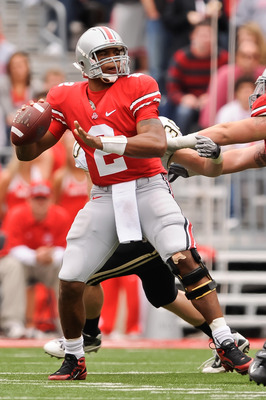 Jamie Sabau/Getty Images
Bob's Take: A MIKE Linebacker
I don't follow college football closely enough to pick out a specific player (I know, shame on me), but I would do a backflip if the team draft's a legit MIKE linebacker. Start the kid they draft (first round, I hope) and kick Bradley out to SAM where he belongs. Either that or the tallest corner on the board.
Lou's Take: A Linebacker or Corner
Ideally, the Birds will be picking in the mid to high 20s, so this is a tough call. Their biggest need would seem to be corner and SAM. Oklahoma LB Travis Lewis or UNC LB Bruce Carter could fill the latter void, while Virginia's Ras-I Dowling or Utah's Brandon Burton would be a good eventual replacement for Hobbs or Asante Samuel.


Will's Take: Terrelle Pryor QB Ohio State
I want as many playmakers as possible under center. I don't care if they are your traditional quarterbacks because I want playmakers. And if Vick goes down, I want to plug in the next best thing without missing a beat.
Mike's Take: Gabe Carimi OT Wisconsin
As I mentioned, the Eagles need to get things together on the line and I think they will need to address it early in the 2011 draft.
Darren's Take: An Abundance of Players
I think it's hard to pick names at this point without knowing who is coming out and who is staying and where the team will draft. Their needs are OL, DB, LB, DE, DT, so I hope most of their picks are in those areas.
Troy's Take: A Corner
This really depends a lot on where the Eagles get their first draft pick. If it is somewhere between the 15-20 range, they should be able to pick up a good corner. I really like Brandon Burton out of Utah. An aggressive and fast corner, that can make big plays like it's no big deal. He would be a great compliment to Nate Allen.
One Player That Should Be Getting More Press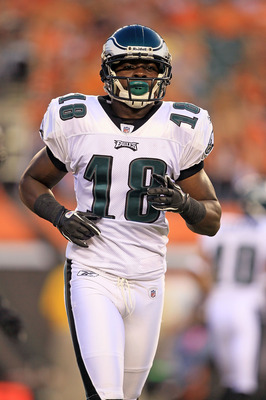 Andy Lyons/Getty Images
Bob's Take: Antonio Dixon
Dixon should be getting talked about a lot more than what he is, and he should be a starter even when Brodrick Bunkley returns. His increased playing time is why the Eagles' defense has appeared more stout against the run as he is great at splitting double-teams and creating a pile in the middle of the offensive line. The lack of attention this guy is getting shows the overall ignorance of the Philly media.
Lou's Take: LeSean McCoy
While QB-gate, DeSean Jackson's injury and Brent Celek's disappearance are taking headlines, Shady is on pace for roughly 1,100 yards and 11 TDs.
Will's Take: Jeremy Maclin
In his second year we are beginning to see he brings much more to the table than DeSean Jackson. Maclin is the future No.1 receiver on this team and for good reason. Too bad everyone is all over Jackson.
Mike's Take: Riley Cooper
The kid is legit and needs to get more time. He's shown his athleticism countless times this year, and it's a mystery why he doesn't get more time.
Darren's Take: Asante Samuel

Samuel continues to be a blanket in the secondary, but no one seems to pay attention to him. Eagles fans complain he can't tackle, I say he can't tackle because it's so rare he has to tackle because his guy never catches the ball.
Troy's Take: LeSean McCoy
This guy has been hanging tough with some of the elite RBs in the NFL and no one has noticed. Almost every game he has come out giving 110 percent, even when he had his fractured rib. McCoy is a huge threat and he is totally under the radar.
Super Bowl Matchup and Who Will Win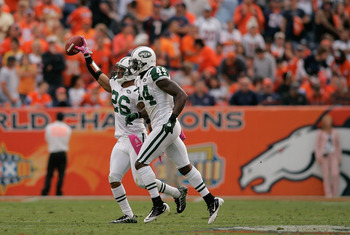 Justin Edmonds/Getty Images
Bob's Take: Jets vs. Falcons
Jets top the Falcons 21-16 and Antonio Cromartie is the Super Bowl MVP. Count it.
Lou's Take: Jets vs. Giants
I think the Jets are the best team in the NFL right now, and the Giants are the top NFC team because Atlanta's D is suspect and New Orleans is too banged up. So, I'll go with a Subway Super Bowl, and say the G-Men win it because the Jets will have to beat at least two of Pittsburgh, Baltimore, New England and Indy just to win the AFC.
Will's Take: Packers vs. Steelers
Green Bay over Pittsburgh. Made this pick at the beginning of the season and I'm sticking with it.
Mike's Take: Ravens vs. Giants
Ravens win.
Darren's Take: Steelers vs. Giants
Steelers win, although I think if Minnesota makes playoffs, they could be really dangerous once S. Rice comes back. Jets are tough, but I don't see both NY teams getting in.
Troy's Take: Steelers vs. Giants
The Steelers defense is looking like one of the strongest units in all of the NFL, and the offense can still move the ball. Unfortunately, the Giants seem to be on a roll and on a mission to prove something. There is just way to much competition in the AFC and by the time the Steelers make it to the Super Bowl, they will be totally exhausted. Giants will be well-rested and dominate the game.
Keep Reading

Philadelphia Eagles: Like this team?